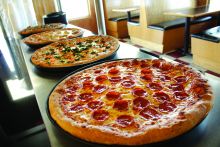 Pizzazz Pizza is smaller than you might think. Not in size of course — with four locations in Corolla, Duck, Kitty Hawk and Nags Head they're actually the largest pizza company on the Outer Banks — but certainly in the spirit of the close-knit family business they started almost 30 years ago.
Locally family owned and operated since 1986, Pizzazz Pizza is now an icon on the beach, but their beginnings were more humble. In fact, when Paul and Helen Ford built Loblolly Pines Shopping Center in Duck and decided to open the first Pizzazz location, there were no other pizza shops on the northern beaches. The shop did well immediately, and Helen's son, Gunnell Rupert, spent many of his summers working there while he was on break from the University of Kentucky studying business management. When Gunnell graduated, he came back to the beach for (what he thought was) his final summer at Pizzazz. 
"We had been open five years at that point," Gunnell says, "and I thought it was time to make some changes. I added an outside dining area, delivery service and started making all our sauce and dough fresh daily…all of which we still do today. Customers loved it, and business just got better and better. When my parents asked if there were any other changes I wanted to make, I said yes. Let me take over. Let's expand even more."
Helen and Paul enthusiastically agreed. With Gunnell now at the helm, other changes soon came. Pizzazz became an all-pan pizza company, he added a lunch buffet to their menu and by 1994 Gunnell had opened the second location in Kitty Hawk.

As the business grew, so did their family. A month after Gunnell graduated and returned to the beach he met his future wife, Kate, when she came into Pizzazz to grab a bite to eat. By the time the Kitty Hawk location was up and running they had gotten married and were looking forward to welcoming their first child.




Food Photos by Trey Govan
Twelve years and three children later, Gunnell opened the third Pizzazz location in Corolla, followed by their Nags Head location in 2010. With four locations offering pizza, salads, chicken wings, subs and a lunch buffet, plus options to dine in or take away, and delivery services that cover the barrier island beaches from Corolla to south Nags Head, Pizzazz had found its niche. "The goal was always to keep it simple but good," Gunnell says. "And, of course, to serve as many areas as possible. I think we've accomplished that." 

Gunnell attributes their success over the years to their commitment to using fresh ingredients and the fact that they've worked hard to stay family and community minded. Kate, who co-owns Next Level Fitness and Nutrition in Point Harbor, is a big proponent of the large salad bars they introduced to the Kitty Hawk and Nags Head locations, and their eldest two sons, Hall and Reese, regularly help out around the shops when they're not in school (Josh, their youngest, hasn't started in the business yet, but it's only a matter of time!). Even more impressively, the majority of Gunnell's employees have been with him for years, and every one of the managers at Pizzazz has worked with him for at least a decade. 

"I've seen them all grow up, get married and have kids," Gunnell says. "They're like family as well."

This is something that Nags Head manager Jimmy Reinhart seconds. Jimmy's been working at Pizzazz for 14 years now, and it's hard to miss the excitement in his voice when he talks about how much he loves his job. His favorite parts? When he gets to interact with customers or be involved in special events such as the annual Nags Head Elementary School field trip Pizzazz hosts in order to show the kids how they make their pizzas. "Everybody's friends here and we have fun together," Jimmy says with a smile. "A lot of our customers come back year after year and they become friends too. It makes every day exciting."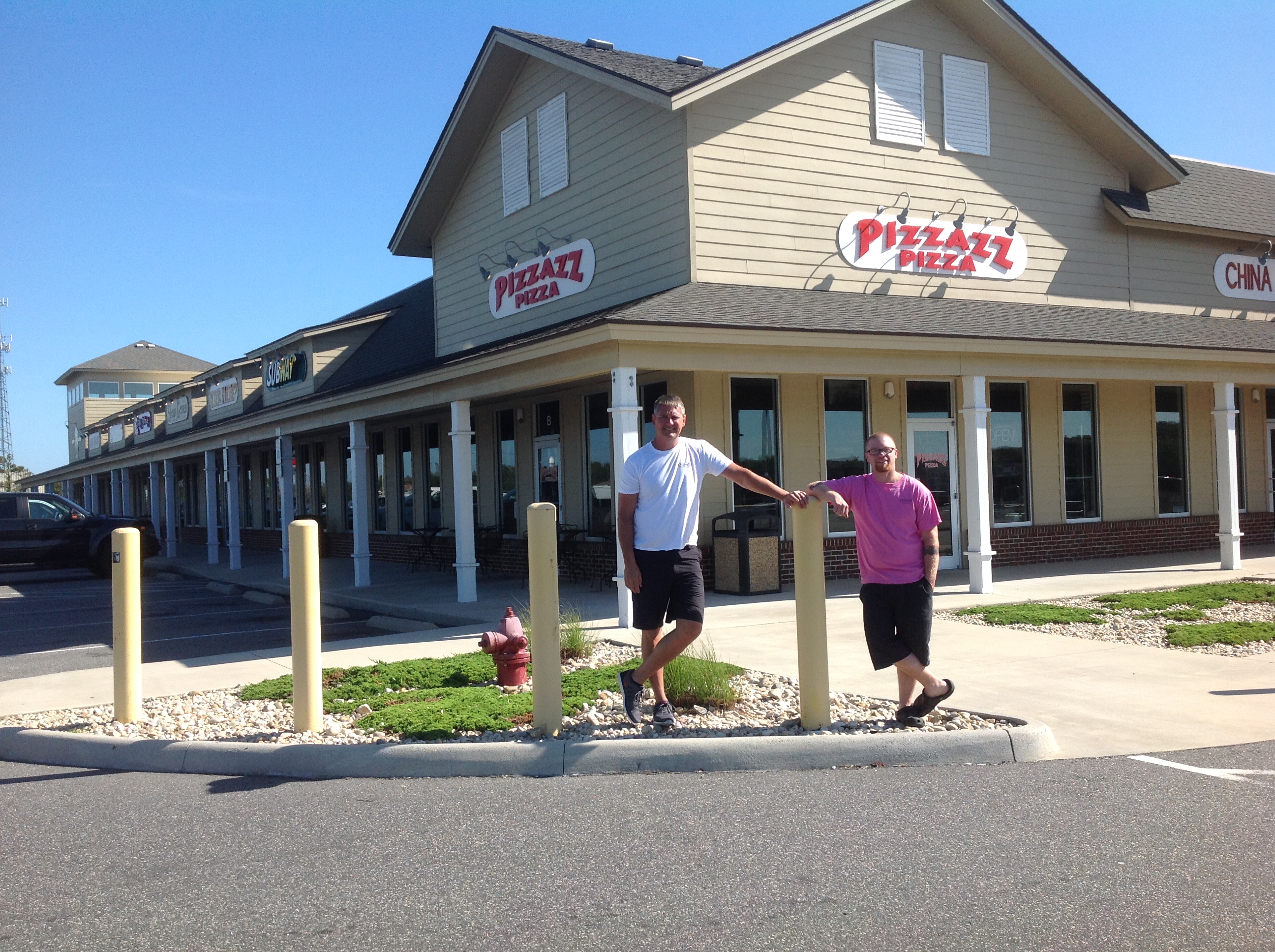 Gunnell Rupert, Pizzazz Owner & Jimmy Reinhart, Nags Head Manager
"We're all doing this as part of a team," Gunnell adds. "We take care of each other, and we take care of our customers. That's how we've always done things and it works for us." Team building has been an important aspect of how Gunnell approaches the business since day one, particularly after spending years volunteering as the head JV basketball coach for Currituck High School during the off season. "You really see how working together builds confidence and a sense of community. These things matter whether you're playing a sport, spending time with your family or making someone a great meal. We never want to lose sight of that." 
Four locations, one number!  If you're looking for delivery from Corolla to south Nags Head, 
call (252) 261-1111 to reach any of the four Pizzazz Pizza locations.


Locations: Corolla - Duck - Kitty Hawk - Nags Head  
pizzazzpizza.net  -  (252) 261-1111