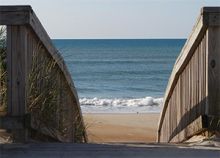 You've probably heard every cliche in the book when it comes to "small but mighty," but for Dolphin Realty, there's a nugget of truth to the old adages. This smaller Hatteras Island realty company, owned and operated by longtime local resident, Nancy Scarborough, counts its size as one of its greatest assets. The company represents rental houses from Avon to Hatteras as well as in two distinct condominium complexes -Hatteras Cabanas and Sea Whisper Condominiums. A full-service realty company, Dolphin offers sales and property management too. The attention to detail they offer clients and the depth of familiarity with their rental properties are part of what makes Dolphin Realty such a small but mighty force to reckon with.
Nancy Scarborough's family roots dig deep into the sandy soil of Hatteras Island. Her mother was raised on the island but moved to the mainland when she married Nancy's father. The family would return every summer to their homestead in Buxton, and when Nancy's father passed away her mother eventually remarried a man from Hatteras Island. They moved permanently in 1974, "and I've been here ever since!" Nancy says. After marrying, Nancy initially worked with her brother but decided she wanted something just for herself. "Back then there were real estate classes that came down to Rodanthe a couple of hours a night," Nancy says, and she attended them, earning her certification. She sold properties for a while, but as the real estate market bottomed out, Nancy went searching for a career option with more stability. What she found was Dolphin Realty.
Established in 1987, Nancy started selling houses for Dolphin in 1989. "And then I wanted something even more stable," Nancy says. Dolphin hired her for a few hours, and then more and more, until Nancy was completely involved in the rental part of it. Nancy discovered along the way that she'd found her niche in real estate. "I just love this job," she says. "I love meeting the people." So when Dolphin's owner was ready to retire she gave Nancy first dibs to buy the business. That was in 2000, and Nancy Scarborough and Dolphin Realty have been going strong ever since.
Though they're a smaller company, there's no lack of variety in the properties Dolphin represents. Their cottages range from one-bedroom studio efficiencies to larger five-bedroom homes perfect for families. Classic Hatteras "salt box" style houses perch on the ocean's edge; tall, gray-shingled soundfront homes offer private Pamlico access perfect for windsurfing and kiteboarding; cozy cottages with peaked gables sit canalfront for fishing or launching canoes and kayaks off your very own dock; little round bungalows merrily dot the landscape between ocean and sound, providing easy access to either. Pet-friendly options abound so Fido can get his share of beach time too.
Two options for condominiums round out Dolphin's rental program. The Hatteras Cabanas, a quaint, oceanfront complex, have been on the island since 1968. These charming little cabanas have two sun decks a piece, covered parking and everything else you'll need for a small family vacation or intimate getaway. You can book both weekly stays and shorter minivacations. The Sea Whisper Condominiums are uniquely situated with both sound and ocean views so you get the best of both nautical worlds. You can launch kayaks, canoes and kiteboards right on premises, and there's a private pier, fish cleaning station, picnic tables, grills and an outside shower. Though a search for stability is part of what brought Nancy to Dolphin Realty, life on a barrier island can be inherently unstable. In September of 2003, Hurricane Isabel wiped out 29 of the Hatteras Cabanas, along with Dolphin Realty's office. It took two and a half years to get the cabanas back in operation, but in May 2006 renovations were completed, and now they are good as new.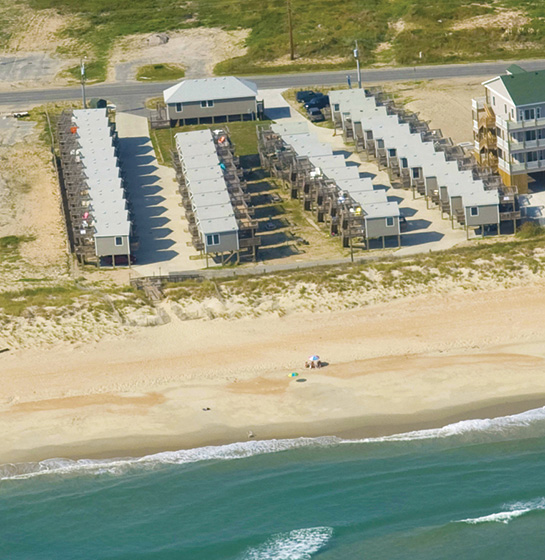 The company kept running throughout this time, a testament to the power of loyal customers who appreciate the personal touch Dolphin offers. Nancy says the realty sees an ebb and flow to the types of clients renting from them - in the summertime it's families, while spring and fall see fishermen and couples without kids. "All seasons have their own uniqueness to them," Nancy says. "We see different groups of customers, but they're all good people." They tend to see many repeat customers, and some even come in and chit chat a bit then go out on their way to have a good time and enjoy the beach.
This focus on a personal relationship with clients extends to the rental program's homeowners as well. "For the majority, I know everything there is to know about my homeowners' needs and my properties, so I'm able to give the customer personal attention too," Nancy says. She also has a great working relationship with local contractors, which helps her give a special touch to Dolphin's properties. Nancy says that Dolphin's smaller size is indeed an advantage. "If you call my office you might get a voicemail after hours, but for the most part, you'll always get a real person here," she says. "You don't have to press 1 for a brochure, 2 for sales - that's the personal attention we like. We know the people by name and faces around here. I know all my homeowners directly; I know all the properties completely."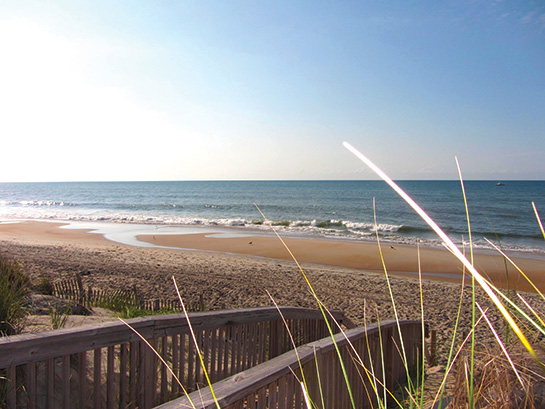 So don't let Dolphin Realty's small size fool you. If you're looking to book a Hatteras Island getaway, be sure to keep them on your radar. With Nancy Scarborough at the helm, Dolphin offers attention to detail, a wide selection of property rentals and close relationships with clients. This small but mighty company could be just the one to make your beach dreams come true.
Book your next Hatteras Vacation with Dolphin Realty
Dolphin Realty
(252) 986-2562
(800) 338-4775
56821 NC Highway 12
Hatteras, NC 27943