It's a small, but telling, detail that speaks volumes: Of all the vacation rental and property management companies on the Outer Banks, Joe Lamb, Jr. & Associates is the only one that doesn't actually use the word realty in its name. Their focus is on people, and their chosen name underlines that fact. "Joe started the business on his own in 1968, so he's the reason we're here to begin with," explains Jodie Herman, the company's longtime marketing manager. "But Joe has always insisted that this isn't just about him, so the real emphasis is on the word 'associates.' Without question, the amazing team we have here is the reason we're still going strong today."
Initially a close family affair comprised solely of Joe and his wife, Ann, their children eventually began taking active roles with the company as business — and the Outer Banks itself — continued to grow … and grow. As other professionals began joining their team, the extended Lamb family, including scores of devoted clients, also continued to grow in an unprecedented way.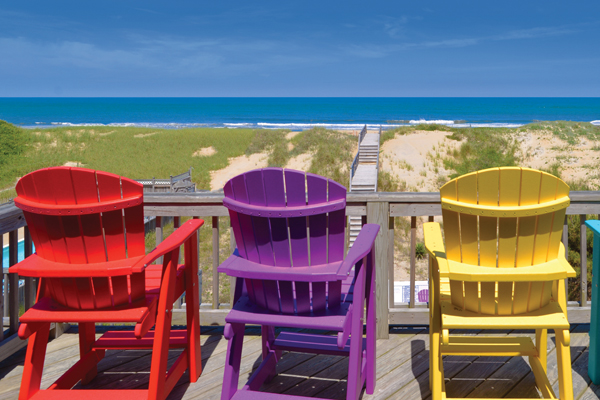 Today, the large yellow and white building that houses the offices of Joe Lamb, Jr. & Associates is a striking feature on the bypass in Kitty Hawk. Within the past year their official website, which offers state-of-the-art features such as real-time booking, has been viewed by more than 1.3 million people from all over the world and boasts more than 17 million page views annually, not to mention the fact that the company has welcomed more than 20,000 families to our shores over the past two years.
One of the not-so-secret secrets of their success? Their staff. At least half of the current Joe Lamb, Jr. & Associates team members have been with the company for more than a decade (with several members who are rapidly approaching the two decade mark!), and virtually all of them have worn several hats over the years. "Our success is directly tied to our very low staff turnover rate," says Dan Hardy, Lamb's president and general manager for the past 21 years. "The first thing everyone's required to learn is how to book reservations, because if we're not booking reservations then we're not in business. We like to promote from within once people understand how important that initial personal connection is because this isn't just a job; we want it to be so much more than that."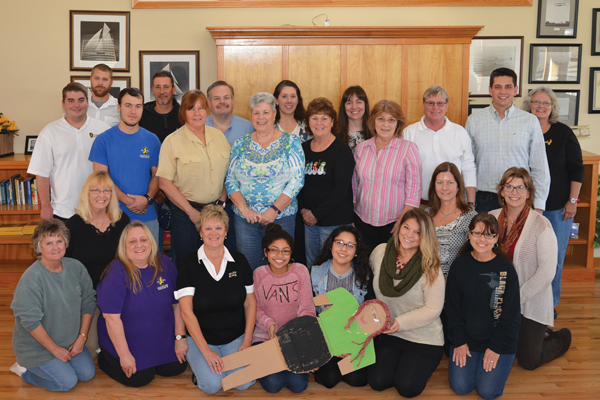 "We never want to lose touch with our customers," agrees Jodie, who started with the company as a part-time file clerk 12 years ago and still personally books one of her very first client's Thanksgiving vacations every year. "It's all part of the genuine love everyone has for what we do here."
For those who know Joe, the fact that he inspires such a loyal team both inside and outside of the office doesn't come as a surprise. Joe has always had a knack for connecting with people and allowing them the space to discover their own strengths. It's the sort of management style that very few people can pull off that well, but then again, Joe's never been one who thinks inside the box.
Recognizing early on that they were only as successful as the rest of their community, both Joe and Ann also remain dedicated to that sort of out-of-the-box thinking by committing themselves — and the resources of Joe lamb, Jr. & Associates — to enriching their local community, particularly in educational arenas.  
Ann was a founding member of the Outer Banks Woman's Club, a philanthropic nonprofit organization that continues to support the local community through volunteer service and charitable donations to this day, while Joe openly advocated for a permanent physical location for the Dare County branch of the College of the Albemarle in the early '80s, going so far as to persuade his friend Russell Twiford to donate the land that the Dare County COA was originally built on. 

In keeping with this tradition, the Lambs have now established the Ann R. and Joseph T. Lamb Cornerstone Scholarship at Joe's alma mater, the University of North Carolina at Chapel Hill, which awards up to eight undergraduate scholarships per year (with preference going to Dare County students first), and they also recently endowed the Dare County COA with a full self-supporting scholarship that's awarded annually.
Through Joe Lamb, Jr. & Associates, they're also staunch supporters and sponsors of the Roanoke Island Historical Association, the Outer Banks Relief Foundation, the Outer Banks Community Foundation, the Network for Endangered Sea Turtles (N.E.S.T.) and Surfrider Foundation, among others. Another one of the local nonprofits that receives the Lamb family's full support is the Dare County Boat Builders Foundation, an organization that raises funds for local education programs and scholarships that benefit Dare County high school seniors who have a parent or guardian employed in the marine industry or who intend to pursue a degree or program of study in the Outer Banks' all-important marine industry.
So as they count down to an impressive 50 years of serving the Outer Banks (stay tuned for their historic 2018 anniversary season!), Joe, Ann and the Joe Lamb, Jr. & Associates team continue to do what they've always done best: building relationships with people by offering cutting-edge services within a welcoming company culture that hasn't lost its heart nor its personal contact with the people who matter most. It's the perfect recipe for a stellar vacation experience with everyone at this company that will encourage you to bring your family back to the beach for many years to come.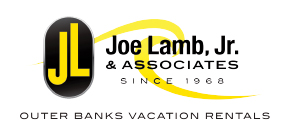 4607 N. Croatan Highway • MP 2.7 • Kitty Hawk