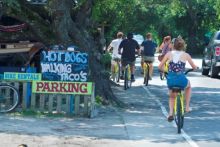 In the summer, Ocracoke opens its arms and welcomes visitors eager to experience the island's magic for themselves. 
They ferry, boat or fly a private plane in and head to accommodations that encourage them to relax and settle into the island's flow. Many opt to stay at the inns or bed and breakfasts because of the frequent contact they have with their innkeepers or owners, many of whom have been Ocracoke natives for generations. 

One Ocracoke aspect that draws so many is the gentle pace and the ease of getting around. Head to the shops around the village by foot, bike or golf cart so that you can pop into whichever catch your eye without worrying about finding a parking space. Much of the retail appeal comes from its diversity. Shoppers find gear for aquatic activities. General stores provide one-stop shops for groceries, bait and tackle, beach supplies and other miscellaneous items. But for those who love to browse, they can spend hours doing so among specialty markets and niche retailers with intriguing products and whimsical knick-knacks.
When all the activity works up an appetite, satisfy it with delicious Ocracoke seafood. After all, there aren't many better breaks in a day than dining al fresco at a harbor-front restaurant and watching the commercial fishermen unload catches of cobia, yellowfin tuna, red drum, mahi mahi and more (depending on the season). For locals and visitors, it's another essential piece of the Ocracoke experience, one that demonstrates why so many of the island's restaurants have stood the test of time over decades. 
In full disclosure, words don't do justice to Ocracoke's magic during the summer. It's better left to experiencing the signature series of sensations: The ferry rocking underfoot as it carries you to the island. The cicadas' hum filling the air. Cruising through the village and side streets island-style – by bike – and gripping your handlebars as you bounce gently over the divots in the dirt road. Breathing in the woodsy scent of Spanish moss hanging from the oak trees towering overhead and the sweet smell of honeysuckle vines that wrap around the trellis outside of your inn or bed and breakfast, housed by a historic Ocracoke home. Take it all in, and let the island enchant your eyes and imagination with its natural beauty and yesteryear romance.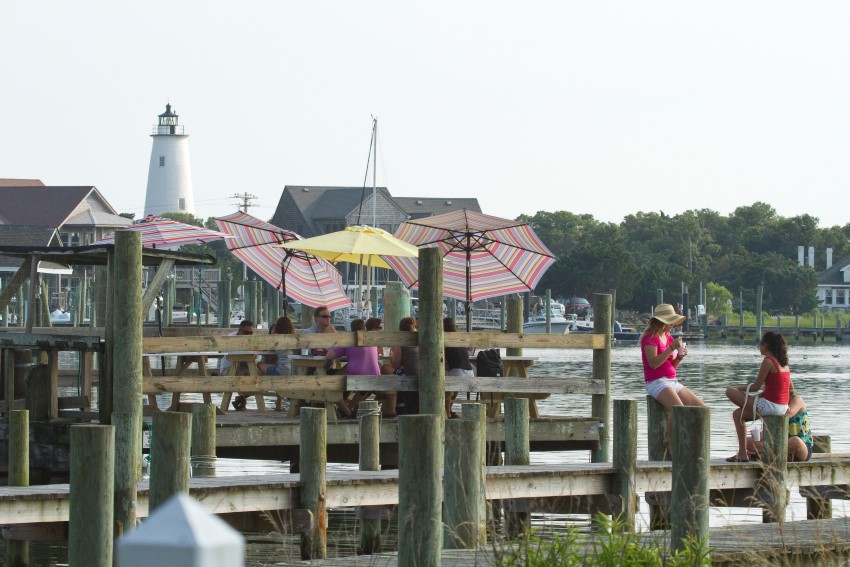 ---
Jolly Roger Pub & Marina
Bike, drive or boat up to this dockside restaurant and marina, and enjoy a cold beverage and fresh seafood.
(252) 928-3703 | 410 Irvin Garrish Highway | jollyrogerocracoke.com
---
Moonraker Tea Shop
Pop in for a fresh-brewed tea or Magic Lemonade, and check out their specialty selection of loose-leaf teas, herbs, spices, salts and more. 
(252) 928-0443 | 587 Irvin Garrish Highway 
---
The Ocracoke Variety Store 
Your one-stop shop for groceries, meats, produce, beer & wine, beach goods and hardware.
(252) 928-4911 | 950 Irvin Garrish Highway
---
Thurston House Inn
This charming, historic island home places guests in the heart of Ocracoke village and a short bike ride away from the harbor and beach.
(252) 928-6037 | 685 Irvin Garrish Highway | thurstonhouseinn.com