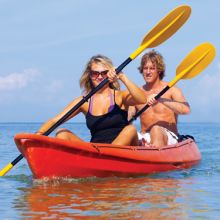 It's a hidden gem, and there's nothing like it anywhere," says Pirate's Cove Realty's Associate Broker Tony Chirico about Pirate's Cove Resort, which is arguably one of his favorite places on earth.
This isn't just his job talking either — Tony and his wife have owned property at Pirate's Cove for more than 17 years, and they're particularly thankful that they were recently able to make it their permanent, year-round home. 
Conveniently located at the foot of the Washington Baum Bridge that connects Nags Head and Manteo, Pirate's Cove can easily be your first — and perhaps only — stop once you arrive on Roanoke Island. Filled with a family-friendly community of both visitors and year-round residents who all enjoy what Tony calls "the Pirate's Cove lifestyle," the Resort boasts more than 500 properties, including everything from individually owned condos to townhouses and free-standing homes. And with all the amazing amenities found right on site, it's entirely possible that your next vacation might start you thinking about a relocation!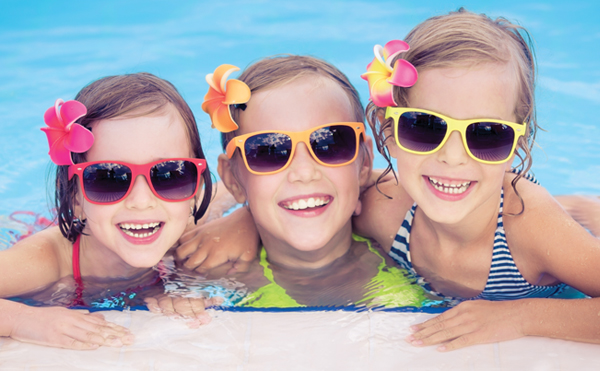 Though first and foremost it's the people who live or return year after year who make Pirate's Cove so truly special, one of the things that really seems to bring everyone together as a community here is the incredible access to all the kinds of activities.    
Love the water? With roughly 2 miles of navigable canals,  Pirate's Cove is a paradise for kayakers, canoeists and standup paddleboard enthusiasts, while those who aren't quite ready to get their feet wet can still admire the view (including frolicking dolphins!) as they leisurely stroll the lighted boardwalks or spend a few fun-filled hours crabbing or fishing right off those same docks.
Speaking of fishing, Pirate's Cove is a premier destination spot for all types of anglers. Whether you enjoy inshore, nearshore, offshore or sport fishing, you'll meet many other people who share your passion at Pirate's Cove, and no matter what time of year it is, you'll find a wide variety of fish that frequent these waters. Mark your calendars for the annual Pirate's Cove Billfish Tournament held every August, and make sure to be on the lookout for North Carolina's state fish, the red drum, especially during the spring time!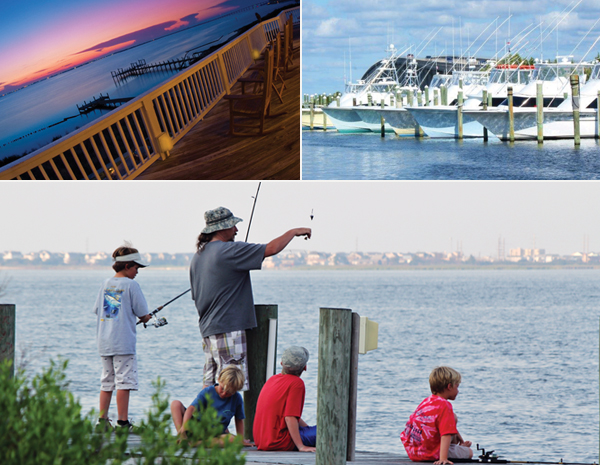 Of course, with all this fishing going on, it probably comes as no surprise that boating is another big draw at Pirate's Cove — which means that if a relaxing sunset cruise is more your speed, they've got you covered there too. With close to 600 boat slips throughout the community and at the Marina you can actually plan to arrive by boat or arrange to rent a boat once you get here. At Pirate's Cove Marina's fully outfitted Ships' Store, you'll find everything from clothing and memorabilia to gas, bait and tackle, and this is also where you'll find their booking counter where you can get all the information you need about rentals, charters and upcoming events such as tournaments.  
Not enough? Well, good, because that's not all! At Pirate's Cove you can enjoy volleyball and tennis ball courts, two pools, a fitness center, a clubhouse with an arcade, a gorgeous outdoor pavilion that routinely hosts both local and destination weddings and plenty of organized activities for kids and adults alike throughout the year such as their Lil' Pirate's Club evenings and their Kid's Fishing Tournaments. And while eating might not be considered a sporting activity (let's face it, it is to some), foodies will also love the on-site restaurant, Blue Water Grill and Raw Bar!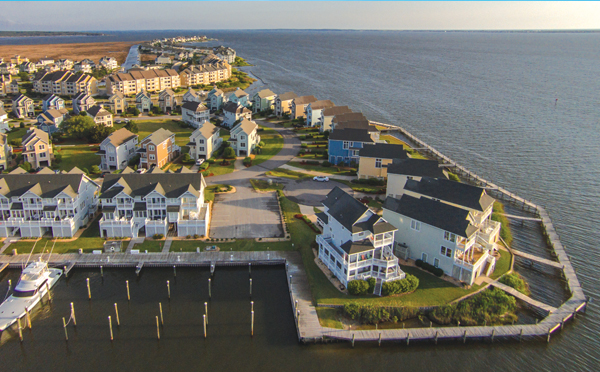 With such an extensive list of things to do without ever leaving the gates of Pirate's Cove, you can see why you don't have to stray far from your front door to keep the whole family entertained during your stay — no matter how long you're here. But if other things do start to beckon, Pirate's Cove is centrally located to some of the best attractions the Outer Banks has to offer, such as The Lost Colony, the Wright Brothers National Monument, Jockey's Ridge and the Elizabethan Gardens. You're also mere minutes away from Nags Head's pristine beaches, historic downtown Manteo (which is simply teeming with great eateries and shops) as well as the North Carolina Aquarium and Jennette's Pier, two state-owned and state-of-the-art facilities that cater to the public with plenty of educational and fun-filled programs throughout the year. 
"People come to Pirate's Cove from all walks of life, and it doesn't take long to become part of the community," Tony adds thoughtfully as he describes the close-knit atmosphere of other exciting annual events such as their homeowners' weekend barbeque, their 4th of July golf cart parade and their Halloween hayride. "It can be hard to put your finger on exactly what brings all these individual people together, but everyone here seems to have at least one thing in common — whether that's sailing, swimming or simply being outside to enjoy nature on the Outer Banks." He pauses and breaks into a wide smile. "There's just something about that Pirate's Cove lifestyle that makes you never want to leave."  
---
Pirate's Cove Realty
(888) 314-5795
1 Sailfish Drive, Manteo, NC 27954
pirates-cove.com