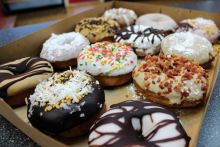 It just might be the scent alone that lures you into a Duck Donuts … at least the first time, that is. After that? As many thousands of
converts will attest, it's your first bite that will get you hooked.
Established in 2006 right here in the seaside town of Duck, Duck Donuts has developed a cult following over the past decade that pays tribute to just how good they are. With only two Outer Banks locations in the beginning — in Duck and slightly farther south on the beach road in Kitty Hawk — what started out as a fairly modest operation quickly became a massive enterprise due to near-instant popular demand from residents and visitors alike. Two more Outer Banks locations opened in Corolla and Kill Devil Hills, and only seven years later the first Duck Donuts franchise opened their doors in Williamsburg, Virginia. As of this printing there are now 28 Duck Donuts locations spread out on the East Coast from New Jersey down to Wilmington, and that number just keeps growing.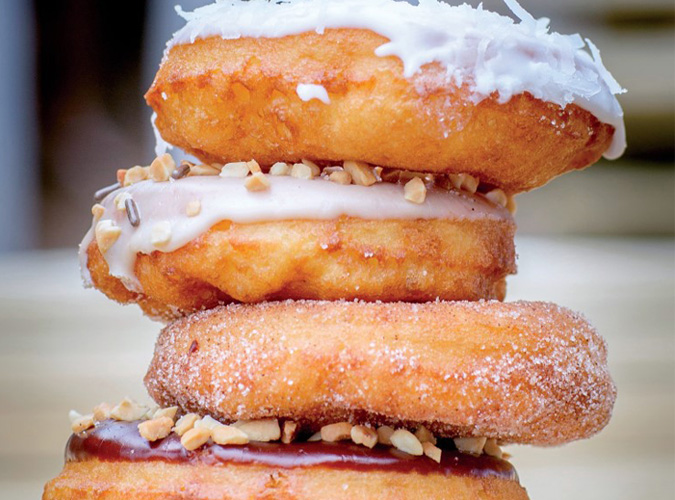 There's no real secret to their success either. When co-founder Russ DiGilio began visiting the Outer Banks with his family years ago, they noticed that there was no local place to buy fresh donuts. So inspired, Duck Donuts was born with that simple mission: to serve up fresh, hot, made-to-order donuts that everyone can enjoy. 
If you walk into any Duck Donuts location now you'll notice that their fryer runs all day long churning out soft, mouthwatering vanilla cake donuts. And from there the sky's the limit. Choose a coating such as cinnamon sugar, powdered sugar and glaze or from icings that include vanilla, chocolate, lemon, peanut butter, maple and strawberry. After that you can get extra creative with toppings such as chocolate and rainbow sprinkles, shredded coconut, chopped peanuts and bacon crumbles. (Yes, bacon! Try it with their maple coating and we dare you to enjoy just one.) Each donut is prepared to order right in front of you just the way you want it and sold singly, by the half-dozen or dozen … but you'll probably want to go for their bucket size, which gives you 18 delicious donuts to share with your whole family.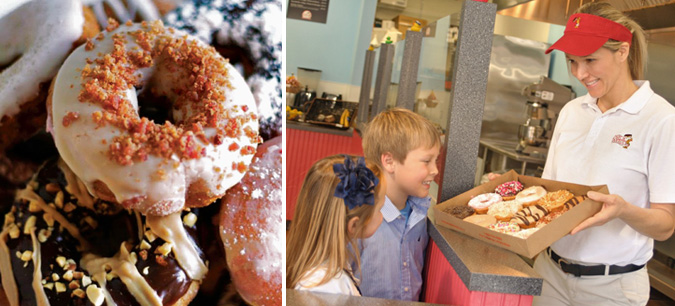 "They're so fresh you don't even need to refrigerate them for the next day," says Keith Exton who's the new owner of all four Duck Donuts locations on the Outer Banks. "We even put the instructions on the boxes — all you have to do is put them in a microwave for 15 seconds and it's just like they came out of the fryer."
Of anyone, Keith is one who would know. His family has been visiting the Outer Banks for the past 40 years, and when he discovered Duck Donuts only a year after the first store opened, he knew he'd found something special. In addition to running a small family business of coffee shops located along the Eastern Seaboard, it wasn't long before he opened two Richmond area Duck Donuts franchises in Willow Lawn and Short Pump. This past February he took over the Outer Banks locations from the DiGilios, and he couldn't be happier. 
Under his direction, the local Duck Donuts shops will begin expanding their coffee offerings this summer to include specialty drinks such as lattes and mochas, but other than that, not much else will change. "We really try to keep it simple," Keith says.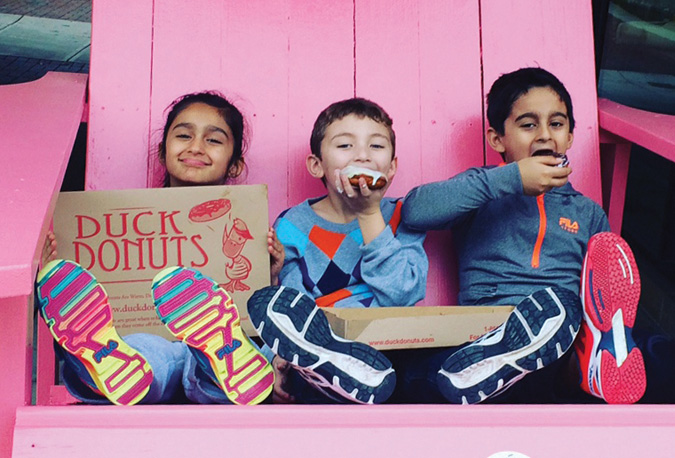 That might be the best thing about Duck Donuts after all. As they celebrate their 10th anniversary this season, the only thing their customers seem to want is more of what they've done best from day one. "In the summer the lines can be out the door seven days a week," says Keith with a laugh. "But don't worry; they move quickly!"
For many people, a visit (or several) to Duck Donuts is an Outer Banks tradition — especially because this is the place where it all began. In honor of that, Keith shares some teasers about a flagship store that's in the works for the future, which will likely include more seating both indoor and out as well as an expended selection of collectable Duck Donuts merchandise such as more t-shirts, hats and coffee mugs. Though he doesn't want to give too much away, his obvious enthusiasm is contagious. "I can't say exactly what it will look like just yet," he explains, "but I can promise it will be really cool."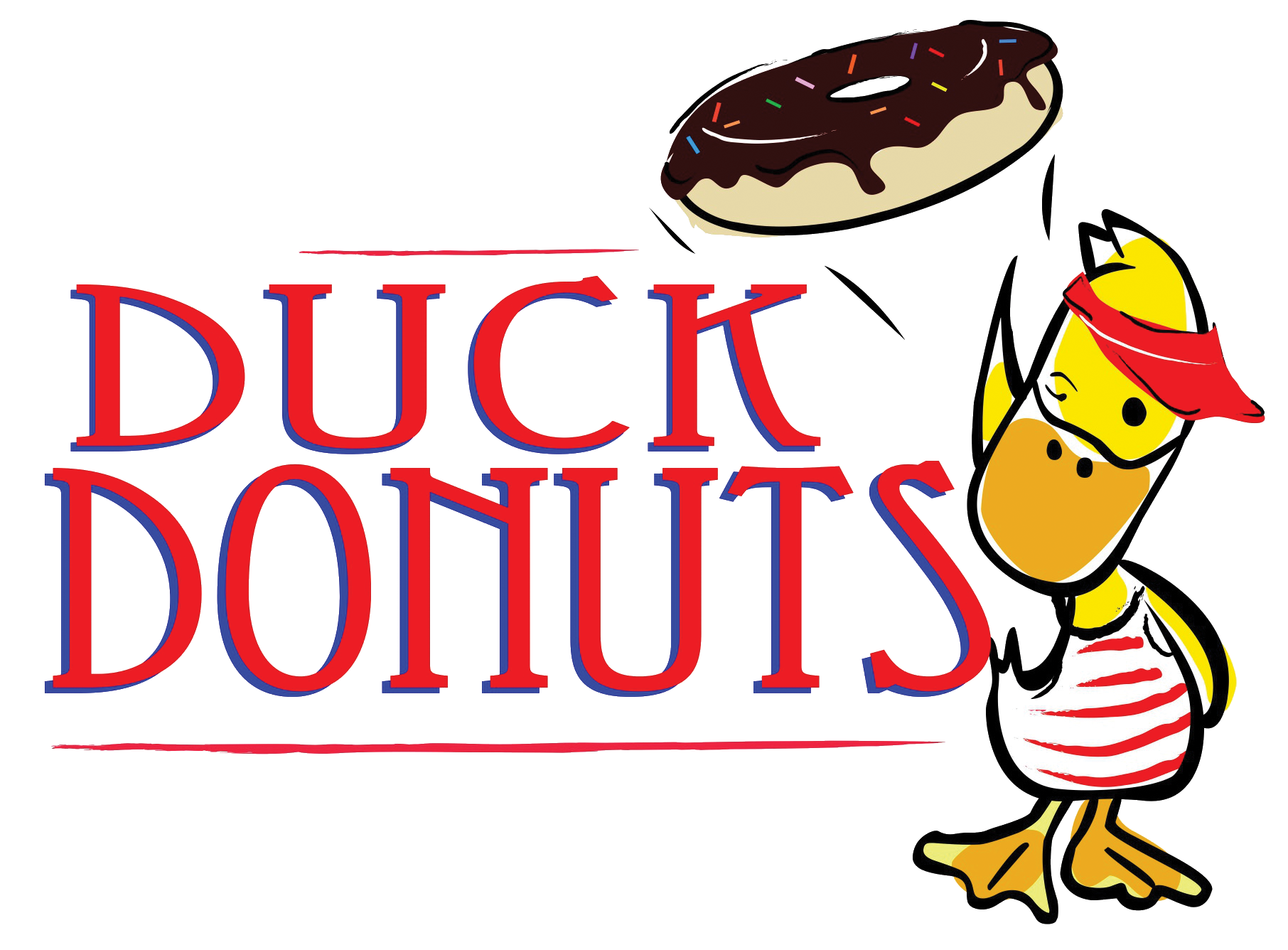 Duck  (252) 480-3304 | 1190 Duck Road
Corolla  (252) 453-3210 | 601 Currituck Clubhouse Drive
Kitty Hawk  (252) 261-3312 | 5230 N. Virginia Dare Trail
Kill Devil Hills  (252) 480-3320 | 710 S. Croatan Highway