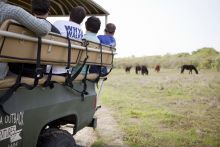 The word "adventure" holds different meanings for different people. Individuals that we are, what constitutes an exciting activity can range from the sight of dolphins playfully racing alongside your boat to an adrenaline junkie's moment of truth kite boarding on air.
Kitty Hawk Kites provides a broad spectrum of adventure activities unmatched on the Eastern Seaboard. Is your idea of excitement a leisurely paddle in a kayak or perhaps the incredible rush of lifting off the water like a super hero strapped in a JetPak? Maybe it's a breathtaking ride on the wind, harnessed beneath the wings of a glider.  
The reservations team at Kitty Hawk Kites has seen and done it all. One of the finer perks of working for this company is the opportunity to try every adventure they offer. (In fact, it's encouraged, evident in the modest raises earned for doing so.)  Work is play at this outfit, but it also means the reservations team is uniquely equipped to offer advice based upon first-hand experience.  
Knowing what to expect is helpful to be sure, but what about the unexpected? We were curious to know about such moments, and the stories were a thrill to say the least.
 
Soaring Adventure
Reservations Manager Luke Baer took hang gliding lessons whenever he could and after two years earned his solo rating. As he released from his second tow, he was alone when he saw birds spiraling in a thermal 800 or so feet below him. "I tried to get in the same pattern. After working so hard for so long, there I was soaring with an eagle," Luke said. "It was a poetic moment for me. All the adrenaline, the rush of the launch…." And then he added, "How peaceful it was, how very serene."


Horse Tour Adventure
Jennifer Marshall loves her job.  She takes groups on the Wild Horse Tour, a four-wheeling drive on the beach north of Corolla. "It's all magical," she said, recalling a day they saw more than 100 horses on the beach, stallions running harem after harem along the whole 12 mile stretch of beach. "This was special; generally the horses stay together in little herds," Jenifer said. But this was like a parade on the beach, and the mares were the star attraction. 
Coincidentally, on that same spectacular day, Reservationist Dianna Vurchio had scheduled a horse tour for her family who were on vacation here from Connecticut.  She joined them for the tour with Jennifer. "My first year with the company, I was encouraged to do as many of the activities as I could to better know what the company offers and to be able to describe the activities to customers," Dianna said.  So, with her toddler son, mother, father, sister and niece, they piled into the back of Jennifer's truck.

"The entire tour was fantastic," Dianna said. "Not only seeing the horses, but the view is definitely something that cannot be seen in many other places. The highlight occurred as we were watching the horses walking on the beach. Being early spring, there was a male following several females. A rival male, who was right in front of us, challenged the other male for the females. They fought, but the females just kept walking, paying no attention. The power of these males was amazing! They jumped at each other's sides, manes flying in the air, trying to nip at each other's necks. 

"After the battle, the loser turned toward us in the vehicle. Our guide calmly told us to close our windows and to keep hands and arms inside as she backed us away from the oncoming stallion. 

"It is illegal for people to get close to the horses," Dianna added, "even if they are the ones coming up to you. I'm sure the whole encounter took only minutes, but it was the most thrilling and unexpected experience we all could have hoped for."

Photo by Dianna Vurchio

JetPak Adventure
Now about that OBX JetPak experience... where, with what looks like a backpack attached to a hose, a person is lifted up and above the surface of the water like a superhero! Those who have done it claim to actually feel like they have super power flying abilities. And, here's a fun fact! Females are better students! As in swimming, a simple cross-body swing of the arm can roll your body over. With the JetPak, even a simple turn of the head in the direction you wish to go is usually sufficient. Males tend to put too much muscle into it, resulting in a sometimes comic outcome. I always did love Wonder Woman!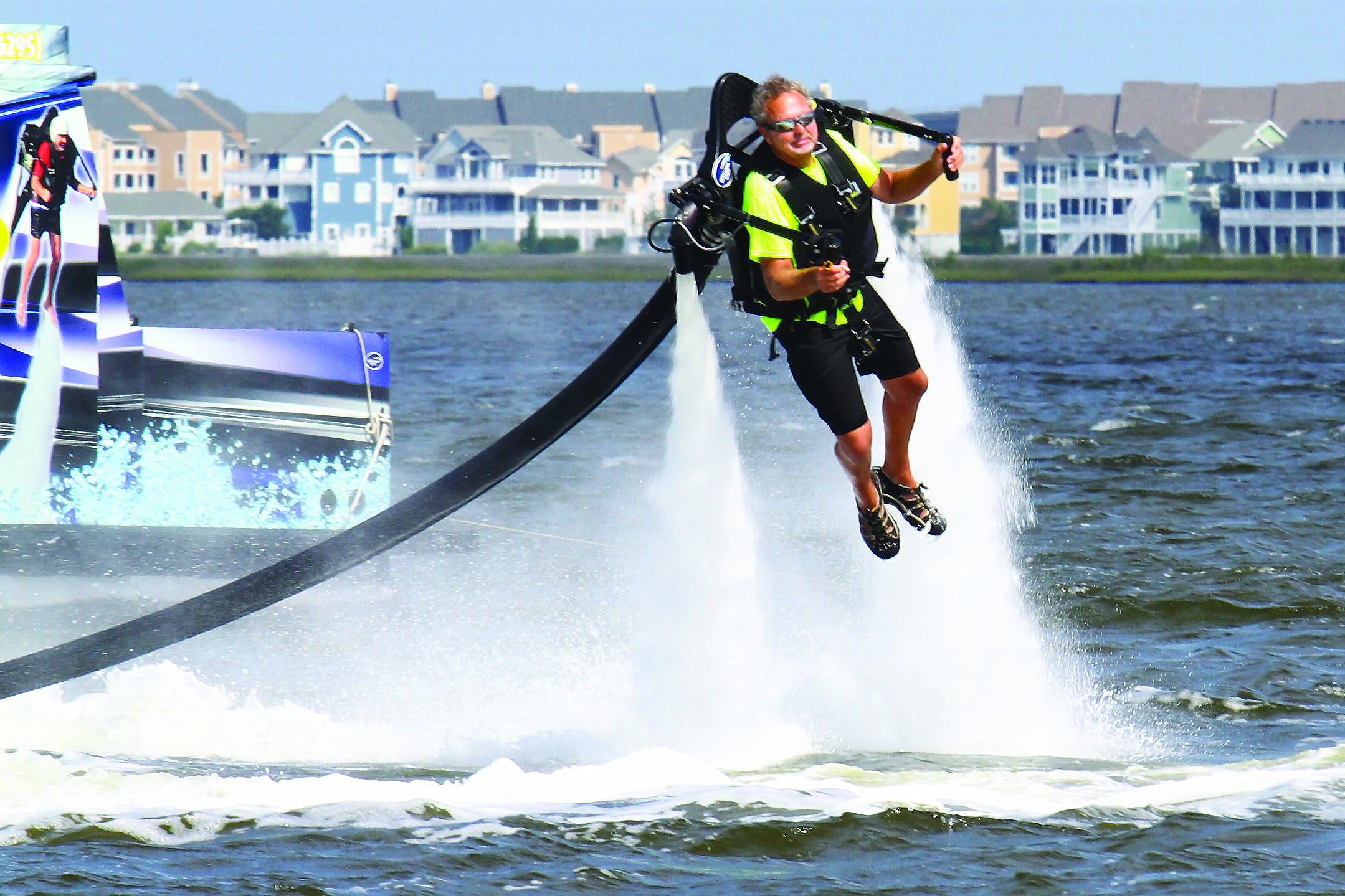 Hang Gliding Adventure
Around here, the sport of hang gliding is almost synonymous with Jockey's Ridge State Park in Nags Head, the location of the largest hang gliding school in the world.  It would be no surprise that the store, located across the street from the park, has the very latest in techy hang gliding gear. In comparison to that high tech, it might be surprising that the company would take you on a giant step back in time and offer flights on a museum quality replica of the Wright brothers' 1902 glider. Not everyone realizes that the famous brothers were very experienced glider pilots, having made hundreds of successful flights from the dunes here before they actually put an engine on it the following year, accomplishing the first heavier-than-air powered flight in the world. 
But let's get back down to earth and to the water…and to an adventure that went glow in the dark of night. 

Bioluminescence Kayak Adventure
It was a warm summer evening as Sandra Allen, Chief Financial Officer at Kitty Hawk Kites, was about to embark on a Bioluminescence Kayak Tour and 17 of her favorite kids, all members of her church's youth group. As they were getting settled into the kayaks, one of the girls cried out: There was something alive in her boat! 
"Most of us were convinced she must have been mistaken and maybe just a little nervous about going out in the dark," Sandra said. But with the comforting presence of Operations' Vice President, Sandra "SE" Schawang, who was also on the tour, the girl acquiesced and joined the group, although she and her boat mate sat themselves above their seats with feet dangling over the sides, clearly not wanting another encounter with whatever "it" might be lurking below.
"The stars were beautiful," Sandra recalled, "and the moon was late rising, so we had much darkness to enjoy the little marine creatures that really did glow in the water when we disturbed them. 
"We paddled and paddled to get to the best spot to see the bioluminescence. It was worth it. Hard to describe, but beautiful to see, these little marine creatures glow in the water. You can wave your hand underwater and watch little sparkling glowing glittery spots scatter around. Drag your paddle and the water all around it glows brightly, and the glow spreads out with your paddle's wake." 
Imagine that scene in your head: All quiet and peaceful, floating through a watery galaxy. But that sense of peace morphed into panic when all of a sudden shrimp started jumping into Sandra's boat! In a flash she realized that the girl who had screamed back at the dock really did have something alive and slippery in her kayak...but it wasn't a girl-eating creepy crawlie! All smiles and laughing now, they paddled back to the dock, and the moon rose, lighting the way.  

The widely varied adventure stories printed here are true and personal to each contributor in this article. More than 100,000 hang gliding flights have been made from Jockey's Ridge. Horses have been roaming free on our beaches for centuries, and the miracle of bioluminescence, as old as time, still gives a sense of wonder to those who experience it. Yet, for each of us, our adventure story is uniquely ours. Maybe yours will be a beach yoga session, standup paddleboarding, surf lessons or a sunset sail. There are plenty of adventures — and stories to tell about them — at Kitty Hawk Kites.
-------------------------------
Want to get active?
How about trying out every single adventure that Kitty Hawk Kites offers on the Outer Banks!
Hang Gliding | Kiteboarding | Parasailing | Kayak Tours | Aero Adventures
Standup Paddleboarding | Dolphin Tours | 1902 Wright Glider Experience
Jet Ski Rentals & Tours | Surf Lessons | Sailing Cruises | Wild Horse Tours
Outer Banks Segway Tours | Wakeboarding, Water-Skiing & Tubing
Paragliding | JetPak Adventure | The Lost Colony | Fishing Tours | Sightseeing Tours

(877) 359-8447