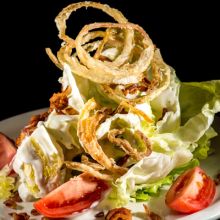 The casual, coastal atmosphere and classic beach architecture are going to make it seem like you're dining over at a friend's old flat top beach cottage, but the food tells another story entirely. Contemporary Southern coastal cuisine pops with Caribbean flavor and attracts diners all day long whether it be for a full-on family dinner or a casual shrimp BLT and a draft beer.
For Salt Water Grill owner Chuck Read, it's all about providing high quality, real food for families. Everything is made fresh and in-house, from the dressings to the sauces, and the fish is hand-selected by the chef and often from local waters. 
You'll immediately hear the passion in Read's voice when you get him talking about the restaurant, which is now in its fourth season.
"We do our best to take care of diners just like they're our family," says Read. "We're a family beach, and it's nice to have families of all sizes in here and be able to give them memories and to be a small part of their vacation."

On the well-crafted menu, you'll find dishes like Salt Water Grill's signature shrimp and grits, Angus beef brisket with blackberry barbecue sauce, grilled and spiced wings and roasted baby sweet peppers over jasmine rice. Of course, the Local's Catch caught by local fishermen is always a favorite and always changing with the shifting tides. The beef, pork and chicken are all natural, produce is local and everything is hand-breaded.
Pair your lunch or dinner with a brew from one of the largest craft beer selections in the northern Outer Banks, and you've got a sumptuous dining experience to remember. Salt Water Grill also offers an extensive wine list and hand-crafted cocktails.
During the off-season, longtime Chef Mark Perdue was hard at work on some bold, new flavors that have joined Salt Water Grill's choice dishes on the menu. This summer, you'll find pesto chicken with a Southern pasta salad, a beautiful, gluten free vegetable plate and a few favorites that have migrated over from The Crafty Cow restaurant such as the ever-popular fried pickles.

Read's other venture, The Crafty Cow, a craft burger and craft beer eatery next door, thrived for several years before Read decided to focus entirely on what was happening at Salt Water Grill. And for those of us who are here for the food, this is great news. By next season, you will likely see a rotating craft burger on the chalkboard specials every day with toppings like bacon gravy cheese sauce and jumbo lump crab meat.
But here in the present, Salt Water Grill is flourishing. A lot has changed since the restaurant opened its doors three years ago, greeting enthusiastic diners with a relaxed atmosphere of sea green walls, rustic accents and coastal artwork. "We're better," Read says decidedly. "I know that perfection is not attainable, but I don't see anything wrong with the fight to try and attain it. It's been a maturation process getting the menu really tight and getting all of our flavor profiles. You get better with time."
And, really, this innovative restaurant has been in the works for much longer than three years. Read was already having grand ideas for his own eatery at the age of 9 when he created his first menu, and he feels that he has been working toward Salt Water Grill for his entire life. His vision was to have a casual restaurant that felt like a beach cottage but to blow people away with the food and to have the focus on family.
No matter which time of day you cruise over to Salt Water Grill, you are sure to find families seated around the eatery's dark wood tables, quality food that kicks and lots of laughter – and in those moments, it's clear that Read's lifelong aspiration has succeeded.
---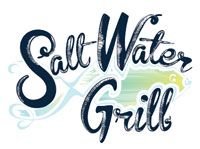 Salt Water Grill Corolla restaurant is open Monday through Saturday from 11 a.m. 'til in season. The restaurant is closed on Sundays, traditionally a day reserved for family.
811 Ocean Trail, Monteray Plaza, Corolla
saltwatergrillobx.com
(252) 453-2101