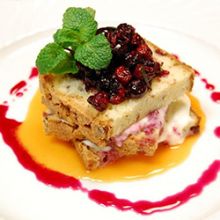 It's all about connections. That's how John Power of The Blue Point explains the success of the restaurant he co-owns with Sam McGann in Duck, NC. And in the story of this restaurant that's been at the forefront of the dining scene since it opened, those connections are everywhere, weaving together like a great jazz tune. When you dine at the restaurant these days, you know you're in a place where things have evolved, where history, passion, vision, people and food have all connected over the years to make The Blue Point the dining experience it is today.
Back up 27 years or so. Both fellows were involved in restaurants in Virginia Beach - John as part owner of Chick's and Sam down the road at Crawdaddy's. Sam was, is and hopefully always will be on the chef side; John honed skills bartending and running the front of the house. The close proximity of the restaurants meant they could visit each other's, which they started doing with some regularity. The late '80s was when chefs started becoming personalities, and Sam was perfect for that role at Crawdaddy's, where his food skills were making him well known. John says that one night, a meal he had there was the first time he had an epiphany about how food could be that good - good enough to create very loyal repeat guests and good enough to create a buzz about a restaurant that would be heard for many miles around.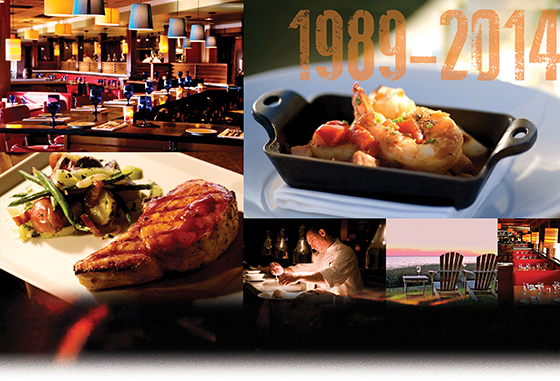 Enter Duck. Not the bird, the town - though Sam could certainly do a thing or two with the fowl. John had spent a summer there before Chicks and knew he wanted to be a part of the village again, which was, in 1989, a cool little place but nowhere near the vacation mecca it is today. There was, for example, a bumper sticker that adorned cars during those days that wittily declared Stuck in Duck. That was pretty much the scene there...as in, not much of one...yet. But John was connected to the place, so he took a visit down, stayed at his Dad's house and discovered a For Lease sign in a space at The Waterfront Shops, where The Blue Point is still located today.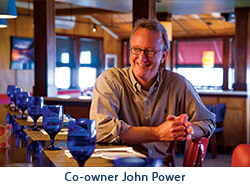 A few phone calls later - most importantly the one to Sam where a partnership was agreed upon - and the restaurant was conceived. Sam came down to check it all out on a March night when it was cold and blowing a gale outside. Actually, "miserable" is how John describes it. The story goes that Sam went to the potential space, hunched against the storm, looked at John like he had gone right off his rocker then retired to the house for a drink. But, here's another one of those great connections: The next morning dawned as a gorgeous, after-the-storm, washed-clean Outer Banks day. The sun was shining and the geese and swans were a'swimming. The gods had conspired to connect these two talented restaurateurs to lucky locals and visitors.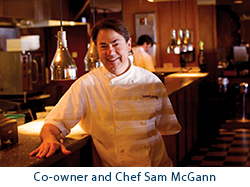 The guys worked hard and quick, and in only four months, on July 15, 1989, The Blue Point opened for business. They started with 50 seats - 15 tables - only four of which had water views. And, almost immediately, due largely at first to the amazing and imaginative food that Sam was wowing diners with, but also because of the look and feel of the place that differed from anything else the area had to offer, the restaurant became The Place to dine on the Outer Banks. The phone rang incessantly even though they didn't take reservations. They'd begin seating people at 5 p.m. and still be doing so at 10. That first August, they had two-hour waits! This is when John's skill of instinctively knowing how to manage people began to play a big role: Regular diners wanted to be treated like family, and they pretty much were; new diners caught on to the importance of gaining a place on the regulars list. For appeal, add in the just-right music, the checkered floor and the fact that you'd see many of your friends every time you went. Talk about connection - everybody wanted it with this hip, new spot.
Now jump ahead to June 15, 2006, when the remodeled Blue Point reopened after a six-month renovation. By "luck" of a CAMA setback regulation, the new space now sported an open-air, grass-carpeted bar that fronts the Currituck Sound and its wonderous sunsets, which was - and is - a good thing since, as soon as the doors reopened, the crowds were back. Diners are certainly happy to wait for a table when they have a tequila sunrise sunset - and a perfectly made drink - to help pass the time.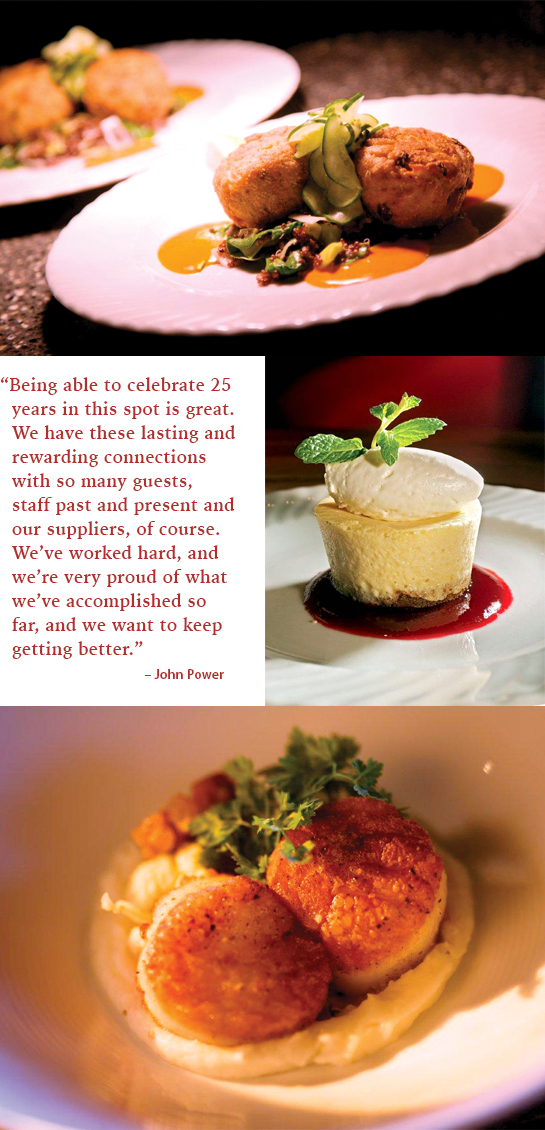 The remodeled restaurant sported about double the seats and about triple the space, and you'd think that space would have solved the issue of effectively juggling diners. It did, in that many more BP fans can now get a seat. But, when you have a restaurant that, now for 25 years, has been recognized as one of the best in any diner's repertoire of favorites, it's still possible that all reservations are filled, even on cold, blustery March nights. Sam's ability to create connections through his menus and food genius, along with the talent that joins him on the line, and John's ability to manage the front of the house by understanding how to connect diners to the table, view and wait staff that's perfect for them just keeps the crowds coming.
It's a honed partnership that has laid the sturdy foundation on top of which everything else seemingly dances - at least that's absolutely the perspective from any customer: Flawless. Perfect. Yet, still cozy and...it may sound funny to say, but kinda sexy. The warm colors and great music set the mood, then the food just sends you over the top. Don't even start talking about the warm bourbon pecan pie with the specialty homemade ice cream scoop melting down the sides...
How do they do it after a quarter-century? John's quick and certain answer is Sam's passion. "That guy hasn't lost one bit of his passion for not only the food, but also the business of Blue Point. He keeps it every single day for every single detail. Of course, that's how he lives his life too - studying every angle, finding the edge. Me? I'm just more laid back. I sort of sit back and read people, read the situation. I guess that's what makes it work together."
Work it does. John sums it all up pretty well, "Being able to celebrate 25 years in this spot is great. We have these lasting and rewarding connections with so many guests, staff past and present and our suppliers, of course. We've worked hard, and we're very proud of what we've accomplished so far, and we want to keep getting better." For all the die-hard fans out there, it's probably hard to imagine how that "better" would even look...Blue Point has always been that and more.
We can thank Sam for connecting us all to truly great, imaginative, perfectly prepared food. We have John to thank for the experience of walking into this cool place and them knowing our name, where we like to sit, if we want the same drink as last time - really, making us feel important and that it honestly matters that we came there for our evening. Surely, the connection of food, drink and friends is the true essence of life. Thanks, guys. We hope we're all around to celebrate your 50th!
_____________________________________________________

1240 Duck Road, Duck | P.O. Box 8399 | Duck, North Carolina 27949
(252) 261-8090 | Website: thebluepoint.com