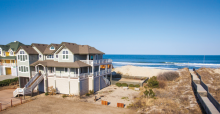 For many guests, vacationing on the Outer Banks becomes a long-standing family tradition, and annual visits feel like a return to their second home. A part of being home is having a family you can depend on, and for many vacationers, that family has become Carolina Designs Realty. "We maintain a large, year-round staff that knows our properties and understands the level of attention our visitors expect. Within our company, we definitely consider ourselves family, and when guests arrive we treat them like family too," says Monica Thibodeau, owner-manager of Carolina Designs Realty in Duck. "We do our best to ensure guests have a great vacation and outstanding overall experience. That attitude permeates throughout our company."
In business since 1988, Monica and her husband, Art, bought into the company in 1991 and became the managing partners. To date, the company is proud to remain a family owned and operated business. In 1997, Carolina Designs Realty became one of the first rental management companies in the country to offer real-time rental availability and online booking, and their in-house technology department continues to implement cutting edge technologies as the Outer Banks vacation market evolves. Their custom software allows Carolina Designs to react quickly to changing market conditions and includes built-in housekeeping and maintenance modules to streamline guest services.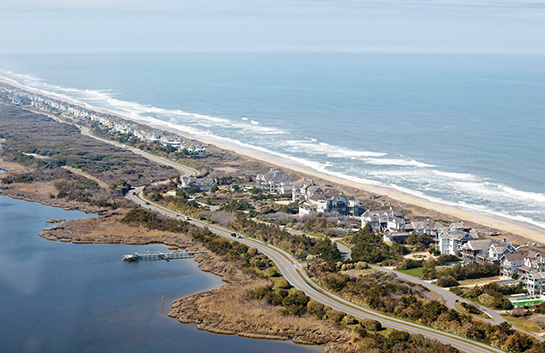 Vacationers' housing requirements often vary from year to year. One year a family is holding a reunion or hosting a wedding that includes relatives ranging in age from 2 to 92, so it's important to have a spacious home with private bedroom suites, multiple gathering areas, vast entertainment amenities and direct access to the ocean. Another year the vacation experience may be more intimate, where a smaller home meets the needs of vacationing with a group of friends.
Monica says that Carolina Designs can easily fill both needs. "We can accommodate both small and large groups. We manage up to 350 properties located from Corolla to Nags Head, and the average size of our homes is eight bedrooms. Our inventory includes more than 85 luxury oceanfront homes that provide 8 to 18 bedrooms. These properties feature innovative home designs with plenty of amenities to entertain guests of all ages."
Their vacation homes are furnished with an eye toward both comfort and style, and complimentary in each home are freshly made beds, towel sets, WiFi and a signature welcome package. Many home designs include one or more trendsetting amenities such as home theaters, media areas, recreation lounges with wet bars and elaborate outdoor living areas.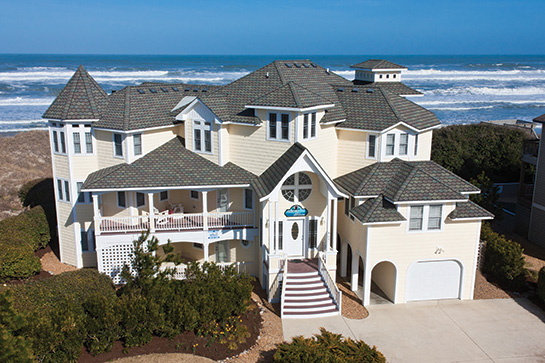 Home features identified as important vary amongst guests. Some prefer a vacation home that has multiple master suites with private baths. Others may want a large, gourmet kitchen with state-of-the-art appliances for ease in elaborate meal preparations and clean up. Those traveling with special needs guests want homes with elevators and easy access bedrooms with barrier free showers. Regardless of your requirements, the Carolina Designs' team will assist in locating a home that suits the specific needs of those traveling in your group. "With our years of experience, we understand the importance of personalized customer care to ensure a memorable vacation," says Monica.
Many have witnessed first-hand their commitment to guest services, resulting in a repeat and referral business that includes some loyal guests who have reserved homes with the company for up to 20 consecutive years.
Another vibrant arm of Carolina Designs is the company's sales team that consists of dedicated brokers representing the interests of owners and buyers. In 2013, their three-person team sold Outer Banks properties valued in excess of $25 million dollars, much of it to repeat and referral customers.
Year round, every Wednesday at 9 a.m., Carolina Designs' brokers hold an informal and informative "Home Buyers Chat," where they answer a variety of questions for prospective buyers who want to learn more about Outer Banks market conditions, investment opportunities and long-term purchasing strategies in this popular resort area.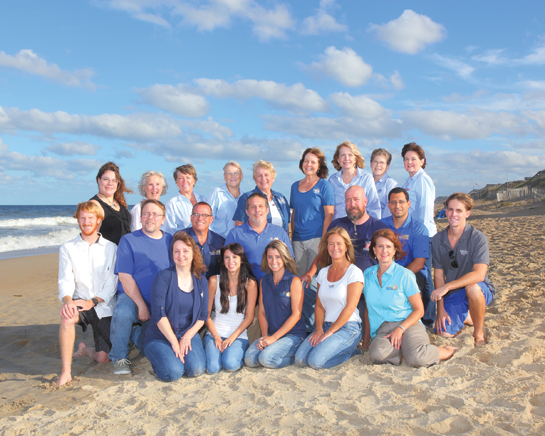 In addition to managing Carolina Designs, Monica is the mayor pro tempore of the Town of Duck Town Council, a board she has served on since the first election was held in 2001. The community of Duck is best known for maintaining an intimate seaside village-like feeling, and the Town has gone the extra mile in providing seasonal family-friendly activities. She is also the chair of the Outer Banks Tourism Board, the body that sets policy for the Outer Banks Visitors Bureau to promote tourism on the Outer Banks. "I love serving on these boards because we have similar values. We always put people first," says Monica.
The result of their community involvement and continuous success is that the team at Carolina Designs keeps its focus on you and your vacation experience. It's no wonder that the company recently became a triple-crown winner in the 2013 Best of the Beach competition in the categories of "Best Vacation Rental," "Best Real Estate" and "Best Property Management" company.
"We want our guests to enjoy the sunshine, award-winning beaches, our rich American heritage and the extraordinary natural Outer Banks environment. Our main responsibility is to manage Carolina Designs' homes to ensure the ultimate in guest experiences," says Monica.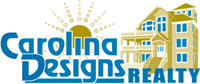 (800) 368-3825
1197 Duck Road
Duck, NC 27949