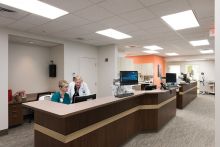 The name Sentara carries certain expectations with it. Sentara is well established, with more than 300 medical facilities in Virginia and Northeastern North Carolina ranging from hospitals to therapy centers to primary and urgent care centers. Sentara Norfolk General Hospital, which includes the Sentara Heart Hospital, for instance, was ranked in the top 50 hospitals in the United States by U.S. News & World Report in 2015. Additionally, Sentara Norfolk General Hospital, Sentara Williamsburg Regional Medical Center, Sentara Leigh Hospital, Sentara Princess Anne Hospital, Sentara Martha Jefferson Hospital and Sentara RMH Medical Center have all received Magnet Hospital designation, the highest designation for best practices in nursing. Sentara has also been acknowledged for pioneering eICU, a remote monitoring system for intensive care. In all, Sentara Healthcare has consistently made it their aim to provide cutting edge medical care while treating patients in a compassionate, dignified way.
So, it was with much excitement that locals and visitors alike welcomed the new Sentara Urgent Care at Sentara Kitty Hawk in January 2016. Located at milepost 1.5, Sentara Urgent Care offers treatment for non-life threatening injuries and illnesses such as ear aches, sprained ankles, sinus infections and those inevitable summertime fishhook mishaps. Since Sentara Urgent Care is on the campus of Sentara Kitty Hawk, patients also have access to the Advanced Imaging Center that offers non-emergency CT scans, MRI's, X-rays and ultrasounds if their injury or illness requires.
"One thing that sets us apart is that we have Clockwise. MD technology where patients can go online and register to be seen in advance of their visit," explains Maggie Dawson, a nurse practitioner at Sentara Urgent Care.
This online check-in system allows patients to skip the long wait commonly associated with trips to urgent care. The program will also text patients appointment reminders and let them know if there is going to be a delay. In practice, that means instead of wasting their precious vacation hours in a waiting room, patients can choose to rest on the beach while they wait. This is a convenience not just to the patients, but something the medical providers are grateful for as well.
"A happier patient means a happier provider," says Dawson.
Sentara Kitty Hawk continued to expand with the introduction of a new Sentara Family Medicine Physicians practice in March 2016. This group already had an existing practice in Manteo, so this is their second location to serve Outer Banks residents. As part of this expansion, two new primary care providers joined the teams. Dr. Kerry Partis joined the team in Kitty Hawk, and Dr. Warren Blackburn joined the team in Manteo. Both locations are now accepting new patients and accept Medicare insurance.
"It was always the goal to have both urgent care and primary care on the Sentara Kitty Hawk campus. There is a big primary care need in our area," says Dawson. 
With only a small number of primary care providers on the Outer Banks, locals are all too familiar with having to often wait months at a time to get an appointment with their provider. This new practice should alleviate some of that congestion and give patients one more excellent option to choose from when selecting their primary care provider. 
Dawson serves alongside Leslie Deligio, Doctor of Nursing Practice, Krissi Williams, Physician Assistant and Alex Hodges, Nurse Practitioner, at Sentara Urgent Care. Kerry Partis, M.D., serves at the Sentara Family Medicine Physicians practice in Kitty Hawk, and Warren Blackburn, M.D., joined Denise Griggs, Nurse Practitioner, at the Manteo location. While Dr. Partis and Dr. Blackburn only recently relocated to the Outer Banks, the rest of the providers are well-known members of the community, with more than 60 years of experience in providing medical care on the Outer Banks between them.
The Sentara Kitty Hawk campus already includes many medical specialists and is still growing to include even more in the next few years — the kind of specialists that small town residents would ordinarily have to drive quite a distance to find. This expansion is part of a greater vision for Sentara Kitty Hawk as a place where patients can expect a level of care from experienced professionals that is on par with that of metropolitan areas, all without having to leave the beach.
"I was very excited to hear Sentara was coming to town. The chance to work for them is a wonderful opportunity. They set a high standard of what they expect and give good, quality care. Many of us are thrilled to have that, and we're just as thrilled to provide it," says Dawson.
*Sentara Urgent Care and Sentara Family Medicine Physicians are a Division of Albemarle Physician Services — Sentara, Inc. 

5200 N. Croatan Highway, Kitty Hawk | (252) 715-5110 
      SentaraUrgentCare.com