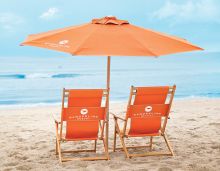 Tranquil, oceanfront luxury is what first comes to mind when I think of the Sanderling Resort, quickly followed by visions of the sunset reflecting off the glistening Currituck Sound. Water and sky blend together in a wash of pink, purple, gold and saffron that is a reason to visit all in itself. With newly renovated, luxury accommodations, a full array of watersports adventures on site and a pristine location set between ocean and sound, the four-star, four-diamond resort is both a place for families and a place for romantic seclusion. It's a crown jewel of places to stay on the Outer Banks. But, the question arises — do you have to be a guest at the Sanderling to enjoy its perks?
The answer is that, while some amenities will always be reserved for resort guests, Sanderling's doors are wide open for locals and visitors on the Outer Banks to indulge in the sumptuous dining options, an award-winning spa, watersports activities and warm-weather favorites like yoga and painting classes. A scenic pedestrian path links Sanderling to both the town of Duck and the neighboring Pine Island community, making the resort's amenities easily accessible by foot or bike.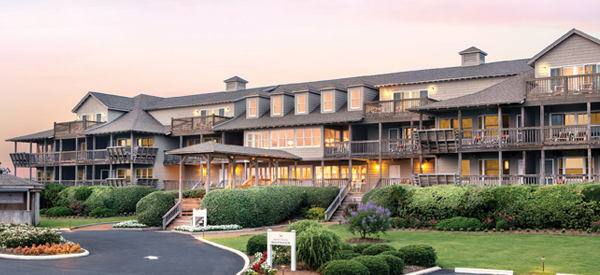 Whether you're looking for the locals' favorite breakfast spot or an elegant fine dining experience, you will find it at Sanderling. The family-friendly Lifesaving Station Restaurant offers a casual environment where Southern classics are served alongside fresh, local seafood. Chef Dan Grunbeck changes the menu with the seasons (the restaurant is open year-round for three meals a day), so diners are sure to find something new each time they return, and the wine and beer selections are always splendid. Dine indoors to appreciate the historic building, formerly Caffey's Inlet Life Saving Station No. 5, or enjoy the ocean breezes on a new deck outfitted with Sanderling's iconic, oversized orange umbrellas.
For a special evening out, take your seat in the polished dining room of the Outer Banks' only AAA Four Diamond restaurant, Kimball's Kitchen, where the room is circular in nature to afford each guest an unforgettable view of the Currituck Sound. The world-class menu highlights seafood from our own waters as well as Certified Angus Beef, handmade pasta and a considerable raw bar — the oysters are fantastic! If you can look away from the sunset, you will likely see your meal prepared before you in the exhibition-style kitchen in which Chef de Cuisine, John Botkin, is on site every evening bringing more than 20 years of culinary experience to the Kimball's team. The restaurant also offers a Wine Spectator award-winning wine list and hand-crafted cocktails to round out your waterfront dining experience. Kimball's Kitchen will open in May for the 2016 season.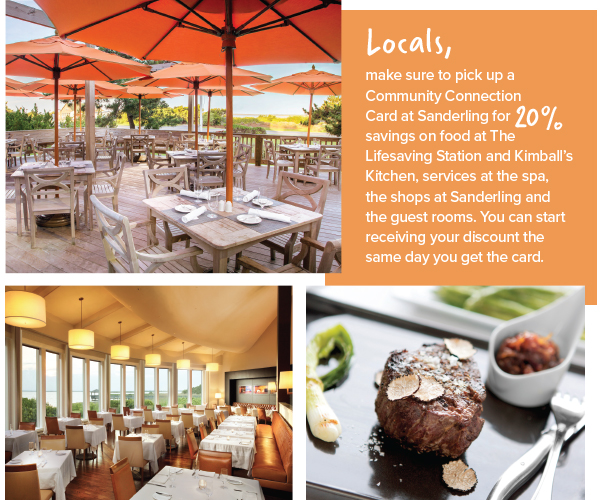 Some of Sanderling's other amenities are accessible year-round, and that includes the award-winning Spa at Sanderling. Overlooking the serene Currituck Sound, the 6,000-square-foot spa offers 10 luxurious treatment rooms where visitors can indulge in massage therapy and body and facial treatments that draw from the natural resources of the Outer Banks. Take a dip in the indoor pool or relax in the inviting eucalyptus steam room, then enjoy your lunch on the soundfront deck while listening to the sound waters lapping at the shoreline. Sanderling's professional therapists, stylists and cosmetologists are prepared to revitalize you in body and spirit. Make sure to contact them early for bridal services!
With rejuvenation in mind, visitors to Sanderling might also consider a beach sunrise yoga class on the oceanside observation deck. The class is designed with purposeful balance, movement and breathing in mind, and careful consideration is always given to all fitness levels. Classes will begin regularly in mid-May, and private, customized sessions can also be scheduled.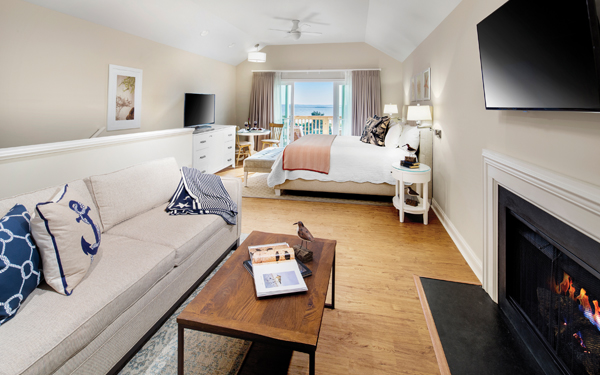 As our beaches awake for the forthcoming summer season, the Kitty Hawk Kites Adventure Kiosk is opening back up poolside at Sanderling. From surfing to kayaking to standup paddleboarding, there are adventures fit for everyone made possible by the resort's optimal location spanning from ocean to sound. Kitty Hawk Kites Recreational Sales and Reservations Manager, Luke Baer, believes the resort has "untapped potential to become one of the most premier watersports destinations on the Outer Banks. The Sanderling Resort is a truly unique location on the Outer Banks because it offers soundside access to the pristine salt marshes of the Currituck Sound as well as oceanside access. This allows both true beginners and experienced paddlers to enjoy these activities."
And, truthfully, visitors to Sanderling will have a fun time just choosing the adventures with an array of lessons and rentals happening right at the Adventure Kiosk as well as signing up for off-site activities such as hang gliding, charter fishing, vineyard tours and even a jet pack adventure for the thrill seekers. Take a guided standup paddleboard tour through the magnificent coastal marshes of the nearby Pine Island Audubon Sanctuary, or enjoy catching waves right in front of the resort as you divide your time between the Atlantic and Currituck Sound.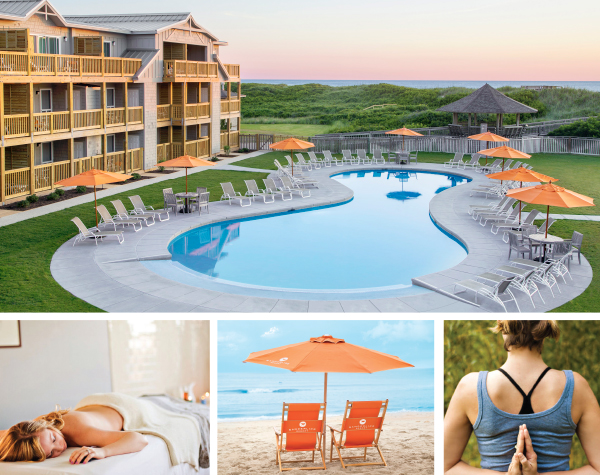 Families with young children will appreciate the host of family-oriented activities happening this summer such as children's painting classes, underwater photography sessions and ghost crab hunting after dark. Kitty Hawk Kites has added new activities for families as well including mermaid fin swimming lessons for kids who dream of a life under the sea (or in the pool) and Kids Day with kite flying demonstrations and lessons.
It seems the options are endless at Sanderling Resort, where families and couples have been returning for that all-inclusive, toes-in-the-sand Outer Banks vacation for more than 30 years. And, whether you are a resort guest or daytime visitor, we will see you this year at Sanderling.
 
Resort Renovations 
During the off-season, all guest rooms in the South Inn and Beach House were renovated with new furniture, fixtures, bathrooms and carpet. The renovations that took place in the North Inn were also rounded out this year with the addition of new carpet, making all 120 accommodations completely renovated.