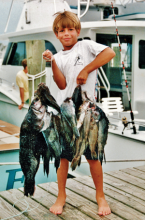 You get the coffee perking, throw open the curtains and turn on the marine forecast - is that your routine for starting the day? Do you listen attentively for the times of high tide, low tide and if it's gonna be a'blowin' a gale? If so, you must call the Outer Banks home -- either literally or in the sense of the proverb "home is where the heart is." The late Jacques Yves Cousteau said, "The sea, once it casts its spell, holds one in its net of wonder forever."
Capt. Al and Vanessa Foreman, owners of the 65-foot headboat Crystal Dawn and the 57-foot Country Girl, can attest to the veracity of Cousteau's statement - they provide access to the "wonder" that includes a mind-boggling list of interests, loves, diversions and possibilities. The ocean isn't only about surfing, fishing and collecting seashells; it is whatever you dream for it to be. Spending time on the waters can be the beginning of a new life or an end to a completed one.
Though both these boats have been well known for close to 40 years for getting people out onto the waters to fish, many of Capt. Al's offshore trips over these decades have been efforts to catch sight of pelagic birds. Some of these elusive seabirds fly above the ocean for years, rarely landing on ground except to breed, and some never land on water.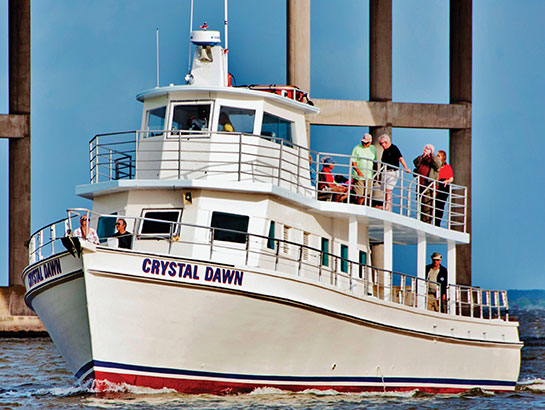 Capt. Al and David Lee, the former curator of the North Carolina Museum of Natural Sciences, made hundreds of collection trips over the years, says Vanessa. Lee is credited with expanding the museum's bird collection to more than 20,000 specimens, and some of those are the result of the trips he made offshore with Capt. Al. If you are looking for a way to add another "lifer" to your birding list, the Country Girl can help you get there. Pelagic birding trips have gained popularity, and the boat can easily accommodate up to 27 so you can bring your birding pals. You might just hit seabird gold with a rare sighting. Some of the previous sightings that have set the birding world abuzz include North America's first accepted Black-bellied Storm Petrel, the continent's second accepted Bulwer's Petrel and multiple European Storm-petrels.
If fins are more interesting than feathers, offshore wreck fishing might be more appealing to you. If so the Country Girl can be booked for that as well as for Gulf Stream charters. She is equipped with the latest electronic, navigational and fish-finding equipment.
A trip out into the ocean can be your ticket to some great memories and fantastic fish tales because fishing in the deep Atlantic waters isn't a "what happens at sea, stays at sea" sort of event. Memories of catching a tuna, marlin or sailfish is a happening that begs to be shared for a lifetime. Unless you want your friends to roll their eyes at your fish tale of the 80 pounder you fought for an hour to bring aboard, you'll want to be able to record your big adventure.
You know that the two most important things to look for in an offshore trip are a strong, sea-worthy vessel and an experienced captain. The Country Girl is a custom-built Cannady handcrafted by Capt. Al's father-in-law, local legend Capt. Buddy Cannady.
The captain holds a masters license with unlimited tonnage. The Country Girl is Coast Guard-licensed and equipped to take out more than six anglers and it can reach its offshore destination quickly.
"Fishermen aboard the Country Girl can reel in their favorite bottom fishing catches such as sea bass and tilefish and mahi," says Vanessa. "We go bottom fishing four days a week, Tuesday through Friday, and we can take up to 27 so large parties are no problem. Anglers can book space just for themselves or bring a party. The boat goes out seven days a week if there are charters so those looking to catch tuna, dolphin and marlin also have plenty of opportunities.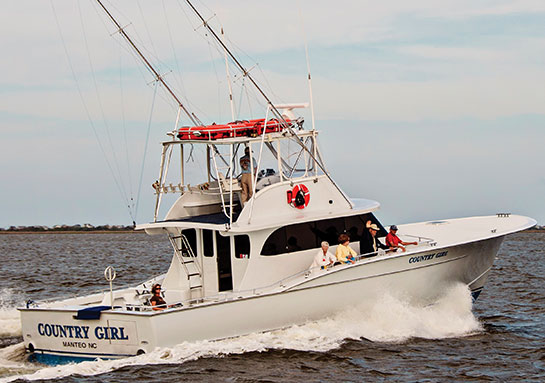 And we troll on every trip." The Country Girl and headboat Crystal Dawn aren't limited to fishing parties. "We get all kinds of different parties. Some book to hold reunions, others use one of the boats for bachelor or bachelorette parties, and corporations host their clients on outings. Their choice of boats allows them to book the right venue for the number of guests and to fit into their budgets," said Vanessa.
The Crystal Dawn, docked at Pirate's Cove Marina, can easily accommodate 100 people but limits the number to 50 for fishing parties. "We use this boat for inlet or sound fishing and for evening cruises," says Vanessa. "She is equipped with all new tackle, ship-to-shore and CB radios, fathomers and a fish finder - we even supply the bait, fishing license and fish bags! We think that is a great deal, and it really helps them stretch their vacation dollars. Fishermen love it because they can go fishing for an economical price and all they have to bring is their hankering to wet a line."
If you get goose bumps when you hear someone say "the blues are running," a sound trip might be the ticket to satisfying your yearning to catch one.
You can take a shot of reeling in catches such as bluefish, trout, croaker, flounder, spot - all the Outer Banks' favorite species -- by reserving space on one of the two half-day trips offered on this headboat every Monday thru Saturday in June, July and August. One half-day morning trip is scheduled for the off-season months of May, September and October.
Every good sailor knows how to tie a knot, which is perhaps why couples often hunger to "tie their knot" cruising around through calm Carolina waters while the sun slides down behind the horizon. "We often host weddings and can help the brides to find the services they need such as caterers and florists. Getting married on a private cruise is really special, and attendees love it as much as the wedding couple," says Vanessa.
Evening cruises are a popular offering and a hit with old and young alike. You can relax while the Crystal Dawn meanders around the Roanoke Sound. There always is a good possibility of seeing dolphins while enjoying the view of the 16th-century representative sailing vessel, the Elizabeth II. And, viewed from the water, Jockey's Ridge takes on an entirely new look as does the Wright Brothers National Memorial. There's often other wildlife and shore birds spotted while listening to a commentary about the Outer Banks.
Those who love the water and all the pleasure it provides in life often wish to be buried at sea so that their ashes flow in the net of wonder forever.
To meet that desire, the Foremans offer a solemn and sacred service for burial of ashes at sea. The dignified event is available from both vessels and is performed at the 3-mile offshore legal limit. "Whether it is a party of one or 97, we can help the family plan either a formal or informal burial at sea," says Vanessa. "After the ashes are placed in the water, if the family chooses to do so, flowers can be cast into the sea around it. We then do two full turns around the ashes and flowers as a last sign of respect and farewell to the departed.
"We provide the family with a certificate that includes the coordinates of where the burial takes place. The family can choose how they want to say goodbye to their loved one. Some may want music, a clergy-led memorial and eulogies. Occasionally, the family cannot attend so we take care of the service for them and always say a special verse."
The Foremans understand that water, whether for fishing, playing or relaxing, is what brings most visitors to the Outer Banks and what keeps many locals happy. Being on the water, feeling the breeze, being in the middle of the wonder of it all - well, it just doesn't get much better. For more about how to book space for your own adventure on the vessels, visit www.countrygirlcharters.com or www.crystaldawnheadboat.com or call (252) 473-5577.
Book your Fishing Adventure Today
(252) 473-5577
2000 Sailfish Drive
Pirate's Cove Yacht Club on the
Nags Head/Manteo Causeway
crystaldawnheadboat.com | countrygirlcharters.com