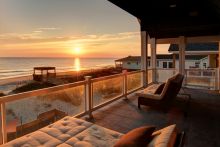 When a colony of men and women attempted to established the first permanent English settlement on the Outer Banks in 1587, things were a bit different here. With none of the amenities we often take for granted today, that first colony worked tirelessly to build and maintain their own shelters as they tried to eke out a living in unfamiliar territory. 
As early as the mid-1800s, however, life on the Outer Banks had changed dramatically – and this time there was an entirely different group of people visiting and living here! That's right, vacationing on the Outer Banks in the summertime was quickly gaining popularity as places like the Nags Head Hotel began offering stylish accommodations for island getaways. With plenty of boardwalks and even a horse-drawn railroad that connected the soundside hotel to the ocean, elegant ladies and gentlemen could regularly be seen strolling the beaches in full dress with their parasols held aloft.      

Whether it's been more than 400 years since the first English colony settled here or more than a century and a half since some of the first summertime vacationers came to enjoy these beaches, it's hard to deny that both of these time periods were monumental in developing the Outer Banks into the premier destination spot we all know and love today. And now this summer we'll be able to celebrate a new exciting development that evokes memories of some of these historic shifts that have shaped the Outer Banks: The Shores at Nags Head.  

The Shores at Nags Head isn't only the newest oceanfront community in Nags Head, it's also the most exciting, with six luxurious homes constructed with environmentally conscious green building techniques that showcase some of the very latest innovations in design and décor. These homes look like a spread in a high-end architectural magazine, and you immediately see that they are intended for luxury. Artwork adorns the walls; fabric choices and wall colors are ones a trained decorator would choose; the gourmet kitchen is incredibly appointed and set up to make cooking a meal a fun part of your vacation, not an exercise in hunting for appropriate meal prep tools. 

Indeed, just a sample of some of the upscale amenities these spacious homes offer is enough to turn even the most seasoned vacationers' head, from private heated pools, saunas and outdoor event areas to state-of-the-art recreation rooms, home theaters, elevators to incredible panoramic views of the Atlantic Ocean to the east, the sound and Roanoke Island to the west, the seemingly never-ending beach to the north and the laid back South Nags Head in that direction. Imagine spending your vacation in a 5,000-square-foot oceanfront house that contains eight master bedrooms and eight and a half baths, one where you have a front row seat to Outer Banks sunrises and sunsets. Resort wants your experience with these amenity-laden homes to be just as above and beyond what a typical vacationer would expect to find on the Outer Banks today as those first soundside visitors would have felt had they encountered an air-conditioned hotel room more than 150 years ago. And, while the Shores at Nags Head's concierge reps don't have to have horses pull equipment across the sand to ensure your beach comfort, they will be there every early morning and late afternoon providing cabana service, setting up your chairs and tents so you don't have to. 

At heart, the aim of Shores at Nags Head is to provide you with an exceptional vacation, of course, but also to give you the full Outer Banks vacation experience, to have you feel connected to the significant history of this area. As part of that project, the team at Resort Realty, who built these homes in partnership with SAGA Construction, knew that they wanted to find individual names for each of the Shores at Nags Head houses that spoke directly to the fascinating history of the Outer Banks. They deliberated over a long list of themes before inspiration hit and someone mentioned that first English colony, also popularly known as the Lost Colony after they mysteriously disappeared a few years after they established their settlement.

The Lost Colony theme it was, and now the Shores at Nags Head homes proudly bear the names of Queen Elizabeth, the monarch who funded their voyage across the Atlantic, Sir Walter Raleigh, the explorer who recruited the settlers, Eleanor Dare, one of the first English women to settle on our shores, and her daughter, Virginia Dare, the first English child born on American soil. As a way to further celebrate these historic figures who are so inextricably tied to the Outer Banks, the homes in the Shores at Nags Head will also display fun information on their namesakes so visitors can learn more about the fascinating history of these islands. 
Even though a lot has changed on the Outer Banks since the Lost Colony first waded ashore, some things remain very much the same. We still have some of the most beautiful and pristine beaches in the country – and, dare we say it? – some of the best people who live and vacation here. So whether you were one of the first settlers or the first mainland visitors or are lucky enough to be one of the first people to enjoy all that the Shores at Nags Head has to offer, we're all part of the Outer Banks' story that stretches from past to present…and well into the future.

Resort Realty
(800) 458-3830
5219 South Croatan Highway, Nags Head
resortrealty.com