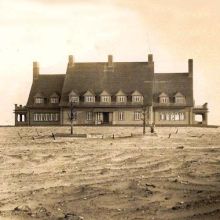 Cast your mind back 100 years, if you will. It's 1922 and the world is just emerging from a pandemic. People are ready to embrace gathering, music and time with family and friends. Rapid social and political changes are taking place as people find their way into a new normal. Sounds a little bit familiar, right? Entering this not so distant, actually quite relatable social landscape, imagine now a wealthy businessman and heir with the soul of an artist, widowed, who has found love again. Edward Knight is his name, and he's remarried Marie-Louise LeBel Knight, a French-Canadian trailblazer with a penchant for waterfowl hunting and the outdoors. They honeymoon and hunt in Corolla at The Lighthouse Club. Located on 4.5 miles of soundside land right beside the Currituck Beach Lighthouse, the Knights enjoy themselves so much that Mr. Knight buys the club and its land for his bride. Newly married and ready to enjoy what matters – family, nature and time together – the Knights prepare to build a five-story, architecturally astounding Art Nouveau oasis that will become known as Whalehead Club. One hundred years later, Whalehead, the mansion built for love, still stands in Corolla for you to visit today.
One hundred years ago, getting to Corolla was an adventure. In the Knights' case, it helped that they were ridiculously wealthy and owned a steamship company. They could drive down from one of their homes in Rhode Island, Pennsylvania or New York, hop on a ship in Baltimore, steam on down to Norfolk then hire a Corolla local to meet them there and drive down the narrow strand of beach from Virginia to the northern Outer Banks. Mrs. Knight was heavily involved in the architectural design of Whalehead; at the time the Knights named their mansion Corolla Island and indeed built their own little moat and bridges to reach the house. The Knights moved down to The Lighthouse Club soon after buying it to be involved in the building of their mansion. There were no roads to Corolla, so building materials were boated in or driven down the beach.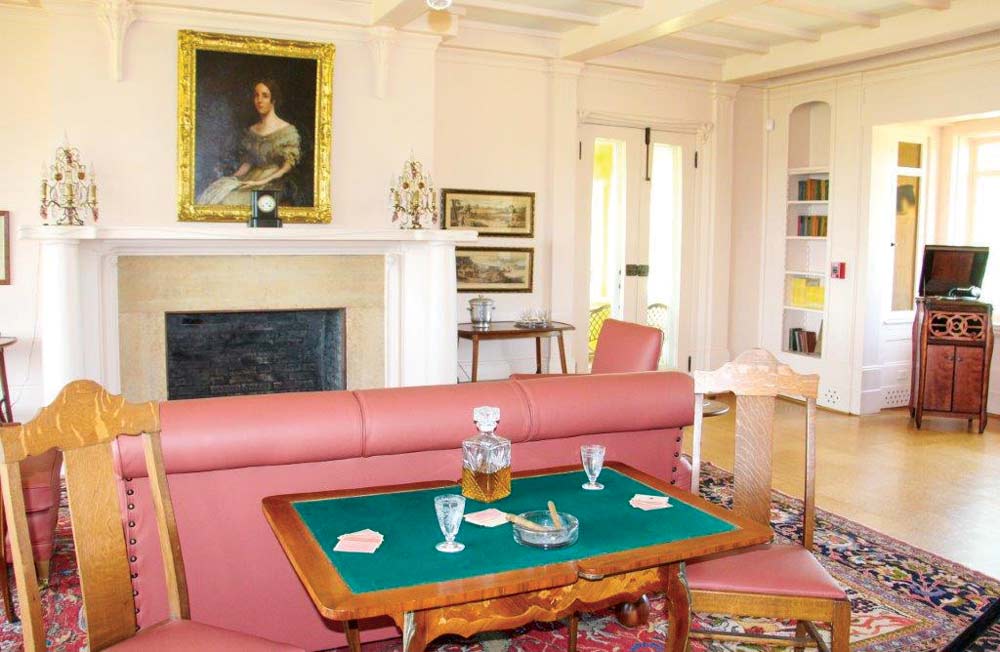 The Knights' vision for their mansion was heavily inspired by the natural beauty of the Outer Banks. Whalehead is a bright, sunshiny yellow with a glistening copper roof, peaked gables, mahogany doors and long stretches of porches to catch that Outer Banks breeze. When the building was being planned 100 years ago Art Nouveau was no longer the "it" style, but Art Nouveau's devotion to and inspiration from nature were perfect style matches. "How could you find a more beautiful place in nature to build your home?" asks Jill Landen, site manager and curator of Whalehead in Historic Corolla. "They had a vision, and it took." With bright colors reminiscent of sunshine, water, sunsets and marsh grass, Whalehead is a gem reflecting the gorgeous natural environment of the Outer Banks.
The Outer Banks, though, did provide some challenges in building a five-story mansion complete with a full basement. How did the Knights even build a basement on a barrier island where most houses perch on stilts? In a way, they didn't. Instead, they built what would become the basement on a slight hill, then dug out soil for the canals to form their "island," pushing that soil up against the walls of the first floor. Voila, servants' work areas tucked neatly into a basement. The Knights also installed indoor plumbing, electricity and an elevator, all highly unusual for 100 years ago, particularly on the Outer Banks where electricity to the populace didn't arrive until the 1950s. Despite any trials building in the environment entailed, the Knights succeeded in designing an astounding piece of architecture with an elegance that echoes the natural beauty of the northern Outer Banks.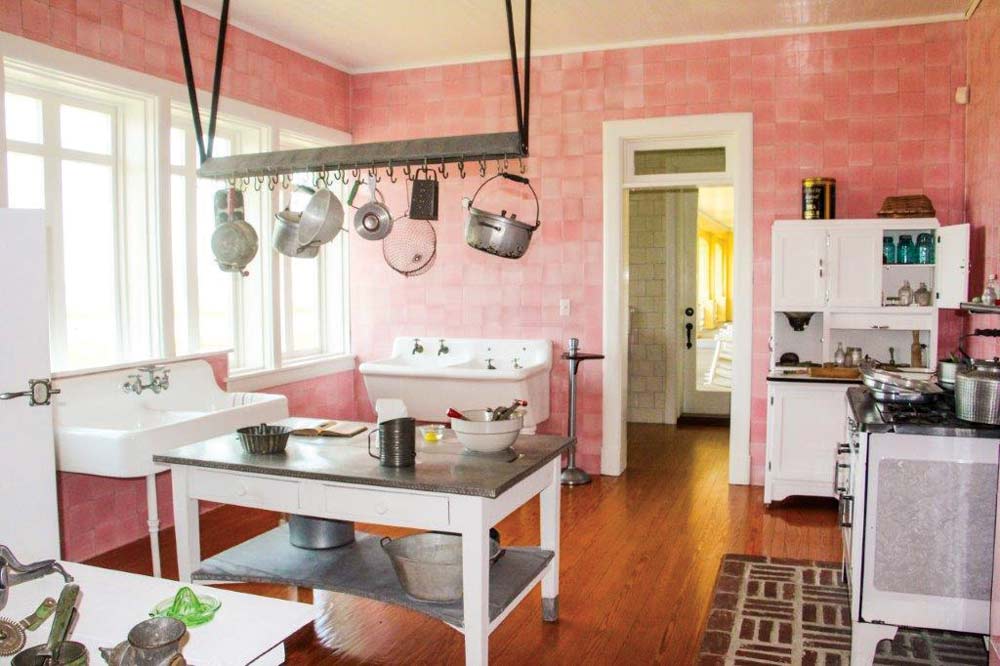 On the main floor, Whalehead's Art Nouveau style really shines. Tiffany lamps and sconces, expensive when the Knights were building and priceless now, decorate the house. A water lily theme flows throughout, with the flowers decorating walls, furniture and Tiffany lamps. A Steinway graces the library, perfect for gathering around with friends and family. And the candy-pink kitchen was just right for Mr. Knight and his chefs to create meals for family and guests.
When construction on Whalehead was complete, the Knights moved down every winter to enjoy the quiet and the hunting, often joined by a group of family and close friends. If you're like me, you're picturing a Roaring 20s, Gatsby-esque festival of flappers and excess, but the Knights were a bit more in tune with the vibe of Corolla and spent their time relaxing, hunting, playing cards and creating art. Music and, yes, probably a fair amount of questionably legal booze made for a jolly time, but as fantastic and over-the-top as the mansion is, its inhabitants were mostly looking for a quiet place to get away and enjoy time together. Again, not so far from what we look for when vacationing in Corolla today.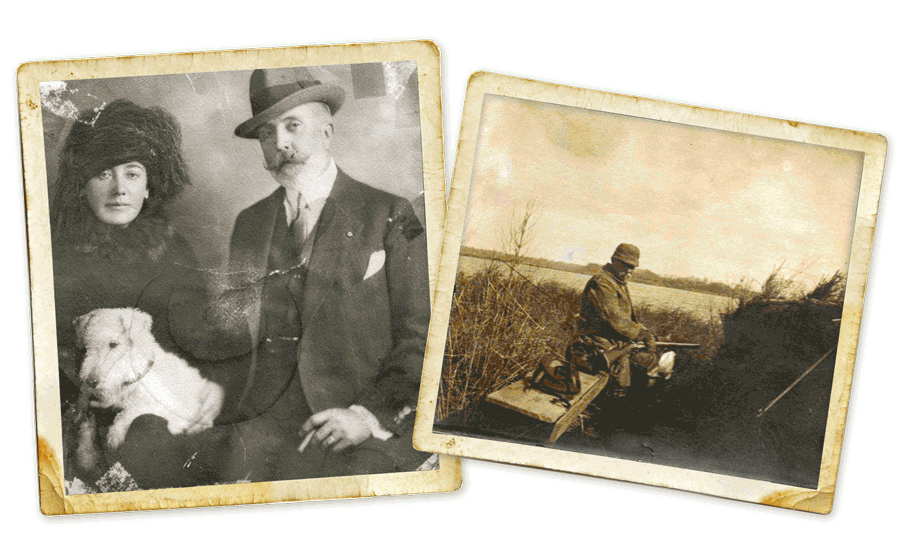 The Knights would set down roots in Corolla every winter throughout the 1920s, only stopping when Mr. Knight fell ill in 1934. After he and his wife died, the Knights' mansion sat empty for a time before selling it to Mr. Ray Adams, who would name it Whalehead Club and turn it into a pay-to-play hunting club. World War II loomed, though, and soon after Adams purchased Whalehead the Coast Guard leased it out. Close to Norfolk, one of the most important naval bases on the Atlantic coast, the Coast Guard men staying at Whalehead played a role in defeating the U-boats that stalked our shores. After the war, Mr. Adams tried to develop Whalehead again, but the road he anticipated didn't happen, and the mansion sold to several different owners. Among others, Whalehead was home to a boys' summer school and a top-secret testing site for the rocket fuel that eventually took Americans to the moon. The County of Currituck eventually purchased and restored the mansion and property so we can all enjoy Whalehead as it was when the Knights lived there.
One of the treasures the Knights left behind was the logbooks starting with The Lighthouse Club that continued through their time in Corolla. They logged the weather, birds they saw, waterfowl they shot, storms, shipwrecks and visitors they welcomed. Mr. Knight sketched the decorations they put up for the holidays in the logbooks, and those decorations are now recreated for you to see during the Christmas season. The entire mansion has been redone in its original colors and is open for several different tours. The mansion, a boathouse and one bridge built by the Knights are all on the National Historic Register. There's also a maritime museum and wildlife center in Historic Corolla Park, and the grounds at Whalehead are available for weddings and events.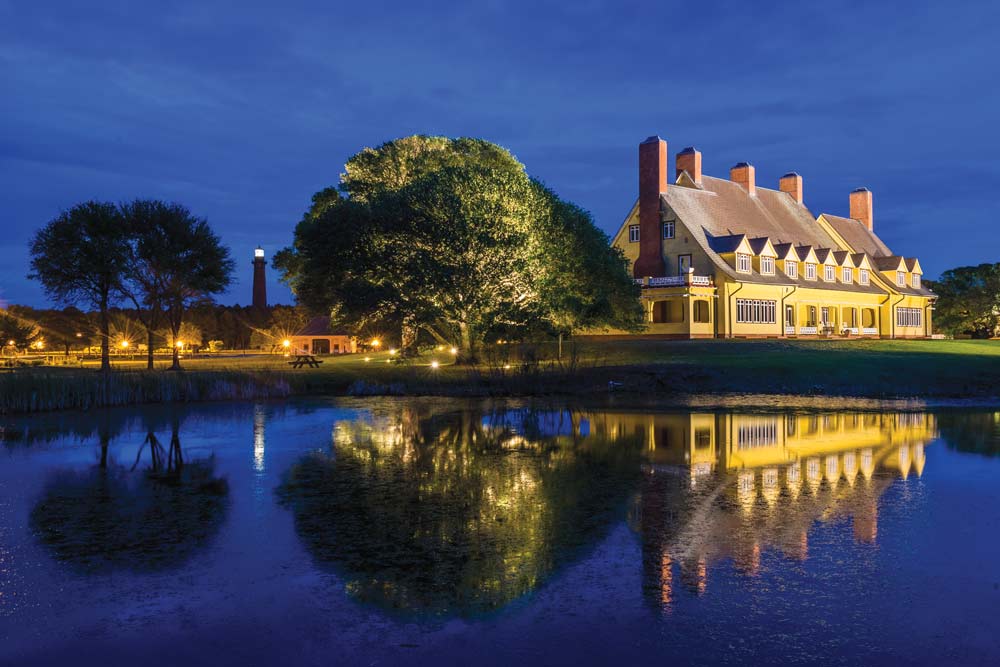 Today, 100 years after the Knights fell in love with Corolla and began planning their Outer Banks getaway mansion, I'm struck once again by how tied we are to our history and how, despite the rapid changes in our world, we're all enriched by the same things as the people who lived 100 years ago – time together with family and friends, art, food, music and nature. It's something to celebrate, this 100-year connection with the Knights as they found love and happiness after all they'd been through. Maybe a visit to Whalehead, the nature-inspired mansion built for love, is just the right touchstone to anchor us to our past as we move forward into a bright new day.
Learn more about Whalehead, including history, tours and events, at VisitWhalehead.com

---