You could make the argument that everything's about location — and on the Outer Banks we pretty much hit the jackpot on that. Of course we all have our favorite spots, and for many of us the charms of Roanoke Island top the list. Just consider that moment when you crest the Washington Baum Bridge headed toward the island, when you're guaranteed to be greeted with a scene that could be taken straight from a postcard. With a panorama of marsh grasses and wetlands, Roanoke Sound and, just in the distance, historic downtown Manteo…what's not to love? Yet in order to make this picture complete you also have a prime view of a place that's arguably one of the best-kept secrets on the Outer Banks: Pirate's Cove Resort.

Conveniently nestled at the foot of the bridge once you arrive on Roanoke Island, Pirate's Cove Resort isn't really a secret per say (how could it be with that kind of view?), but apart from recognizing the wow factor at first sight of the community, most people just simply don't know how many truly impressive things are going on within those gates.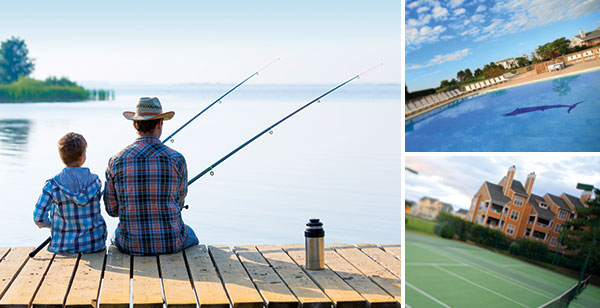 Perhaps the most noteworthy aspect of Pirate's Cove Resort is that they are, first and foremost, a family-oriented community. All of the more than 500 properties (which range from condos to townhouses and free-standing family homes that commonly feature exclusive comforts such as private pools, elevators and game rooms) are individually owned either by year round residents or by folks from all over the country. So while there are always a wide variety of exquisite properties to rent, Pirate's Cove Resort isn't simply a vacation spot — though, to be fair, it certainly is a great vacation spot too!

"Everyone's part of the family here," says Ken Herman, Rental Coordinator for Pirate's Cove Realty. "You see it all the time, but especially during gatherings like the annual homeowners' weekend when everyone's barbequing on their back decks and catching up with old friends. Even first time visitors feel the difference at events like the 4th of July golf cart parade — there's just a great atmosphere here that makes everyone feel welcome."

And that special sense of community doesn't end at the Pirate's Cove gates. Being so centrally located — in a matter of minutes you can be in the heart of downtown Manteo enjoying fun events such as First Fridays street festivals, or you can jet back over the bridge and enjoy the pristine Nags Head beaches and the wide variety of night life that can be found there — the people who cherish Pirate's Cove Resort have a unique respect for their ties to the wider Dare County community. In celebration of that, Pirate's Cove homeowners have created year round giving events such as an annual resort-wide yard sale and a Christmas drive that raises money for foster children in Dare County. 

Now add to all this a list of extensive on-site amenities at Pirate's Cove Resort that's almost mind-blowing. Imagine a clubhouse with an arcade and other activities, two pools, a fitness center, volleyball and tennis courts, a restaurant and tiki bar, an outdoor pavilion (that's perfect for both local and destination weddings), miles of lighted docks, a ship's store and of course deep water canals that support a famous world-class marina, which hosts a number of premier big game fishing tournaments throughout the year. What you end up with is a place that might just be your new favorite spot on the Outer Banks…no matter whether you stop in for a day-long event, a week's vacation or if you decide to stay long term!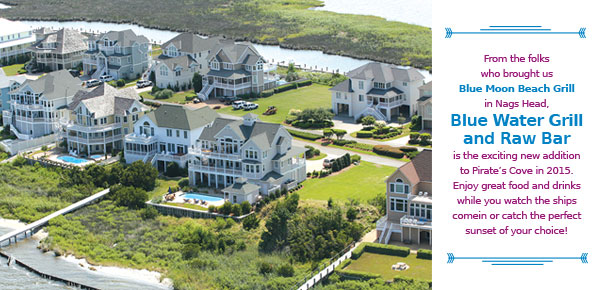 "It's as if we're on our own island here," Ken says. "While a lot of places on the Outer Banks offer oceanfront properties, Pirate's Cove Resort specializes in enjoying soundfront luxury." It's definitely a different way to experience all the beauty the Outer Banks has to offer, and that's what makes Pirate's Cove Resort stand out even more. After all, how many places can you take in a stunning sunrise and an equally stunning sunset on the Outer Banks? There's always Jockey's Ridge, but let's face it: If everything really is about location, there's ultimately nothing that competes with admiring the morning and evening skyline from the place you call home.
 
Pirate's Cove Realty
(888) 314-5795
1 Sailfish Drive, Manteo, NC 27954
pirates-cove.com