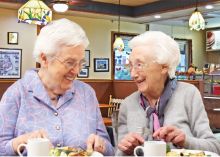 When I stepped into Stack 'em High in Kitty Hawk I was greeted by a printed sign cheerfully apologizing for the mess during renovations. So naturally the first thing I asked when I had a chance to sit down with the owner, Steve Kiousis, was what the renovations were for. "I'm trying to solve the loneliness problem on the Outer Banks," said Steve with a smile. That was quite a big claim to make about a simple renovation to a breakfast and lunch place, but I think that Steve may be on to something.
 
Their cozy, provincial dining room is filled with big wooden tables populated by happy families digging into their tasty breakfast. It's a cheerful atmosphere punctuated by Steve occasionally leaving the griddle to come chat with customers about football and their plans for the day. But Steve noticed that those same large tables can be awfully lonely for single diners. A lot of their regulars are older, retired people who have been coming for years and may have had their spouse pass away. For them, and any other single diners, Steve has put in a dining counter with a TV and beautiful, reclaimed teak bar stools. There, they'll have someone to sit next to and chat with as they enjoy one of the many fabulous dishes on the menu.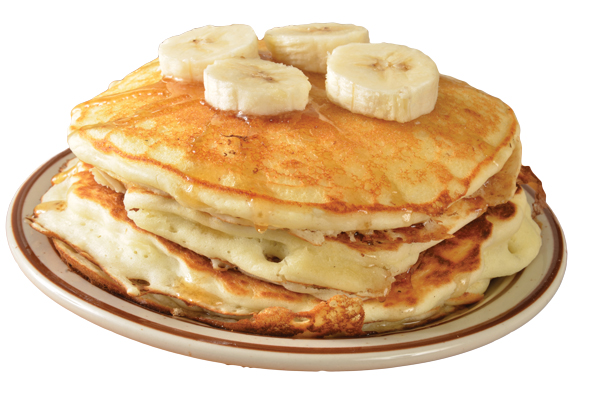 Some of the dishes are wildly inventive, like the fajitas, which are served with house-made Greek tzatziki sauce (a surprisingly delicious pairing). But mostly what they're serving at Stack 'em High is simple, classic dishes like French toast, omelets and, of course, pancakes. Dishes that, if you just glanced at the menu, you may think you could get at any restaurant. However, take one bite and you'll realize your taste buds are in for a completely unique experience. The recipes they use have been carefully crafted over the decades and refined for maximum deliciousness. The pancake mix is their own, closely guarded recipe. The breakfast sausage they have sent in is made specifically for them, with their own particular blend of spices. The secret to their delectable French toast is an atypical flavor extract combination, which Steve conspiringly revealed to me before swearing me to secrecy. Even their premium coffee is blended and roasted to their specifications. Then they take those coveted recipes and make them with the best ingredients they can get their hands on, like applewood smoked bacon, freshly baked, thick-cut bread and Tillamook cheeses. It's simple food, but it's done to absolute perfection.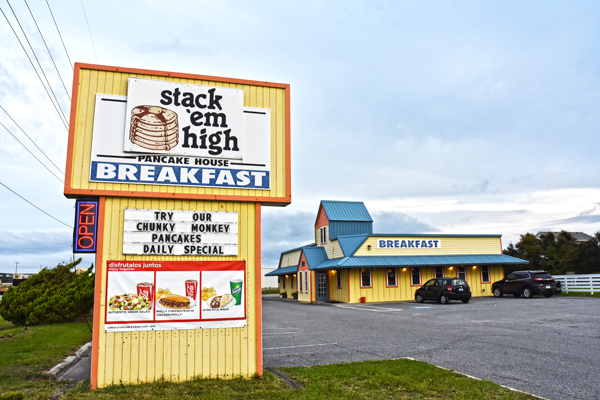 That's probably why locals and visitors have been coming back to this family-run restaurant for more than 30 years. Stack 'em High Kitty Hawk and the original Stack 'em High in Kill Devil Hills were opened by Steve's parents, Perry and Kiki, after they immigrated here from Greece. Back then there were only a few businesses on the Outer Banks, and the locals really had to stick together and help each other to survive. Steve and his brother, Nick, grew up helping their parents run the business, and now Steve and his wife, Kristine, run the Kitty Hawk location while Nick and his wife, Dawn, run the Kill Devil Hills location.
 
"That's how I got my sense of community. Growing up, Mom and Dad would always give the shirts off their backs to get somebody started in business or help somebody out," said Steve. His sense of community goes even further than "solving the loneliness problem." In addition to helping out local charities and fund-raisers whenever he can, every Thursday during the school year is Fund-Raiser Night at Stack 'em High. Groups like school teams and Boy Scout troops can sell tickets for a dinner of their choice and Steve donates his time and the use of the restaurant. In a way, these Fund-Raiser Nights are also helping to solve the loneliness problem. Walk in on a Thursday and you'll find the place packed with familiar faces. "What other night of the week can you go out and see all your friends and neighbors doing something fun?" said Steve.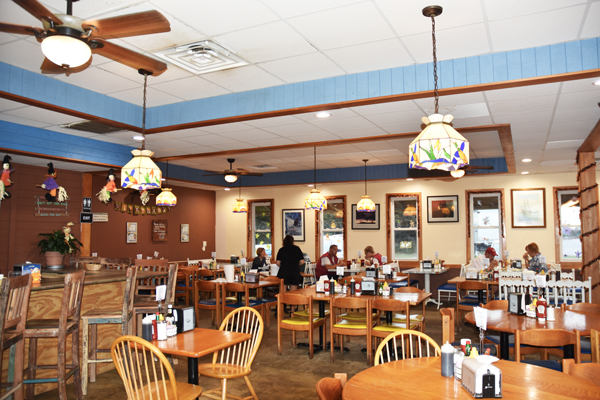 Steve wants locals to know that there's a secret new feature to the restaurant just for their benefit, so be sure to ask about it next time you come in. He's looking forward to seeing his regulars return now that the summer traffic has slowed, but he's always thrilled to see new, smiling faces as well. When I came in for the first time he laughed at my West Coast accent and promised to make me "a real Southern breakfast." I can say for certain that having tasted their fantastic food and soaked in the friendly ambiance, I will be back for many, many more Southern breakfasts at Stack 'em High.
---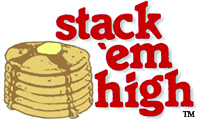 Stack 'em High
(252) 261-8221 • MP 4.5
3801 N. Croatan Highway, Kitty Hawk
stackemhigh.com