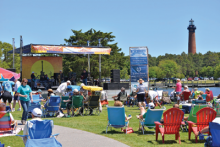 When Edward Collins Knight, Jr., brought his new bride to Corolla in 1922 for their honeymoon, two very different worlds began to merge: the world of a wealthy industrialist from the north, avid waterfowl hunter, nature lover and conservationist, and the world of the simple, hardy folk who lived and worked on the rugged strip of land called Corolla.
Corolla Island, now called Whalehead, is a five-story, 21,000-square-foot Art Nouveau masterpiece completed by Knight in 1925 to serve as a winter residence for him and Mrs. Knight. They loved to entertain the guests who stayed with them for hunting trips or as a summer retreat. Mrs. Knight had a one-of-a-kind Steinway piano made for her, and one can imagine them sitting around the piano after a long day of hunting and fishing, singing and playing songs of the time. Can't you imagine it - voices raised singing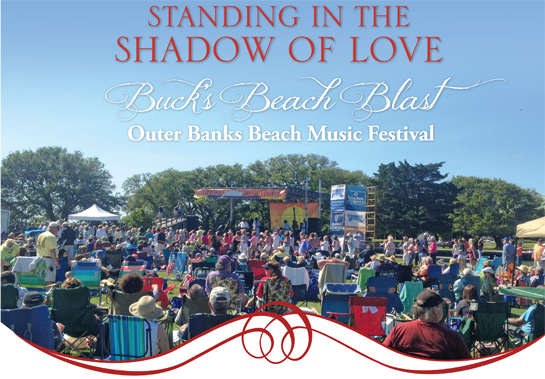 Songs of a different beat and style were in great popularity during another era of Whalehead's legacy. During the 1960s, the Atlantic Research Corporation owned the property as they tested solid rocket fuel. As this technology allowed our country to race for the moon, the music that came about during this decade allowed the creation of Moon Doggie, Gidget and their beach-loving friends and became their theme popularity and numbers. Along with the easy, summery rhythms and lyrics came a style of dancing that remains popular today known as The Shag.
Celebrating the culture of the various eras of life at the magnificent residence and its magical location is part of the Whalehead Preservation Trust's mission. Present-day visitors are treated to piano concerts throughout the year so that talented pianists can bring the Steinway back to life. And, to highlight the 1960s, there's the increasingly popular annual Buck's Beach Blast - Outer Banks Beach Music Festival held (not Up On the Roof or Under the Boardwalk) on the North Lawn of Whalehead overlooking the waters of the Currituck Sound.
The culture of beach music swings around groups of friends coming together, having fun and dancing the night away under the stars. Today's festival owes its genesis to a Southern gentleman by the name of George Alden "Buck" Thornton, III, and his brother Tim who started organizing beach music festivals at Ships Watch in Duck in 1988 as a way to raise funds for the Nags Heads Woods Nature Conservancy. For seven years people trekked through miles of sand to be a part of the fun. It was never just about another festival or concert; it was about the experience of the journey with friends, the off-the-beaten path drive and the music that compelled you to get up and move your feet even if you swore you didn't know how to Shag.
This year will be the third annual Beach Music Festival held at Whalehead in Historic Corolla. In celebration of the memory of a true friend of Whalehead and the Outer Banks community, the name of the event is officially changing to Buck's Beach Blast - Outer Banks Beach Music Festival this year. Bring your sweetie, the kids if you have them, lots of friends, a beach chair and a cooler (no alcohol - because beer and wine will be sold on site). But mostly, bring your unshod pieds so you can impress your friends with your Barefootin' cool moves while trying to Hold Back the Night (you really won't want this evening to end). I mean, What Kind of Fool Do You Think I Am? I Can't Help Myself! I Love Beach Music! So, May I ask you to join in the fun? If you don't come, I've Been Hurt...bad...real bad.
You don't have to know how to Shag - you can easily pick up the three-step moves. You only have to know how to relax under a lovely sky, beside the Currituck Sound with a view of Whalehead, a building that has held eras of time and music under its watch.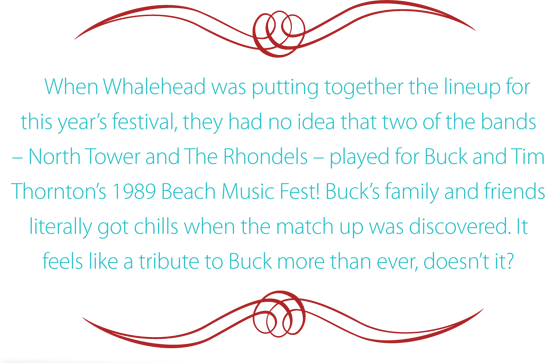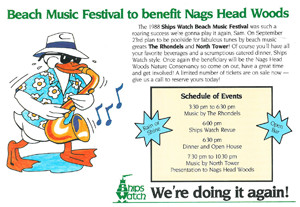 This fun poster advertised the second beach music festival that Buck and Tim Thornton organized.Then, the proceeds went to support Nags Head Woods, a diverse maritime forest mostly in Kill Devil Hills. Now, the reimagined Buck's Beach Blast benefits the preservation and celebration of Whalehead in Historic Corolla. Come party with us and add your energy to the legacy!