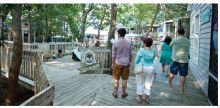 Those familiar with Duck already know that the best way to get around this quaint town is on foot or bike. Multi-use paths, numerous crosswalks and a soundside boardwalk cater to the pedestrian by making it easy to get anywhere in town, and a great incentive of walking is the many sights along the way. Here are the boutiques, markets and shops we tend to wander into – the businesses that leave you feeling like you know Duck inside and out.
Green Acres Farmers Market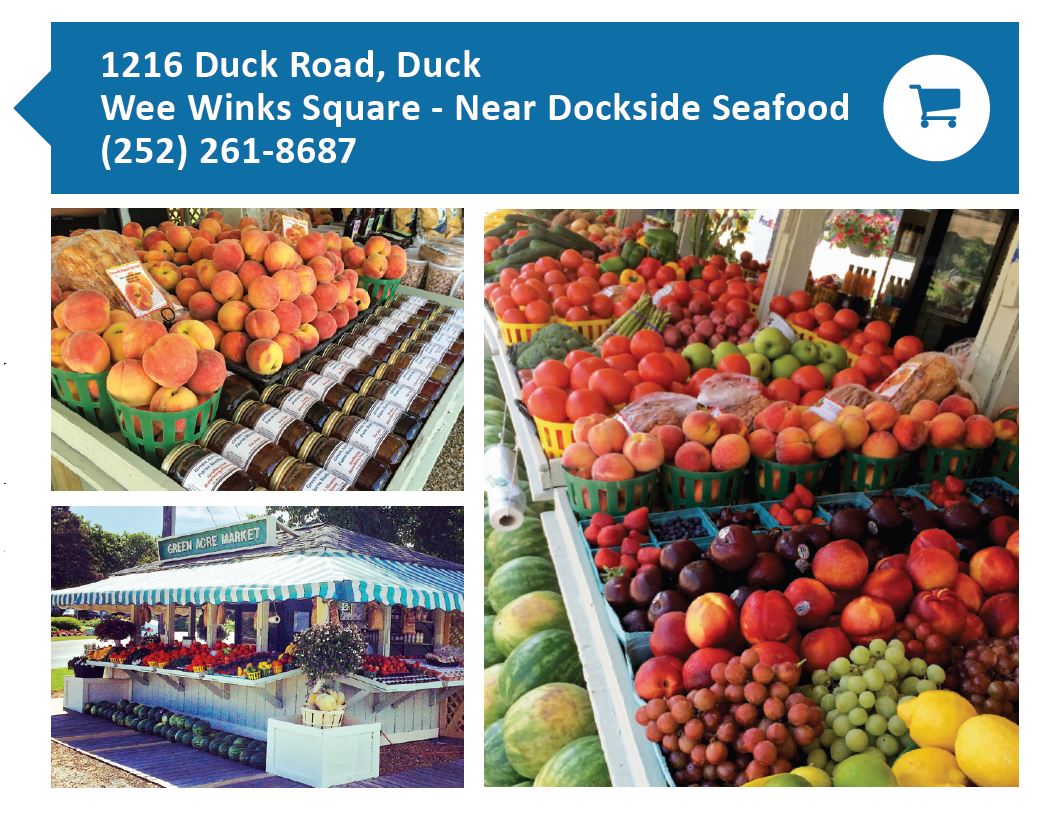 An array of produce so colorful it begs a photograph, homemade jams and preserves, just-baked breads and a whole lot more . . . . What better way to start the morning? Many visitors will agree that a trip to Green Acres Farmers Market in the parking lot of Dockside 'N Duck (they run that business too!) is a must. Whether the greatest appeal is the market's famous tomatoes or large burlap bags of peanuts hanging from the rafters, we can't say, but one thing is certain – the market's flurry of activity on any given day in the summertime is a sight to behold.

Most of the fresh offerings come straight from the Newbern family farm on the Currituck mainland. They've owned and operated the market for more than 25 years and have been farming, well, forever. With tomatoes plucked from one of 10,000 tomato plants on their farm and peaches that are talked about all over the Outer Banks, the wayward pedestrian will have trouble deciding what to take home.

We recommend a bottle of their well-known Carolina peach salad dressing, but if you just can't decide, never fear. The market is open seven days a week all summer long from 8 a.m. to 6 p.m.
Beach Treasures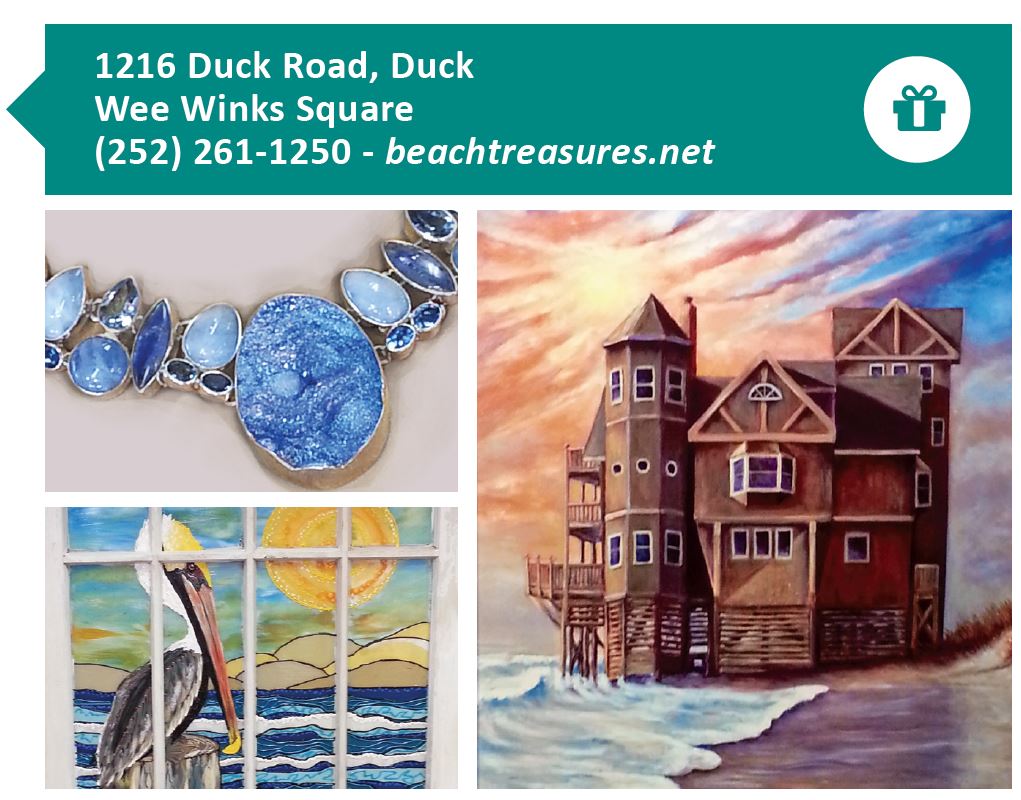 The discovery, while on vacation, of the Caribbean islands' stone Larimar, with  its color so like our own Carolina blue skies, changed the entire future of this shop. Larimar started the transition from a more traditional beach store to the current jewelry, art and gift shop filled with Outer Banks treasures. The owners of Beach Treasures welcome you to an eclectic mix of jewelry surrounded by one-of-a-kind local artwork. Twelve cases of sterling silver jewelry are filled to the brim with renowned artists such as MarahLago Larimar, Ed Levin's timeless quality and Chris Bales' beautiful, semi-precious stone creations. They spotlight local jewelry artisans and have a large selection of Native American pieces as well. You'll also find tables full of fun and funky fashion jewelry, just right for everyone's budget. The walls are covered with local artwork, painted glass and windows, original oil paintings and master photographers' works. And, each week you can meet different local artists on Wednesday evenings from 6 to 8:30 p.m. Come in and have your special piece personally autographed, or commission your own painting.

Beach Treasures is located on the Town of Duck Boardwalk in Wee Winks Square. The spectacular view of the sound makes this store's back deck a favorite spot for sunset pictures. Local musicians play on the back deck from 6 to 9 p.m. on Monday,Tuesday,Thursday and Friday nights. On Saturday afternoons, give your attitude a new latitude with live music from 1 to 4 p.m.!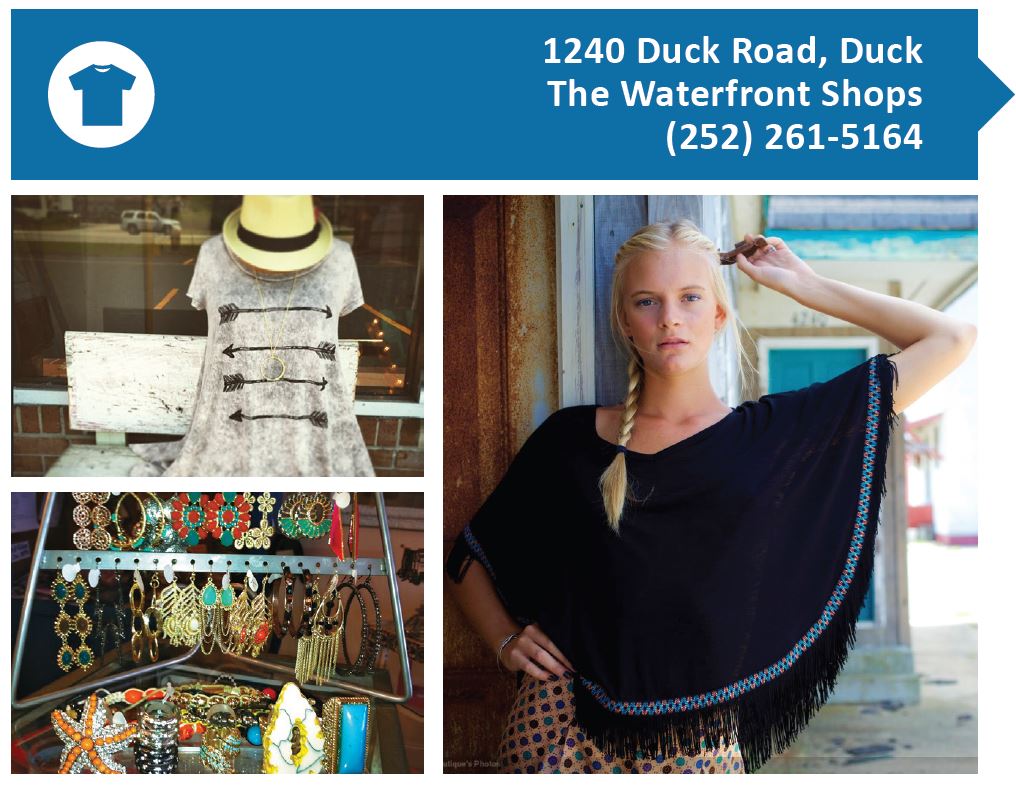 Islands by Amity
This trend-driven boutique in Duck has been attracting avid followers since its opening in '98. Owner Amity Lucas had a vision for a shop where visitors could find fashion-forward, urban clothing unlike the styles offered by most surf shops in the area. She handpicks everything that comes into the store, from clothing to jewelry to accessories.

This summer, the boutique is expanding into a second space, likewise located in The Waterfront Shops, to accommodate an influx of new arrivals. Visitors to either store can expect to see the same brands they seek out each year such as Free People, BB Dakota, Christian Livingston and Surf Gypsy along with some new jewelry picks.

Over the years, Lucas has developed a close, personal relationship with many of the shop's patrons, and she often has them call her from states away requesting that perfect gift for a family member who also frequents the store. Lucas believes the success of Islands by Amity is in the amount of time it has stood in Duck. While new businesses come and go each year, visitors can always plan to stop into Islands by Amity – and now they can look forward to the second shop too.

OBX Sugar Shack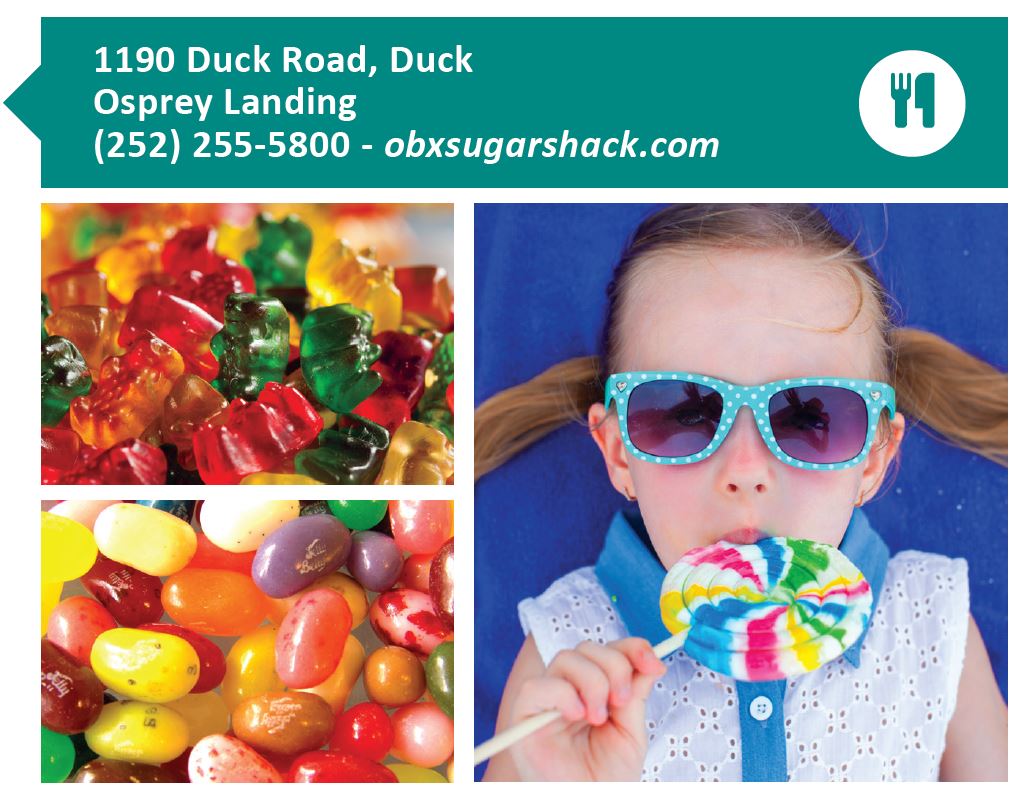 The walls are lined with Jelly Belly™ dispensers in every color and, below those, containers of candy ranging from gummy bears to double chocolate bacon and sea-salt chocolate creations. You can get your sweets by the bar or by the pound at OBX Sugar Shack along with taffy, gourmet chocolates, handmade fudge, popcorn and more.

The owner opened the shop in Osprey Landing in 2013 to offer a fun, vibrant, Willy Wonka inspired candy store for children and adults alike. You can bet the majority of customers are children nurturing a sweet tooth, but adults can find what they are looking for too in the gourmet chocolate case – Irish cream truffles, yum! – and among the large selection of wine. There are also fun signs for the chocolate lover ("All you need is love… and chocolate"), the dedicated beachgoer ("If you're not barefoot then you're overdressed") and just about everyone else.

The biggest crowd pleaser is the Harry Potter section, with favorites like Bertie Bott's Every Flavour Beans and Butterbeer, but that doesn't mean blasts from the past like the PEZ dispensers are overlooked. Find the treat that's right for you, then enjoy it outside on the Duck boardwalk overlooking the Currituck Sound.
​SeaDragon Gallery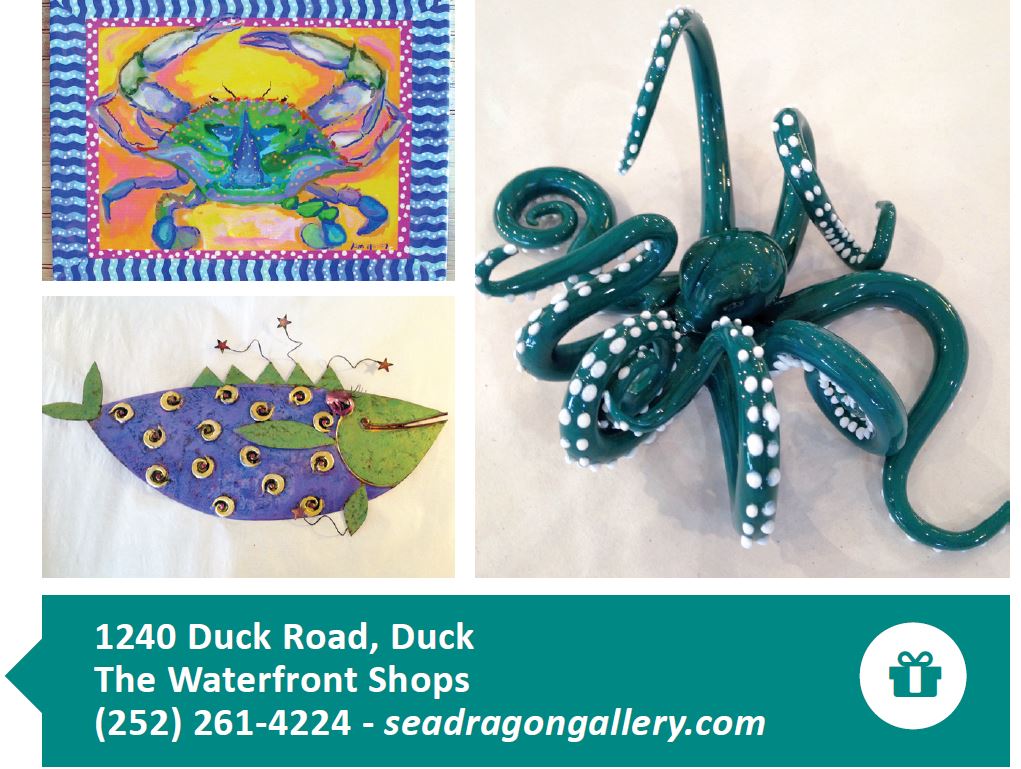 The first thing that returning patrons will say upon entering SeaDragon Gallery is how much everything has changed in a year, and about a third of it has. The gallery is filled with an eclectic collection of traditional and contemporary, fun and funky arts in the form of pottery, glass, wood, metal, fine art and jewelry. All the work shown is handcrafted by more than 100 American artisans and chosen for its design, creativity and craftsmanship.

Owner Paula Myatt has always had an appreciation and passion for the arts, which she and her staff delight in sharing with their customers. While the final choices of pieces in the gallery rest with Myatt, the entire gallery staff offers suggestions for artists to select resulting in a wonderfully diverse collection. One of the challenges each year is to find works by new and emerging artisans to introduce in the gallery so that visitors can always expect to see something different. Additionally, Myatt is especially interested in supporting outstanding local artisans. 

Now in its 15th season, the longtime gallery staff members look forward each summer to welcoming back the gallery's many faithful customers who have become almost like family and also to introducing the gallery to new visitors to the Outer Banks.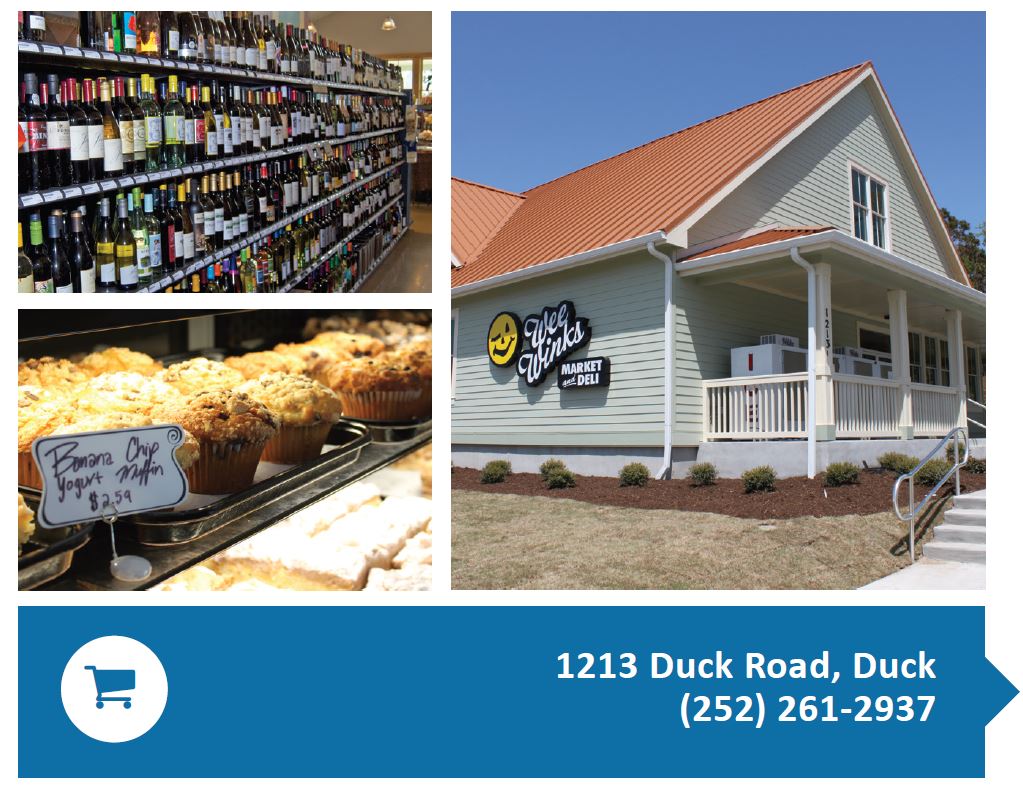 Wee Winks Market
Locals and visitors alike have always known Wee Winks Market as the one-stop shop in Duck, but now in its third summer in the new building with additions like a full-service deli, that title really rings true. The small town grocery store opened in May of '76 right where the road ended in Duck. It has always been family owned and family friendly, and today nothing has changed other than their fresh look and updated products.
Owners Ninette and Nathan Bearfield, who purchased the store in 2000, will tell you, "Just about everybody who comes in here for the first time is amazed at what we have." There's no need to trek back to Kitty Hawk when it's time to hit the grocery store. Wee Winks has your regulars like milk, bread and cereal in addition to made-to-order deli sandwiches, fine cuts of steak and chicken, fresh pastries, micro-brews and the largest wine selection in Duck. They were one of the first businesses to set up shop in town, and they are here to stay.

Nathan says one of the greatest things about Wee Winks is the families that return year after year. "We're getting into the second generation now," he said. "We have kids who walked up here and got ice cream with their parents 30 years ago, and now they're coming back with their own kids."
 
Carolina Moon Gallery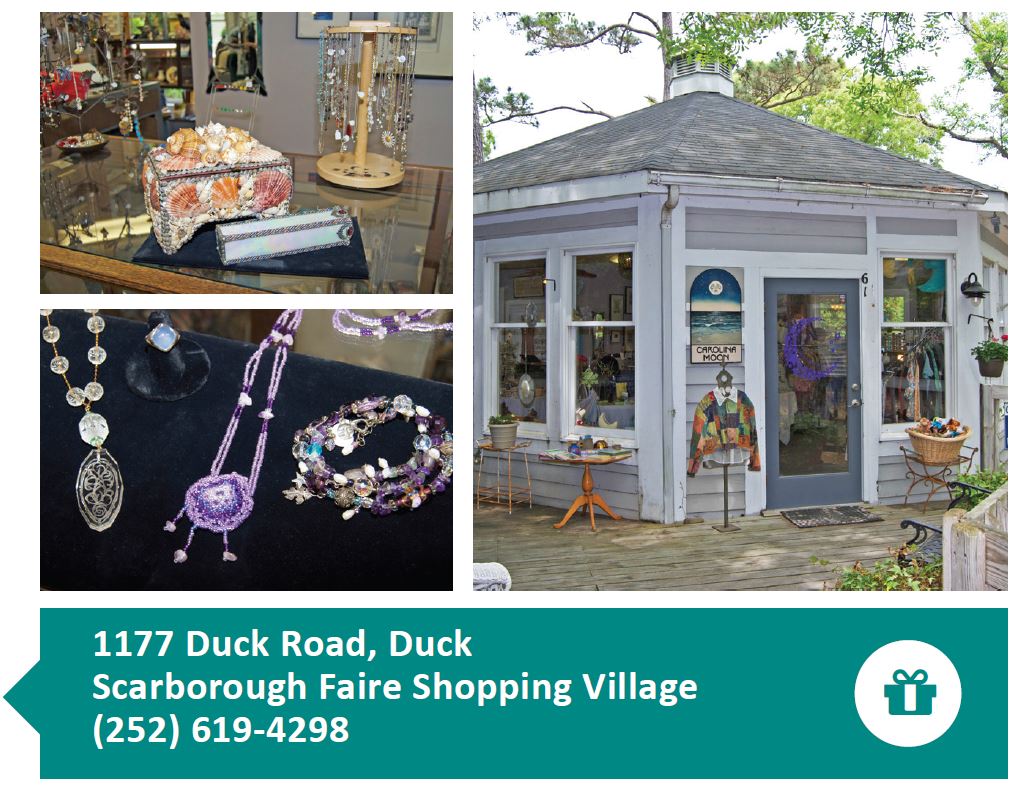 In the midst of the many shops of Scarborough Faire, Carolina Moon Gallery stands alone in its content. The circular shop is new to Duck but a well-known presence on the Outer Banks after 33 years in business. With an enormous selection of jewelry (more than 1,000 pairs of earrings!), vintage clothing, collector kaleidoscopes and pottery, the gallery combines hand-crafted art with the art of nature in a place that speaks to both the mind and body. Here you will find fine craftsmanship as well as natural pieces featuring crystals, fossils and shells.

The best thing for owner Lou Bartscher is finding a piece that matches each customer's interests or needs, as many of the stones in the jewelry speak of healing or some soothing property. She said, "I like being able to match the right gift to the right person, having that one item they need. That's why I carry a lot of one-of-a-kind items, antique pieces, things like that." Lou will also accessorize brides or those attending special occasions by renting out the jewelry to them.

When you step into Carolina Moon, be prepared to find wind chimes in one corner – well, the shop is circular – and books on healing in another. The New Age gallery blends modern and ancient ideas together for an experience that truly stands alone.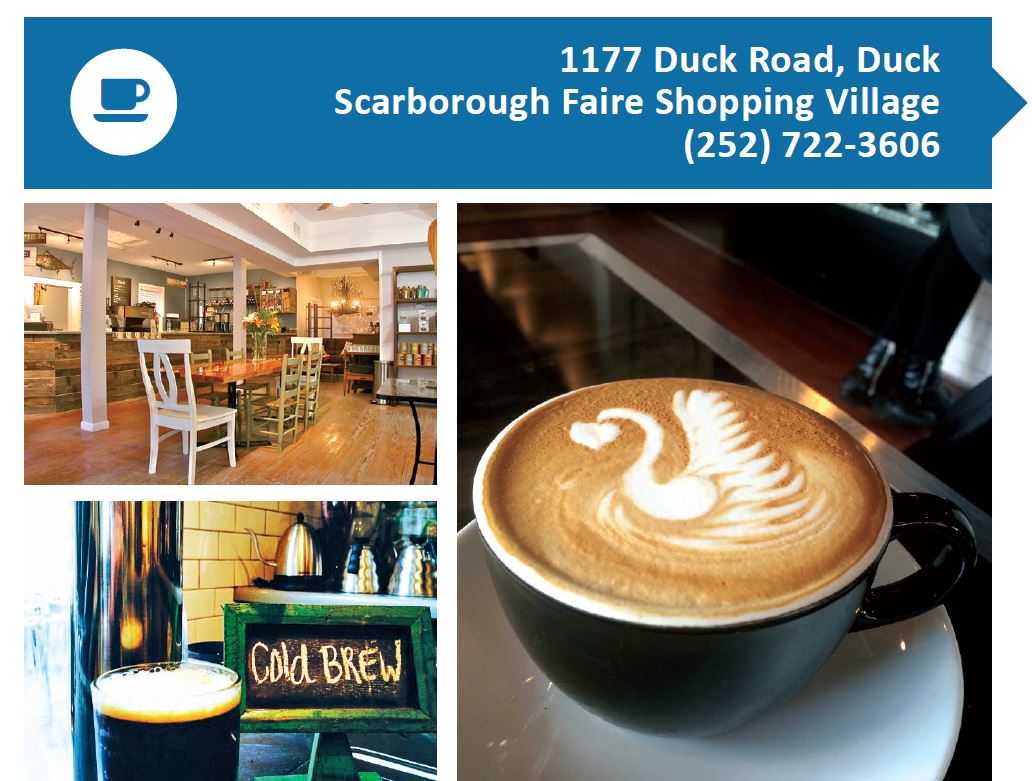 Treehouse Coffee
Treehouse Coffee really does appear at home among the trees in Scarborough Faire. The cleverly repurposed coffeehouse creates an atmosphere for quiet conversation among a hodgepodge of chairs, a faux fireplace and artwork featuring the Outer Banks and the Wright brothers. Owner Craig Readman gained knowledge of coffee while traveling abroad in Central and South America followed by training in the coffee mecca of Portland, Oregon. He moved his new family to the Outer Banks with the idea of opening a third wave coffee shop, and the exciting result was Treehouse Coffee, which focuses on higher end coffee… and coffee alone.

They predominantly use North Carolina-based products, with all the coffee coming from Counter Culture Coffee in Durham, a business that shops the world for organic and Fair Trade coffees. Perched atop one of the wooden slatted counters is a tumble of glass containers and tubes that house the shop's cold brew. This extraction method, which is foreign at least to the locals, takes 14 hours but results in a cold brew so pure it's as much of a pleasure to drink as it is to wonder at the process.

Readman is already in the process of expansion, with a restaurant right in Scarborough Faire and hopes for coffee shops in the Southern beaches.
Ruff Haus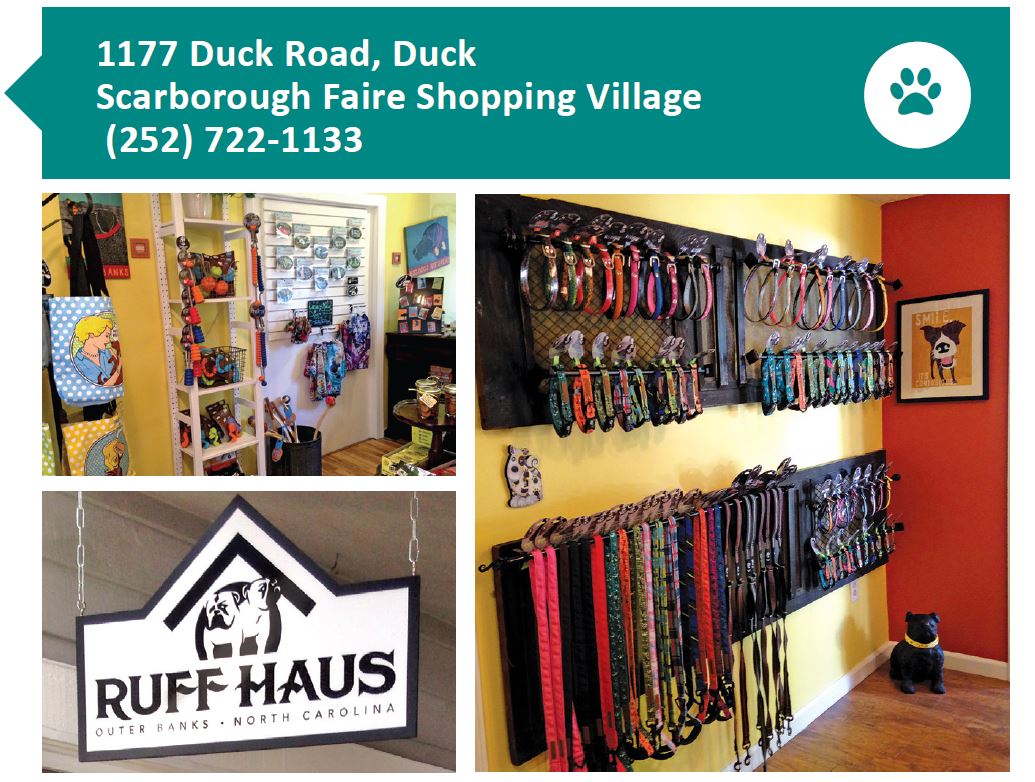 New to even the most dedicated shoppers in Duck is Ruff Haus, a pet store catering to medium and larger dogs with a focus on the outdoors. Co-owner Emilie Uffen has always had large dogs, and after finding it difficult to shop for her bullmastiffs Leroy and Bean, she decided to open a store just for them and their cohorts.

The shop carries many eco-friendly products like hemp leases and eco-locks as well as items made with recycled materials. Some of the collars are actually waterproof, ideal for the dog that spends his time at the seashore. There is also a large selection of humorous, pet-related magnets, T-shirts and works of art. ("I like big mutts and I cannot lie," anyone?) Small dog owners, don't worry. Although the store's focus is the larger canines, there are still some items for the little ones. And the organic treats are sure to please all breeds.

Uffen plans on keeping the shop open year-round and will make an effort toward expansion and stocking updated, high-quality products from other small businesses. Her husband is also opening up a restaurant in the shopping center – get this – with Treehouse Coffee owner Craig Readman.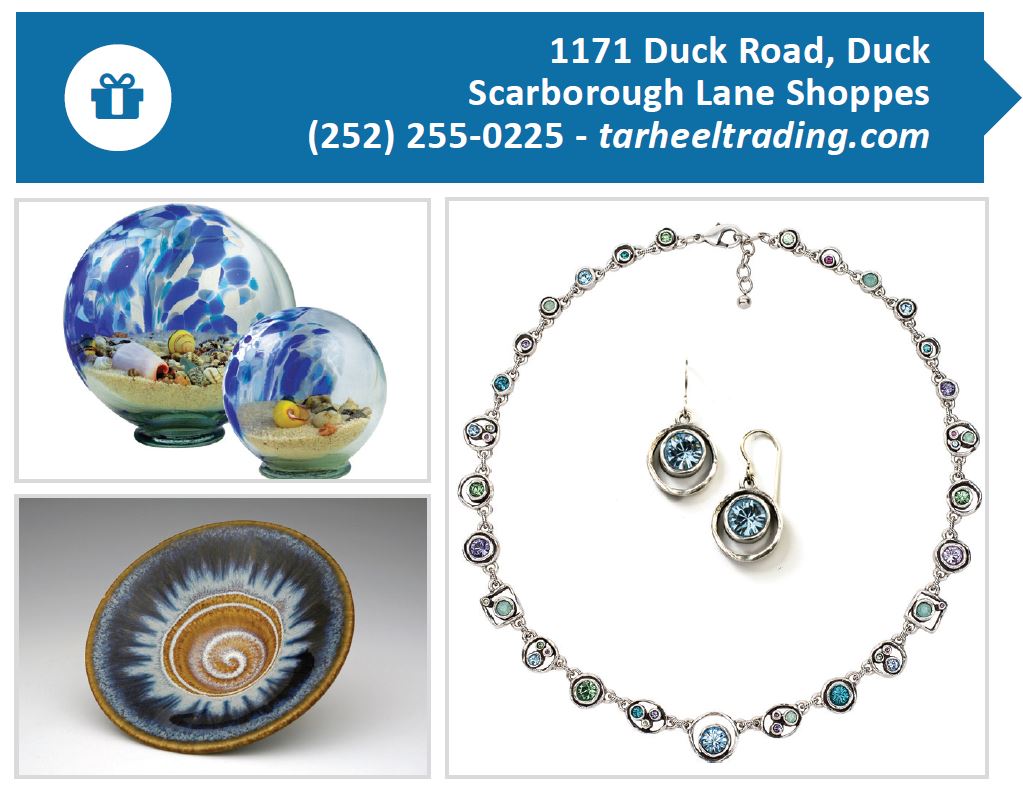 Tar Heel Trading Co.
This is a shop that truly cares about the people behind the art. Featuring art and crafts from more than 200 American craftspeople, Tar Heel Trading Co. has been drawing crowds, and keeping them coming back, for more than 35 years. Upon entering the shop in Scarborough Lane, the hand-blown glass starfish, cases of jewelry and sculpted metal wall art immediately catch the eye.  You will notice the wide variety of functional pottery and glassware as well as an assortment of gifts from the beach.

You can try on the jewelry and play with handmade musical instruments in a fun, hands-on atmosphere. The employees are knowledgeable about the crafts and say they are some the of store's best customers, adding, "Our houses look just like the store. Every time we come to work we see something we want." And it's easy to see why when owner Judy Joyce spends the entire off-season seeking out new artists. She carefully selects items for their quality, function and price. Joyce said, "We really do try to represent the craftspeople by educating customers about the work in the store and the person who made it. To me, each piece is a representation of a person."

Visit Tar Heel Trading Co. in both Duck and Corolla.
Diane's Lavish Linens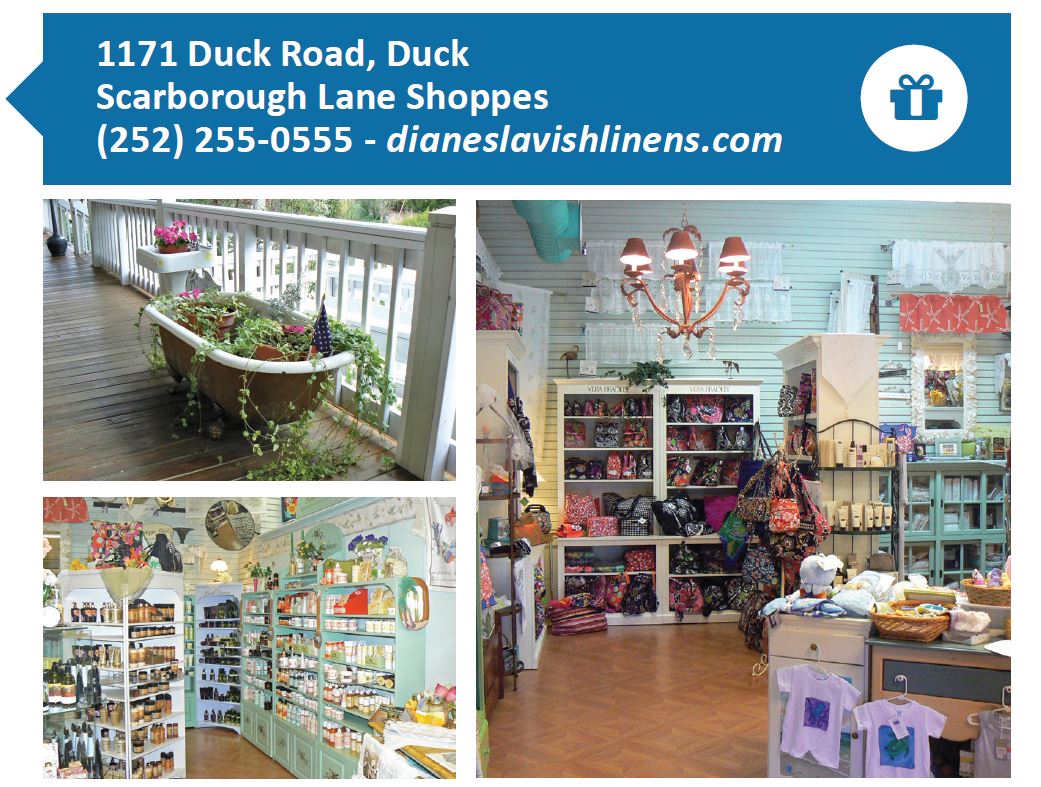 This wonderful shop, filled with scents of all kinds, will encourage you to "pamper yourself and the ones you love," which happens to be their motto! For the young to the young at heart, this shop features a variety of fine linens, lotions, scented candles, aroma beads and your favorite Vera Bradley treasures.

Diane's Lavish Linens has been serving locals and visitors alike for 20 years. Owned by Alayne Miksit-Perez for the last 10, the shop has become a "must go to" stop for anyone looking for luxurious gifts, especially for that new arrival, boy or girl. Here you will find exclusives like cuddly Bunnies by the Bay lovies and cute Earth Nymphs onesies, even tutus and tee shirts for the toddler. And, if you're looking for that perfect shower curtain, valance or colorful imported tea towel and tablecloth, it's just at your fingertips. 

Stop in to get that extra special touch for yourself...and those you love!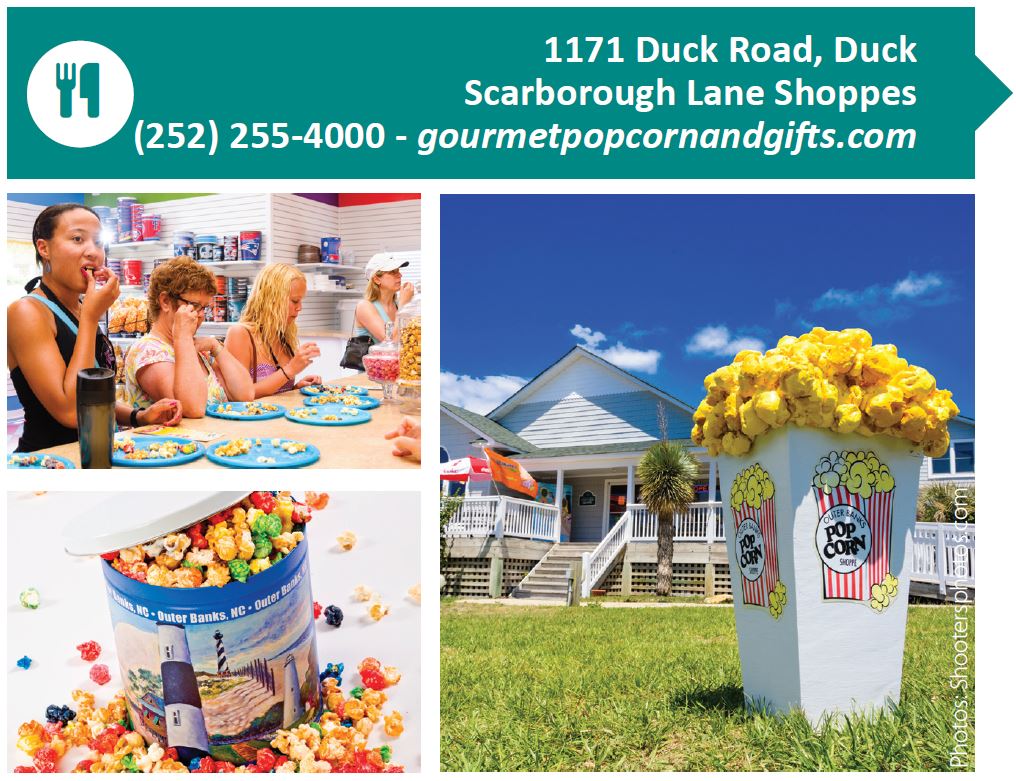 Outer Banks Popcorn Shoppe
Who knew popcorn came in so many flavors? The patrons who return two and three times in the same week because they already ran out, that's who. "We get a lot of people walking in saying they can smell it all the way down by the road," said owner Lindsey Jagucki. "They say it's like a cartoon finger pulling them in."

Follow the fresh, buttery aroma to Outer Banks Popcorn Shoppe and get ready to wonder at the 20 bold flavors ranging from classic to jalapeno cheddar, and watermelon to S'mores. Glass jars more commonly seen in candy stores line the counters, filled to the brim with different flavors of popcorn. In the back, you can see large trays loaded with freshly popped kernels waiting to be seasoned.

They go through about 50 pounds of kernels each day in the summer, which makes sense considering visitors can try as many varieties as they want before making their purchase. All bags are made to order, fresh that day, with the two most popular varieties being the Corolla Crunch and the Drizzle. Both are made from caramel-based kernels; Corolla Crunch is covered in whole almonds and cashews, and Drizzle is crisscrossed with milk and white chocolate. This summer will see a few new flavors added to the menu, most of which were popular Flavors of the Month in the last year. Rumor has it that dill, salt and vinegar, Duck's Duo and Cinnamon Twist with white chocolate are making an appearance.

Outer Barks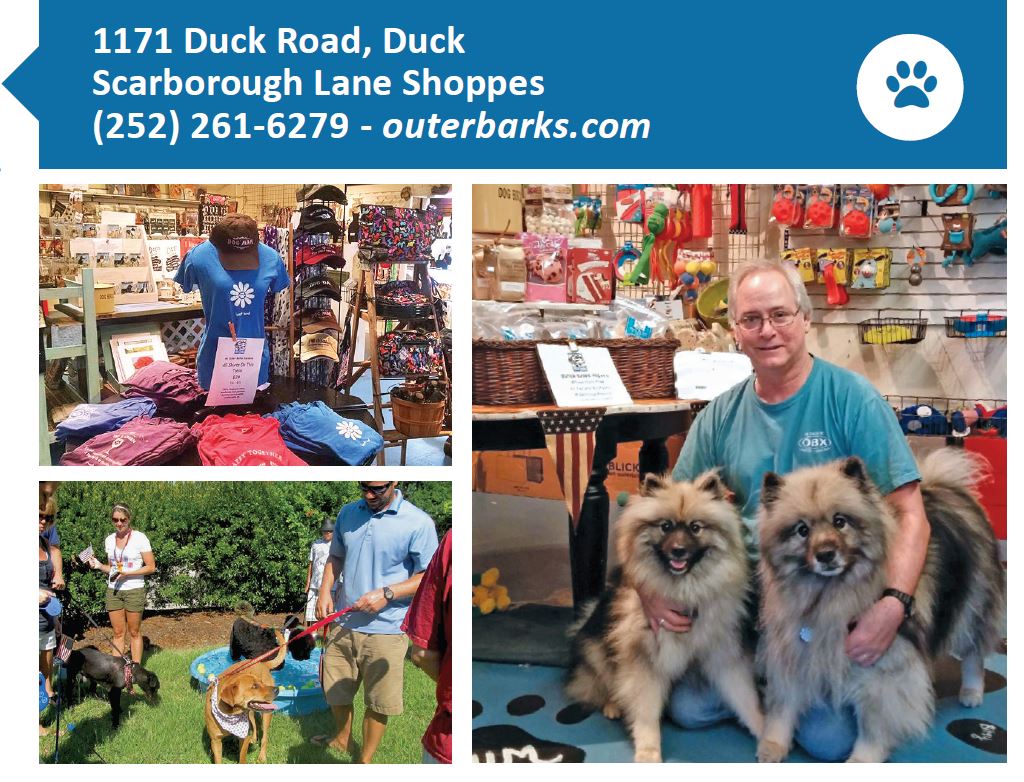 No trip to Duck would be complete without a visit to the Outer Barks, especially on a Thursday afternoon when owners Robin & Kevin Carey host a fun-filled canine bash appropriately dubbed Yappy Hour. It is an event where, for 14 years, dogs big and small gather to splash in the doggie pool, enjoy all-natural treats (including doggie daiquiris) and create their own Pawcasso paw print painting. The Outer Barks features gifts in over 200 breeds (plus lovable mutts and cat gifts and supplies), original and exclusive shirts, jewelry for the pet owner, fun and funky collars and leashes, toys for the beach and home, and limited edition art prints. Your pet can sample the all-natural and organic treats available, including those baked daily in the store. 

This nationally recognized and award winning store (featured in Coastal Living Magazine, recognized nationally as a top 10 pet boutique and voted Best of the Beach for several years) was opened in 2000 by the Carey's and reflects their love of animals and dedication to local animal charities. The Carey's founded the Friends of Pooh Canine & Feline Cancer Fund, an organization that provides financial assistance to local residents whose pets are diagnosed with cancer. They also established the Wags & Whiskers Gala, an annual event that raises money for several Outer Banks animal organizations. Stop by any day and you will likely be greeted by Bogie, the Chief Canine Officer (C.C.O.), a Keeshond that loves all canine and human visitors.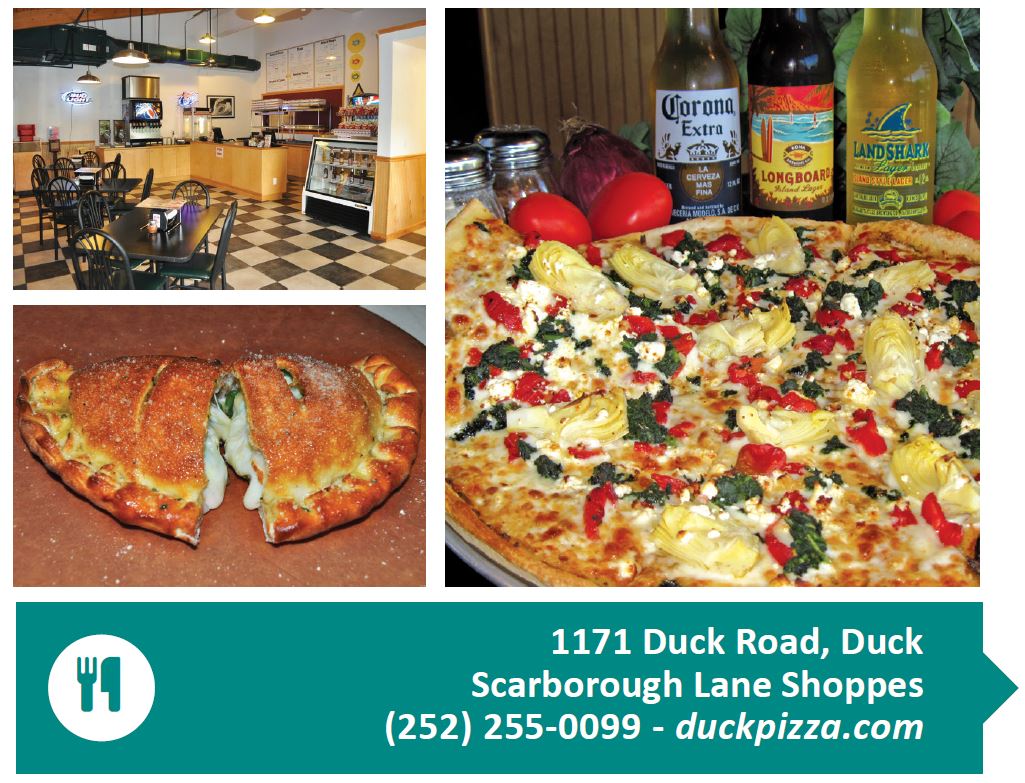 Duck Pizza
Here's a classic pizza café with the black and white checkerboard floors and good tunes always playing. Duck Pizza in Scarborough Lane has become a destination for locals and visitors who are looking for that creative pizza, Stromboli or calzone. They make the dough in-house every day and offer 24 specialty pizzas or the option to create your own. You can also get your pizza Extra Large for those big family gatherings.

If pizza isn't your craving, try the wings in one of five flavors or enjoy a made-to-order sub, wrap or salad. The restaurant is family owned and operated, and that includes the employees too. Most of them have been around for years, perhaps even since Carol and George Walton started the business in 2009. The customers have developed a close relationship with the Waltons too. Carol said, "We have one little girl with her family – they probably come a couple of times a year – and her birthday is the same day as my daughter's birthday, so she brings her a cupcake each time."

Ask the owners for a recommendation, and they will suggest the Southwest Pizza Q (Lindsey Jagucki at the Popcorn Shoppe orders it every time!) or the West Coast. All the pizzas can be made on gluten-free dough, and if you can't make it into the actual restaurant, you can count on fast delivery to Southern Shores, Duck and southern Pine Island.

Ocean Treasures Art Gallery & Gifts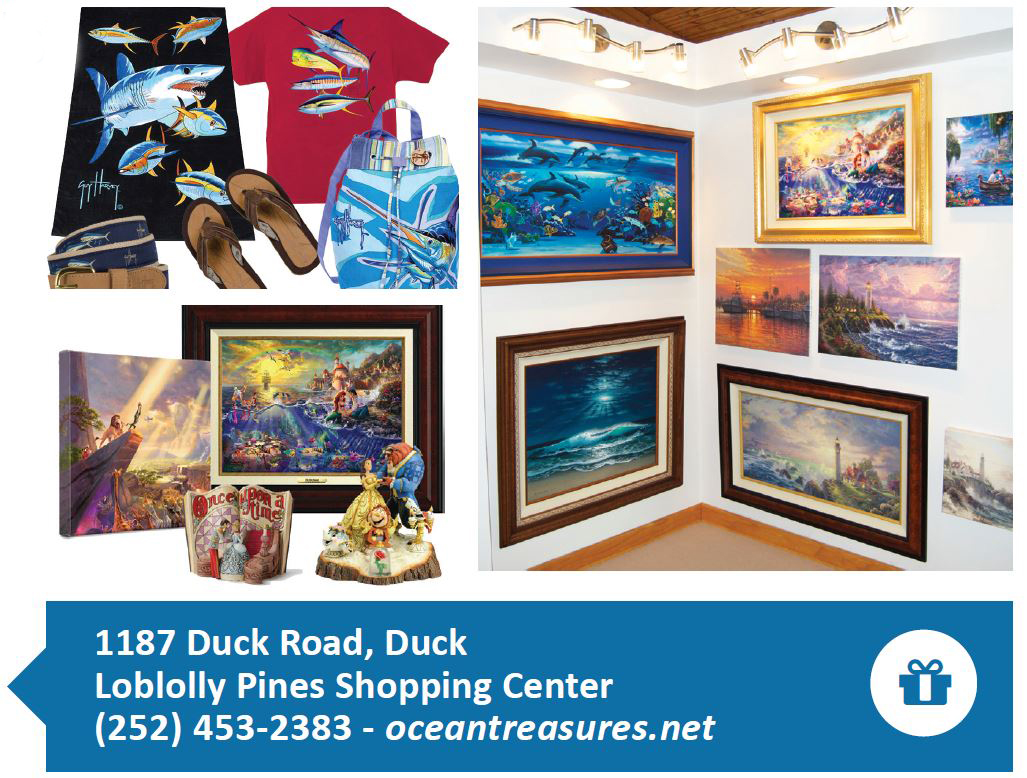 Since opening in 2003, the owners of Ocean Treasures have harbored a passion for both art and beautiful, collectible gifts. So when they relocated from Corolla to Duck, they decided to open two stores in order to feature both.

Visit the Loblolly Pines store for a view of artists' works, along with an extensive gift collection. While collecting art, the Goebels discovered a lot of gift items related to the artists and soon expanded to toys and other collectibles. They carry thousands of gift items including a considerable selection of Disney products, Guy Harvey clothing and Sea Life fashion jewelry. Co-owner Fred Goebel will tell you that the majority of these items cannot be found anywhere else on the Outer Banks, and we believe him. 

Take a trip to the Scarborough Lane store and an entirely different view awaits. This location offers more than 100 paintings from talented artists who are recognized all over the world. The Goebel family were collectors of art themselves before moving to the Outer Banks and found themselves wanting to share their findings with the beach community. At Ocean Treasures you will find the works of Thomas Kinkade, Wyland, Guy Harvey, Walfrido Garcia and so many more in a gallery-like exhibition.


Town of Duck Photos: Gordon Dimmig

A stroll through Duck can be accomplished in a day, but a leisurely pace is recommended. Just think, if you try to see it all in a day, you may be too tired tomorrow to walk through the town again, which you will surely want to do.