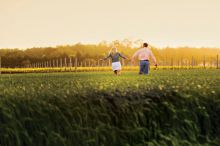 Situated on 25 acres in Currituck County, Sanctuary Vineyards is known for its affordable, award-winning, regionally inspired wines. The Wright family has stewarded this land for seven generations, and they invite visitors and locals alike to experience its delights and its gifts. Visitors can stroll the vineyard, observe the goings-on of an active farm (the family still grows corn and soybeans, among other crops) and shop in The Cotton Gin, the sprawling general store that occupies the site of an actual cotton gin and that houses beautiful, one-of-a-kind merchandise, much of it coastal themed. The adjoining restaurant, Thyme and Tide Cafe, features local, seasonal, inventive food including picnic fare that can be taken onto the grounds.
Deep Creek Farm, the land surrounding The Cotton Gin, is a destination for wine-centered outdoor activities. Summer on the farm brings enticing, experience-based tours to the vineyard. One such tour is Pinot Paddle, a leisurely, hour-long, guided kayak trip around coastal marshes. This tour, conducted by Kitty Hawk Kites, appeals to a broad range of visitors, says John Wright, vineyard manager. And it ends with a tasting which, yes, includes a pinot gris. 
For a more intimate, and even more leisurely, look at the vineyard, Deep Creek Farm, again in partnership with Kitty Hawk Kites, offers the two-hour Vineyard Voyage tour. This tour begins in Duck with a ride aboard a large powerboat. Once the boat docks at a private dock, passengers are taken on a tour by vehicle for a behind-the-scenes glimpse at the farm and vineyard. This tour also finishes with a tasting. If you'd like to view the vineyard and surrounding lands and water from the sky, Kitty Hawk Kites also offers hang gliding excursions.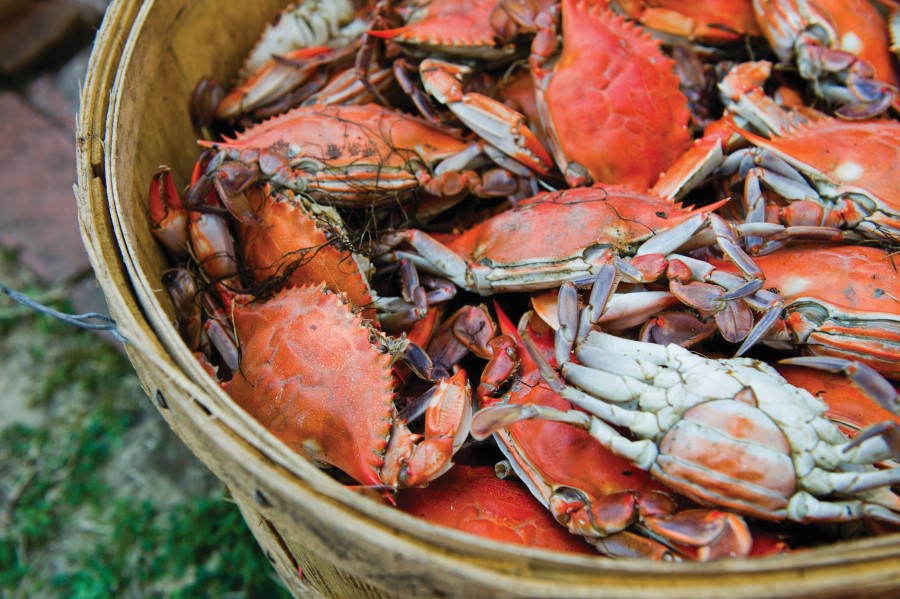 For those who wish to wander at their own pace, a picnic on the grounds is an appealing option. Thyme and Tide offers plates of small-producer cheeses, baguettes and fresh fruit. For a meal, there's the Margherita sandwich made with mozzarella, tomatoes and pesto and topped with basil. (Many of the herbs the restaurant uses are grown on the premises.) Or, to remind you that you're still on the coast, there's the seared tuna salad: sesame tuna served over mixed greens.
Beginning this summer, Sanctuary is giving daily tours Monday through Friday at 1 p.m. The 30-minute walk and interactive talk concludes with a free tasting. If you'd like a reserve tasting, the $10 charge includes a souvenir glass.

From early May until the end of September, Sanctuary hosts Acoustic Sunset, an outdoor concert series, on Thursdays from 5:30 to 8:30 p.m. These events are free and feature an eclectic array of bands. If you want to pair a wine with the music, the folks at the cafe-bar will make suggestions and then uncork your bottle for you. In the works is an outdoor patio and playground, a space for basking in the sun during wine tastings and for soaking up the music in the evenings. By giving kids a place to play, this space will also make events more family friendly.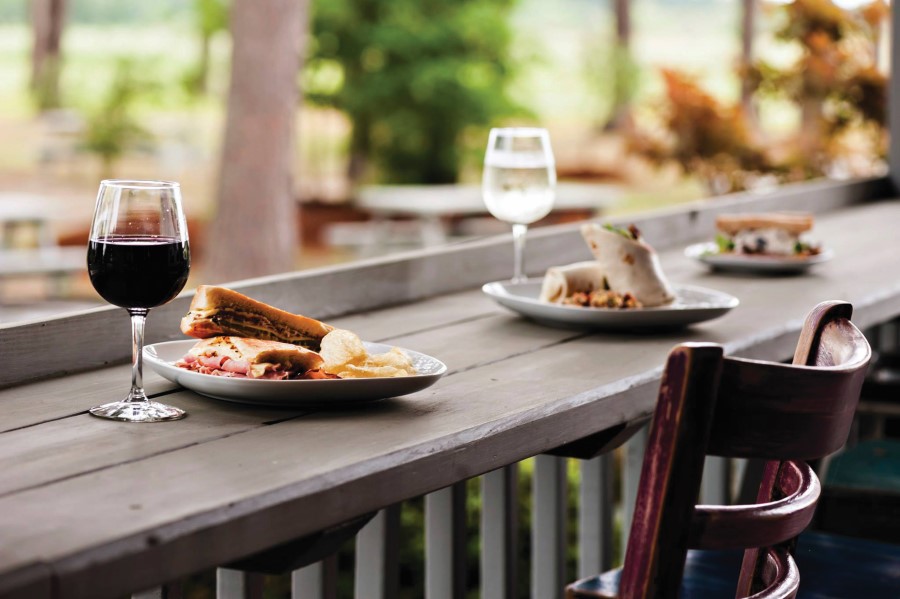 The summer season culminates in late September with CrabDaddy, a festival featuring blue crabs, local libations and live music. CrabDaddy isn't just the name of the festival, however.
He's a creature of the deep who takes a personal interest in the crab harvest and the festival's good-time atmosphere. "CrabDaddy is real," Wright insists. "He comes out of the Currituck Sound the week before his festival and helps promote the event and makes sure there are enough steamed crabs for everyone to eat." And which wines pair well with crabs? "Our favorite wines are always the ones that are seasonal," says Wright. "We love the Chardonnay and Wild Pony to pair with steamed crabs and shrimp."
Wright says he and his family work from a simple concept. "We update old family farming practices and ideals in order to keep the farm going." These updates are earning the vineyard accolades at a number of competitions – most recently at the 2018 North Carolina Fine Wines Competition where Sanctuary Vineyard won Best in Show for their 2015 Double Barrel Red, a wine Wright describes as a full-bodied red blend that ages well and pairs nicely with wild game and other hearty fare. 
Whether you sit for a quiet hour among the grapevines or embark on a more active pursuit, spending a bit of your summer on the farm will bring its own rewards.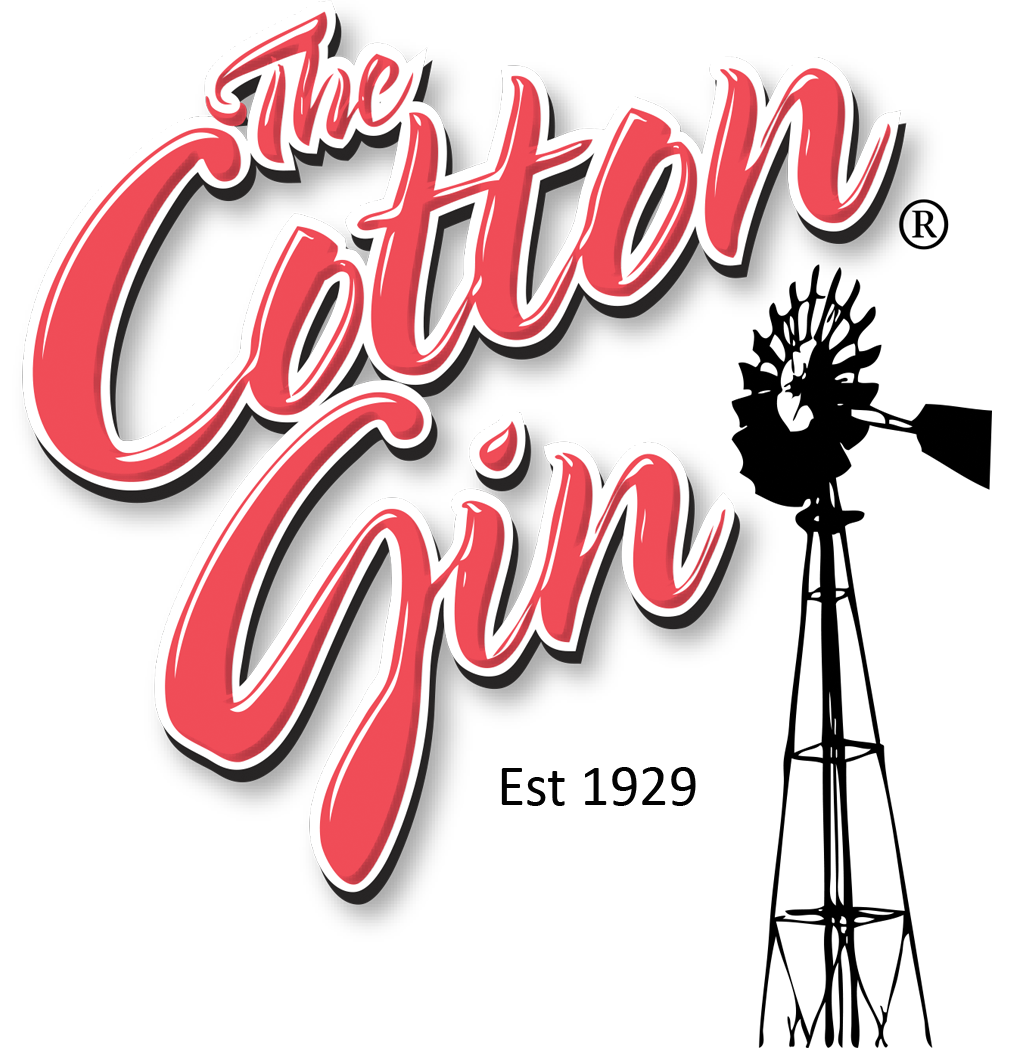 Jarvisburg: (252) 491-2387 | 6957 Caratoke Highway
Corolla: (252) 453-4446 | TimBuck II
Duck: (252) 261-2387 | 1185 Duck Road
Nags Head: (252) 449-2387 | The Bypass, MP 14.5