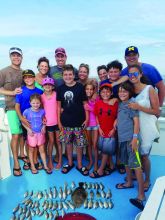 The day begins with the rising of that amazing orange globe for those who are up that early. On a day like this – one that will include a first-time-ever experience, even the teenage kids are up and ready to go. Where? On a half-day fishing trip on board the Miss Oregon Inlet head boat.
You know, those of us who live around here often take the simple pleasure of being out on the water or pulling in a fish for granted. We forget the initial excitement of how it feels, smells, sounds and, yes, even tastes to be on a boat, with a line in the water, sun on your face and hope in your heart. Today, this family that's up with the sun and itching to get on that boat is going to find out.
Miss Oregon Inlet is a head boat, which means that she takes out anglers (up to 49 of them) who pay by the head – as in, per person. This differs from the smaller offshore boats that take six people out to the Gulf Stream. It's affordable and extremely comfortable since you can easily walk around the 65-foot vessel, get under the large shaded area, buy concessions or bring your own. Also, since you're staying inshore in the sounds (in other words, not going out through the inlet into the ocean), the ride is typically pretty smooth.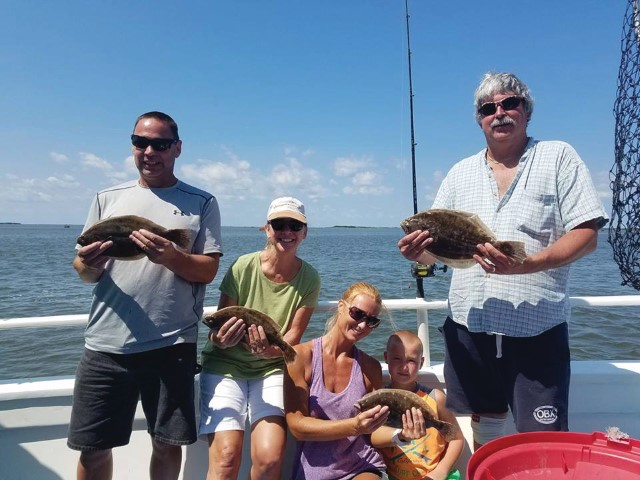 Families especially love head boat fishing since it's doable for all ages. Grandparents appreciate the steadiness of the boat. Parents appreciate that their wee ones are safe since the sides are high. And, though they might not want to admit it, teenagers get so into the entire experience that they don't even think about keeping their eyes and thoughts on a small phone screen. There's too much going on in the here and now to keep glued to what happened a moment ago in social world.
The first point of interest in this day of fishing is the drive to Oregon Inlet Fishing Center. On the way you pass Bodie Island Lighthouse, Coquina Beach and miles of undeveloped shoreline. For many people who live in busy cities where almost every square inch of ground is covered with a building, this drive is a marvel on its own. For miles, all you see is ocean on the left and marsh on the right. Rising dunes undulate the sight line, and no matter the season, birds are seen in sanctuary in the shallow marsh waters. It's a vista of seeming nothingness but, in another way of seeing it, of everything.
At the edge of the bridge to Hatteras Island, you arrive at the fishing center, and one of the first things you see is Miss Oregon Inlet. She's long, large and sports an eye-catching defining midline of red paint. For a lot of newbies to fishing, this is probably where their excitement begins to really build.
Once on board with the mate, Trip Phillips (more on him later), and Captain Randy (more on him too) literally putting out the welcoming mat, you settle in for the short cruise to the first one of the captain's secret fishing spots. It's right around that island and through that slough . . . and, yep, it's secret because no one else is in sight. But what is in sight is often dolphins that play alongside the boat, surfacing, looking at and interacting with you. It begins to dawn on a lot of the less seasoned on board that this head boat fishing experience is about more than just fish. It's about you and nature: the soft song of the waves, the birds calling from far overhead, the warmth of the sun, the dolphins and turtles, the marsh grass and intermittent islands, the hunting camps. The canvas of the day is already made up of images and sounds that are far from your day-to-day tapestry. Maybe it's a totally new one for you. If so, count yourself among the lucky.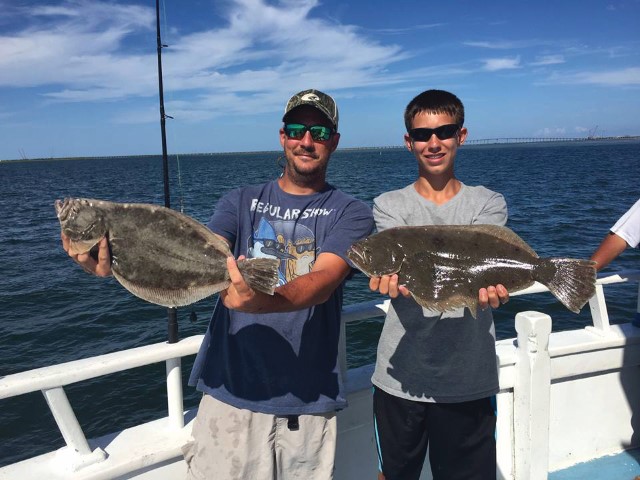 Now it's time to wet a line, as they say! Trip helps those who haven't done this before bait the hook and makes sure everyone has their own bucket to fill up with their catches. The waiting game begins . . . but it doesn't last for long. That woman just caught a flounder! The guy on the other side of the boat just pulled in a croaker. And, wait!, your line is now pulling, the tip clearly leaning toward the water! Reel! Keep at it! Watch for that flash of silver as it approaches the boat – and your bucket! You're more hooked than the fish is.
If you take a minute and look around the boat, you see a mix of fellow anglers. Usually, there are lots of families with varying ages of members along for the day – from toddlers up to grandparents. Sometimes there are large groups of friends who want to share an Outer Banks experience in one contained place. There are couples who are happy to be together doing something fun and relaxing. Some of your boat neighbors are seasoned fisherfolk, and some are in the enviable position of living every single moment of this outing for the first time.
Throughout the four hours you're on the boat, Captain Randy is telling you fun facts and funny stories. He's quite the entertainer, and he clearly loves being a part of such happy times with his passengers. Some of his favorite words of wisdom are, "If you ain't on the Miss Oregon Inlet fishing, you're wishing!" After your time on the boat, you'll understand exactly what he means. He also likes to stir the pot some and encourage friendly rivalry among his anglers with "competitions" built around the person who catches the most fish or the biggest being allowed into the wheelhouse to actually steer the boat for a bit! Passengers have also been known to start their own competitions with a little incentive attached . . . that full bucket of fish you catch just might win you the kitty!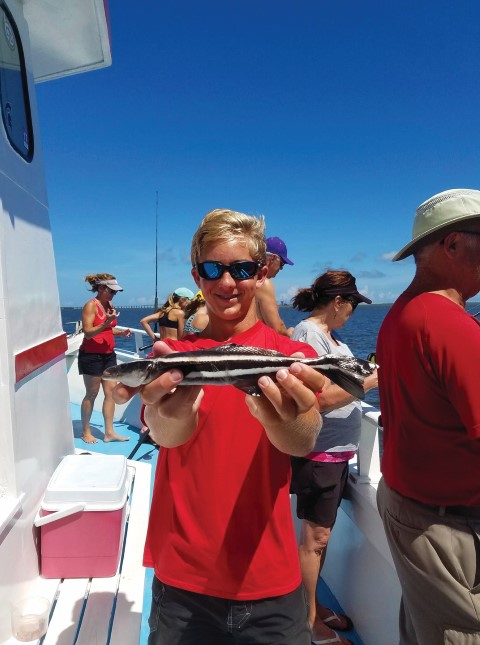 Then there's Trip, your mate. He's always there when you need him, seemingly able to divide himself to make sure everyone has help at the right time. Maybe you're cool with baiting your hook but need help getting that fish off the line. He's got you. Or perhaps you're curious about what kind of fish or birds or other sea life you're seeing, and he's your answer man, for sure. Trip has lived on the Outer Banks his entire life and has always loved fishing – it's in his blood. But he's also one of those young guys who pays close attention to the world around him, has learned the intricacies of his barrier island environment and can relate that knowledge to others. (Of course, those AP classes he takes probably play in a bit, too, being as he's an honor student.)
Far too soon, Capt. Randy announces that it's time to head back to the dock. All lines are pulled in, and you settle in for the cruise back to the fishing center. But on the trip back, you notice that you're a bit changed from just four hours ago. This time, as the boat smoothly cruises through the water, you can identify the birds, fish and other wildlife. You have now probably joined the ranks of those who understand the simple appeal of dropping a line overboard. Your skin is rosy from the sun and has that visceral tightness that the salt air lays over it. And, as you observe your family, you'll notice an ease and contentment is showing on their happy faces.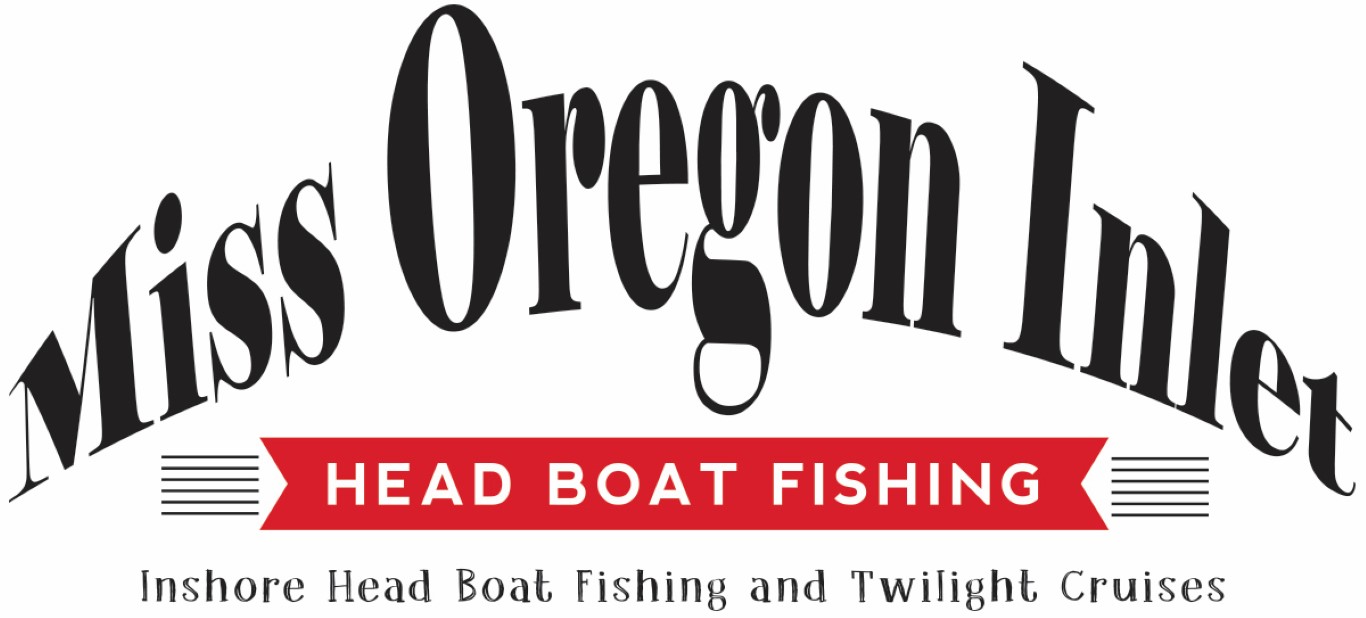 (252) 441-6301
missoregoninlet.com
98 Highway 12 South
Nags Head, NC 27959