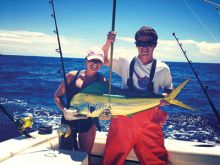 Trout north of Kitty Hawk pier! Big Drum off the point! Stripers under Manns Harbor Bridge!
Oh, the sweet sounds of fall! It's the call we Outer Banks anglers can't wait to hear. It rejuvenates the spirit, refreshes the mind and invigorates the soul. Well, okay, maybe fall fishing doesn't have quite that effect on all of you, but surely the news that those finny enticers are swimming out there...just taunting us...makes everyone want to go fishing! As the summer season comes to an end, the autumn anglers come out in force! Now the bloodworms trade places with the finger mullet, and a new season of fishing begins at TW's.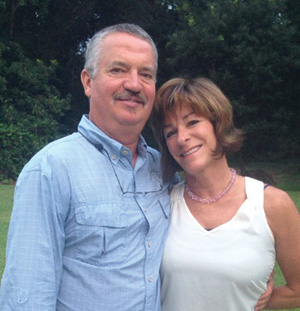 From bagging mullet to outfitting offshore captains, Terry Stewart, owner of TW's Bait and Tackle, and his wife, Robin, have done a little of it all over the past 34 years. Terry graduated from UNC-CH and moved to the Outer Banks in 1978. He worked for Ace Hardware for awhile, but after assessing the need for a tackle shop north of Jockey's Ridge, he decided to open his own business, and TW's Bait and Tackle was born. Robin, an RN at the time working at The Outer Banks Medical Center, eventually turned her focus to the family business and stopped nursing. Do you know what TW's stands for? Robin will jokingly tell you it's Terry's Wife's Shop. But it actually stands for Terry Wayne Stewart.
After a few years, the family business grew to include two children, Justin now 25 who works in TW's, and Britton, a senior at UNC-W, and three shops in Corolla, Kitty Hawk and Nags Head. TW's was the pioneer tackle shop of the northern beaches, being the first to venture into Duck and Corolla. They started really small, opening the first store in Seagate North Shopping Center in Kill Devil Hills. But as the northern beaches grew, TW's did too so they could supply anglers with bait and tackle close to home.
The Stewarts, no strangers to hard work, continue to manage, oversee and actively work in all three TW's locations. They admit that being pulled among all the stores prevents them from seeing and spending time with all their wonderful devoted customers on a regular basis like they want to. If you know them or have spent any time talking to them in one of the stores, you know that the relationships they build with their customers are highly valued by them. As Robin say, "We are so thankful for each and every customer and friend that steps foot in TW's, and we understand we wouldn't be here without them."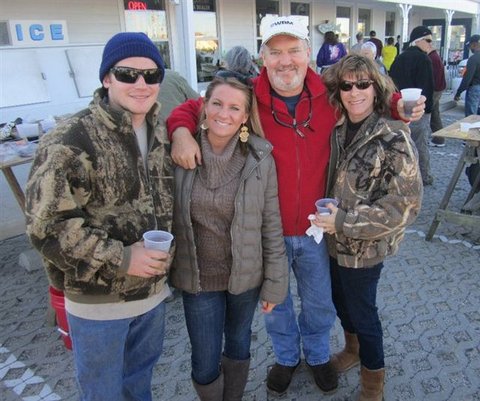 The crew that works at TW's is also a major asset to the business. To a person, they are knowledgeable anglers who honestly care about helping customers find just what they need. Some of them have been with TW's for 23 years. Robin says, "We are all family." When you step in the shop, you really do get that vibe. TW's is a household name among anglers and vacationers to the Outer Banks - synonymous with the largest selection of bait and tackle, trendsetting fashions, functional clothing, interesting gifts and hunting supplies, making a visit fun for the whole family. The shops are also widely known as community hotspots for sharing fishing tips, exchanging fish lore and helping customers make the best of their fishing day. With a lightening focus on constantly changing trends, the Stewarts strive to offer the latest and greatest the industry has to offer, keeping customers interested and enlightened with their ever-changing inventory. As much as this enterprising couple likes attracting people into their stores, they also make it a priority to reach out to the community. The Stewarts and their staff regularly donate goods, time and money to numerous local businesses, charities, organizations, schools and fund raisers. Their motto? Support your community and it will support you!
Hey! Did you hear that? The Blues are running!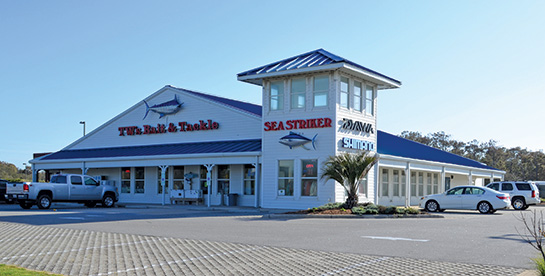 In 1996 the Nags Head TW's was opened in a 40-year-old building the Stewarts purchased that was originally a convenience store. With their own property, their long-term hope of building a dream store on that same location came closer to reality. It took 10 years, but the old 2,400-square-foot Nags Head store became the new 7,500-square-foot TW's Bait and Tackle landmark. Now one of the largest tackle shops in eastern North Carolina, the Stewarts still runs their business with the same values as the mom and pop store it started as: Be honest, smile and treat people fairly. Both of them are fond of saying, "Sell them what they want - no more, no less!"

 
---
Robin's Famous Smoked Fish Salad
~~~~~~~~~~~~~~~~~~~~~~~
Fish fillets
(Jumping Mullet, the new favorite)
Brine
4 cups water
1 cup kosher salt
½ cup brown sugar
2 tbsp lemon juice
1 tsp garlic powder
1 tsp onion powder
~~~~~~~~~~~~~~~~~~~~~~~
Directions:
Mix brine and soak fillets 4-8 hours depending on the thickness of fillets.
Remove from brine and rinse.
Air dry on paper towels for approximately an hour until fish develops a tacky glaze.
Smoke fish until done.
Cool and flake fish fillets, then set aside.
Mix softened cream cheese, tablespoon or so of Dukes mayo and Mt. Olives Hot and Sweet pepper rings with juice.
Add flaked fish and enjoy.
Best fish to use are those with oiler meat - Blues, Spanish, kings, mullet.

 
---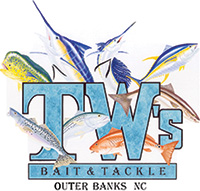 Nags Head (252) 441-4807
Kitty Hawk (252) 261-7848
Corolla (252) 453-3339