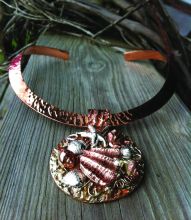 People with creative spirits have always felt at home on the Outer Banks, and that might be particularly true on Hatteras Island. This area is home to some of the most diverse – and truly fascinating – art shops on our stretch of sand. For this edition, the galleries south of Oregon Inlet have opened their doors and let us in on their (perhaps) not-so-secret cache of items they just can't keep on their shelves…or walls, as the case may be. From the farthest reaches of quaint Hatteras Village to picturesque Salvo up north, these are a few of their favorite things!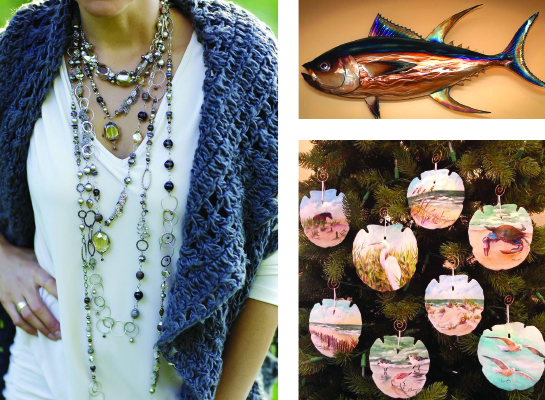 SeaWorthy Gallery

Eye-catching is a great way to describe many things inside SeaWorthy Gallery, but it's especially fitting once you've seen Gary Caldwell's three-dimensional sculptures of everything from trees to yellowfin tuna. Handcrafted with stainless steel and heated with a torch to bring out a wide variety of vibrant colors without the use of paint or other chemicals, Gary is a crowd favorite at SeaWorthy, and each finished piece is breathtakingly one of a kind.  
Another staple at SeaWorthy that shouldn't be missed is artist-owner Carole Nunnally's sand dollar ornaments. Carole's been hand painting these natural gems since the gallery first opened, and each season they fill an eight-foot tree so that visitors can browse through these original works of art that capture everything from nautical images that feature the beauty of Hatteras Island to seasonal and spiritual themes.
Or, if what you're looking for is some wearable art, SeaWorthy won't disappoint with their stunning line of handmade jewelry by Anne Vaughan Designs. New to the gallery for 2015, Anne's collection of earrings, bracelets and necklaces has a unique and timeless quality to them that will appeal to people of all ages and styles. As gallery director Janet Hill says, you can always expect the unexpected at SeaWorthy!
 
Seaworthy Gallery
(252) 986-6510 
58401 N.C. Highway 12 • Hatteras Village
seaworthygallery.com
...................................................................................................................................................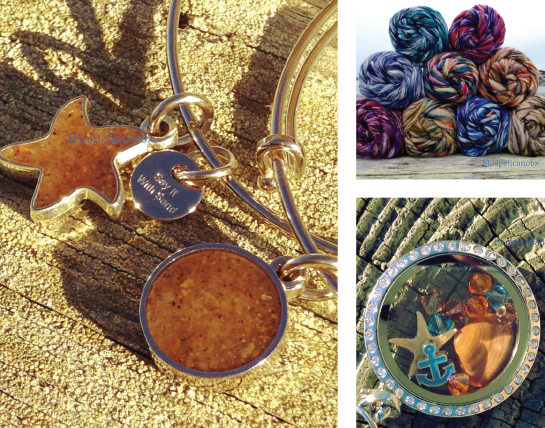 Blue Pelican Gallery

There are many ways to take home your memories of a trip to the Outer Banks, but at Blue Pelican Gallery they invite you to actually wear them! One of their best sellers at the gallery, Dune Jewelry is a small East Coast business that makes a line of sterling silver keepsake jewelry using sand from our very own beaches. Whether it's a ring, bracelet or necklace that strikes your fancy, each piece is beautifully designed to last forever.
Or check out Blue Pelican's Seaside Memory Lockets, which come ready-made or can be personalized however you like. Spend as much time as you need browsing the gallery's large selection of charms, tiny prints of artist-owner Jenn's photography and fun items such as sand, starfish, shells, crystals and more – or even bring your own found things from the beach to fill a locket that's uniquely you.  
Looking for something else to do with your down time? If you love knitting, you're in luck. Blue Pelican is the only local yarn shop on Hatteras Island, and they carry a variety of national brands as well as some indie and North Carolina-based companies such as Darn Good Yarn. Keep an eye out for summer knitting classes at the gallery by visiting them on Facebook, their website or on OuterBanksThisWeek.com.
 
Blue Pelican Gallery
(252) 986-2244
57762 N.C. Highway 12 • Hatteras Village
bluepelicangallery.com
...................................................................................................................................................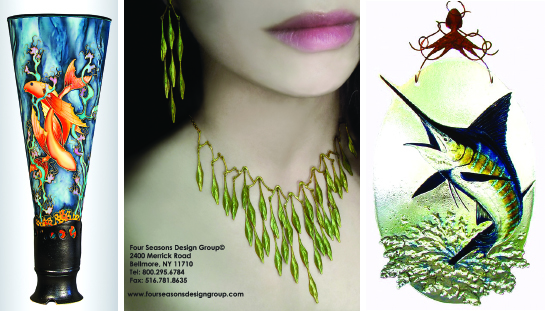 Sandy Bay Gallery

Freshly reopened in their brand-new space this year, Sandy Bay Gallery is bringing back some old favorites with new work by renowned jeweler Michael Michaud of Silver Seasons Jewelry. Each of Michael's exquisite pieces is inspired by his love of nature and created using a mold of actual plants in order to achieve his incredibly detailed organic designs. They are perfect for anyone similarly inspired by the natural beauty on the Outer Banks!
Another featured artist with new work is Santa Fe artist Barbra Wood of Woodsilks. Gallery owner Linda Hilton, who is also an artist, met Barbra years ago and has been carrying her limited edition lamps ever since. It's not hard to see why: Each lamp is created and printed on pure silk using vibrant archival inks with an elegant handcrafted ceramic base. The dramatic ambient light they cast simply has to be seen to be believed.
And if you've ever been in Sandy Bay to admire artist Stan Harmon's remarkable glasswork, you're in for a treat in 2015. Stan, who regularly visits Hatteras Island on fishing trips, makes remarkable hanging glass sculptures that capture the living beauty of sea life such as his jumping marlins. New to the gallery this season are Stan's glass stingrays with hand-molded copper tails – catch them before they swim you by!
Sandy Bay Gallery
(252) 986-1338
53013 N.C. Highway 12 • Frisco
...................................................................................................................................................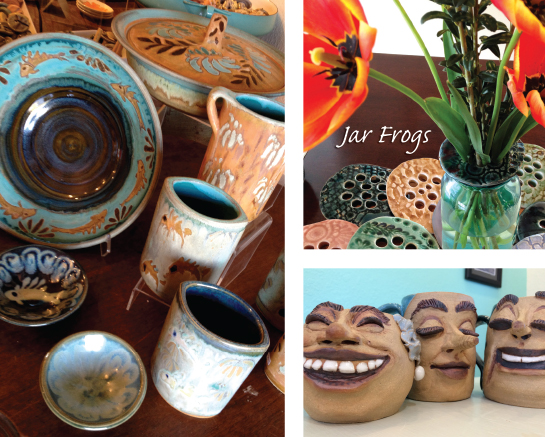 Kinnakeet Clay – Studio & Showroom

Off the beaten path in Old Avon Village, you'll find a lively art center offering a working pottery studio, classes, a flower market and a shopping experience with a focus on the experience. First on the list of their fun favorites are jar frogs. These handmade stoneware flower arrangers are a Kinnakeet Clay original created by artist-owner Antoinette Gaskins Mattingly. They're made to sit atop a jar to help you create a quick, easy and beautiful flower arrangement. They were inspired by her grandmother who explains that all the ladies used frogs in her day. The best things should never go out of style.
Masterfully glazed in a pallet pulling from the blue and aqua hues of the ocean, the functional and decorative work of Redman Pottery is a crowd pleaser. Nancy and Kathleen are a mother and daughter pottery team. Nancy has perfected her functional forms for everyday use while incorporating decorative painterly designs in her glazework. Kathleen's wall flowers and bird plaques exude joy.
 Need a smile? You'll want to check out the selection of Mugglies, created on Hatteras Island by local potter Edith Camp. Mugglies are one-of-a-kind, usable art pieces including mugs, bowls, crocks and cookie jars available exclusively at Kinnakeet Clay. Edith sculpts familiar faces or, perhaps, personalities onto her wheel-thrown forms to create a large cast of characters. The faces are recreated primarily from the drawings of the late painter, artist and friend, Glenn Dodenhoff, and no two are ever alike. "Any resemblance to relatives, neighbors, friends or enemies simply can't be helped," says Edith. You might just need to stop by and see who you know.
Kinnakeet Clay — Studio & Showroom
(252) 995-0101
40462 North End Road • Avon
kinnakeetclay.com
...................................................................................................................................................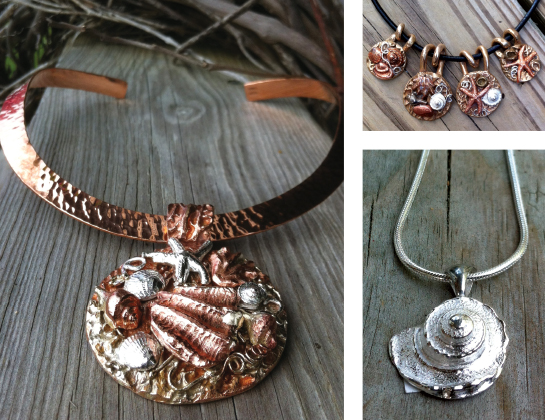 Empty Nest Studio & Gallery

There's always a lot to admire at Empty Nest Studio & Gallery, but what you definitely won't want to miss is artist-owner Crystal Blackmon's finely crafted jewelry. Her designs are at once strikingly original and yet also classic in a timeless sense. Take, for example, her sterling silver whelk pendant, which is cast from the top of a whelk Crystal found on the beach in Hatteras. Its understated elegance makes it a wonderful reminder of all the treasures that can be found on our shores.
Of course that's not Crystal's only design inspired by her love of beachcombing. Her seashore pendants – available in either a large or a petite size – are also striking examples of her work. Made by hand forming a bronze disc and then soldering on silver and copper casts of shells and other items she's found by the sea, every one of these pendants are their own original works of art.
"I can never run out of ideas here because every day there's something new to find on the beach," says Crystal. "Even a broken shell can inspire me to create a different texture or a new kind of toggle clasp. Everything's beautiful in its own way." With a full line of bracelets, rings and other pendants that are constantly evolving, Crystal's work will always be a must see..
Empty Nest Studio & Gallery
(252) 995-5605
52193 Cardinal Street • Frisco
...................................................................................................................................................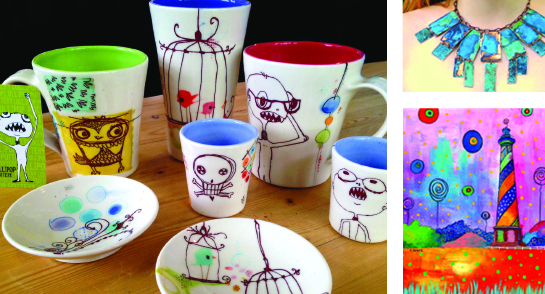 Indian Town Gallery
Surrounding themselves (and visitors) with things that make them happy is the goal at Indian Town Gallery, and that's why artist-owner April Trueblood describes Carolina Coto's paintings as being a natural fit for the gallery. Originally from Costa Rica, Carolina now lives and works in Kill Devil Hills, and whether you see her work in its original form or as a print on a magnet or necklace, her use of bright colors and whimsical shapes is guaranteed to make you smile.
Ditto for jewelry by North Carolina-based artist Melissa Lowery. Working mainly with copper, Melissa uses her own secret recipes to oxidize each piece and achieve a distinctive array of gorgeous blues and greens. Some pieces will even remind you to keep that smile going with sayings like "choose kindness," and if you want to meet Melissa in person you can stop by for her trunk show at the gallery on June 4 to say hi.
But that's not all. At Indian Town even your dishes can lighten the mood with designs by Tyson and Jessica Geib of Lollipop Pottery. Although April only started carrying their pottery last year, these designs – particularly "Monster" and "Lollihoot!" the owl – have been a huge hit. Really their slogan says it all: "Handmade in Ohio in 75 easy steps by two neurotics." What's not to love?
Indian Town Gallery
(252) 995-5181
50840 N.C. Highway 12 • Frisco
facebook.com/indiantowngallery
...................................................................................................................................................
 

Studio 12

Artist-owner Carolyn Schena, who runs Studio 12 with her husband, award-winning potter, Gary, is a naturalist, and her passion for the flora and fauna found here on the Outer Banks is evident in her distinctive line of silver and clay jewelry. With 16 different hand-carved designs she's created over the years of everything from trees to dolphins, Carolyn makes a variety of pieces that are both stylish and light…and sure to appeal to all other nature lovers.
Carolyn enjoys working in a variety of other artistic mediums too, which any visitor can tell by her glass-fusion pieces. Made by fusing up to three layers of glass in a kiln, these pieces tend to have oceanic themes such as waves or coral, and they accent virtually any décor. If you're feeling inspired now, don't worry: You can also take a class at Studio 12 to paint pottery, do mosaics, and/or make your own glass-fusion sun catcher, bowl or piece of jewelry using one of many templates!
These aren't the only types of classes available to people of all ages offered at Studio 12 either. In collaboration with artists such as local resident Deborah Tucker, who makes stunning pet portraits using multiple layers of colored tissue paper on canvas, visitors can learn how to create a similar effect by working with Deborah this summer. No prior experience is necessary, of course!
Studio 12
(252) 995-7899
40534 N.C. Highway 12 • Avon
studio12hatteras.com
...................................................................................................................................................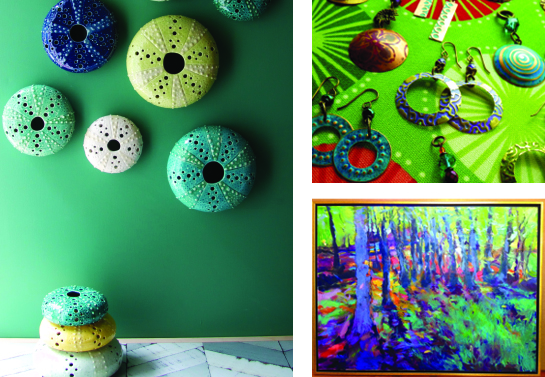 Pea Island Art Gallery

ure to please with more than 100 artists (85 of which are local!), Pea Island Art Gallery is located in a historic replica of the 1874 Chicamacomico Life-saving Station. This may begin to explain artist-owner Kim Robertson's dedication to art that blends classic and modern styles with a twist. Always a favorite is Shandi Berls' best-selling ceramic work. Shandi and her husband, Casey, create an amazing array of items showcased at Pea Island Gallery, including her handmade sea urchins, which are bold and fun enough to brighten any space. 
At Pea Island Gallery, you can also find the incredible paintings of North Carolina artist Sally Sutton, such as her tree oil painting "Solace." With a variety of everything from figurative to abstract pieces done in broad ranges of colors, Sally's work is both dynamic and mysterious – no matter how many times you look at one of her paintings, there's always some new detail to discover.
Another major highlight for 2015 is Kim's new line of embossed jewelry, created in collaboration with fellow artisan Patti White. Right now the line includes one-of-a-kind earrings and pendants done in copper and brass, many of which are also hand painted. "This is a project that's still in its exploratory stages," says Kim. "Who knows what's around the corner!" You'll want to be sure to stop by and find out.
Pea Island Art Gallery
(252) 987-2879
27766 N.C. Highway 12 • Salvo
peaislandartgallery.com
No matter which of these favorite things strikes your fancy the most, at the end of the day all the pieces on display in these galleries are treasures in their own right. From paintings to photography, ceramics, textiles, glasswork and wearable art, every single one of the mediums represented in these Hatteras galleries is a labor of love. Regardless of which of these precious gift(s) you finally decide to take home with you, all of them can be perfect mementos of your time here on the Outer Banks. Once you start exploring these galleries, you might find yourself making a list of your very own favorite things.