Listen To This Article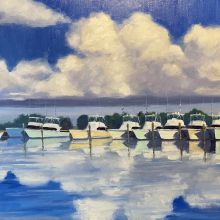 There's a scene in the Broadway play Sunday in the Park with George where the lead character, painter George Seurat, is trying to explain the process in his mind as he paints:
There's only color and light
Yellow and white
Just blue and yellow and white
Look at the air, miss
See what I mean?
No, look over there, miss
That's done with green
Conjoined with orange
It's a beautifully crafted scene where those of us watching who are not painters can somewhat understand how artists view the world around us. The green tree is not just a green tree; it's a complex combination of colors, vibration and light juxtaposed with movement. Artists are able to see where some of us can only look.
Here on the Outer Banks, we're surrounded by an abundance of things to see. And we've always been gifted with local painters who bring their expanded vision to us through their work. We look at a painting of a scene we've interpreted with only basic colors, but through the artist's eye, we realize that it's so much more complex – and, yes, beautiful – than we might have perceived before.
We wanted to highlight some of our local legend artists, ones who've been here for at least 25 years and who helped pave the road that's led to the Outer Banks being seen now as a mecca of sorts for truly good art. Yes, there are so many incredible artists of all mediums here, some new, some here for longer, and they all contribute to the arts that surround us. But the artists you'll see here have made a long-term name for themselves and a long-lasting reputation.
JAMES MELVIN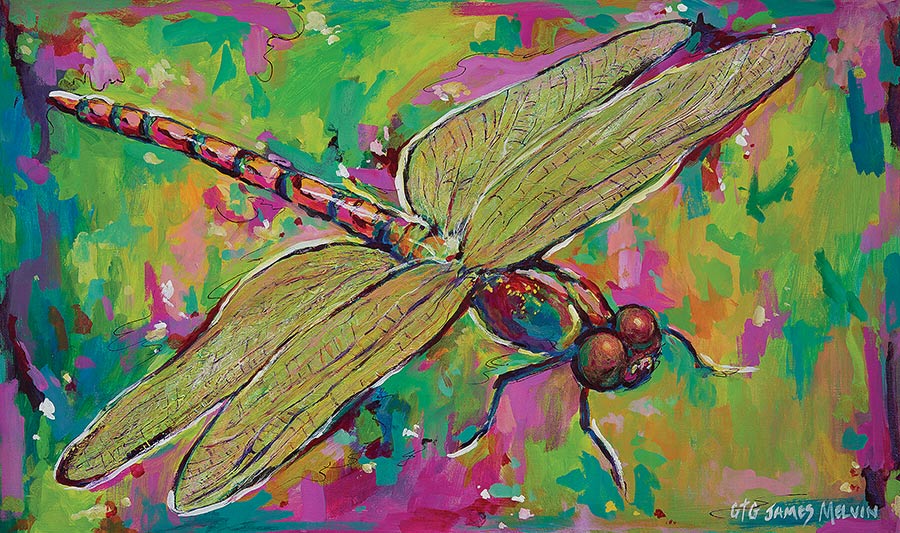 Beauty, fish and faith brought James to the Outer Banks in 1981: the dunes, waves and rhythm of life here; his love for fishing; and a step out in faith that this was where he and his wife belonged. Before arriving on these shores, he majored in science at St. Augustine University where he also took art classes, then he attended AT&T and received a degree in Arts and Education, putting the teaching aspect to work in the Peace Corp in Botswana in woodworking. A stint in sales and marketing with a company in Fayetteville, NC, helped give him the confidence that he could successfully market his art as a career, and that confidence has played out very well. James' paintings of Outer Banks scenes capture everyday life but, again, with that artist's eye that puts an exponent on the light, shadows, colors and shapes. His portraits are well-respected and, ultimately, led to a partnership with local writer Suzanne Tate and a very popular and nationally sold children's nature book series. Crabby and Nabby: A Tale of Two Blue Crabs was the first in the series and, now 40 books in, the latest is Marshy Mermaid. James has also dedicated his time and talents to promoting the Pea Island Preservation Society at the Pea Island Cookhouse Museum in Manteo, commemorating the famous all-Black life-saving servicemen who made many shipwreck rescues. Be sure to see James' painting of them at the North Carolina Aquarium.
JOHN "POSSUM" SILVER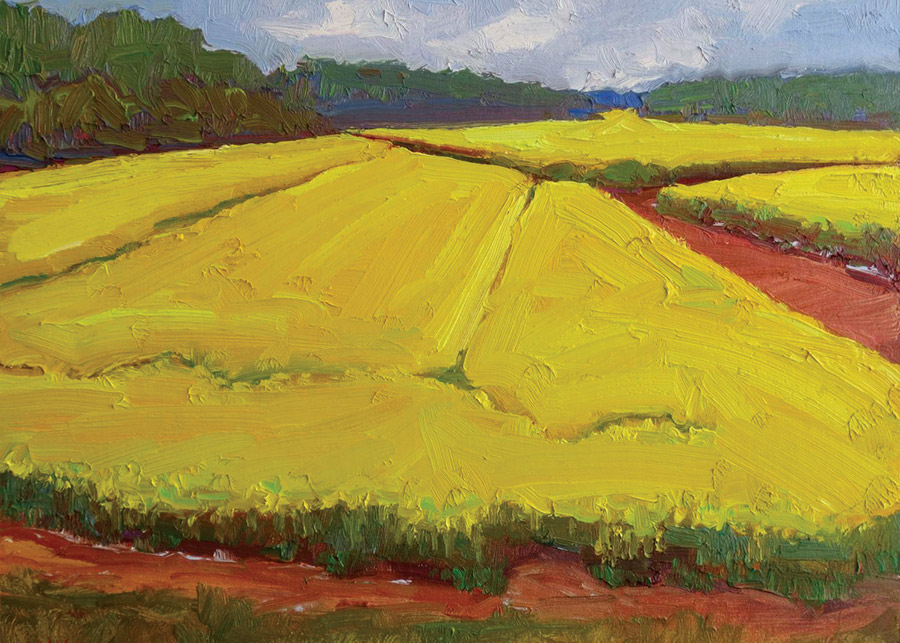 Possum, as anyone who knows him calls him, is our elder artist – not in age but in the fact that he came here full time in the fall of 1970 … 53 years ago! His work, as he puts it, seeks to paint the mundane and make it spectacular. At his gallery in downtown Manteo, you'll see what he means as you wander through paintings of birds, flowers, snapshots of a town scene, farm animals, people he's met. His technique isn't exact, as in capturing a face precisely or a building exactly as it stands. Rather, his paintings have movement and are, perhaps, best understood and appreciated by backing up a little, letting the images come into focus in your mind and heart rather than in your eyes (similar to one of his most respected artists, Vincent Van Gogh). Possum was born into art; his father also had a great talent for drawing. But one of Possum's greatest joys in his artistic journey has been studying with other well-known artists and teachers. Indeed, he has traveled extensively to spend time learning from these masters, incorporating, digesting and applying all the techniques into his own style. As Possum puts it, "Everything is an awakening if you're on the hunt." People have responded to his work from the start. It's certainly auspicious that at his very first show in 1993 he sold 56 of the 70 pieces he exhibited and came away with 10 commissions. Today, his art is in his gallery but also in many private collections. One patron actually has 35 pieces!
RICK TUPPER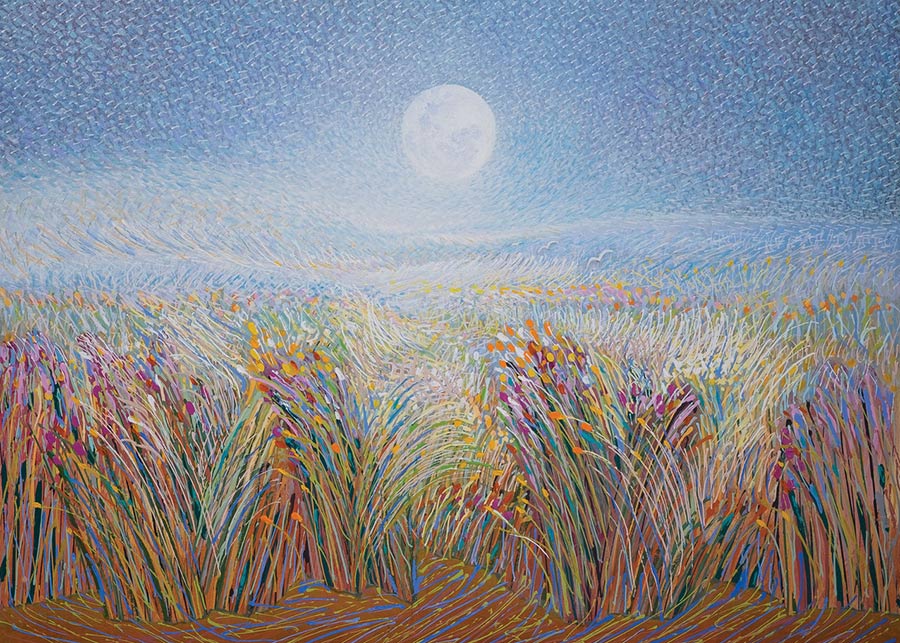 When you look at the art of Rick Tupper, the finesse, precision and rhythm could trick you into thinking that he must have been painting since he was a young child. A talent such as his was surely established genetically and nurtured from a very early age. But one of the most interesting things about this well-known artist is that he has a very unexpected background. After graduating from Rhode Island School of Design in 1970, Rick moved to the Outer Banks to run the storied Croatan Inn, which his parents had recently bought. After running it for a couple of years, Rick moved to San Francisco for two years and, upon returning here, took a sharp turn to another career as a commercial fisherman – complete with a harrowing experience being caught in a hurricane 12 miles offshore that even the Coast Guard couldn't respond to. He decided to keep his feet on solid ground after that life-threatening experience and to revisit his RISD training, which had focused on illustration. He started painting in earnest and was commissioned to create a 3D mural on the side of The Trading Post, and attention to his talent started rising. His early commercial work featured realistic scenes such as seascapes, but they led him into his first well-known work, the Grass series. Others followed, such as the Buds, Fish, Heart, Summer Breeze, Dialogue and Earth Vase series, that have continued to merit praise. Rick's work is predominantly found in private collections, but it can also be seen in public at Duke University's Cancer Center as well as in other corporate and public collections inside and outside the United States.
MARCIA CLINE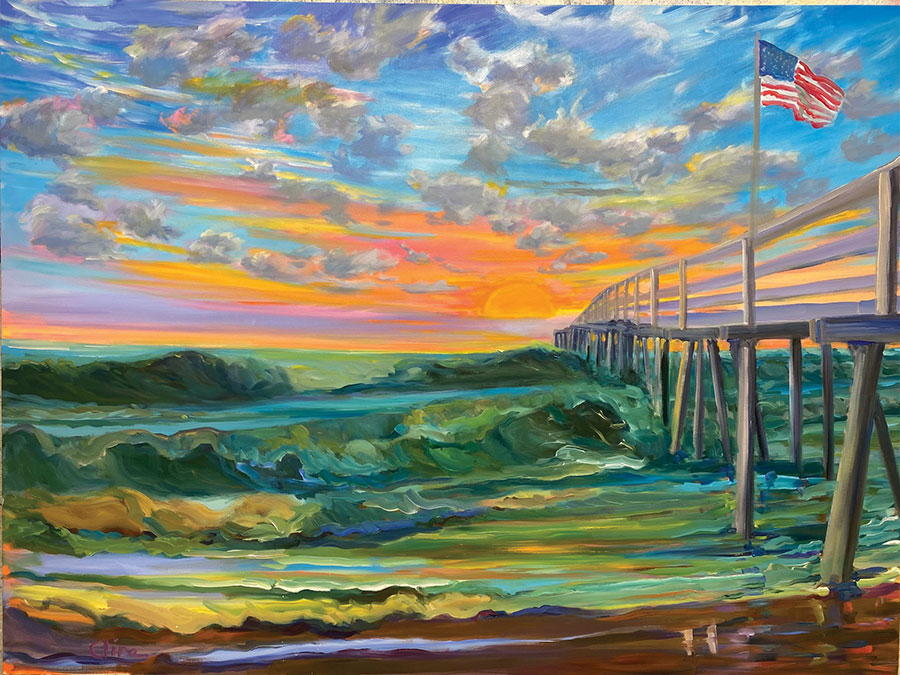 Marcia came to the Outer Banks in 1981 for the summer midway through getting her degree in Fine Arts from UNC-W. Through the years, she has studied under a lot of people via workshops and traveling. She says that she's always created art, and if you've been to Urban Cottage, Food Dudes, the KDH Cooperative, Blue Moon, Down Creek or many other businesses around the Outer Banks, you've seen Marcia's work. It envelops you with vibrant, inviting colors and scenes of the area that you've probably looked at many times before … but never like this. Though she's worked in many mediums, including batik, she's been focusing on oils for 25 years. "I love the oils and the deeper, richer colors they allow. I don't even mind the solvents," she laughs. She only paints scenes – mostly the natural surroundings and structures here – that mean something to her, that move her. And her hope is that those of us looking at her paintings are drawn into the beauty and sense of place. She's a prolific painter, and you can often spy her set up with her easel on the side of the road to catch just the right angle of that lovely scene she's capturing. "At this point in my career, I paint what I like to see – the light, air, sky and landscape. And I believe that no matter how long I've been painting, I'm still learning with every single piece I create. I'm grateful." So are we.
DEBBIE WELLS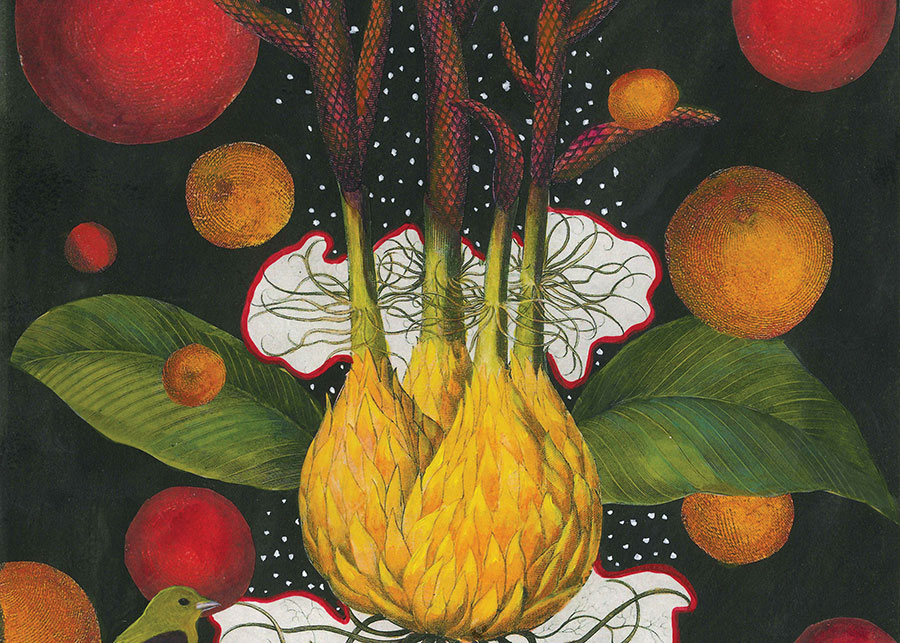 Debbie bought her first set of watercolors in 1988, close to 10 years after she moved to Ocracoke, somewhat on a whim. But she set foot on the island and knew it was home, just as she felt the pull of creating as soon as she put brush to paper with that set of paints. She had just been to Santa Fe and was totally taken in by the colors there as well as O'Keefe's works. In what she would say is a typical Debbie style of making quick decisions, she determined at that point to pick up a brush herself and let what she was seeing internally come out. She's the first to say that she doesn't have formal training, but formality is not what her paintings put across. Rather, it's the mystery of nature and creation. As she says, "If a piece doesn't convey a sense of mystery to my eye, I'm usually not happy with it." That mystery was enhanced by the years she spent managing Southern Rock bands and living next to the art school at the Atlanta Art Museum where she frequently interacted with students. That world filled with art and music opened up a path for her own creativity. As many people know, Debbie also applied her artistic talents in the kitchen at the Back Porch restaurant for many years. Today, you can find her art at Down Creek Gallery in Ocracoke.
PETIE BRIGHAM
You can get lost standing in front of a Petie Brigham painting. The colors, the way she filters light, the softness of them mingled somehow with this magnificent capturing of a complex landscape or still life. Petie describes them as "painterly realism" because, while they are about realistic things and places, they move beyond just capturing the scene. Perhaps this beyond aspect comes from the fact that she never paints from a photo; instead, she paints from memory and the layers of subtle perception that brings. She also keeps any manmade things out of her paintings, so what you get is the natural calm. Petie began painting in high school and then continued her education briefly at RPI (now VCU), then painting in New York City and then concentrated studies at the Woodstock School of Art and the Arts Student League of NY. Petie describes her process well: "I begin all my paintings loosely and abstractly in broad strokes, without any linear drawings on the canvas first. Once I have covered the canvas with my first impressions of shapes, values and color, I then begin to refine and develop only where I think it's needed, all along considering the whole canvas rather than specific parts." She says that every painting is an adventure in paint behavior and new discoveries. You can see her paintings locally at Lynn Atkin Custom Framing (including some very early works) and at Silver Bonsai Gallery, both in Manteo.
ROBIN YORK
It's lucky for art lovers that the ocean is such a pull – and often the subject matter – for artists. That never-still body of water is what brought Robin to the Outer Banks in 1982 because, as she says, she always wanted to live by the sea. Throughout the years, her artwork has certainly encompassed scenes of the natural world found on these islands, but her range goes beyond that. Her latest work is a Barn Series of structures in eastern North Carolina, but she also does pet portraits, flowers, fields, farm trucks, sunsets, local structures, scenes from her prolific travel adventures and most anything else that captures her imagination. Though her degree from ECU in painting and drawing helped her hone her own talents, she was also drawn to share the gift and joy of creating, so she went back to school for her Master's in education and also achieved National Board Certification. And as much as Robin is known for her own work, she has also fostered the talents of students for decades. Because of teaching for 30-plus years, she's become something of a Jill of All Trades and has taught basketry, stained glass, decoy carving, printmaking, batik and embroidery. Her weeks now consist of weaving for a nonprofit and teaching painting and pottery at the College of the Albemarle. She says that she always has an easel set up at her studio and lives by the motto Never Lose Your Sense of Self – Create Something Everyday.
PEGGY SAPORITO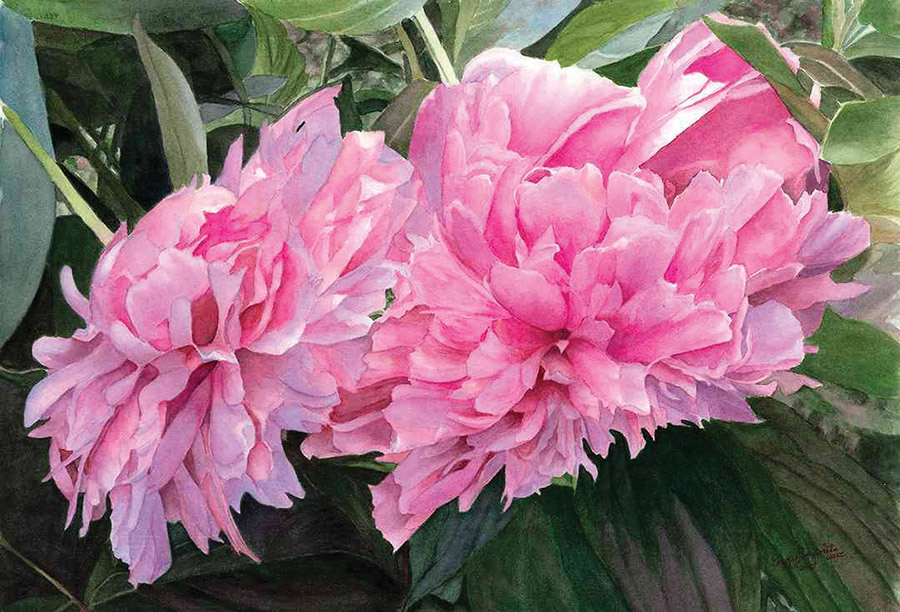 Unlike most of our other featured artists, the Outer Banks itself was not what drew Peggy here. Rather, it was golf – or, at least, her husband's desire to be in an environment where he could play year round. In fact, she had only vacationed here once before moving here. But she's never regretted it. She left a high-pressure life in Fairfax, VA, where she rarely had time for anything other than work and raising kids. But once retired, and with time to explore her talents and passion, she immediately started pursuing art. She took lessons for five years to hone her technique in watercolors, the medium she has now used in hundreds of paintings. She's especially known for creating beautiful works of bridal bouquets, having painted more than 75 of them to date, but she also captures houses, portraits, planes and yachts, landscapes and pets and has even created wallpaper. Peggy has been the president of the Watercolor Society of North Caroline for the past four years and is very active in Dare Arts as a volunteer and board member as well as a past president. You can see her work at the Dare County Justice Center and the Outer Banks Hospital.
FAY DAVIS EDWARDS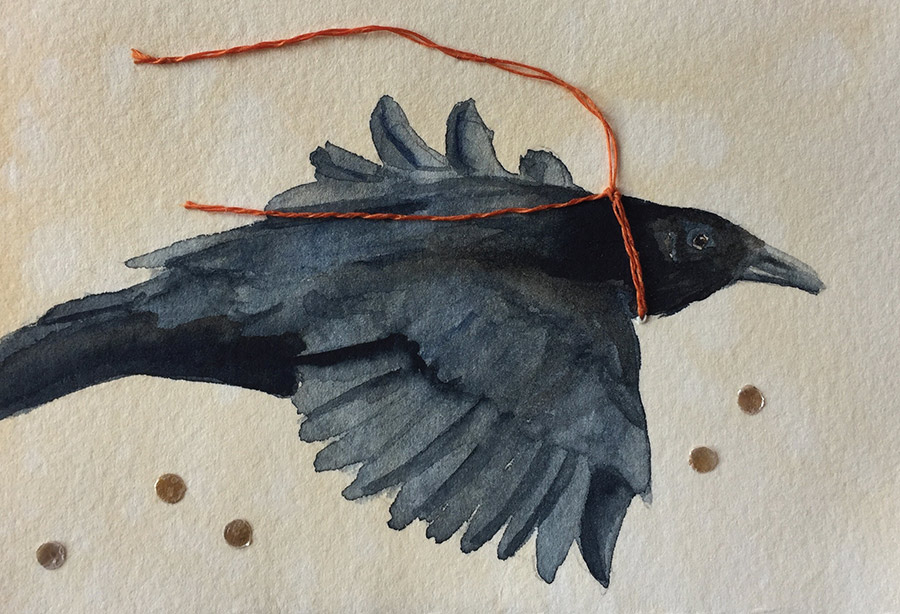 There's a definite purpose to most of Fay's art – not just capturing something pleasing on the canvas. Though everyone would agree that her work is, for sure, quite pleasing, she is also trying to educate everyone who interacts with her art how the plight of climate change is impacting coastal communities. Born and raised on the Outer Banks, she's been here 54 years, and as such she's had a front row seat to environmental impacts in all of Eastern North Carolina. Her latest passion is a community engagement project where she brings together people with divergent views on climate matters. They sit at a table made from local wood and eat locally sourced food on plates made from local clay all to help drive home the point of what will be lost with climate change but also how communities can come together to solve the issues. This is big-picture stuff. Fay says that being in her studio is like being in a science lab – and not only from the climate aspect. She sees all of her work leading to bigger ideas … and sometimes very big canvases. Her art ranges from small works that she literally hovers over to 8-foot projects where her entire body is engaged in a sort of painting dance. A love of painting as a kid ("I fell in love with how pigment can move across a canvas!") led to a BFA at ECU then a Master's at Maine College of Art and Design. Her work can be seen locally at her studio by appointment and in Silver Bonsai Gallery, both in Manteo.