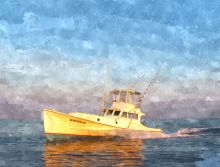 At length did cross an Albatross,
Through the fog it came;
As if it had been a Christian soul,
We hailed it in God's name.
There's no such thing as a typical day of fishing on the Albatross Fleet. Something magical happens when you set foot on one of their round-stern boats on an early Hatteras morning, salty air soft against your skin, sky brushed pink with sunrise. As the boat sets out from the dock the modern world falls away. No constant stream of electronic information. No Facebook, Twitter, Yelp or Instagram. There's only the caw of gulls, the clear blue water, the timeless glint of scale and splash of fin. When you voyage with the Albatross Fleet, you fall back in time. And you never know what adventures await.
It ate the food it ne'er had eat,
And round and round it flew.
The ice did split with a thunder-fit;
The helmsman steered us through!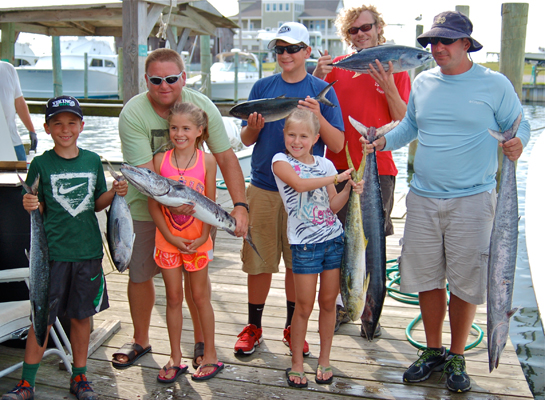 Ernal Foster had an idea. It was 1937, before Hatteras Island had a bridge, a paved road, even electricity. Most Hatteras residents eked out a living on the water as commercial fishermen, using pound nets or hand-tied cotton gill nets. But in the winter the sportsmen arrived, and they'd sometimes hire local fishermen to take them rod and reel fishing-an inefficient way to harvest a meal by local standards, but it made the seed of an idea grow in Ernal Foster's young mind. What if these wealthy sportsmen would pay him to take them rod and reel fishing? Foster bought juniper wood, cured it and found a nearby boatyard that built the boat to his specifications to be at home on both ocean and sound. He christened it the Albatross after Coleridge's Rime of the Ancient Mariner. The Albatross was commissioned during World War II, but business took off after the war. Dare County's newly formed tourism board publicized the blue marlins caught on Foster's boat, and Hatteras became known as a sport fishing paradise. As business expanded, Foster added two more boats to form the Albatross Fleet. A couple other events solidified the fleet's dominance. In 1958 a customer battled a blue marlin, but when the fish was brought to the boat he requested it be let go to live and fight another day, an unheard of request at the time. The tourism board publicized this, and catch and release sport fishing was born. And you know that giant blue marlin mounted in front of the library in Hatteras Village? It was caught in 1962 on an Albatross boat; at 810 pounds it was the largest blue marlin in history, a world record at the time.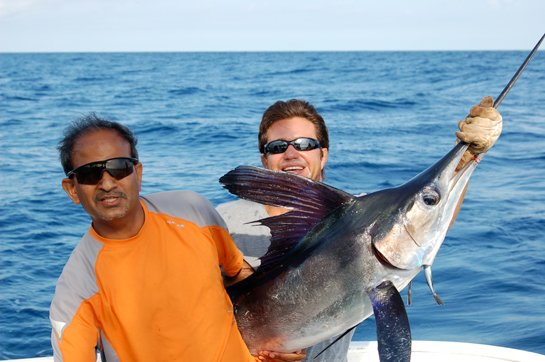 Ernal's son Ernie now runs the Albatross Fleet along with his wife, Lynne. One of the hallmarks of the Albatross Fleet is the strong tie to their rich history. Ernie took over for this father; one of Ernie's primary captains started with the Fleet in high school, and now his high-school-aged son is working with them. "The kid at the dock cleaning fish has a grandfather who worked with my father back in the '50s. It's a generational continuity. It's kind of nice. Kind of affirming," Ernie says. The boats themselves are the same ones Ernal Foster had commissioned, and they're still going strong. At the time they were built, rounded sterns were used for commercial and charter fishing. In those days nets were pulled by hand so the rounded stern was necessary. "It's become a matter of pride to keep this piece of heritage alive," says Ernie. "Our boats went from normal to odd to unique. And unique is a pretty nice place to be." Another tradition Ernie has maintained is the red and white striped outriggers, colors his father decided on. "It's about holding on to the visually more interesting traditions and marrying that with the latest technology that helps you fish better," says Ernie.
And a good south wind sprung up behind;
The Albatross did follow,
And every day, for food or play,
Came to the mariner's hollo!
Because, while the history of the Albatross Fleet is fascinating, these boats are meant for long days spent on the water, for bait and lines and fins and scales, for peering into the world of the creatures of the deep. "When you go fishing, you're not going to history class," Ernie says. All the information about round sterns and striped outriggers isn't going to touch the feeling of a fish on the line or the unexpected events that are part of the trip. "No two days are necessarily the same," says Ernie. "There's always the adventure of it."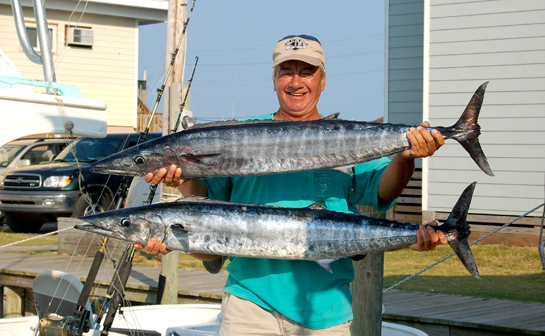 Hatteras is known today as a sport fishing mecca as much as it was back in Ernal's time. "There's more variety than almost anywhere you can go," Ernie says, due to the close proximity of the Gulf Stream and the Labrador Current. "We have the advantage of having all the history and experience of the pioneers who started the sport fishing business," Ernie says. And that experience pays off. Ask Ernie what's biting when and he'll tell you by heart. Offshore, in summer mahi mahi are best. Big blue marlin may show up, along with white marlin and saddlefish. There's outstanding wahoo in late summer and early fall. Tuna runs in springtime and in the fall, sometimes summer. Nearshore in spring and fall there are world-class channel bass, bluefish and Spanish mackerel, along with live bait king mackerel fishing.
Besides the outstanding fishing, Ernie's wife, Lynne, emphasizes that a trip on the Albatross Fleet is full of surprises. "Every day is different and unique; there's a little bit of mystery and magic. People will come back and all they can talk about is the whales they saw or the hammerhead sharks that attacked the fish they were winding in." Lynne says there's a wide variety of things that can happen on a fishing trip, like spotting sea turtles, porpoises, ocean sunfish, tropic birds and fish feeding frenzies. "It's a nautical safari," Lynne says. Observing a feeding frenzy or having your fish eaten by a larger predator can be interesting because some people don't realize fish eat other fish. "So you don't have to feel too guilty about eating them," Lynne says. In addition to the natural wonders of an Albatross trip, there are "massive freight boats passing by," Lynne says, and in clear water on a particular day you can see the hulking remains of shipwrecks resting on the ocean floor.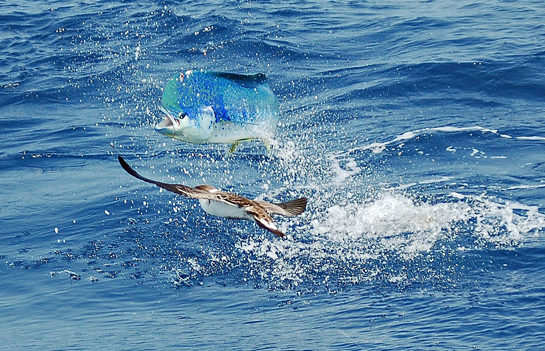 In mist or cloud, on mast or shroud,
It perched for vespers nine;
Whiles all the night, through fog-smoke white,
Glimmered the white Moon-shine.'
The image of the albatross often has a negative connotation, but in Coleridge's The Rime of the Ancient Mariner, the albatross is initially a lucky omen, a good sign that steers the boat through rough waters. Ernal Foster, though only possessing a ninth grade education, was drawn to the grace and beauty of both the bird and the poem. It's a fitting symbol for the Albatross Fleet, really-an enduring, graceful, timeless portent of adventure. As the boats of the Albatross Fleet embark from the dock on a misty Hatteras morning, off for their voyages into the ever-changing Atlantic, they take with them a little bit of the spirit of Ernal Foster. Their round sterns rise and fall on the waves just like they did in Ernal's time; the fishermen cast their lines and battle their fish like they would have done in 1937, 1958 or 1962. Like they would have done in ancient times of myth and lore. In The Rime of the Ancient Mariner, it's only when the albatross is killed that things go south. "We're not killing this Albatross," says Lynne. "She's been in business for 77 years." Here's looking forward to 77 more.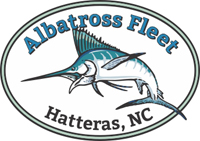 Foster's Quay, Hatteras Village, North Carolina 27943
Phone: (252) 986-2515 | albatrossfleet.com