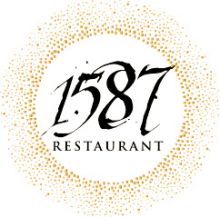 1587 Restaurant's head bartender and resident drink maven, Matt Brent, loves to talk shop. As he sets up for the night behind 1587's famous coppertop bar, he chats enthusiastically about all the details that go on behind the scenes at one of the Outer Banks' most acclaimed restaurants. For him, these details aren't just about the job though, they're part of his life story.
It can be hard to believe that 22 years have passed since husband and wife team, Don and Lauri Just, purchased Tranquil House Inn on the downtown Manteo waterfront and quickly expanded to include the acclaimed on-site 1587 Restaurant. A family business from the very beginning, Don's son, Donnie Just, came to the Outer Banks shortly after 1587 opened to help his father run things, and it wasn't long before Donnie decided to make the move permanent in order to run the inn and the restaurant as one business that also specializes in wedding coordination and catering. During this time Donnie's four half-brothers also routinely visited, but it was Matt, his younger half-brother, who felt the most drawn to this area and the flourishing 1587.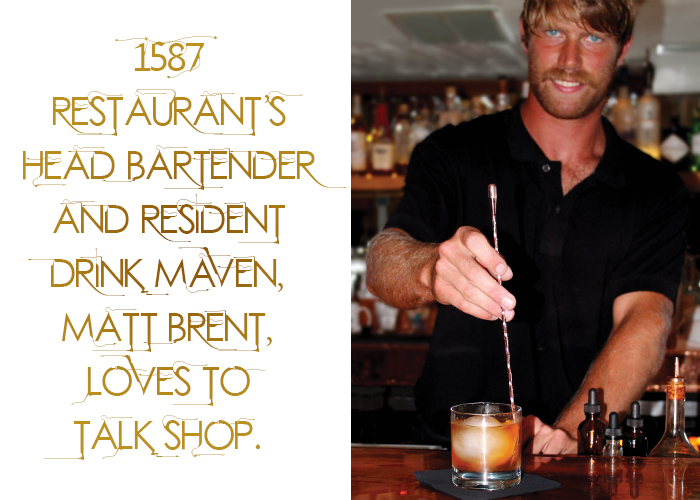 "I was still in high school in Richmond when Donnie moved here," Matt recalls. "Every summer I'd spend at least a few weeks with him, so I got the chance to learn about the business from the ground up at a pretty young age." 
This background, and the chance to work with his brother full time, was what prompted Matt to make his way back to the Outer Banks in 2010 after a few years of travel where he was introduced to a booming restaurant and bar scene that was hip, fun and filled with innovative takes on more traditional food and drinks. "There's a tremendous amount of creative energy to the dining industry in New Orleans," says Matt. "It made a lasting impression on me."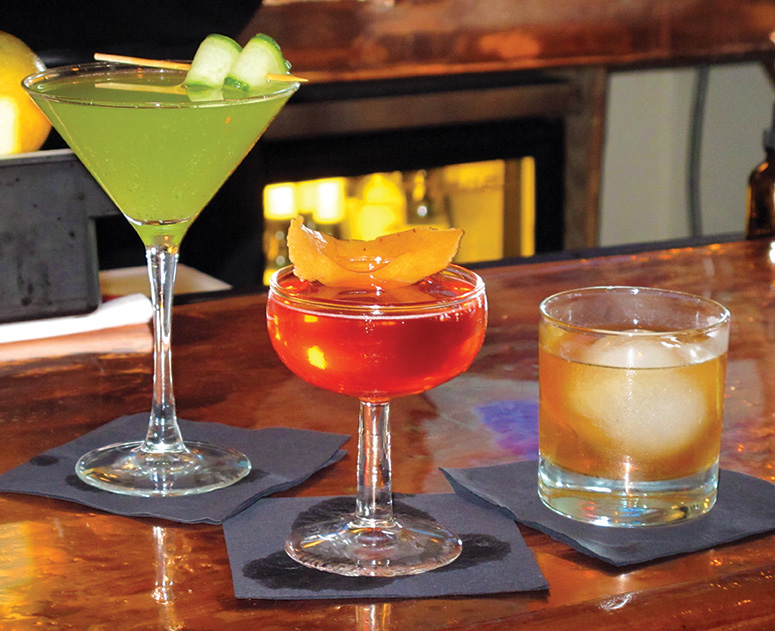 Although he didn't know it at the time, that energy would help inspire another element of 1587's lasting success: a world class menu of specialty cocktails. Only a year after Matt moved to the Outer Banks, Manteo finally passed a resolution to allow sales of liquor by the drink in restaurants. Though unheard of in many other areas, without a special permit for residential private clubs, restaurants in Manteo were only allowed to serve beer and wine until the referendum passed in 2011. Seeing this as an opportunity to offer their customers something new and exciting, Donnie encouraged Matt to take over as 1587's first bartender. 

"It was a little nerve-wracking at first!" Matt exclaims. "I had never even held a shaker in my hand before that point, but I love the restaurant industry, and at 1587 I saw how much quality and effort makes a difference. It seemed to me that the drink menu should live up to that standard we had set with our food and the overall atmosphere."
Matt contacted a family friend, Dennis Day, who's been Ocean Boulevard's renowned bar manager for more than a decade, and asked for some professional tips. What he got was a full crash course behind the bar where he learned pouring techniques, got a rundown on all the basics and received the gift of his first bartending book.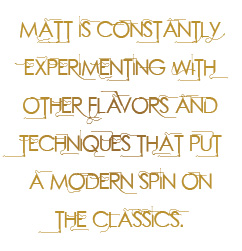 Things grew from there as Matt immersed himself in research and found that he increasingly gravitated toward the sophisticated charm of more classic drinks such as Old Fashioneds and the Sazerac (a New Orleans specialty that was first concocted in 1838). "Classic drinks are classic for a reason," Matt says with a laugh. "There's an art to making them that really clicked with my personality and the way we do things at 1587 in general. It's great to push the edge sometimes, but there's no need to be overly wild. Like our food, I wanted the drinks to speak for themselves with a clean look and the flavors you get from using the freshest ingredients."

You don't have to search any further than their menus to see this philosophy in action. Two separate menus (one is vegetarian only – and may I note that 1587 was one of the first restaurants in the area to actually cater to non-meat eaters, not just serve them pasta and veggies) change three times a year in order to highlight the freshest local ingredients available seasonally, while a third menu for beer and cocktails — with a full list of each drinks' ingredients — also rotates regularly according to the same principals and features an ever-growing selection of spectacular wines from all over the world.  
"There's been a large movement recently that has made more people want to know where things come from — whether it's what's on their plate or in their glass," Matt explains. "We cater to that here because we truly believe that's how things should be done." To this end, Matt spends almost as much time in the kitchen as he does behind the bar to fresh squeeze all the juices he uses, experiment with housemade bitters and create all their signature syrups in distinct flavors such as rhubarb or the roasted almond-flavored falernum that's traditionally used in Mai Tais.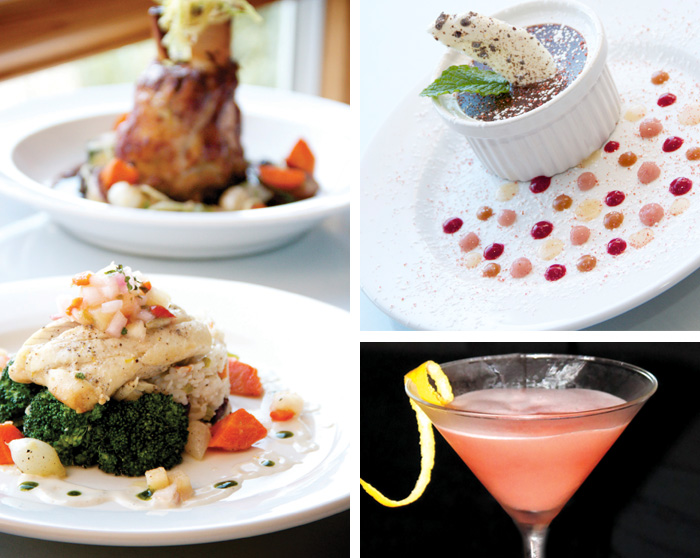 A self-admitted perfectionist, Matt is constantly experimenting with other flavors and techniques that put a modern spin on the classics, and he draws ongoing inspiration from other equally passionate leaders in the service industry — from mixologists both local and abroad to 1587's expert chefs and, of course, the outgoing energy of his own brother, Donnie. "There's always something new to look forward to here," Matt says as he makes one of the first drinks of the night, a vodka-based Summer Breeze with fresh cucumber juice, lime and mint from 1587's private herb garden. Now that's something we can all raise our glasses to.