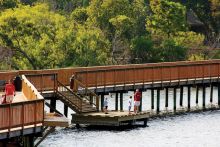 The locals' secret is out: fall is the best time on the Outer Banks! Couple autumn's moderate temperatures, lower humidity and less-crowded beaches with shoulder season events, and it's easy to see why the Town of Duck calls itself the Outer Banks' most vibrant recreational, cultural and entertainment center. From the annual Jazz Festival now in its seventh year to other off-season attractions and amenities, Duck offers a range of sensory delights for locals and visitors who are happiest when fall is in the air.
Nature lovers will revel in the Town's Soundside Boardwalk. The .62-mile boardwalk connects the Duck Commercial Village with the 11-acre soundside maritime forest and willow swamp Town Park site, providing unobstructed sunset and soundside views in all seasons. Multiple access points found along the boardwalk provides pedestrians many ways to join or leave the boardwalk to quickly reach homes and shopping areas on both sides of Duck Road. The Town Park also includes a public kayak and canoe launch, a small boat pier, a picnic and playground area and walking trails.
Town administrators are organizing a volunteer Soundside Clean-up to take place along the Duck Boardwalk through the Village Center in November. Volunteers and participants will take to the water and the shores to remove trash and debris from the waters of Currituck Sound and the shoreline. For more information, keep posted on townofduck.com or like the Town's Facebook page, Town of Duck.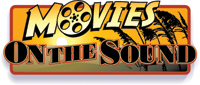 In conjunction with the Outer Banks Children @ Play Museum, Duck will host two free Movies on the Sound nights for the whole family on Friday, October 4 and 11. October 4 will feature Hotel Transylvania. Disney's Princess and the Frog is the feature on Friday, October 11. Gates open at 7 p.m.
As fall draws to a close, the Town of Duck looks ahead to the holidays. A Holiday Window Decoration contest begins on November 30 and continues through December 20. The public will be invited to vote for their favorite business holiday décor and will be entered into a drawing for Duck business gift cards.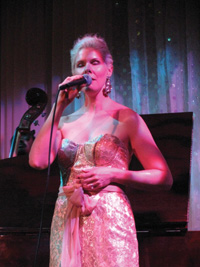 The Town will once again partner with the Duck business community to host the 3rd Annual Duck Yuletide Celebration, set for Saturday, December 7. Emme St. James and Her Jazz Gentlemen, an ensemble from Richmond, VA, that has performed during past Duck Jazz Festivals, will once again grace the Town Green, with a concert beginning at 3 p.m. featuring music from their holiday CD, Christmas Cabaret. As a special treat, Santa Claus will make a guest pre-season appearance, riding into town on the Duck Fire Truck, just in time for the lighting of the Town Crab Pot Tree. To cap the festivities, Duck businesses will stay open for extended hours with specials and entertainment planned, and local restaurants will participate in a Tapas Crawl from 5-8 p.m. No special ticket is required, and participants will be announced soon. Check back on the Town's website, www.townofduck.com, for updates on all the holiday season events.
Set your sights, tune your ears and whet your taste buds to celebrate autumn Outer Banks style with the Town of Duck.