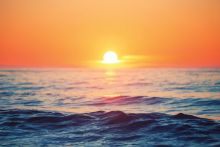 What time of day do you associate with the Outer Banks? Maybe you've never thought about it before, but as you do now you might envision a bright, sunny afternoon on the beach. Or, if you're one of those early birds, perhaps your go-to scene is the sun rising on the horizon of the Atlantic, pulling up pinks and orange hues on its ascent.
But let us invite you into another segment of those 24 hours: twilight. This is the time when the sun is sinking but is not all the way down, when the air begins to shed its heavy heat and when we start anticipating the late-evening summer sunsets, still a few hours off, but gathering on the edge of the western sound. Many locals will say that these are their favorite few hours here, and the folks who run the Miss Oregon Inlet head boat seem to agree.
This summer they're introducing a Twilight Fishing Cruise from 6 to 8 p.m. on Tuesdays, Wednesdays and Thursdays, heading out from Oregon Inlet Fishing Center. The cruise is designed to mingle some of the best aspects of the Outer Banks: being on the water where you can have a wide open view as the sun begins its descent, catching fish, kicking back and letting the cooler evening breeze surround you and watching the world go by from the boat's perspective.
If you've never been on a head boat, let us explain. Miss Oregon Inlet is a 65-foot vessel, holding up to 49 people, that takes you into the Pamlico Sound to fish. You pay by the head, thus the name, and the price is very affordable. The boat is steady with plenty of shade, a bathroom and a captain who keeps you entertained while you drop your lines. On-board mates help you bait your hook and take off your catch, if you so desire, so no experience is really necessary. The array of fish you can catch is impressive: flounder, trout, sea bass, croaker, grouper, pigfish, pufferfish, sea robin, pinfish, sea mullet, bluefish and more. The boat even has a nickname, earned from the huge number of a certain fish her anglers catch: The Flounder Pounder. You're welcome to keep the fish if it's of legal size, or you can throw it back. But if you've ever tasted flounder stuffed with crab meat, you're going to want to take those babies home! You're also welcome to bring your own cooler stocked with refreshments, or you can purchase soft drinks, water and prepacked snacks on board.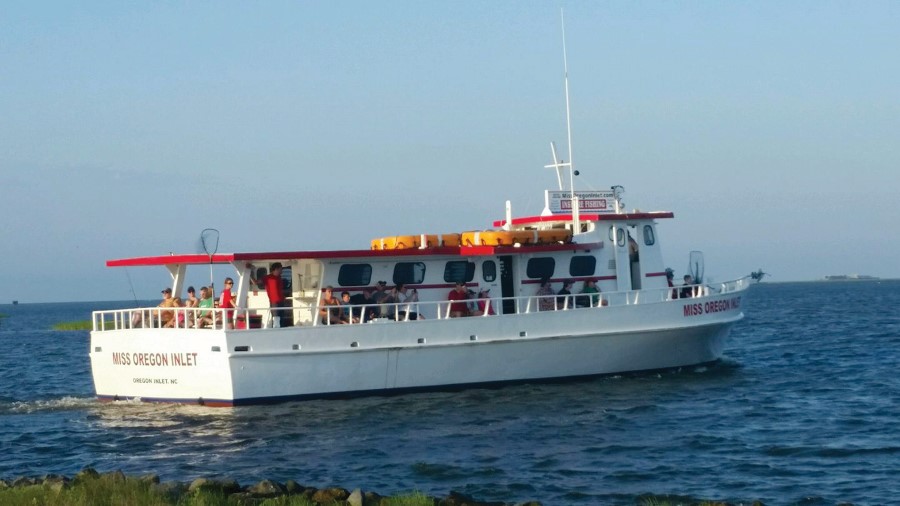 Melodye Cannady, one of the owners of the boat, talks about the sensory experience of this evening cruise. "You have to remember that where we go out of – Oregon Inlet Fishing Center – is the gateway to legendary Outer Banks fishing experiences. You're right here at the inlet, with access to offshore, inshore and sound fishing. We're the historic location to begin your adventure. Decades of fishermen have come and gone from this center, with decades of stories to tell." And you do feel that historic pull when you arrive for your Twilight Cruise, but the sensory experience is just beginning.
As you pull out of the marina, the first thing you're going to see is the new Basnight Bridge, rising like a majestic upside down parabola. This bridge, just opened in February, is a destination in and of itself, drawing thousands of appreciative onlookers from land. But the experience of observing the structure from water level is, truthfully, a wonder. Yet there are still more wonders to see on this twilight trip. From the deck of the boat, if you turn in a circle, the entire 360 degrees give you a sight that deserves your full attention. To the east, the inlet and rolling waves of the ocean; to the south, the curving edge of Hatteras Island; to the west, the sloughs, channels and small islands that dot the water; to the north, the Bodie Island Lighthouse. Interspersed, you'll probably see dolphin pods as they surface and a wide variety of sea birds soaring overhead. You also might catch Bobby Smith as he tends to the mollusks at his Savage Inlet Oyster Farm.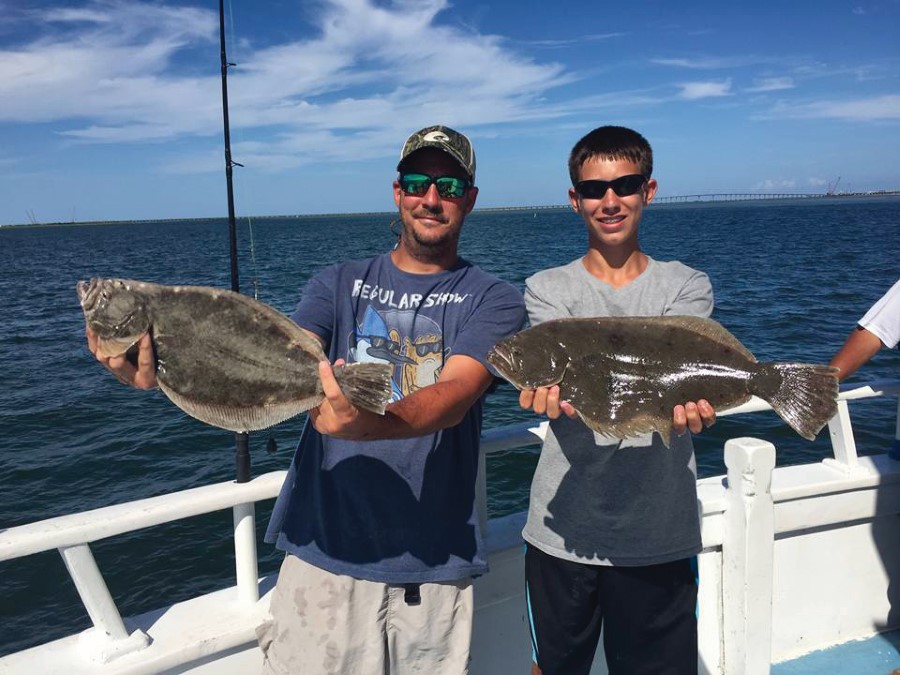 Melodye says that she always reminds guests to make sure their phones are charged up so they can take pictures. "This junction of inlet, sea, sound and manmade structures is magic. I've heard so many people describe it as a sight of a lifetime, and it is. If you've never been here, seeing it from the boat's vantage point, you really just can't imagine the beauty."
Of course, this same beauty can be observed on Miss Oregon Inlet's daytime cruises too. She departs every morning for a trip that runs from 7 to 11:30 a.m. then again in the afternoon from noon to 4:30. No matter how hot the day, you almost always experience a breeze when you're on the water, so these sunny trips are very popular too.
Maybe you should consider both! People of all ages love these trips, from babes to grands. And if you consider Melodye's daughter's wisdom – "let them concentrate on the fish box, not the Xbox" – you might agree that this foray into the world of fish, water, wind and beauty is just the thing for your kids too.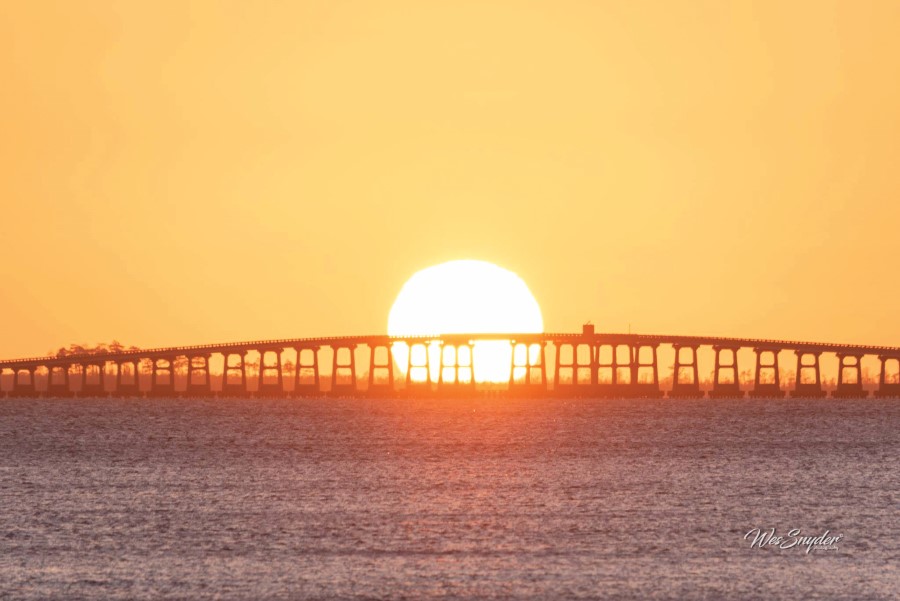 Miss Oregon Inlet hosts a bevy of summer camps and charity cruises and is a wonderful venue for private charters. They'll even recommend local caterers.
Dare County Parks and Recreation Camp Boat Trip week-long camp
Jennette's Pier Camp Boat Trip week-long camp
Camp SALT Dare County Sheriff's Day Camp
Multi-county 4-H Camp
Boy Scouts Cruise
Fallen Soldiers Cruise
Senior Citizens Cruise
3rd Annual Special Olympics Tournament
5th Annual Youth Tournament
36th Annual Lions Club Visually Impaired Tournament
Tune into Beach 104.1 FM every weekday morning at 6:20 and 8:20 for information on what's biting and for a chance to win a Miss Oregon Inlet Fishing Bucket filled with two adult tickets for a fishing trip, a t-shirt, a fishing cap, a bottle of water and a beer hugger.
Miss Oregon Inlet Fishing Tickets
Morning and afternoon trips $48 adults, $38 children (ages 4 to 10), free for 3 and younger
Twilight Cruise
$35 adult, $25 children, free for 3 and younger
$3-off coupons for veterans, military, police, fire, EMTs and seniors
$5-off coupons, per ticket, for groups of 10 or more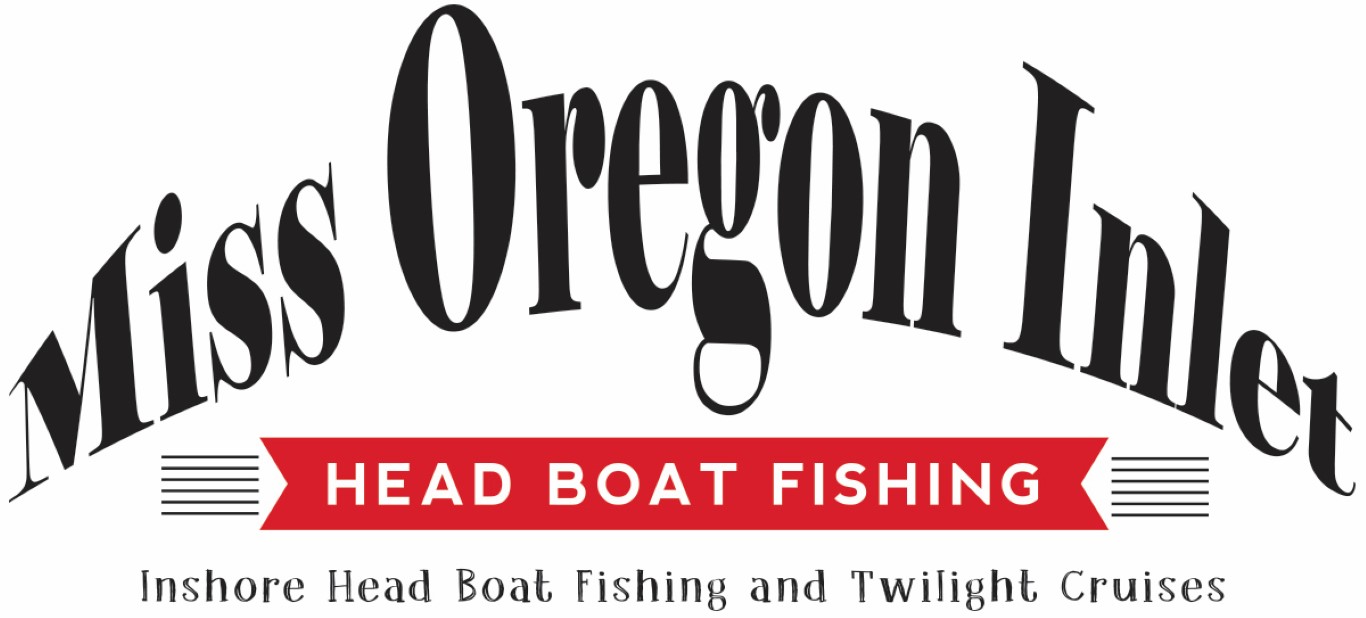 (252) 441-6301
missoregoninlet.com
98 Highway 12 South
Nags Head, NC 27959