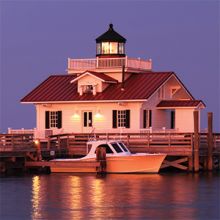 Manteo, like many of the other areas that make up the Outer Banks, has its own distinctive flair that more and more people fall in love with every year. Characterized by its historic and relaxed island atmosphere, Manteo is also home to a thriving community, and it's simply teeming with extraordinary places to shop, eat, play and stay. Whether Manteo's your destination or a day trip, here are a few places that embody the spirit of a town that's perfectly one of a kind.
 
---

Nest  | roanokeisland.net/nest • (252) 473-5141
Stepping into Nest is like stepping into owner Nancy Seitz's imagination. "In my head there was always this perfect shop that I wanted to walk into," Nancy says. "Eventually I realized that I had to make that dream a reality."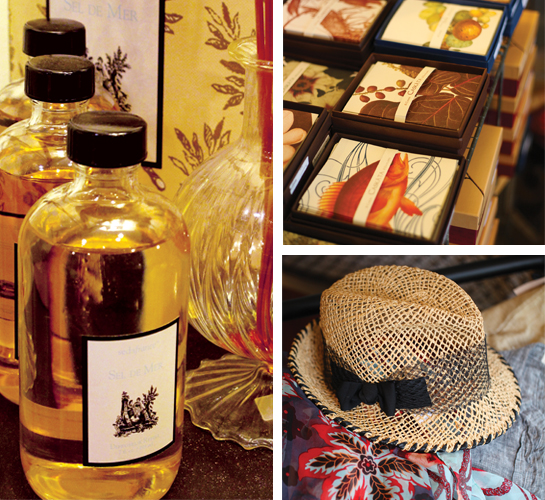 She's certainly accomplished her goal. Located in Magnolia Market across the street from Tranquil House Inn, Nest is filled with luxuries for you and your home, Browsing through Nest is an adventure for all your senses. Imagine distinctive natural fiber clothing lines such as CP Shades in styles Nancy has made to order just for Nest, French-imported handbags and hats, handcrafted jewelry by top American designers such as Viv & Ingrid, heavenly fragrances and soaps, a full line of sumptuous linens by Bella Notte plus all manner of artisan tabletop designs and other home accessories…and you're just beginning to scratch the surface of all the amazing things you'll find at Nest.
Nancy, who loves to travel, hand selects every item she carries, and the name of the shop is even inspired by a joke between her and her husband that they always return home to their "little island nest" in Manteo. "There's a romance to it," Nancy says. "It's not about making things match perfectly; it's more about surrounding yourself with beautiful things that you've fallen in love with."
 
Nancyware Pottery  | nancywareobx.com • (252) 473-9400
Owner and artist Nancy Huse is the driving force behind Nancyware Pottery, a shop that also doubles as her working studio. On any given day you can see Nancy working on one of her gorgeous pots in many different stages — from forming them on the wheel to firing them and setting them out on display.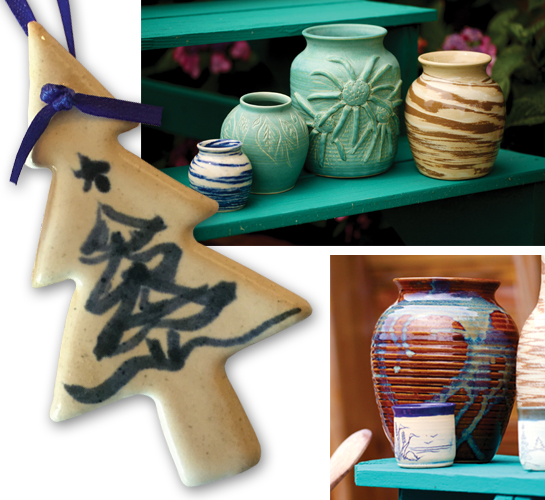 "I was drawn to this," says Nancy, who has been doing pottery for more than 40 years. "The very first pot I made changed my life." This level of dedication is evident in her work, particularly when you see one of her Passion Pots. These limited edition pots of all sizes are dated and signed for her collectors and come in many rich color combinations, such as her latest, "the drizzle." Every year Nancy makes one or two items no one has seen before, so enthusiasts will want to stop by quick for the newest addition to her Passion Pot series: knitting bowls!
Even better? Now almost any pot can be personalized instantly on the bottom with an inscription of your choice. It's all part of Nancy's desire to make things that are functional and special, which you'll see in other items such as her handcrafted utensil crocks, sponge holders, vases, heart bowls, ornaments and, of course, her bestselling God Jar. 
Charlotte's  | shopcharlottes.com • (252) 473-3078
If you love style and service,  you'll be very much at home in Charlotte's. Owned and operated by Charlotte Dixon, this full-service specialty ladies boutique has everything you need to get decked out for a formal affair or to look casually chic in your everyday wear.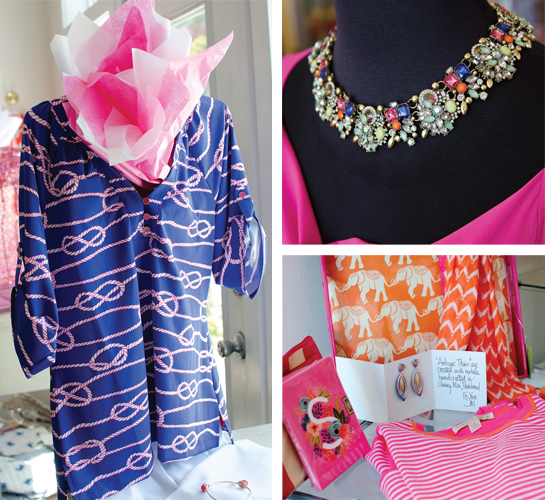 From Hobo handbags to popular jewelry lines such as Molly Beads and Bourbon and Boweties, outerwear and clothing lines that include Jude Connally, Gretchen Scott and Joseph Ribkoff, the focus at Charlotte's is on traditional styles that have a contemporary flair and lots of bright, bold color year round!
What sets Charlotte's apart even more is their commitment to personalizing your entire shopping experience. To serve their loyal customers best they stay open all year except Sundays, and offer services such as gift wrapping, special orders, alterations and personal shopping. "We deliver things to our customers all the time, either by mail or home delivery!" says Charlotte, who's owned the boutique for 18 years now after working in the original shop for a decade. "The main thing is that we learn about our customers as individuals. As we get to know their needs, their lifestyles and even any special events they're going to soon, a relationship develops that you might not have otherwise. It's really wonderful."
 
Avenue Waterfront Grille  | avenuegrilleobx.com • (252) 473-4800
After a long day shopping and strolling in downtown Manteo, you're probably wondering what's on the menu, and the scents wafting from Avenue Waterfront Grille will pull you straight in. Tucked inside the Waterfront Shops, Avenue has a casual, family-friendly atmosphere in a spot that offers stunning views of Shallowbag Bay and a menu that quite honestly has to be seen to be believed.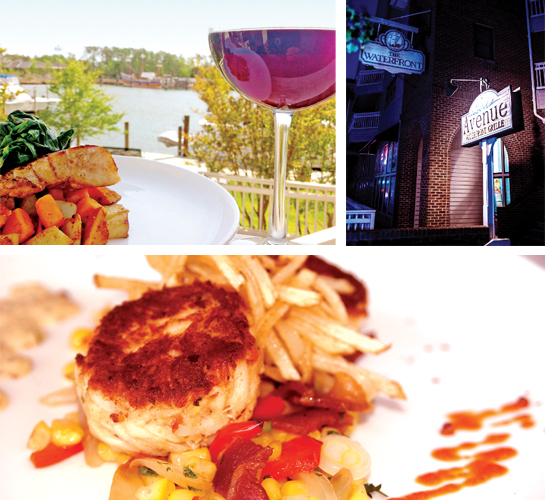 Owned and operated by Chef Thomas Williamson and his wife, Maria, Avenue offers something for everyone, including plenty of vegetarian, vegan and gluten-free options (not surprising since Maria is known on the island as a fitness guru!). Here you'll find fresh local seafood, gourmet pizzas, sandwiches, burgers, soups, salads and items straight from the farm, such as their maple pecan fried chicken breast or their brisket, which is slow smoked in house. Large groups are always welcome, and Avenue also offers a full venue rental service for private parties of all kinds and off-site catering as well.
"The restaurant is a reflection of us and our lives," Maria says. "We believe that fresh is always the best, and we want all our customers to eat as if they were dining in our home." To this end everything at Avenue is made from scratch, and all their ingredients are sourced as locally as possible — right down to their homemade sausage and many of their herbs, which are grown practically next door at The Elizabethan Gardens.
 
Scarborough Inn  | scarborough-inn.com • (252) 473-3979
Want to know where to rest your head so you can see even more of Manteo tomorrow? Try the beautiful Scarborough Inn. Owned and operated almost single-handedly by Rebecca Scarborough and her husband, Fields, the Inn was originally built in 1985 by Fields' parents, Phil and Sally, whose families have both been on Roanoke Island since at least the late 1600s.
Phil was once a Lieutenant Commander in the Coast Guard so the family moved around quite a bit, but Sally's dream was always to return to Manteo to open an inn furnished with antiques from their travels. Once that was realized, family members also contributed pieces, lending the inn a cozy and inviting atmosphere that it still retains today.
Centrally located, the main Inn features roomy wrap-around porches and two other separate buildings with a total of 14 comfortable rooms where guests can enjoy their own private bathroom, microwave, coffee pot and WiFi. When you stay, be sure to talk with Rebecca about the story behind the building they call the Barn — not only was it once an actual barn, but its wood was also once used to form the concrete blocks they made to construct the Bonner Bridge down at Oregon Inlet!
 
Captain Johnny's Dolphin Tours  | outerbankscruises.com • (252) 473-1475
The list of things to do and see in Manteo may seem endless, but if you want to try something truly one of a kind, don't miss Captain Johnny's Dolphin Tours. Owned and operated by Captain Stuart Wescott, a ninth-generation Roanoke Island native, Johnny's is now in its 21st season, and they're the original dolphin tour group on the Outer Banks.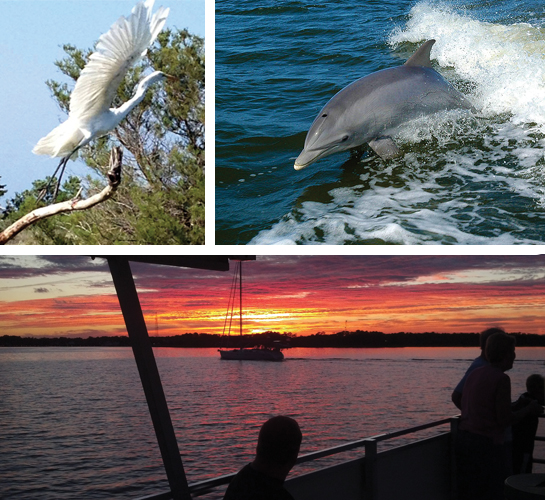 Their decades of experience show too. Sail the Roanoke Sound with them on a two-hour cruise that departs in the morning, afternoon and in the evenings for a special sunset event Monday through Friday, and watch dolphins frolic throughout our local waters. As part of your experience, Captain Wescott will even regale passengers with fun facts about the dolphins you'll see (many of which he's been seeing for the past 21 years), point out any other animals you might encounter (such as ospreys, white pelicans and bald eagles) and share his deep knowledge of the area's history.
So how do you find dolphins so often? "You ride around aimlessly with no particular porpoise," says Captain Wescott. Ha! Reservations by phone at least a day ahead are preferred since the boat usually fills up fast, but you can also catch them on the Manteo waterfront docks at the end of Budleigh Street.
 
---

Of all the wonderful things you'll discover on a trip to Manteo, one other thing is certain: The people who live and work here are a large part of what makes this charming town so magical. So as you stroll the boardwalk and the shaded streets of this town, be prepared to make a few friends. Many of them will be more than happy to share their own personal list of reasons why Manteo is truly unlike anyplace else.