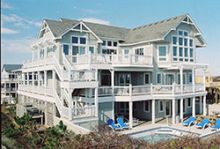 There are many of us who own a vacation home here on the Outer Banks who have given thought to how to pass it on to our loved ones. We intend to keep our favorite gathering place in the family for as long as we can, but we also want to make sure that when it transfers to our heirs it is without delays and excessive costs and without family disagreement about what to do with it when we are gone.
If we haven't made the proper arrangements ahead of time, the burden of dealing with these problems falls directly on the ones we want to protect most: our heirs and loved ones. And the results can be just what we wanted to avoid.
Estate settlement creates entirely unnecessary delays and expense for our heirs. This is particularly true for out-of-state residents who own vacation homes on the Outer Banks, since families will have to go through an estate settlement in both their home state and in the state of North Carolina. A second estate settlement adds costs and delays to an already complicated process.
If we own a vacation home jointly with a spouse or partner, and one of us passes away, the home transfers immediately, "by operation of law" (but subject to the claims of creditors), to the surviving co-owner. The relative ease of this process at the first death does not prepare most people for what happens at the death of the surviving owner.
And if we have more than one child, what happens if they disagree on what should be done with the family vacation home?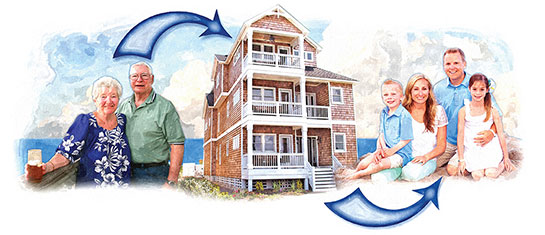 Solutions You Need to Know
There are simple ways to avoid both multiple estate settlement and family disagreement issues, if we only take the time to learn about our options before issues become serious problems.
Don Bernardo, a Certified Financial Planner who owns The Estate Planning Center of the Outer Banks in Manteo, has more than 30 years of experience in estate and trust planning. Given his vast experience, he knows first-hand how often these problems surface. And he knows how to solve them. Don says, "While many people have given some thought to the family dissention issue, they are totally unaware that estate settlement will be required in both the home state and in North Carolina where their vacation home is located. Having dealt with these issues virtually hundreds of times during my career, I know how to resolve them for the family."
The first step is to understand the nature of the problems and to recognize that they can be avoided. If we can only imagine the all too real and, sadly, very common burdens associated with transferring vacation ownership to heirs, we have already begun to take on the important responsibility of addressing these issues before they become serious problems. Think about it: Wouldn't you feel better knowing that you've taken advantage of expert advice to avoid problems for the people and places you cherish most.
Be Proactive Today
Keeping one of your most treasured assets - your Outer Banks vacation home - in the family is an issue that doesn't have to become a problem. Don Bernardo is a relentless advocate for families who have become aware of problems with the disposition of their vacation property when they are gone but don't know how to solve them. Armed with decades of professional experience, he can help homeowners navigate what can otherwise become an overly complicated family and legal quagmire.
As all of us connected to the Outer Banks know, situations can change quickly, and being well prepared for contingencies is vital. To protect ourselves, our property and our family's future well-being, it only makes sense to be proactive. And as any family who's gone through the burdensome process of estate settlement during an already difficult time can tell us, waiting isn't worth the final financial and emotional costs involved.
Call Don today at (607) 343-0882 to set up your free initial consultation at The Estate Planning Center of the Outer Banks and start planning for the future you and your loved ones really deserve. You'll be glad you did!