When you go on vacation, you have expectations: You expect a fabulous location with awesome activities, space for the whole family to relax and amenities that put your mind at ease and your body at play. Since 1985, the Ramada Plaza in Kill Devil Hills has been doing just that for visiting families, couples and groups. But now they're more than just an oceanfront hotel with refreshing rooms and cushy amenities. Through brand-new additions, they're stepping up to resort-level luxuries.
Do you know what people love about resorts? Often it's the fact that once vacationers arrive, they don't have to leave until it's time to head home: Everything they could possibly need is at their fingertips. Have you ever reached your vacation destination, finally made yourself comfortable and then cringed at the thought of needing to leave again, whether it's to play, see attractions, get food or find entertainment? This is not an issue at the Ramada. Here, all the necessities and plenty of the fun are found right onsite. They're known on the Outer Banks for unobstructed views of the Atlantic, a family-friendly atmosphere, pool, ballroom event space and oceanfront access, and new changes are making them known for more....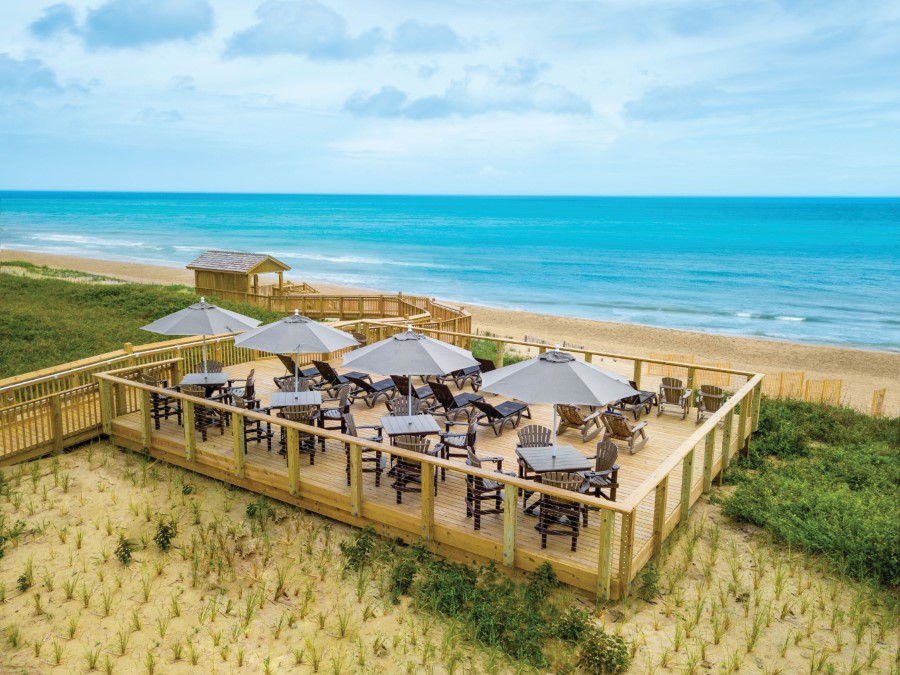 They're a haven for vacationing families who want not only a place to stay but also a place to play, dine and enjoy each other's company – all in one inviting environment. New to the 2019 season is the addition of Beachcombers Woodfired Grille and Tiki Hut. The restaurant is located on the hotel's second floor, above the main lobby. Renovations that knocked out the walls around the restaurant opened up the space, and guests passing through the lobby are now greeted with the aroma of chef-prepared meals and mouthwatering menu items alongside the sound of delighted diners, all wafting from overhead.
The Ramada's guests already love lounging on the sun deck, where they can relax in an Adirondack chair while watching the ocean. And the new addition of the Beachcomber's Tiki Hut deck offers another place to breathe in the fresh, sea-salty air … but here, though, it's best done with a cold drink in hand! The Tiki Hut's deck extends from the restaurant, and diners can have their lunch and dinner al fresco on it.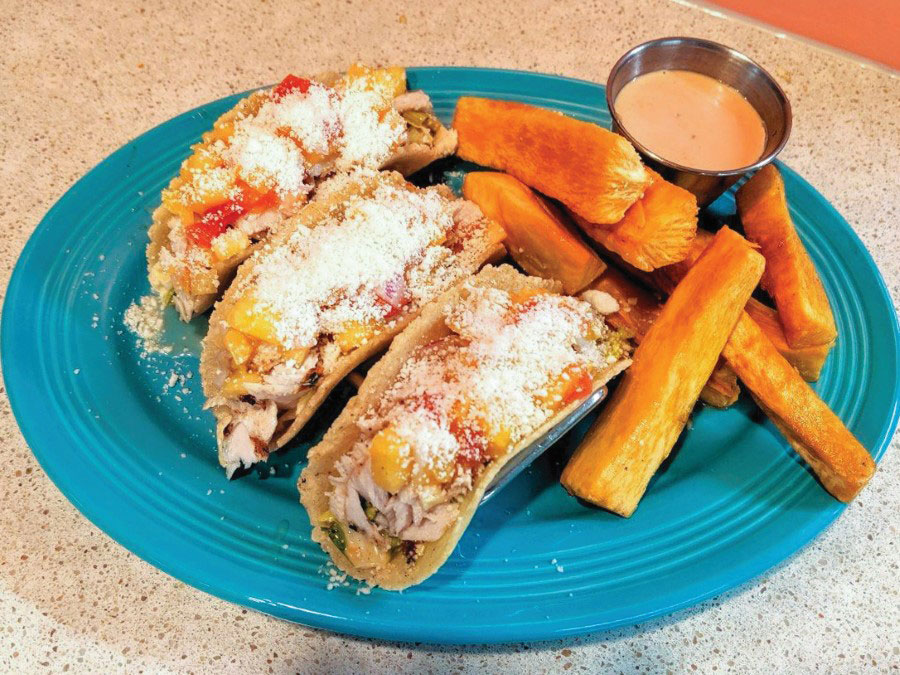 Think of this island-themed restaurant as your very own vacation tiki hut – one you don't need to leave the building to access! They serve a full breakfast buffet inside and offer lunch and dinner outside as long as the weather allows throughout the seasons. As an extra perk for Platinum and Diamond Wyndham Rewards members who book direct, their stay includes a complimentary breakfast each morning. Beachcombers Woodfired Grille and Tiki Hut is also open to the public, so locals and visitors staying elsewhere can get in their tiki-time too.
It's not just the dining experience that should be enjoyable, however – the entire visit itself should suit your relaxing vacation. If you're waiting for your crew to assemble, hang out in lounge at the restaurant's entryway. With three separate seating areas surrounding the see-through fireplaces and five TVs, this new space is a relaxing spot to work on your laptop or catch up on the sports highlights.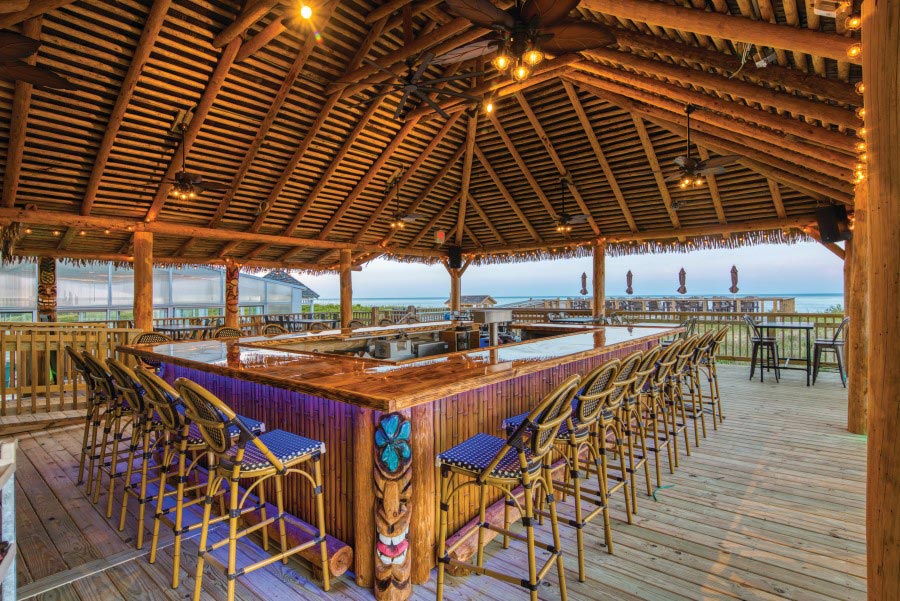 Speaking of entertaining, the Ramada's fourth floor ballroom makes it a choice venue for weddings, business retreats, conferences and other occasions. The space is that of three standard rooms, and, if they wish, event organizers can use folding walls to reconfigure the room in the manner that accommodates their gathering. The entire east wall offers unobstructed ocean views – a beautiful reminder that the beach is always a place for a good time.
Serenity, comfort, delicious food and an abundance of fun are all part of the experience you get at the Ramada Plaza. Book your stay, pack your bags and let your cares slip away. Welcome to the islands!

Ramada Plaza By Wyndham Nags Head Oceanfront
(252) 564-7222
1701 S. Virginia Dare Trail, Kill Devil Hills
ramadaplazanagshead.com