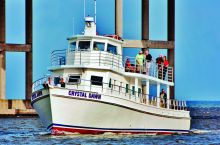 Standing on land at the water's edge and looking out at the ocean or sound is an experience we all love on the Outer Banks. Hearing the waves roll in, watching the wind play on the water's surface and smelling the salty air make us feel alive and in awe.
When we swap terra firma for time on the water, we get a whole other sense of magic and wonder. On a boat, where we can feel the gentleness of the waves and wind, we get a direct connection to the water and a fresh perspective of the barrier islands. 
When you're ready to take that leap from land to sea, Crystal Dawn is waiting for you. The 65-foot head boat at Pirates Cove Marina can take you and your entire entourage out on the water. Whether you want to catch a fish, watch a sunset, look for dolphins or cruise to dinner, there's nothing like seeing and feeling the Outer Banks from the deck of a boat.
Just a word of warning: Experiencing the Outer Banks this way can be habit forming. 
That's what happened with Captain Allan Foreman, the original owner of Crystal Dawn. Growing up, his grandfather had a charter boat on the Outer Banks, and the lure of the sea snagged him at an early age. By high school, Allan had his own boat. And while he was studying business in college, he bought his first charter boat. By then the sea was in his blood, and the only career for him was one on the water. After graduating he came straight to the Outer Banks to work as a charter fishing captain. In 1977 he purchased Crystal Dawn, and for the next 40 years Big Al, as he was known, converted landlubbers to sea lovers on the decks of his stable and comfortable head boat as well as on his offshore charter boat, Country Girl. Big Al delighted in telling stories about the Outer Banks and sharing his love of the local waters and barrier island environment, and he loved helping Outer Banks visitors experience time on the water.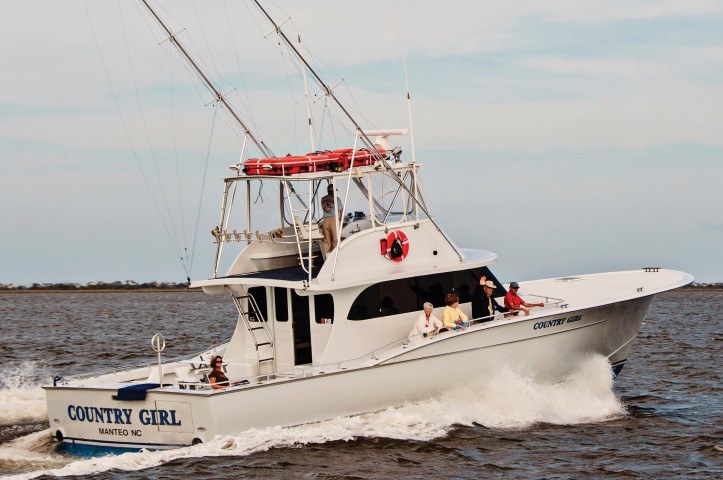 Much to the sadness of his many loyal fishing customers and the Outer Banks community, Big Al passed away in June of 2017. But his legacy lives on through his family and trusted and well-trained captains and mates. His wife, Vanessa, herself from an Outer Banks seafaring family, remains at the helm of the business, in a nautical way of speaking, orchestrating the operation of the head boat and charter boat from behind the scenes. Their son Charles is captain of Country Girl, and his wife, Meredith, is second in command of the entire operation, helping out with everything from booking charters to fishing on the Crystal Dawn. 
Crystal Dawn is a quintessential head boat, a term that simply means each passenger pays a fee per head to go along on the trip, and it's one of the most economical ways to get on the water. It's a wide, stable double-decker that can carry up to 150 passengers, though they limit the fishing trips to 50 for the comfort of all the passengers. The boat is primarily used for half-day fishing trips and sunset cruises in the local sounds. It's docked at Pirates Cove Marina on the Nags Head/Manteo Causeway, which is only a few miles from the Nags Head beaches.
Fishing on a head boat is appropriate for all ages and abilities. You might catch bluefish, trout, croaker, flounder, spot, sea mullet, sea bass and more. Everything you'll need is provided, including the assistance of an experienced and patient mate.
"Crystal Dawn is equipped with up-to-date tackle, ship-to-shore and CB radios, fathomers and a fish finder – we even supply the bait, fishing license and fish bags!" Vanessa says. "It's a great deal, and it really helps visitors stretch their vacation dollars. Fishermen love it because they can go fishing for an economical price, and all they have to bring is their hankering to wet a line."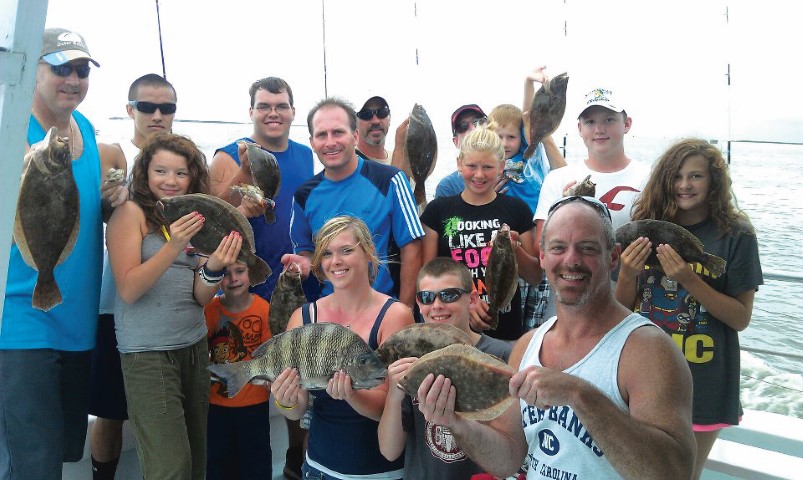 And you might even make a few bucks on this trip. If you're the lucky angler who catches the season's biggest flounder, you'll get a check for $500 at the end of the season!
Crystal Dawn offers much more than fishing, however. On the way to fishing grounds you can enjoy sights like wildlife, Bodie Island Lighthouse, fishing and hunting camps, spoil islands and even the construction of the new bridge over Oregon Inlet. Crystal Dawn is also a favorite vessel for nightly sunset cruises. Passengers relax on the deck while the boat meanders around the Roanoke Sound and the captain points out sights like dolphins and wildlife, Jockey's Ridge, the Elizabeth II, Andy Griffith's former house and the home of The Lost Colony. Education is a top priority on any of the trips. A good tip for sunset cruise passengers is to enjoy dinner at Blue Water Grill at Pirate's Cove Marina before or after the cruise.
Vanessa is also making big plans for the 2018 season. One of her new offerings is a three-hour Wanchese Harbor Cruise. Wanchese Harbor is the real working Outer Banks, and it's a sight that most visitors never see. From the water, you can see – and smell – fish houses and huge commercial fishing vessels. You'll see boatyards and boat-building shops and local commercial fishermen going about their work. The captain will talk about all the sights along the way and then drop you off at the Tiki Hut at OBX Marina for a real treat – a meal of traditional seafood, eastern North Carolina barbecue and chicken prepared by locals known for their on-the-spot cooking skills.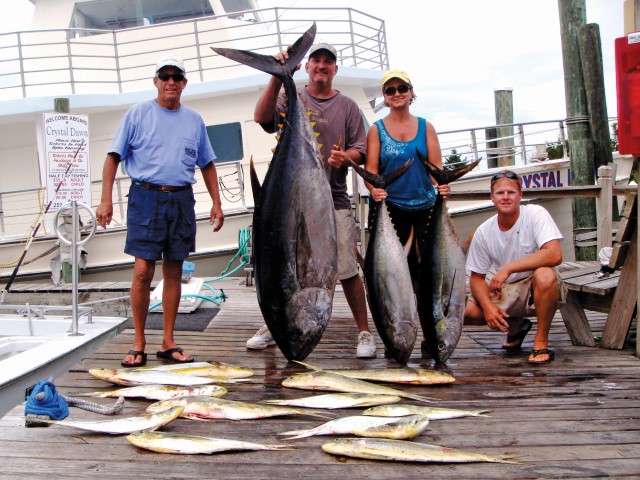 There are also plans in the works for a Manteo Dinner Tour. The boat tour will leave from Pirate's Cove and head to Manteo's Shallowbag Bay. As the boat docks in downtown Manteo, the passengers will disembark to stroll through downtown Manteo and use a dinner voucher in one of Manteo's downtown restaurants – Avenue Grille, 1587, Poor Richards, Ortega'z or Lost Colony Brewery and Café. After dinner passengers will enjoy a nice cruise back to Pirate's Cove. Also check the website for Booze Cruises and, in late summer, purple martin birding tours on Crystal Dawn.
If you're looking for more adventure, consider a trip on Crystal Dawn's sister ship, the 57-foot Country Girl. This boat heads offshore for charters in the Gulf Stream, which is a full-day, big-game fishing trip. What's unique about Country Girl is that it can accommodate up to 12 anglers per trip, whereas most offshore charter boats can only accommodate six. If you have a large party, this is your boat. Country Girl also offers bachelor/bachelorette parties, ocean wreck fishing, ashes at sea dispersals and pelagic birding trips.
As you can see, there are many reasons and many ways to get out on the water. The most important thing is that you do it, at least once – but we bet if you do it once you'll be back again!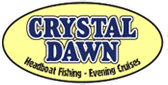 (252) 473-5577
crystaldawnheadboat.com
2000 Sailfish Drive
Manteo, NC 27954