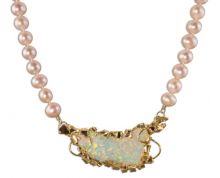 Gail Kowalski's handcrafted jewelry isn't the type to be worn a couple of times and then carelessly relegated to a trinket box where it is forgotten.
The designs by this award-winning jeweler are works of art used to adorn those who dare to be different, which is why Kowalski's creations often can be seen on celebrities as they glide down the red carpet at award shows. The actresses want to stand out so that they gain added attention, and how better to do it than to wear something that draws the eye to its beauty and distinctive design created solely by Jewelry by Gail? 
Many visitors come the Outer Banks to take advantage of the calming effect of the blue/green waves crashing on the shore, but Gail's creativity also is nurtured by the sound and movement of the water.
"I love water. Water reminds me of stones. I especially like the ocean because of the waves and the action of the water and the glittering surface when the sun's out. It's never the same twice. The surface is always changing. That liquid, fluid feel, that's often what I have in my work. When a wave crashes and you're in the middle of it and these droplets of water go flying, it's like little glittering diamonds coming down," says Gail.
The irregular shapes and different colors of slipper pearls from Lake Biwa in Japan are a favorite material for her designs as well. Rare, the freshwater pearls were once plentiful in the lake, but pollution in the 1970s drove the population to near extinction and now there is very limited availability.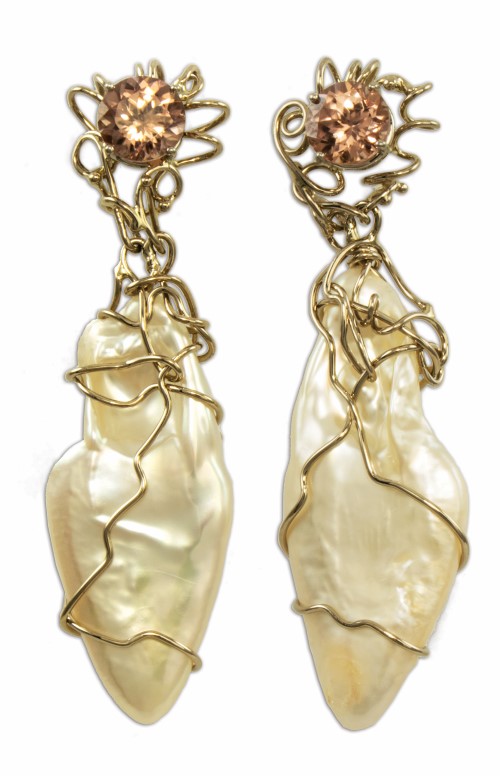 She also uses fossilized pine cones and stones such as hackmanite, which changes color from white to purple when the light hits it. And, yes, Gail knows that diamonds are a girl's best friend, and the Pittsburgh native uses fancy-colored diamonds for some of her dazzling creations.
"Many of the stones we use in our jewelry are so interesting and unique that you could go into hundreds of jewelry stores across the country and never see many of them. We use well-known gems for sure, but our showcases stand out as being different," says Gail. 
But the stones and gems she chooses for the rings, necklaces, bracelets and earrings that she creates are just the foundation of her art that is viewed as so extraordinary. Much of her design work is what Gail likes to call "balanced asymmetry."  
"Rings that have a stone in the middle and maybe one on each side are common place.  What I often do is feature a stone, but it won't be in the middle. I listen to what the stone is telling me. Often times it's a delicate dance, the stone has to be happy where it ends up! And I love having multiple stones in a piece. I think it should look like a sprinkling of stardust!"
Her designs have won several awards including the Johnson Matthey Platinum Award for excellence in platinum design and the DeBeers Diamonds Today award for excellence and originality in diamond jewelry design. 
When it comes to red carpet events like the Oscars and the Emmys, Gail has made quite a name for herself and Jewelry by Gail. For several years, she has worked with celebrity fashion stylist Michael O'Connor submitting pieces to be included in his Style Labs, where stars and their stylists can pick out jewelry to borrow to wear to the star-studded award shows. 
Each piece is one of a kind, and none of her designs are mass produced, so there is an exclusiveness that the wearer can feel confident about. No one in the public eye wants to fear seeing someone else wearing an exact duplicate. The Style Labs suite often features a vast array of designs, and frequently many of the other pieces in the suite are far costlier than Gail's. Her designs, made in "little ole Nags Head" as she calls it, stand up well to the competition. Michael knows why she does so well. Gail fondly recalls him telling her, "No one else submits anything that looks like what you do. There will always be an actress who doesn't want to look like anyone else and wants to stand out in a different way. When that happens, I know exactly whose pieces to go to, because you are my wild card!"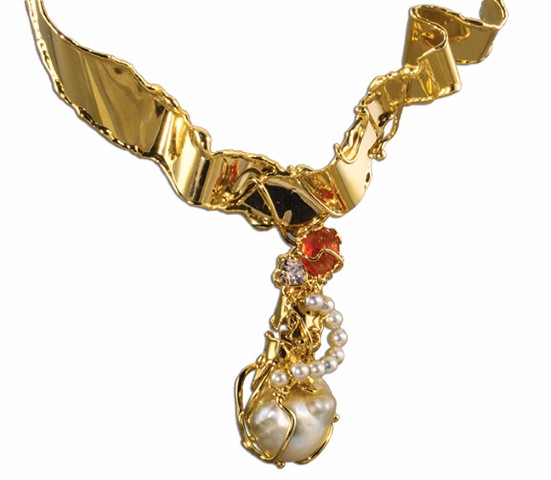 The list of stars who have borrowed or own her pieces is impressive. Betsy Brandt changed her entire wardrobe in 2017 to accommodate a piece of Gail's handicraft whose spell she fell under. Minnie Driver and Nicolette Sheridan are among other fans of her work, but celebrities from the music world also love Gail and her shop! 
Rhonda Vincent is considered by many to be the Queen of Bluegrass. A couple of years ago, while playing a concert on Bluegrass Island in Manteo, Rhonda visited Gail's jewelry shop and fell in love with the offerings! Now a visit to Jewelry by Gail is on her itinerary every year.  
"We'll be like little girls playing dress up" Gail said. "She brings in several gowns and we're searching for that perfect look for her." 
Gail insists that her pieces aren't just for the Hollywood elite. The staff at Jewelry by Gail takes special care to make sure that each of their customers goes home with something they will absolutely love. "I want the person to wear it. It needs to see the light of day.  It's a piece of wearable art. It's that little joy in the day when you look at it. Jewelry should be just like a piece of chocolate cake. It should be a complete delight."

When visiting the Outer Banks, there is a wealth of activities to take advantage of, but a vacation stay without going to Gail's shop and studio is a missed opportunity. Armed with a Bachelor of Fine Arts degree, Gail arrived on the Outer Banks and set up shop in the 1970s. The success and longevity of her business is a testament to the enduring appeal of her work.
So, if you're reading this and want to appreciate uniquely original jewelry that showcases the natural beauty of gifts from Mother Earth, you owe it to yourself to get out of that hotel or rental and go see Gail Kowalski.
---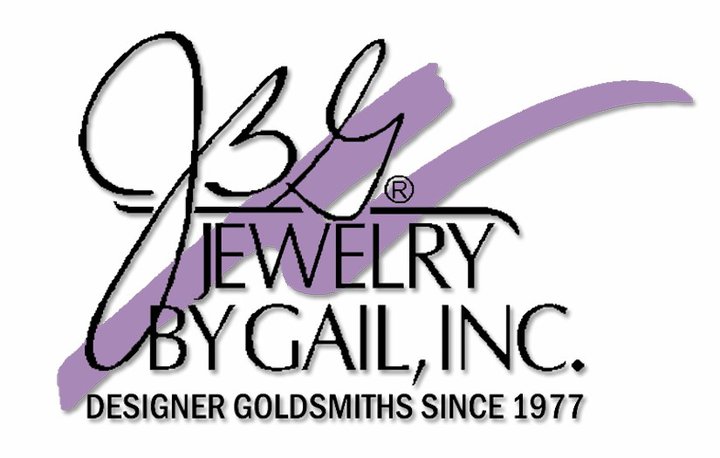 Jewelry By Gail in Nags Head
207 E. Driftwood, in the Arts District, MP 10 1/4
(252) 441-5387      
(800) 272-9817      
JewelryByGail.com