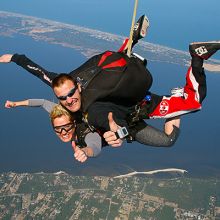 Skydiving. The word conjures palpitations of excitement, visions of free-falling through the air. Say the word and you can almost feel the adrenaline pulsing through your veins, the jolting pop of an opening parachute as it arcs overhead and you float gently down until your feet once again touch the ground. Whether it's your first jump or one of many, the Outer Banks is a top-notch location for skydiving with a view like nowhere else in the world. The highly experienced crew at Skydive OBX will make sure your adventure in the sky is the highlight of your vacation. Owners Sven Jseppi and Heather McLay's focus on safety ensures that your skydive is fun and worry-free. 
When a young Sven Jseppi's father offered to pay for his son's first skydive in 2003, he didn't know the cascade of life-changing events that would result from that experience. "Boy, did he regret that," jokes Sven. Sven was hooked, and skydiving quickly became both a passion and a calling. Fast forward 12 years and almost 10,000 jumps later, and Sven is a master in the sport, holding every licensure and safety training certification you can imagine, and he is on the Canadian national team. 
"It's addicting," says Heather McLay, Sven's wife and business partner. Heather, who's lived on the Outer Banks since 1996 and did her first tandem jump in Currituck, met Sven while sky-diving in 2009. Sharing a passion for the sport, they decided to open Skydive OBX in 2011. 
If you've never been skydiving before, the beauty of a tandem jump is that it takes the stress out of it. All you have to do is put your feet on the ledge and let the highly experienced tandem instructors take care of the rest. You'll learn all about the multitude of safety precautions in place. Skydive OBX is a member of the U.S. Parachuting Association, which holds them to an extremely high standard of regulations. "Safety is our number one concern," says Sven.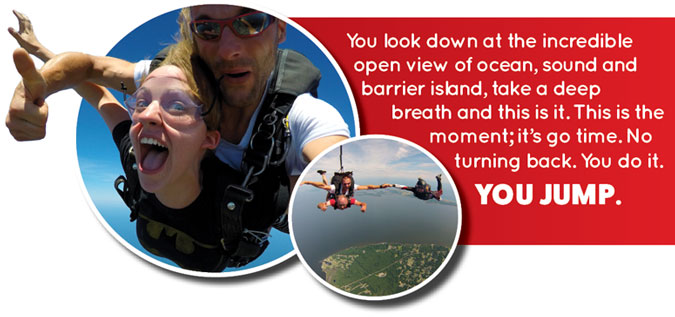 You will arrive 30 minutes before your flight time to complete a waiver, watch a video, and get trained. Once your training is complete, you'll head to the plane and take off. You'll sit on a cushioned floor as you fly north on the 15-minute ride, passing over Jockey's Ridge and the Wright Brothers' Memorial. The view of the island is unparalleled, and you'll often see schools of fish and shipwrecks in the ocean. Halfway up, your instructor clips you tightly to his harness. The plane loops south toward Manteo as it reaches 9,000 feet, and as you approach the airport the plane door opens. This is where it gets real. The wind is loud in your ears, the air refreshingly cold and you and your instructor scoot to the open door. "That's my happy place!" says Sven. "I feed off that energy." You look down at the incredible open view of ocean, sound and barrier island, take a deep breath and this is it. This is the moment; it's go time. No turning back. You do it. You jump.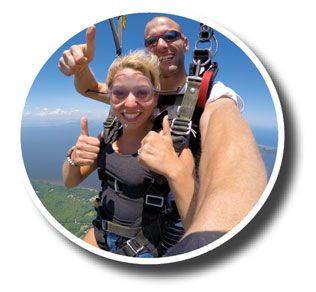 You free fall, but it doesn't feel like falling. It's almost as if the air is holding you up and you're flying. For 30 seconds you free fall, wind rushing past your ears, traveling at 120 miles per hour or 174 feet per second. At 5,000 feet your instructor deploys the parachute and everything goes quiet. Now's the time to soak in the spectacular view of the Outer Banks coastline. Sven says that while some places he's jumped have rivaled this view, nowhere has surpassed it. Floating down under canopy is a completely different feeling than the free fall, and now you can relax and take it all in with a new perspective that will stay with you the rest of your life. 
You land right back at the spot where you checked in, and landing is just like standing up or a tip toe walk. "When people land, they say the skydive was the best thing they've ever done or that it was simply amazing," says Heather. "No one ever says they regret doing it." 
So when you're ready to jump, give Skydive OBX a call. They recommend booking in advance and early in the week so if the weather's poor you can reschedule. Video and picture packages are available (and recommended to capture the memories). Skydive OBX is open seven days a week in the summer season with morning spots being the most popular. You will need a photo ID to prove you're at least 18 years old (no exceptions!) and there is a weight limit, so please call for details and to make reservations. There is no upper age limit, and skydiving is the perfect celebration for groups, birthdays, anniversaries, proposals and unforgettable vacation fun.
Booking an Outer Banks skydive? We think you should jump at the chance.
---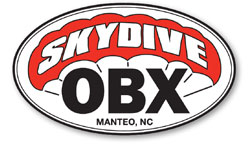 skydiveobx.com   •   252-678-JUMP (5867)