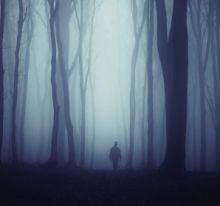 To say that Executive Producer Ryan Murphy has been keeping American Horror Story fans in suspense about the new season's theme would be putting it mildly. The anthology-style FX show breaks the television mold by telling a completely new story each year, with the returning actors playing brand new characters. The previous seasons' themes, including Asylum, Freak Show and Hotel, have all been announced months in advance of the air date, alongside a wealth of promotional images and videos to drive the hype. But this year we got silence, vague hints and a series of 26 eerie teasers trailers, less than 15 seconds long and all but one eventually revealed to be red herrings.
So when the title screen bearing the words "My Roanoke Nightmare" appeared, it was the first inkling that locals on the Outer Banks got that this season would be set in our own back yard. Or, at least, a highly sensationalized version of it.
"They didn't come here to do any research," said Stuart Parks, an archivist at the Outer Banks History Center, who assured me that neither they, nor anyone at the Roanoke Island Historical Association, were contacted by the show. "They evidently didn't do any location scouting either," he added with a laugh.
It's easy for anyone who's actually been to Roanoke Island to poke fun at the obvious location flaws. In episode one, we meet Shelby and Matt Miller, a young couple looking to escape city life by moving into a farm house on Roanoke Island, which is soon revealed to be wildly haunted. It's a sprawling, gorgeous, 200-year-old house that's two stories tall and sits on 10 acres of woodland preserve, and yet the Millers buy it for a mere $40,000. Even factoring for hurricanes and homicidal spirits, it doesn't seem likely there's anywhere in the country you can buy a house that cheap, much less in Dare County. Add to that the mountains in the background, the total absence of tourists and the basement and cellar in an area that's around 6  feet above sea level, and there's a lot for the locals to snark at.
It's understandable why the show would be more invested in painting a picture of Roanoke Island that's less "sunny tourist destination" and more "secluded creepy woods populated by shifty hillbillies." Isolation is an element that's almost essential to horror stories, and it's difficult to imagine feeling quite as nervous for the Miller family's fate if their neighbors are a stone's throw away (and inevitably up at 2 a.m. drinking and shooting off fireworks because they're on vacation). But that's not to say that there aren't some genuinely spooky places on the Outer Banks. Step off the path and you will find acres of undisturbed woods or swamp land that wouldn't be too difficult to get horribly lost in. And AHS would not be the first to suggest that this is an area that is indeed haunted.
The Outer Banks is positively steeped in history and much of it exactly the dark and sordid type that AHS may be interested in. There are the well-known things, like skirmishes from both the Revolutionary and Civil wars, all sorts of stories about Blackbeard and other pirates that lurked around here and no shortage of devastating hurricanes and shipwrecks. Then there are the local legends and folklore that might just make an appearance this season. There's the Grey Man of Hatteras, said to appear walking the beaches just before a hurricane. For hundreds of years there have been reports of mysterious lights in the Great Dismal Swamp drawing people in like moths to the flame. Almost all our older buildings have a ghost story or two. The Black Pelican Restaurant is apparently haunted by a murdered surfman, there's a mysterious little girl that will sometimes show up in photographs of Currituck Lighthouse and the former owner of a Roanoke Island inn is reportedly still showing up for work despite having passed away many years ago.
And then, of course, there's the Lost Colony of Roanoke. Though all we've seen so far in the show are some spectral people in 16th-century garb, including the ever-terrifying Kathy Bates as a human-sacrificing witch, it's hard to believe that the Lost Colony won't feature heavily this season. In 1587, Roanoke Island became the site of the first European colony in the New World. Among the small group of settlers was founder John White and his daughter and son-in-law, Eleanor and Ananias Dare, who shortly thereafter were blessed with a daughter, Virginia Dare, the first English child born in the New World. John White sailed back to England after promising to return in a few months with much-needed supplies for the colony. But when war with Spain broke out, the Queen refused to spare any ships for a return voyage. It was three years before John White sailed back to Roanoke, and when he did he found the colony abandoned. All 118 men, women and children including his daughter and granddaughter had vanished. The only hint of what may have happened to them was the word "Croatoan" carved into a tree.
What precisely befell the colonists, and the true meaning of the "Croatoan" message, has long been a subject of fascination for historians, folklorists and science fiction and horror writers. Stuart Parks says he's heard every far-fetched explanation, including "vampires, zombies, Satanic cults and Viking ghosts," but the truth is likely much more mundane. "The actual reality is that the colonists split up, went in different directions and intermarried with the Native Americans," said Parks. That theory is popular with historians, who remind people that "Croatoan" was the name of the region we now know as Hatteras and that a few generations after the colony vanished there seemed to be a lot of Native Americans sporting some distinctly European genetic traits like blue eyes.
But that hasn't stopped the likes of Stephen King, Dean Koontz and AHS from providing more colorful explanations. Astute AHS fans have noted that this is actually the second time the show has broached the subject of the Lost Colony. The first was way back in season one when the television psychic Billie Dean Howard, played by Sarah Paulson, tried to help rid the "Murder House" of some of its more troublesome occupants. She claimed that "Croatoan" was a spell the Native Americans used to banish the ghosts of the colonists after they all "died inexplicably." Billie Dean Howard is also at the center of a popular fan theory on this season. So far season six has taken on the appearance of a docu-drama, with Lily Rabe and André Holland acting as the "real" Shelby and Matt Miller telling their story to the camera, and Sarah Paulson and Cuba Gooding Jr. playing the "re-enactors" portraying Shelby and Matt Miller. Many viewers suspect that "My Roanoke Nightmare" might be Billie Dean Howard's new show, where in addition to producing she's also playing the part of Shelby Miller. If that sounds confusing, then that seems to be just what producer Ryan Murphy is aiming for, at least for now. "The thing that you think you're watching is not what you're watching," Murphy said in an interview with Entertainment Weekly. "You'll see starting in episode six."
In the meantime, we can only speculate on what else will be in store for "My Roanoke Nightmare" and how much real local history they'll include. Back in season one, Billie Dean Howard explained how a place can become haunted, "Evil. It's a force just like any other. Real and powerful. Created by events that unleash psychic energy into the environment where it's absorbed. You'll see it all the time in places like prisons or asylums. Negative energy feeds on trauma and pain. It draws those things to it." If that's the case, then the history of an entire group of people disappearing from Roanoke Island sure could fit the criteria.