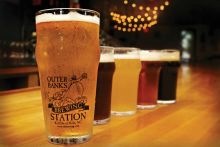 Since it opened 16 years ago, the core philosophy behind Outer Banks Brewing Station has been innovation and evolution.
"Some places hang their hat on being the same, but our local niche hinges on the fact that we embrace change," says co-owner Eric Reece. 
Whether it's installing a wind turbine to partially power the brew pub, mixing up the menu or hiring brewers who run slightly counter-culture to mainstream trends, this team thrives on keeping things fresh.
"If you do the same thing over and over you end up hating it or changing," Reece says.
So what's on the wheel of evolution for Outer Banks Brewing Station this year? Plenty, as expected.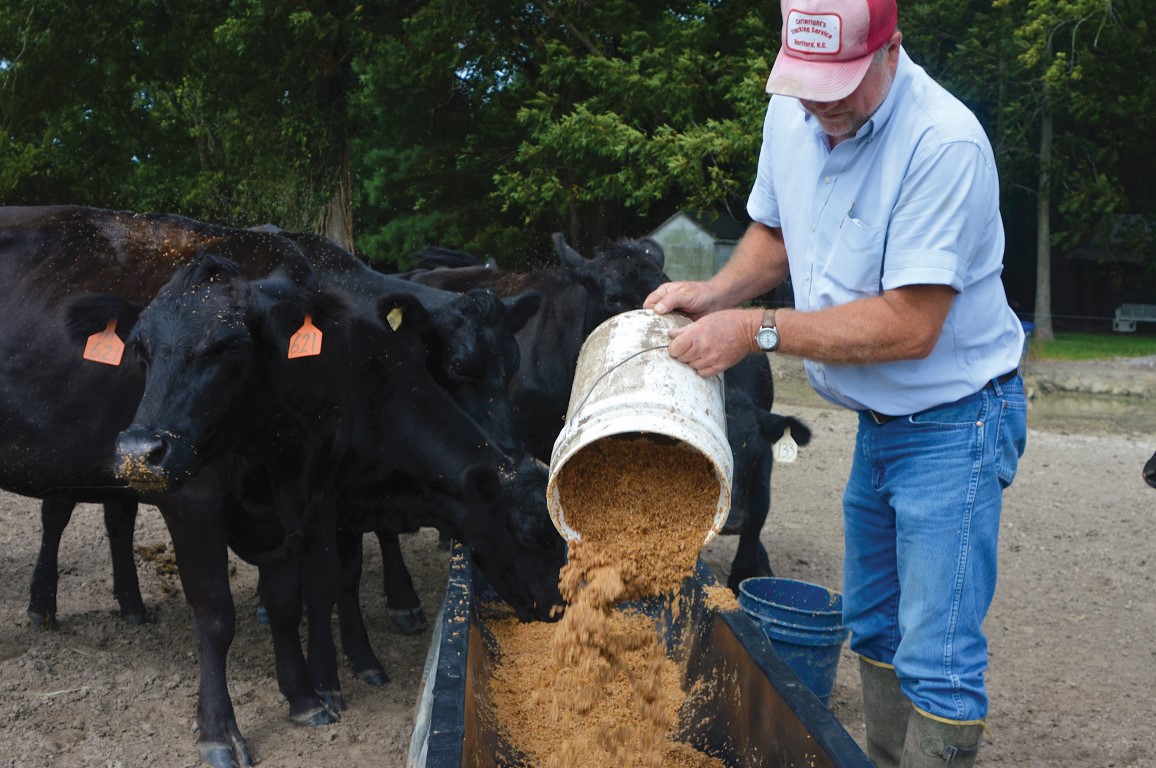 Farm to Fork Upgrade
For the last four years Hertford, N.C., cattle farmer Russell Cartwright has been picking up Outer Banks Brewing Station's spent grain, a byproduct of the brewing process, and feeding it to his cows. 
"The brewery needs to get rid of it anyway and it benefits me too. This way there's no waste," says Cartwright. 
Now Outer Banks Brewing Station's customers are about to enter the symbiotic relationship too. This fall Cartwright is selling one of those grain-raised cows directly to Outer Banks Brewing Station instead of going through a middleman, and the Brewing Station chefs will serve it at the pub on a special menu for the rest of the season. If all is a success, it's a program they'll continue in the future.
"Many restaurants can claim they know the source of their products, but can they say they actually fed it?" asks Reece.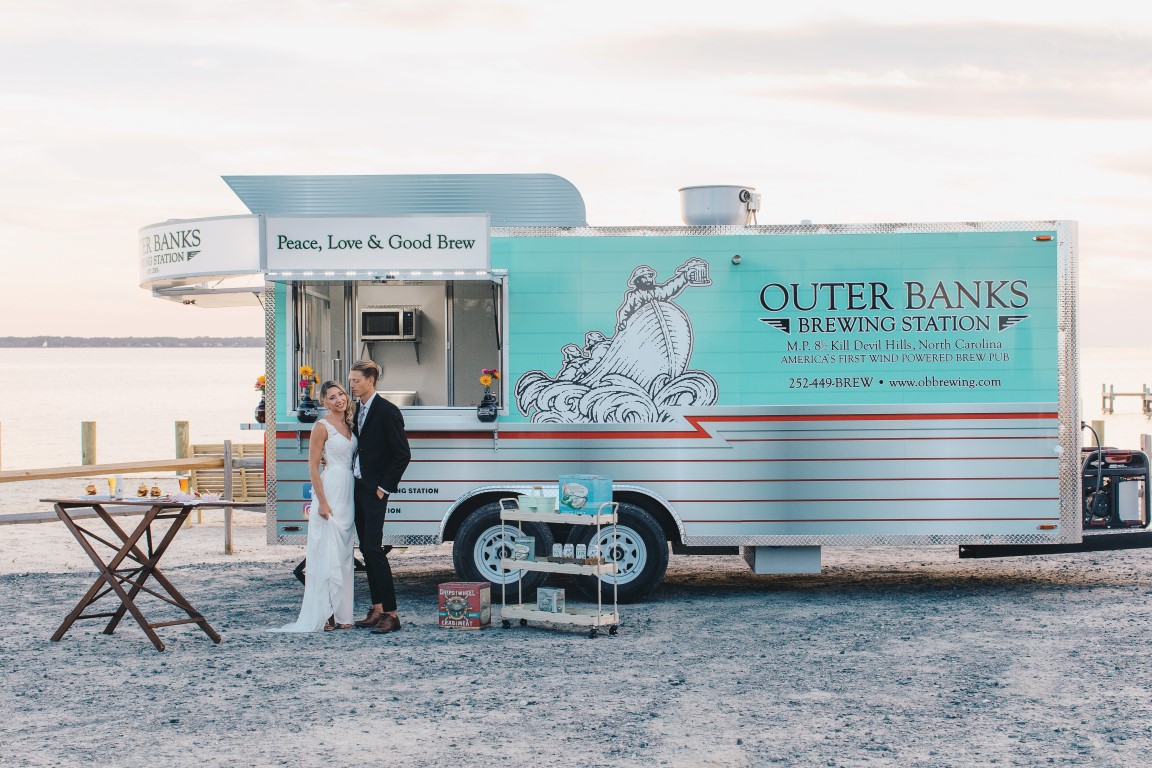 Going Off Site in Style
In addition to its traditional catering services, Outer Banks Brewing Station can now roll up to small private parties or events in its snazzy new event trailer with kegs and kitchen in tow. Custom-made just for Outer Banks Brewing Station, the trailer is a retro-modern aluminum and turquoise beauty with a walk-up window – a guaranteed focal point at any event. The catering staff will have the ability to cook just about anything in the trailer, including their popular shrimp sliders, fish tacos and crabby fries. "It's a catering machine," Reece says. Look for it at the Outer Banks Seafood Festival and Brewtäg in October.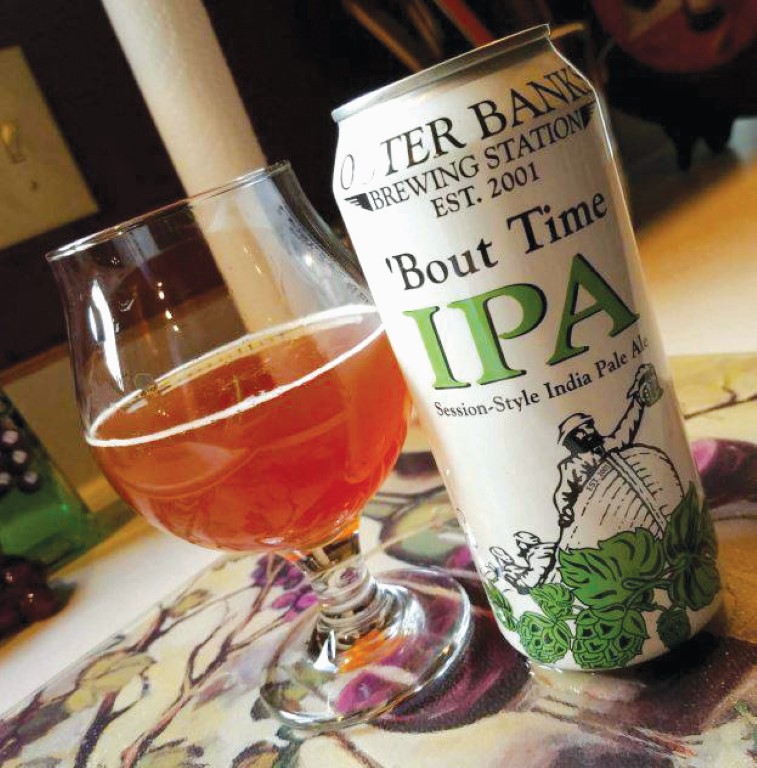 The Beer Spectrum
The brewers at Outer Banks Brewing Station are rarely in line with the status quo; they're either bucking or setting trends in the name of good beer drinking. Believe it or not, when they opened in 2001, their patrons didn't know what Kölsch was. They turned people on to the style with their thirst-quenching version, Olsch, from the beginning, and it's still on the menu 16 years later.
Brewer Bart Kramlik focuses on session-style brewing – "clean, drinkable, really good quality beers that aren't super tricky" is how Reece describes his style. "Whatever he makes you can have more than one." 
That's not to say that Kramlik doesn't experiment and innovate. In 2017 his Morning View Coffee Stout, made with coffee from Morning View Coffee House in Nags Head, was a hit. The brewing crew just entered it into the Great American Beer Festival for judging, hoping to bring home an award to keep their numerous other awards company.
When beer drinkers belly up to the bar at Outer Banks Brewing Station, they'll find both recognizable and cutting-edge options. One tap is always devoted to something experimental, either brewed onsite or a guest from another brewery, and the rest are house favorites. This runs counter-current to the trend of stocking all the taps with weird beers and offering one traditional brew, but Outer Banks Brewing Station has already done that and now it's time for something new.
This fall Outer Banks Brewing Station is brewing its first Oktoberfest beer as well as a specialty Christmas ale using pecans from Outer Banks Distilling's Pecan & Honey Rum. 
And you don't have to drink everything onsite. In addition to its Lemongrass Wheat Ale, which is canned and widely distributed, Outer Banks Brewing Station is also canning its 'Bout Time IPA this fall. The cans will be available as a to-go product at the pub and from a few specialty locations this fall. They plan to can another beer on a small scale in the spring of 2018. Growlers of any of the beers on tap are always available (and – hint, hint – make a great holiday gift).
Playing up the Family Aspect
For 2017 Outer Banks Brewing Station snazzied up its backyard even more with new picnic tables and umbrellas and a bigger, badder pirate ship. The backyard at Outer Banks Brewing Station is one of its most ingenious aspects. It's a super-fun, fully contained playground for both kids and adults. The kids love the pirate ship, sand pit and space for running around. Adults of all ages love the killer beer garden, where they can get drinks and bites, listen to live music and maybe throw a few games of cornhole. While you're back there, check out the herb garden and the scuppernong and muscadine grape vines; to be sure you'll find those in foods and beers in the future.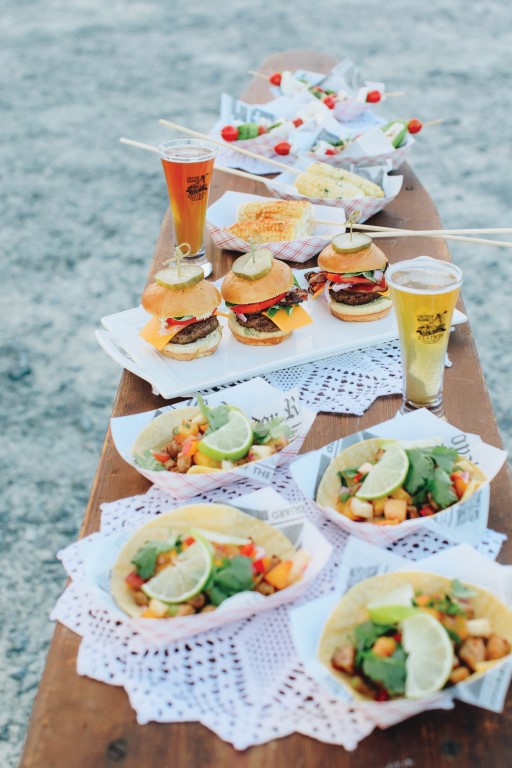 Running and Drinking
To really shake things up, as in literally jostling beer around in bellies, Outer Banks Brewing Station has been partnering with OBX Running Company, to offer Beer Runs. The concept is for participants to run four quarter-mile runs, breaking up each run by drinking a full 12-ounce beer. It should come as no surprise that the events are wildly popular. It's so much fun that they're adding a Thanksgiving event this year. Look for Beer Runs around Halloween, Thanksgiving, St. Patrick's Day and Fourth of July.
To the crew at Outer Banks Brewing Station, adding all this new stuff is good business and the key to warding off boredom.
"We are trying to touch the most people and get them to open up their eyes to new things," Reece says. "From the turbine to getting into the event game, we just want to do it that much better."
When you get there, ask them what else is new. It's always something.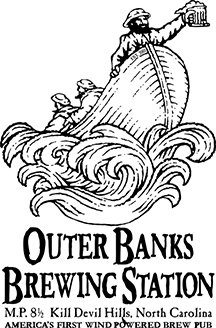 (252) 449-2739
600 S. Croatan  Highway, Kill Devil Hills