The island town of Manteo is becoming known, more and more, as the center of arts and entertainment on the Outer Banks. Nationally known music groups play in the waterfront outdoor amphitheater, art shows bring vitality year round and other cultural events, such as parades, festivals, holiday-centered celebrations and home tours, provide fun for locals and visitors. And in the heart of Manteo, a relative youngster of a business, NouVines, has quickly become THE place to be for entertainment on a weekly basis. Open since July of 2021, what began as a very welcome wine shop in downtown Manteo has also become a location for live music, specialty dinners, trivia nights, workshops and more.
"We opened with a plan of bringing in live music and other fun events to augment our retail wine sales," says Lori Wilkinson, who operates the business with her husband, Garret. "And from the get go, when we had something happening here, we saw our clientele jump every time. Word got around fast that we were a comfortable, laid back setting that attracted people who wanted a nice night out but not necessarily in a bar setting." The fact that they stay open until 10 p.m. in a town that's not noted as a late-night entertainment mecca adds to their popularity. Plus, the requirement that you must be 21 to enter creates a different sort of vibe than restaurants or other venues.
Of course, their 60+ by-the-glass wine choices (where else has anything even close to that?!), more than 165 varieties of retail wine bottles, beer and yummy charcuterie boards also add to their draw.
Once the live music events got the ball rolling, Lori and Garret began to create other imaginative offerings, and the loyal clientele has kept on growing. As an enticement to become a NouViner, here's a rundown of just some of the happening (so far!).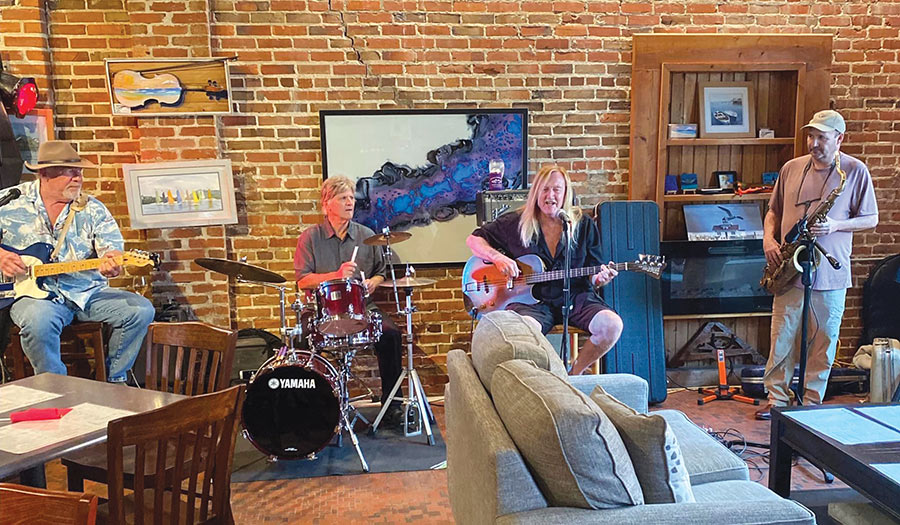 Starting in November and then continuing on a quarterly basis is the Outer Banks Songwriters Showcase. Marty Stokes and Percy Abel, who hail from Nashville but write songs about the Outer Banks, will be the first ones featured. Guests will have the chance to ask questions about the songwriters' songs and the story behind them then hear the musicians play. Going forward, this Showcase will provide a forum to feature local songwriters.
An event that's already sold out every time since its inception in May 2021 is the Chef's Table featuring a specialty dinner created by chef Cody Hooker. In fact, this event is so popular that they're upping the schedule to two times per month starting in 2023. One aspect of the Chef's Table that Lori is especially happy about is the chance to partner with – and thus highlight and support – other local businesses. For example, at a recent dinner featuring a seafood boil, local potter Lynn Walker from Bakerstown Clay created special bowls that guests then took home with them.
Every Friday and Saturday nights, locals and visitors gather for live music that features local talent. These evenings are so popular that regulars know to get there early to grab one of the high tops, four-seater tables or couches. When you're ready for a glass of wine, a beer or to order a nosh, you just wave the red flag on your table.
Another event that's moving to a quarterly schedule is Comedy Night. The first one in March of this year was such a success that Lori says they had lots of requests for more. Expect the next one before the end of this year. NouVines aims to please … and apparently to make you laugh as well!
Are you a champion of random facts? Then Trivia Night every Thursday should find you here (be aware that this is a hugely attended event, so don't be late). Garret says to be prepared for some tough competition. There are teams that already have history with each other, in the nicest way we hear, who duke it out every week to put another win on their side.
Yet another new event that Lori and Garret initially thought they'd start in 2023 is Storyteller's Hour. But then the idea of a day-full of spooky stories on Halloween was hatched, so now they're going to see about premiering the event then.
Then let's go to the annual events, most built around holidays – with one notable exception. The queen bee of NouVines (who has her own throne where she can receive her loyal followers) is Lulu the cat. This year on her 15th birthday on May 5, they threw her a Cinco do Meow party complete with cat ears for guests and a specialty birthday cake. To celebrate her Sweet 16, next May 5 will be the Lulu Paluzza party. Who knows what craziness will ensue!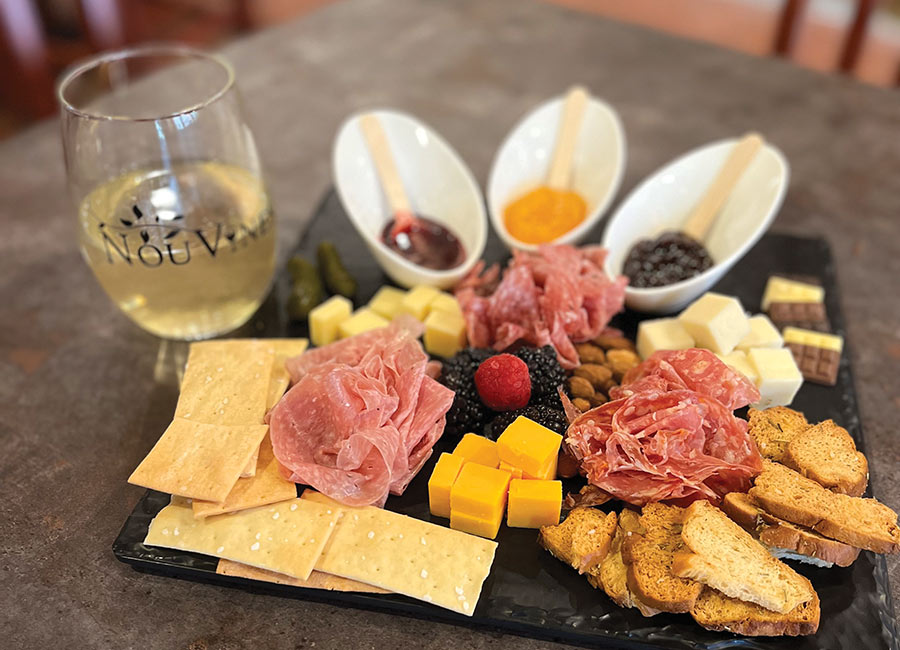 Other annual fun? A Mardi Gras party and a float in the St. Paddy's Day parade, high tea on the first Saturday in December in conjunction with the Holiday Tour of Homes, caroling on Christmas Eve and a special New Year Eve's party with flights of champagne. (There's a rumor that the high tea might become a regular event.) Of course, there's every expectation that they'll come up with even more opportunities to gather for fun if you look at their track record.
If we circle back around to the original calling for NouVines – great wines – you can also look forward to new pairings with wine and chocolates or specialty cheeses (yes, please). And to expand on their food offerings of charcuterie boards (cheese, fruits, crackers, nuts, jams, chocolates), Lori is considering gourmet grilled cheese sandwiches … think gouda and pear or cheddar and apple.
You know, for many of us, it would have been enough to just have a great wine shop in Manteo, but with all the regular fun happenings at NouVines we now have a place to gather, to share time with friends, to meet new people and to celebrate the seasons. If you haven't already, it's time for you to join in.
Well done, Lori and Garret.

(252) 339-1634
105 Budleigh Street, Manteo
---