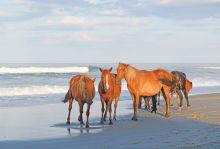 It's easy to see why the Corolla wild horses are one of the most popular Outer Banks attractions. The sight of the horses living wild on the beaches and dunes of the northern Currituck Banks is an awe-inspiring sight. The freedom of an animal that we typically view as domesticated speaks deeply to us humans, inspiring us to live more freely ourselves, to live life on our own terms, just like the Colonial Spanish mustangs have been doing for more than 500 years. 
There are about 100 wild horses living on the northernmost Outer Banks. Though the size of the herd has reduced greatly over the centuries, the horses are doing remarkably well. Every year new foals are born, and the Corolla Wild Horse Fund does an amazing job of managing the herd from a distance without interfering with their wildness. 
You might think you'll feel as empowered as a wild horse if you take yourself on a tour to see them. You're allowed to go on your own, but, somewhat ironically, going on your own is less freeing than going with a guide. It's so much easier and much more fun – not to mention safer for the horses to go with a professional horse tour company like Wild Horse Adventure Tours. 
Seven Reasons a Wild Horse Adventure Tour is Better Than Going on Your Own 
1. More Time to Look at the Horses 
Wild Horse Adventure Tours (WHAT) has been taking horse-curious 
passengers to the four-wheel-drive area north of Corolla for the last 13 years! Their tour guides look for the horses every day, so they know their seasonal and daily habits and hangouts. They almost always find the horses and that is definitely not a guarantee if you're on your own. And since WHAT typically has several tours out at a time, the guides are in constant communication with each other, letting other guides know where to take their passengers to see the horses. This means you don't waste a lot of time looking in places where the horses don't even go. 
2. You'll Learn More
Wild Horse Adventure Tours include entertainment and education. The guides are personable and witty as well as highly knowledgeable about the horses and other wildlife, the barrier island environment and the history of the area. Every age group will be fascinated with what they learn about the horses and the Outer Banks. Highly knowledgeable, friendly guides are just one of the reasons WHAT is so highly rated among their customers.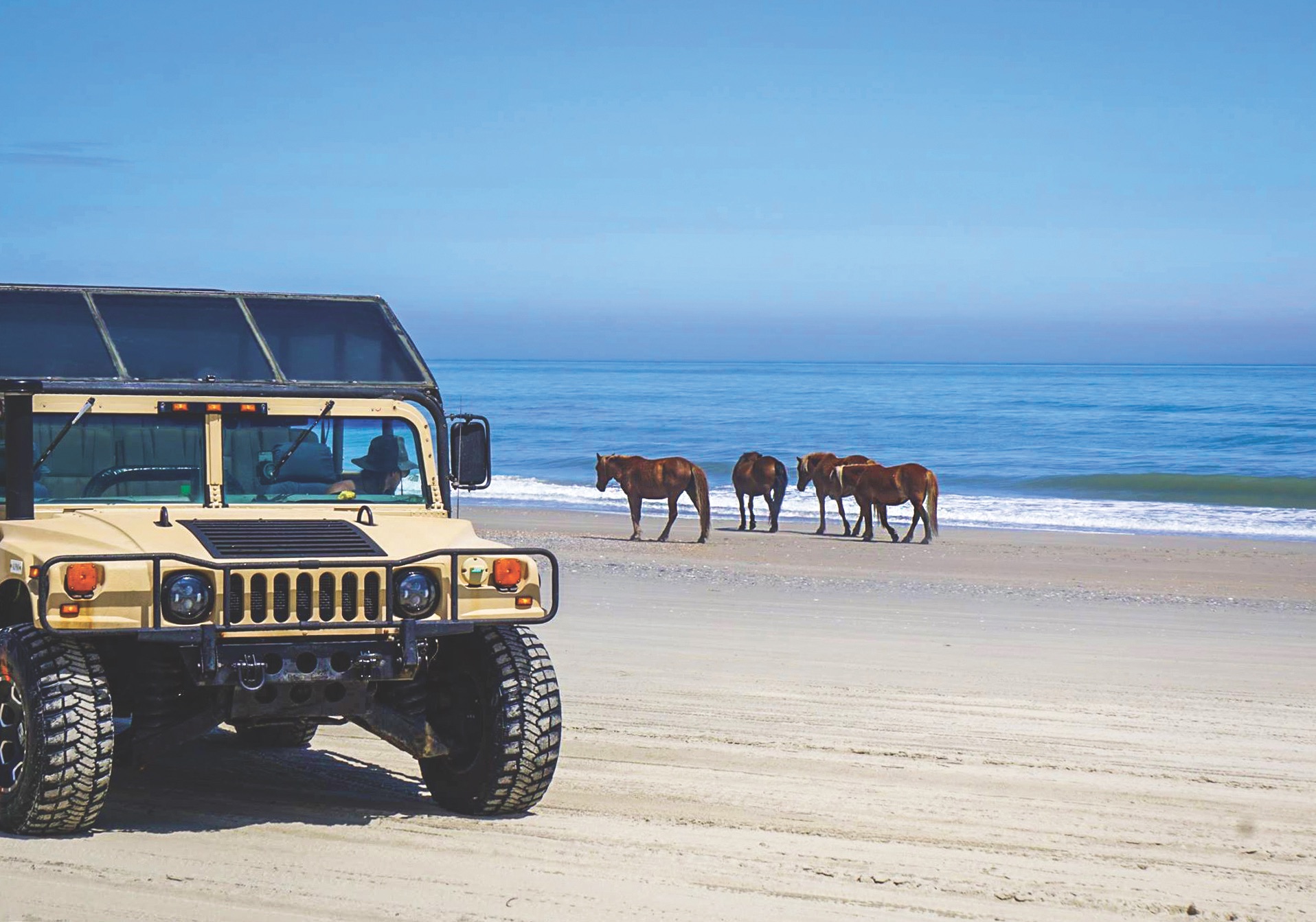 3. Hummers! 
WHAT offers the ultimate horse tour vehicles – custom Hummers that have been upgraded into touring machines. With an open-air configuration and stadium-style seating, the view from every seat is 360 degrees of stunning. You'd never get a view like this in your car or truck, no matter what you drive. Each of the 13 seats has plenty of leg room, and they have seat- belts and child safety seat restraints to make everything safe. Plus, the Hummers were built for the barrier island terrain, which makes for a comfortable ride. 
4. It's Better for Your Vehicle
Speaking of barrier island terrain, salt spray from the ocean and bounc- ing over tire ruts and dunes and through rain filled pot holes is just plain rough on a vehicle. It's even tough on the Hummers, and it takes some ffort for the WHAT team to keep them in top condition. 
5. It's Better For You
Beach driving can be stressful! It takes finesse and experience, and having a four-wheel-drive vehicle does not guarantee you won't get stuck in the sand (and have to call for an expensive tow truck). Making sure you maintain the correct speed so that you don't get stuck and dealing with other drivers while at the same time trying to figure out where to look for horses can take the fun out of horse searching. And don't forget that you have to lower the air pressure in your tires before you go and fill them back up when you're done.  
6. It's Better for the Horses
Wild Horse Adventure Tours is a company that cares for and respects the wild horse herd and does its best to protect them and their habitat. Their guides know how to maneuver vehicles so that everyone gets a great view and camera angle without bothering the horses. They know to stay at least 50 feet away from the horses and that feeding them is highly dangerous for the horses and for humans. Wild Horse Adventure Tours is a large donor to the Corolla Wild Horse Fund. The nonprofit maintains the fences that keep the horses safe, checks in on the horses, provides light medical care and calls for a veterinarian if needed. Wild Horse Adventure Tours continues to donate to the cause and also has contributed to an emergency medical fund for the horses.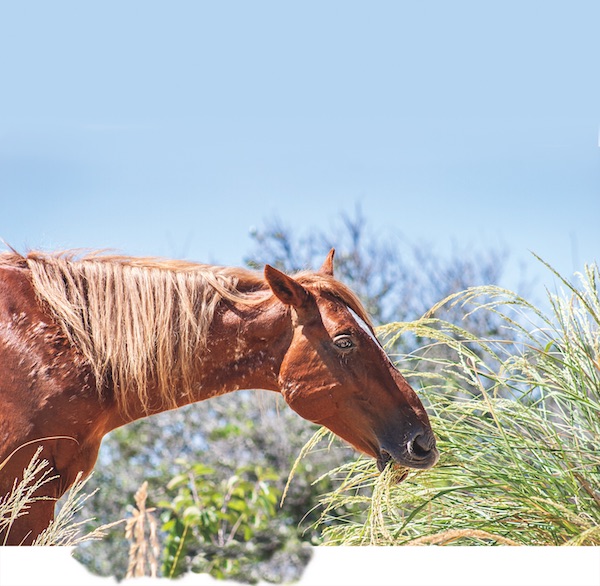 7. It's Better for the Environment  
Wild Horse Adventure Tours helps preserve the northern Outer Banks landscape. They even have their own exclusive 15-acre Wild Horse Sanctuary in Swan Beach. Passionate about nature and the Outer Banks, the company purchased the land so that the horses and other wildlife have more development-free places of safety. 
"We want to help and be an integral part of the community, not only because the community depends on a healthy environmental ecosystem, but also because we care deeply about keeping it and the horses healthy," says Kasey Powell, a former tour guide and now the marketing director at WHAT. 
WHAT staff recycles everything they can and picks up harmful trash they find during the course of a tour. They also participate in organized beach cleanups. Working with local nonprofits and framing it as a fun competition, they've collected hundreds of pounds of trash along Outer Banks beaches. WHAT is also committed to a zero-carbon footprint. To offset the carbon emissions of their Hummers, they have partnered with American Forests to plant enough trees each year to negate their CO2 output. 
"People feel good about going with a company that has a reputation for giving back to the horses and the environment," Powell says. "With us, their participation allows us all to give back."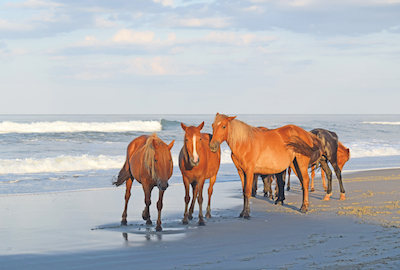 You never know what you'll encounter on a trip with Wild Horse Adventure Tours. One day you might see stallions on the dunes, proudly posing for photos while gazing seaward. Another day it might be horses wading in the ocean or a foal and its mother sipping water from a swale behind the dunes. You might see foals rolling in the sand or stallions sparring. One thing is for sure: With your own personal driver and WHAT tour guide, you're free to enjoy the scenery with the same wind-in-your-mane freedom that the horses know. 

Wild Horse Adventure Tours
610 Currituck Clubhouse Drive, Corolla
(252) 489-2020
wildhorsetour.com