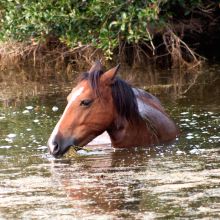 It's early morning in Corolla and the music's blaring. First up on the playlist?
"Wild Horses" by the Rolling Stones, and nothing could be more appropriate as our open-air Hummer pulls out of the Wild Horse Adventure Tours parking lot with a mixed group of first-timers and repeat customers embarking on a more than two-hour search for Corolla's sometimes elusive — you guessed it — wild horses.
"Everyone okay?" Kasey Powell, this morning's tour guide, calls out cheerfully over the microphone. "Any other song requests?" 
Unsurprisingly, there is. On the short 6-mile drive to the northern beach access at milepost 13 where Highway 12 transforms into a unpaved road that runs straight through to the Virginia state line, the musical interlude consists of classics such as "Carolina Girl" and "Mustang Sally" ("driver's choice," Kasey says about the latter with a wink).   
It's an unseasonably cool and cloudy day, but the groups' spirits are still high. Before we cross the dune line at Penny's Hill — and the search truly begins — Kasey gives everyone a short rundown on the story of how these wild horses first settled on the Outer Banks. As with any type of historical lore here, there are plenty of conflicting theories, but the most reputable one involves the Spanish explorers who first visited these islands around 500 years ago. Not only did those early explorers discover that the Outer Banks was essentially one big sandbar made of constantly shifting sands, but they also learned that lesson the hard way: Many of the Spanish Mustangs they carried as cargo swam to shore once their ships wrecked on the Banks' offshore shoals.   Kasey also gives us a rundown of the rules: No one should touch or feed the wild horses — in fact, federal law prohibits people from getting closer than 50 feet to the horses. It seems strict, but there's good reason for these prohibitions. At one point almost 5,000 wild horses roamed free on the Outer Banks; as of last count there are now only 83 (which many would like to see raised to at least 110) in the protected Corolla area where the horses were moved in the late '90s, and even that number is largely a result of efforts made by the Corolla Wild Horse Fund, a local nonprofit organization that was created when the number of wild "Banker" horses had dwindled to fewer than 40 only a few decades ago.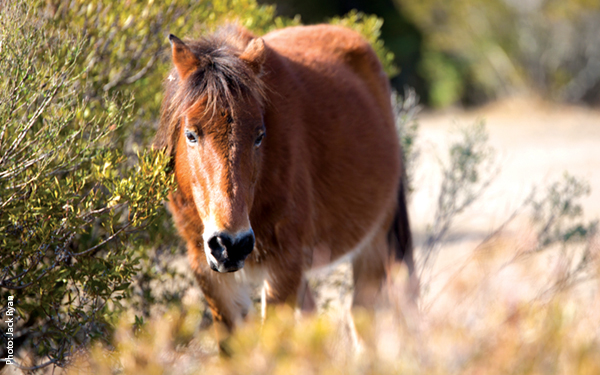 That incredibly sharp decline was the result of several different factors. The road allowing free access to Corolla wasn't opened to the general public until October of 1984 (until then, you had to be a property owner to travel up the road into Corolla, which greatly limited the amount of traffic there), and once the Corolla area was opened up, the vacation business grew exponentially every year after. This traffic meant bad things for the horses that, at that time, roamed freely along the beach, town and around the rental houses, and many were hit by cars. Other horses died from being fed people food, which gave them colic. To try to protect them, the horses were moved to the four-wheel-drive area north of the paved road, and a fence was erected to try to keep them there. 
Coinciding with the growth in visitors was an expansion in the number of horse tour companies and associated vehicles that were out trying to give their horse-seeking guests a good experience. As the number of Corolla visitors continues to climb, it recently prompted Currituck County to institute some much-needed regulations on the number of vehicles each wild horse tour company location can run at one time.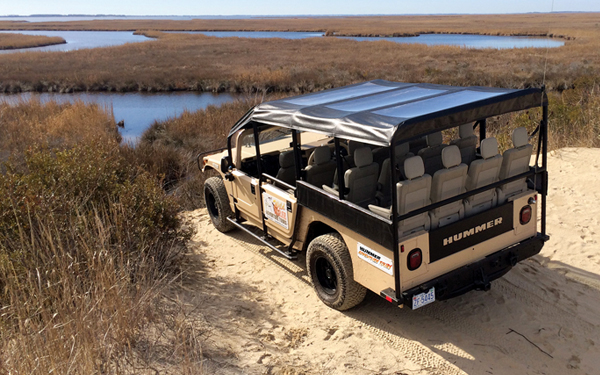 Owner of Wild Horse Adventure Tours, Richard "Rich" Brown, didn't just anticipate these changes, he planned for them. After moving to the Outer Banks from England in the '90s, Rich quickly realized how devastating the impacts of Corolla's rapid modernization could be for the wild horses, and he almost immediately began coming up with some solutions. One of his revolutionary ideas was to create a fleet of self-designed, custom Hummers that are retrofitted to comfortably seat up to 13 passengers while running as efficiently and eco-friendly as possible given the terrain they cover. Marvels of engineering in and of themselves, these vehicles have individual car seats that are each equipped with seatbelts and restraint systems for child seats plus a clear upper windshield that provides protection from UV rays and unexpected inclement weather while also allowing riders to experience a 360-degree view of the area around them.
Of course, he didn't stop there. Rich also began reinvesting income from his company's tours into buying land, purchasing 10 acres of residential land adjacent to the restricted driving area of the Corolla National Wildlife Refuge in 2013. Though there was an option to build on the land, he decided to keep it a no-build zone, and today the team at Wild Horse Adventure Tours maintains the property daily while being able to offer their customers exclusive access to some of the most pristine parts of the 4WD area. As you would expect, this protected land, with no buildings around, is a favorite place for the horses to hang out.
Even before we begin moving again, the view is an arresting sight: miles of open windswept beach in front of us that reveal salt-preserved hints of the ancient cypress forest that once stood there, with rugged sand dunes to our left and the churning Atlantic Ocean mere feet to our right. Unexpectedly, a squadron of pelicans passes overhead. This may not be the edge of the world, but it certainly feels like it is. 

"Sometimes driving here is a bit like riding a horse!" exclaims Kasey as we crest the first dune. The hours fly by as we drive through an incredibly diverse habitat — one moment we're perched on a dune with a view from ocean to sound, the next we're plunged into the thick canopy of a live oak forest. And though Kasey warns us that horses are not habitual creatures, she's clearly developed her "horse sense," because we see not one or two, but 11 horses altogether. One even forces us to literally stop in our tracks as he lazily crosses the road directly in front of us.
"You never know what you're going to see," says Kasey as we continue to talk after the tour is over. "It's different every tour, every time. It's what makes going out there everyday so exciting."
"We all love the environment and being outside, and we know that the best thing we can do is try to be good stewards of the herd," agrees Dillon Baker, CEO of Wild Horse Adventure Tours and Rich's right-hand man. "That's why we're advocates of corporate responsibility and why we're always trying to spark conversations about the best ways to protect and coexist with the horses in the safest way possible."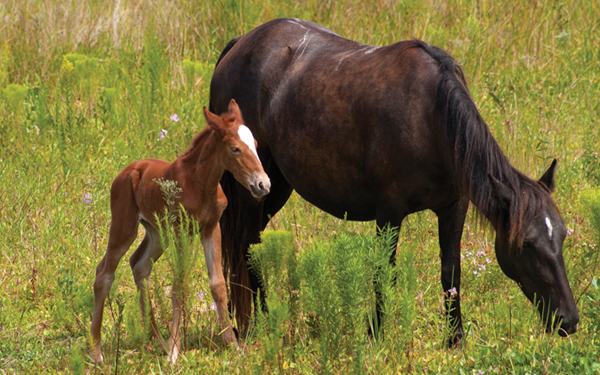 For everyone at Wild Horse Adventure Tours, this is an issue of sustainable living, and it's one they take very seriously. Every year they make substantial donations to the American Wild Horse Preservation, and they're one of the biggest donors to the Corolla Wild Horse Fund. They also calculate the diesel they use to run the trucks each season and make a donation to American Forests in order to plant trees to offset their carbon footprint (so far, 4,300 trees have been planted in their name). And with such a dedicated team of passionate individuals backing everything they do, it seems unsurprising that Wild Horse Adventure Tours has been voted the #1 outdoor activity in Corolla by TripAdvisor many years running and that they were recently voted the #1 top tour to do in the U.S., prompting TripAdvisor's director of communications to personally come enjoy the tour for himself.
"Simply seeing the horses never gets old," Kasey adds as she straightens up the truck in preparation for another day of inspiring people to engage with nature and to fall just as much in love with the Corolla wild horses as she is. "Seeing animals out there being wild still blows my mind every time."
---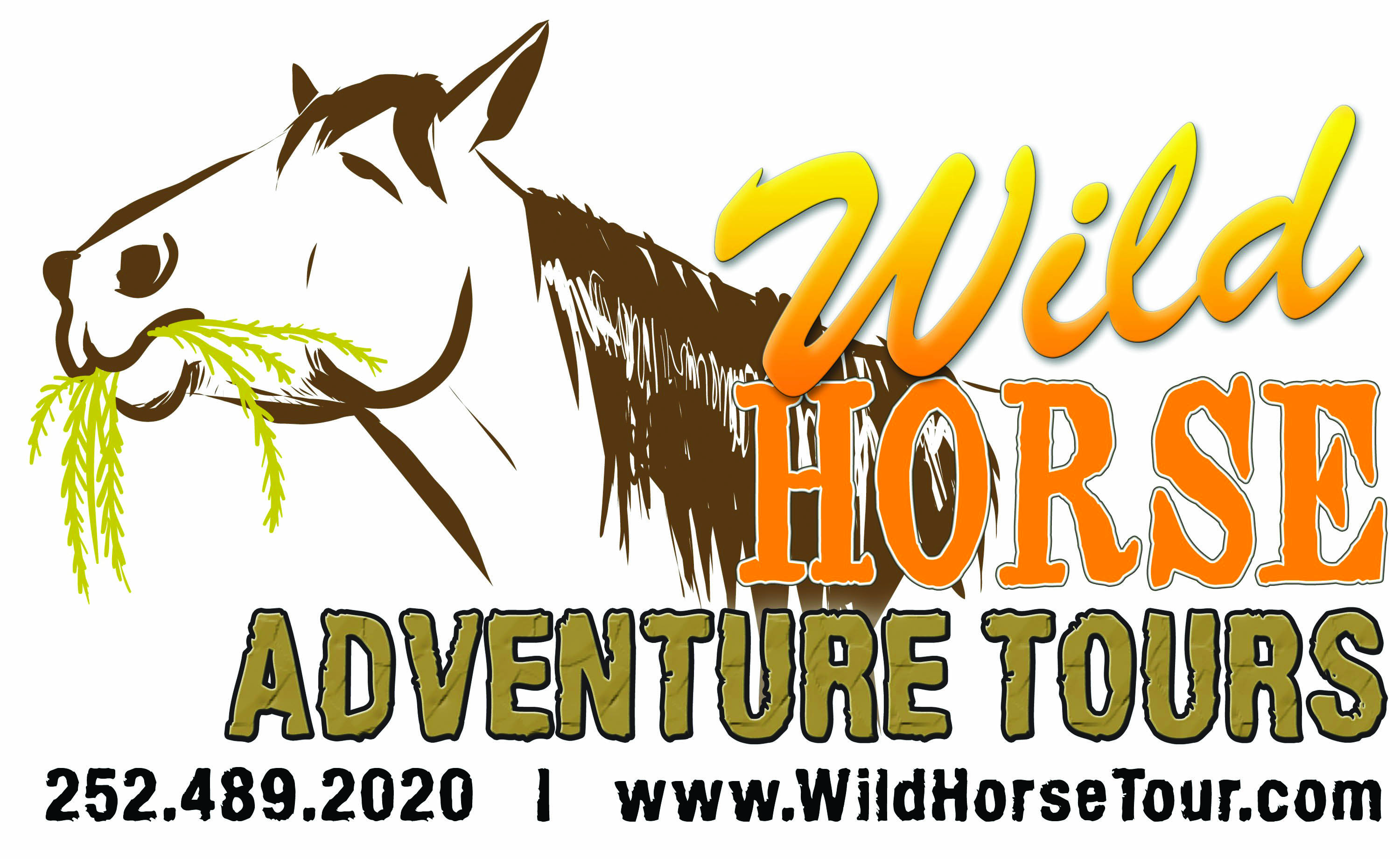 BOOK YOUR ADVENTURE TODAY!
610 Currituck Clubhouse Drive | Corolla
(252) 489-2020 | wildhorsetour.com