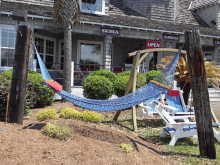 The entire time you are on the Outer Banks, you will hear a soft murmuring sound in the background no matter where you are. Most think it's the gentle breezes calling; others assume the soothing sound is from the blue-green water gently licking at the shore.
But if you listen carefully and quietly, you will hear Do Nothing, Do Nothing, Do Nothing - liltingly inviting you to let your shoulders drop, your lips smile. It's the Outer Banks' anthem, and no one sings it better than Nags Head Hammocks.
A hammock on a porch or in a yard is like a magnet, and you are the iron. It pulls and tugs at you until there is no choice other than to melt into its soft sling. Once there, it claims your mind and gives you an injection of Outer Banks desire to Do Nothing -nada work, zilch stress, zero anxiety.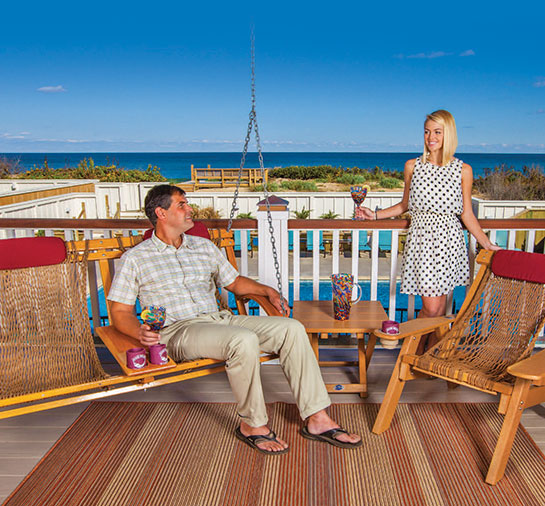 Nags Head Hammocks claimed its first customer four decades ago when it opened up in a converted cottage on the Beach Road in Nags Head, says Bill Rosso, the general manager of the company. The little store epitomized the essence of the Outer Banks with its friendly customer service and its "welcome home stranger, we've been waiting for you" attitude. You didn't then and don't now want to just walk in and out because it's too much fun being there. Colorful rope catches your eye at every head turn. Every piece sends out Try Me vibes.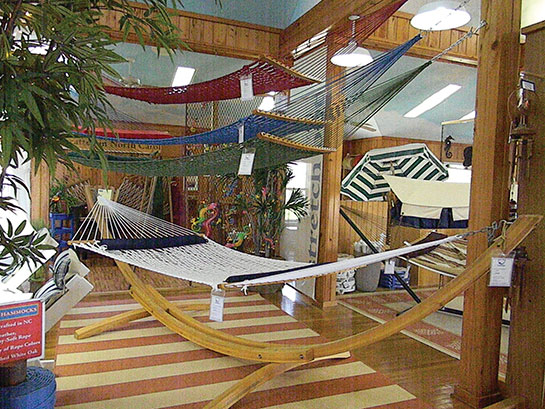 "Since the beginning the hammocks have been handmade here in North Carolina and often right in the store," says Bill.
You can watch a craftsperson deftly weaving rope into a hammock or chair, relax on one of the creations or mosey around the store and check out other products such as Durawood and Breezesta furniture as well as décor items including embroidered pillows, lamps, wind chimes and more.
Eventually the little store that sold the key to Do Nothing outgrew its original digs, so it moved north a bit into Kill Devil Hills on the bypass. Today, you can enjoy the atmosphere and find just the right products in its stores in Kill Devil Hills, Duck and Corolla.
You'll be impressed at the craftsmanship, which has always been exceptional. "Over the years, new innovations have improved the durability and life of the products, but some of the most popular designs have stayed the same," says Bill.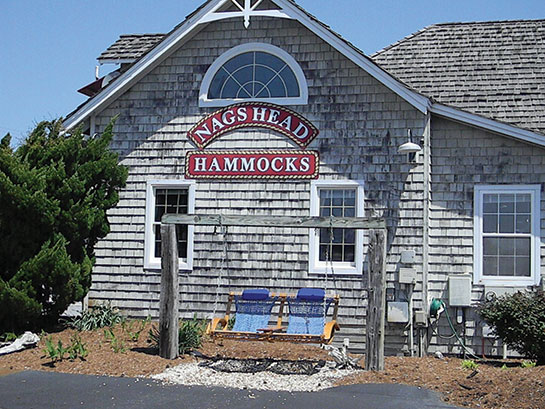 Nags Head Hammocks was the first hammock and outdoor furniture crafter to use DuraCord yarn for its hammocks, rope swings and rope furniture. It is the most colorfast material available and still maintains a cotton-like softness. And DuraCord yarn is used for winding rope and as part of the fabric used on other products. Always striving to be the best, the standard for rope strength set by the company is higher than the military's. And the wood they use lasts just as long and is equally as strong.
"You see an old ship wreck surface and wonder how it survived in the water for centuries. The answer is in part because it was built of white oak, which is the only wood used by Nags Head Hammocks for its frames," says Bill. The wood is triple coated with marine varnish to protect it from the elements, thus adding more life to the product.
In addition to the original line of products, you can also buy Durawood outdoor furniture, which is maintenance-free, making it great for Outer Banks weather patterns. Durawood is made with recycled plastic and is a heavy, dense, rigid, easy-to-clean product that never needs painting, won't rot and ignores heat and cold.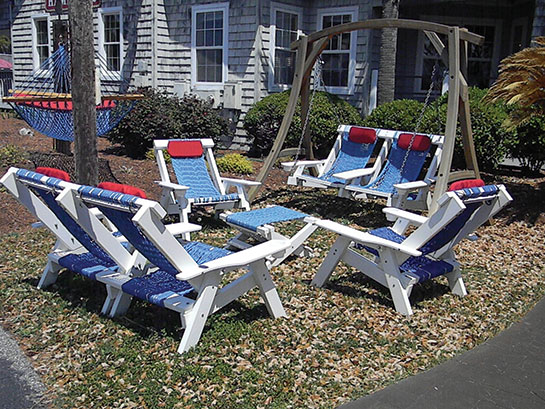 Another option is Breezesta furniture made from color-infused poly-lumber that is made from recycled plastic drink bottles. "This furniture is terrific because it doesn't react to the elements and people love all the colors," says Bill. We love the recycled part too.
The #1 seller continues to be hammocks, but you need to go in and see what cries out the loudest to you. Since they'll ship any item to your home, you don't even need to worry about packing it into a car that's probably already filled to the max from your vacation.
There's a secret that Nags Head Hammocks keeps to themselves...so you don't need to bother to ask. Through a very hush-hush process, they infuse the spirit of the Outer Banks into each product.
You can beg for the answer as to how they do it, but they'll just smile and tell you to enjoy it because it doesn't cost extra. Listen...do you hear it?..Do Nothing, Do Nothing,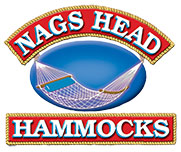 Locations in Corolla, Duck & Kill Devil Hills
800.344.6433 or 252.441.6115 | nagsheadhammocks.com