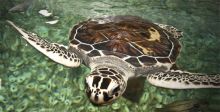 Environments are constantly changing, and the North Carolina Aquarium on Roanoke Island is no exception to this rule. In partnership with the Network for Endangered Sea Turtles (N.E.S.T.), the Aquarium has proudly announced the grand opening of their brand new Sea Turtle Assistance and Rehabilitation (STAR) Center on June 27, 2014. The public is able to get an early look at the facility beginning May 24th and watch as tanks and equipment are installed in preparation for the sea turtles' arrival on June 27th. As part of their ongoing efforts to serve coastal Carolina's endangered sea turtles in need of immediate and long-term care, this new facility will provide a much larger space for volunteers and staff to provide that necessary care, while also allowing them to explore new technologies and techniques that can expand our growing knowledge of sea turtle health worldwide.
Though many people might not be aware of it, this work is nothing new to the Aquarium, and as the saying goes, it often takes a village. In addition to working closely with N.E.S.T., the Aquarium will continue to partner with the National Park Service and the Wildlife Resources Commission to help identify, rescue and transport sea turtles in need to their facilities. Local businesses including Roanoke Island Animal Clinic and Sentera Kitty Hawk Regional Medical Center then often step in to provide care assistance and valuable CT scan donations. The Aquarium also has a long-standing relationship with the NC State College of Veterinary Medicine, working especially closely with their offshoot research facility, the Center for Marine Sciences and Technology (CMAST). And since the ultimate goal is always to release the sea turtles back into the wild, the U.S. Coast Guard helps with release procedures.
It's a cooperatively organized animal care response on a massive scale, and in 2013 the Aquarium took in a record 104 injured sea turtles. The tricky part, however, was finding room to accommodate all the turtles, which the new 3,000-square-foot STAR Center will greatly alleviate by tripling the old recovery space. But that's not the only motivation for opening the STAR Center. As Aquarium Director, Maylon White, describes it, they've been troubled for a while now about how much of this conservation work goes on behind the scenes. "We know how much public education makes a difference," he says. "With the STAR Center we can now invite the community to come and be more involved in these efforts as well."

To this end, the STAR Center is designed to offer visitors a highly interactive and up-close experience by using some impressively cutting-edge technology. In the main viewing area, which will house up to eight recovery tanks, visitors will have the opportunity to closely observe sea turtle rehabilitation in progress, complete with touch screens that will allow them to zoom in on every detail through overhead cameras and ask specific questions along the way. A smaller treatment room with a viewing window is also part of the facility, which will provide visitors a place to watch some medical procedures that focus on individual sea turtles. Two-way speakers will again encourage visitors to ask questions as the treatment providers explain their process to watching groups.
As though all the fascinating projects going on in the STAR Center weren't incentives enough to provoke a visit, they aren't the only new things happening at the Aquarium this summer. From mid-June through August the Aquarium will also stage rotating special theme days with informational tables and activities that focus on everything from "Creepy Crawlies" to "Buccaneer Friday." Or you can opt to take a more leisurely stroll on their recently completed soundside pier that directly connects visitors to the natural splendor in their backyard. And this doesn't even begin to describe their wide variety of special indoor and outdoor programs and activities, with everything from Happy Otter Hour to organized Wetland Walks. Whatever your style, there truly is something here for everyone!
And even though complete indoor renovations of all the Aquarium exhibits won't begin until 2015 (stay tuned!), there's already a noticeable push to make visiting the Aquarium a more immersive experience. In fact, when they began looking to provide more experiences for their visitors and to use their large outdoor space more creatively, the Aquarium hit on the perfect solution for this summer: dinosaurs. Yes, you read that correctly. Dinosaurs! From May 24th to September 1st the Aquarium invites everyone to come take a stroll (or perhaps a mad dash?) back in time by visiting the outdoor exhibit, Tyrannosaurus Trek, which will feature a number of life-sized animated-and extremely vocal!-prehistoric creatures set up among the beautiful foliage of their nature trail. While dinosaurs might not be the first thing you think of in connection with the Aquarium, it's important to remember that dinosaur bones have been found in North Carolina, and there are many places in North Carolina where they're still finding significant amounts of fossils. Plus, how many people can say they've stared down a growling tyrannosaurus rex?
Whether it's sea turtle rehabilitation or a walk with the dinosaurs, a Shark Dive or a Sea Glass Jewelry class, everything going on at the Aquarium is part of their mission to "inspire, appreciate and conserve." That's a mission that will happily always be in progress, continuously evolving and adapting in much the same way our natural environment does. "Be prepared," Director Maylon White laughs. "We'll have plenty of other surprises coming this summer and along the way."
(252) 473-3494 | 374 Airport Road, Manteo
ncaquariums.com/roanoke-island