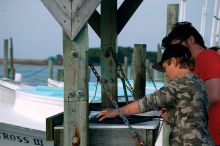 Inside the Albatross Fleet's dock house there's a wall filled with old photographs that tell a story about the early days of charter fishing on Hatteras Island. There you can see Captain Ernal Foster, the man who single-handedly started the Outer Banks charter fishing industry in 1937, as he poses with his first giant blue marlin or as he casts a line from one of the Albatross boats into the Atlantic. Other images capture mates working on the docks, a world-record setting billfish and the birth of catch and release sport fishing in North Carolina. All of the pictures are fascinating glimpses back in time, which have been kept and lovingly preserved by someone who also appears in many of them as a grinning young boy: Captain Ernie Foster, Ernal's son, who continues to run the Albatross Fleet today. 
This is where the story depicted on the dock house wall begins to develop into something even richer. It's a story about family and community ties, about a tremendous heritage that's been passed down through the year among generations of people who love and respect the sea. Because for Ernie – and, indeed, for many other people who live on Hatteras Island – working on the water isn't just a way of life. It's a cherished tradition.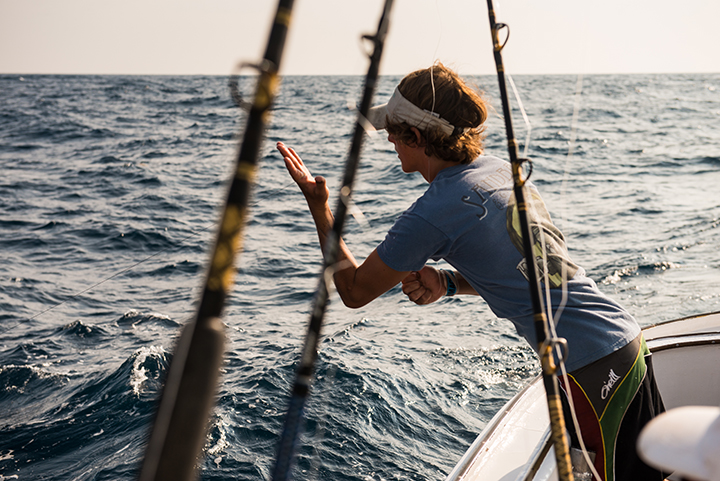 Ernie, who now shares the day-to-day care of chartering on the Albatross Fleet with his wife, Lynne, cares tremendously about the power of tradition and recognizes what a large part it plays in the small local community of Hatteras Village. This is particularly true when he sees so many young children – oftentimes the sons and daughters of parents who fish commercially for a living or who worked for Ernie's father – who also aspire to work on boats for a living. "You see all these young kids out paddling around in the water and playing at being fishermen," Ernie says. "And of course it's so easy for them to access the boats – they just get on their bikes and they can be at the docks in minutes. Daily you can experience this real festival-like atmosphere when the boats come in. People gather, the kids are running around and playing. It's a lot of fun."
Working on the water isn't just a way of life.
It's a cherished tradition.
Seeing how involved the local kids wanted to be with the boating community was enough to give Ernie and Lynne an idea. What if they gave the kids an opportunity to train as mates on charters with the Albatross Fleet? After all, you need at least a couple years of experience in order to be a good mate, but that's something that you can't learn without doing it. "We're a small community here in the village, so it's hard to say when we've reached out to people or when they've reached out to us to see if they can participate because this is such a generous place in many ways," Lynne says. "Somehow it all just began happening." 
The results have been more incredible than even the Fosters could have imagined. As more and more local kids began working charters on the Albatross Fleet a pattern of sorts started to emerge: Most of the kids who wanted firsthand experience chartering on the Albatross boats had at least one, if not both, parents who fished for a living, and an overwhelming number of them had ties to the Albatross Fleet that went back generations. 

In fact, Bryan Mattingly, who captains the Albatross II, began working for the Albatross Fleet as a mate for Ernie when he was a teenager. Now his son, 19-year-old Sumner Mattingly, is also a mate on the Albatross II when he's home from college where he's studying Marine Mechanics. Or take Will Dillon, who is a high school junior and Ernie's mate on the Albatross III. Will's generational ties to the Albatross Fleet also come directly through his father, who worked with Ernie in the early 1980s. And perhaps even more impressive is one of the youngest boys who now cleans fish and crews as a part-time second mate in the summer, 14-year-old Wheeler Balance, whose great-grandfather worked for Ernal in the 1950s.
Ernie credits these legacies, at least in part, to the nature of fishing itself. "The technology has changed over the years, but the contact between fishermen and fish is still the same," Ernie observes. "There's a certain amount of timelessness to it – when you hook a fish or see a porpoise swimming past the bow of a boat, you could be living the same moment as any other fisherman did 75 years ago."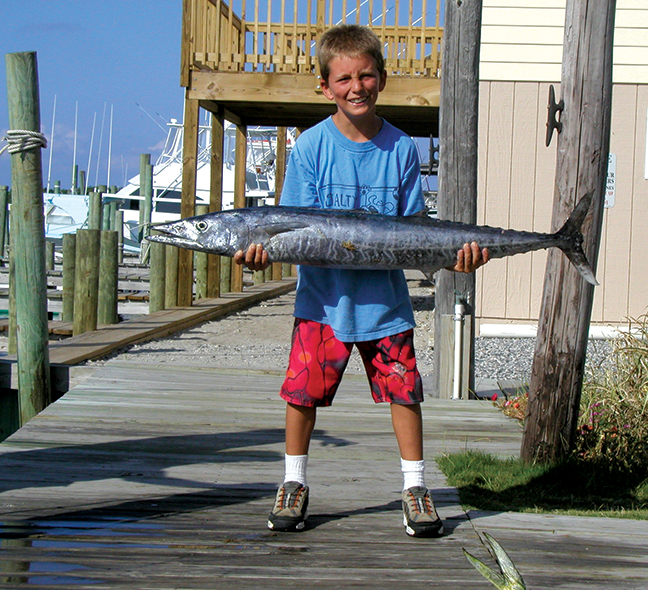 It's a sentiment that can be hard to understand if you've never been on a charter on one of the Albatross Fleet's boats…and perfectly obvious if you have. Simply put, there's an adventure to being out on the sea that's hard to resist once you've had a taste of it. As any Albatross passenger or crewmember can attest, working on the water can be extremely demanding…and equally as, if not more, rewarding. "It's a pretty interesting way to make a living," Ernie says with a touch of his signature good humor. "You can put in some long hours, but it's definitely not the worst way to spend your day."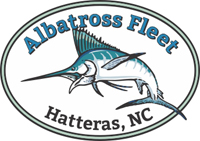 Foster's Quay, Hatteras Village, North Carolina 27943
Phone: (252) 986-2515 | www.albatrossfleet.com
________________________________________________________________________________________________________________________