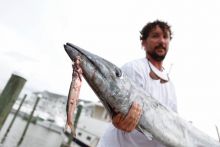 The Outer Banks has a very particular atmosphere that you catch wind of the moment you cross over one of the bridges from the mainland. You can feel it in the relaxation of your shoulders, the deep breath of salty-aired contentment, the kicking off of your shoes. The atmosphere is laid back here, the people welcoming. Pirate's Cove Marina, a 195-slip marina on the Roanoke Sound, may appear at first glance to have a more formal feel as they're located beside the gated Pirate's Cove Resort community, but don't let that fool you – the marina and its charter fleet, Ship's Store, tiki hut and adjacent restaurant are Outer Banks-style friendly and wide open to visitors. You don't even have to fish with them to enjoy a stroll along the docks watching fishermen unload their catch. But it shouldn't go unsaid that the fishing on the Outer Banks is some of the best in the world, and Pirate's Cove Marina offers a full charter fleet and plenty of amenities that complement that experience. From in-slip fueling to private fish cleaning houses, showers and a well-stocked Ship's Store, Pirate's Cove is an awesome destination for fishing and family-friendly fun. 

A charter fishing trip is a one-of-a-kind vacation experience, and at Pirate's Cove Marina you can choose from 22 different boats offering a variety of excursions. From a full-day trip to the Gulf Stream and back, nearshore outings and even a shrimping expedition, there's a charter experience available for every age and skill level. Their charter boat captains have years of fishing experience, and their boats offer comfortable rides. Most charters are based on a six-person party, but if you have fewer people than that Pirate's Cove offers makeup charters perfect for putting together smaller groups.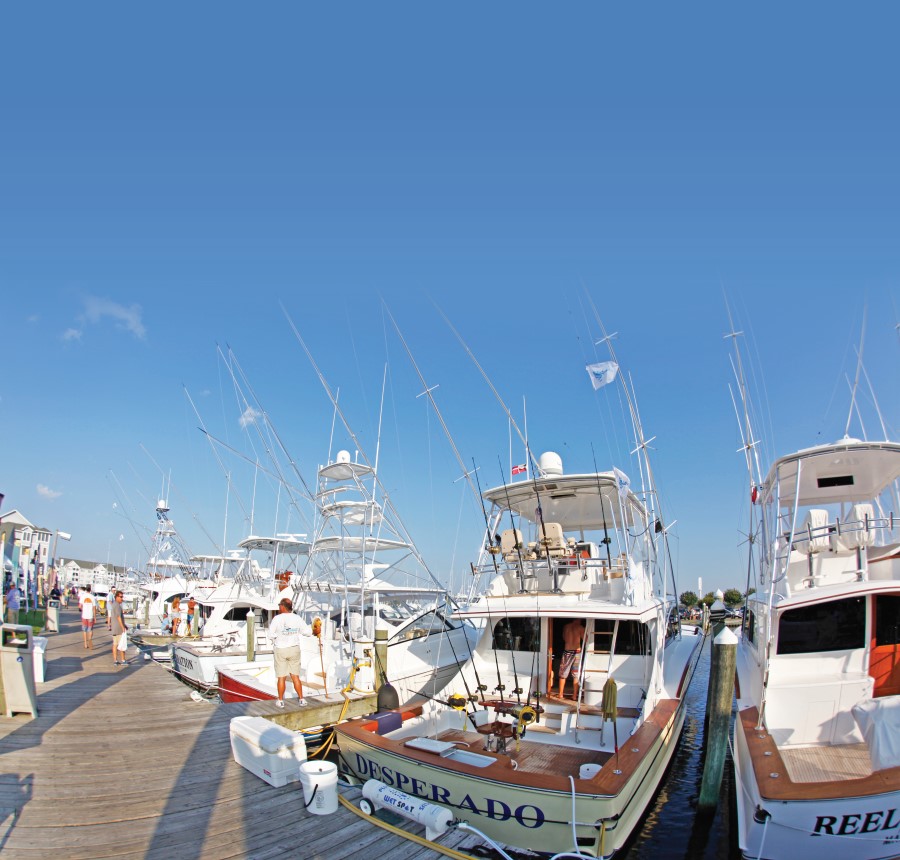 Once you've gotten your feet wet, so to speak, with a charter trip, you might consider checking out Pirate's Cove Marina's fishing tournaments. Like their charter offerings, these tourneys feature something for everyone. The Small Fry Tournament is for kids from the ages of 3 to 15. For only $25 kids can compete for two days. Lunches, a t-shirt and trophies are included, and it's a lot of fun from start to finish. Look for the Small Fry around 4th of July weekend. The Boat Builders tournament takes place the last weekend in July. This is an ocean tournament perfect for those with more experience. The Alice Kelly Memorial is a ladies-only billfish tournament happening August 11 and 12 this year. All proceeds benefit the Outer Banks Cancer Support Group, and this is one of the most popular female angler events on the East Coast. Finally, the Pirate's Cove Billfish Tournament starts the Monday after the Alice Kelly event finishes. This weeklong tournament is some serious fun. In 2008 a blue marlin record was set during the tourney with the catch of a 1,228-pound fish. This set not only a North Carolina record but a North American record as well! 

You can see the mounting of this record-setting marlin at Mimi's Tiki Hut, which is onsite and outdoors at the marina. Mimi's (incidentally, Mimi was the name of the boat that caught that marlin) is a fun place to stop in for a drink or a bite to eat. The have live music in season, and it's a great spot to hang out and watch the boats come in. Blue Water Grill, a popular restaurant at Pirate's Cove, is another fun place for dining with a view. And if you're coming in from a fishing trip at the marina, they'll even cook your catch for you! It's right above the Ship's Store, which regularly gets reviewed as having some of the nicest staff people ever. They offer not only groceries, wine, beer, tackle, bait, ice and snacks, but also a nice selection of Tommy Bahama resort wear, sunglasses, Trina Turk swimwear, t-shirts, gift items and handmade jewelry. You don't have to fish at the marina to shop here – the Ship's Store is open to the public and welcomes visitors.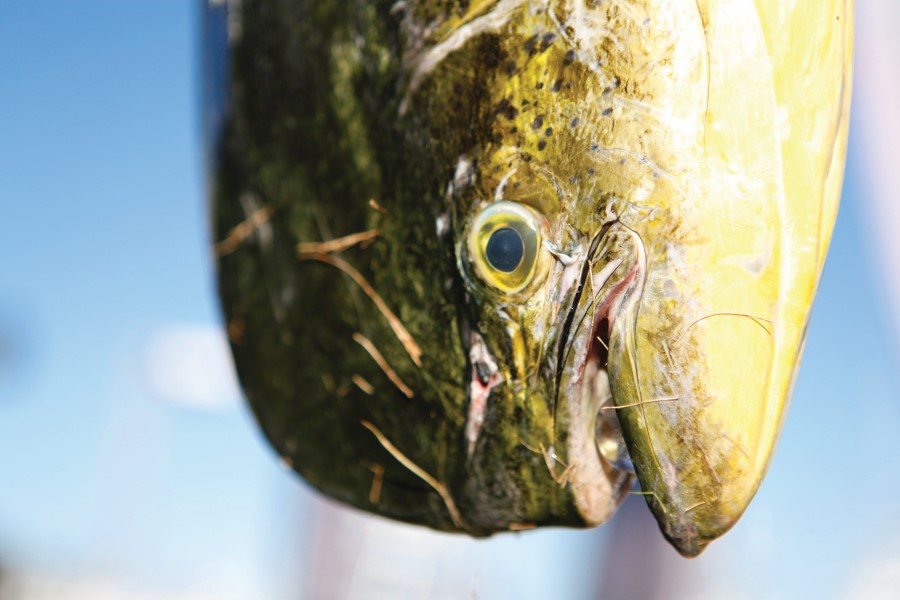 Transient slips are available to dock your own or a rented boat at Pirate's Cove. They have daily, weekly and yearly rates. It's a protected, deepwater, full-service marina offering both non-ethanol and diesel gas for in-slip fueling. The adjacent Pirate's Cove Resort, a family-friendly community of houses, condos and rentals, features plenty of amenities accessible to those docking at the marina for only a small fee. This amenities pass includes use of the resort's pool, kiddie pool, fitness center, playground, clubhouse, croquet court, tennis court and pavilion.

The Pavilion at Pirate's Cove Marina is a draw in and of itself. Positioned right on the sound with stellar views of the water, it's the largest outdoor venue on the Outer Banks. The open-air, waterfront setting makes it a popular spot for weddings and receptions. Tables, chairs, a dance floor, bathrooms and a 24-hour rental time are features of renting the Pavilion for your event. It operates all year long, and people have even been known to rent outdoor heaters and have their wedding there in December! The view of the docks and waterfront location make it an ideal venue full of Outer Banks charm.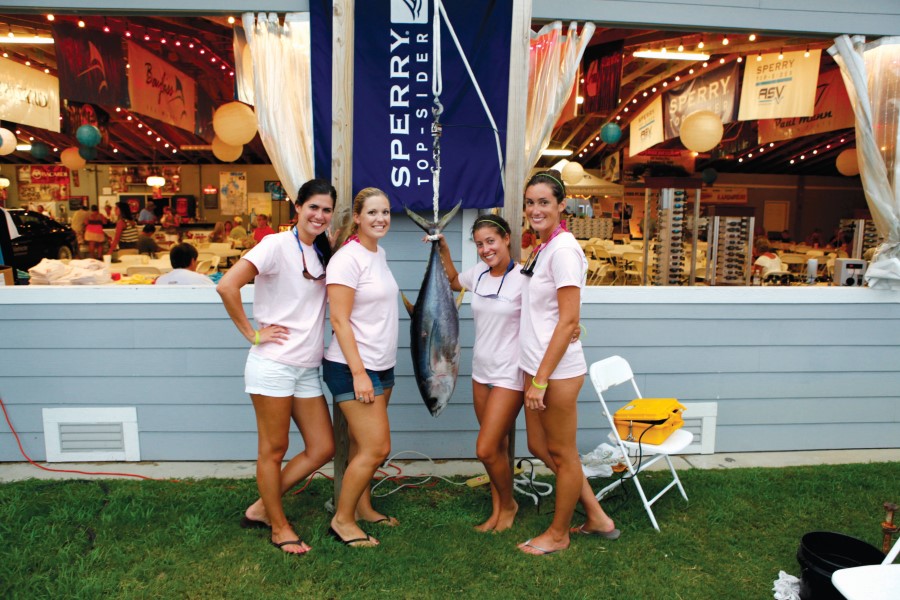 The magic of life along the fragile chain of islands that is the Outer Banks can be difficult to pinpoint in words, but you know it when you feel it, and Pirate's Cove Marina is a great place to soak up that friendly, laid-back, adventurous Outer Banks vibe. Whether you're looking for a Gulf Stream fishing escapade, a makeup charter, a place to dock your boat for a week, an amazing wedding venue or just a pretty spot to swing by for dinner, a drink or a stroll along the docks, Pirate's Cove Marina is a charming waterfront Outer Banks destination with a little something for everyone.

Pirate's Cove Marina
(800) 367-4728
2000 Sailfish Drive, Manteo, NC 27954
fishpiratescove.com