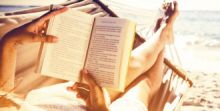 Your ship sank, the plane crashed, you took a wrong turn on the kiteboard – whatever happened, the travel plan failed you, and now you're stuck on a deserted island. As a glass-half-full type of person, I'm seeing nothing but unlimited beach time. It's the perfect opportunity to tackle my ever-growing reading list. 
In this sort of situation, some decisions are best left up to the experts, and I defer to my local literature gurus: the Outer Banks' indie booksellers. They keep a constant finger on the literary pulse – which spans from the latest releases to those that have stood the test of time. As owners of some of the most diverse and carefully curated bookstores around, it's their job to recommend books to a variety of readers, and when presented with the query of what they'd want to read if shipwrecked on a deserted island, their astute suggestions and must-have reads made me want to cancel all plans, pack a bag of books and spend a day on the beach, getting lost between the pages.
It gets lonely on deserted islands – so I was told by Robinson Crusoe – so you need some spicy characters to keep you company. Jamie Anderson, owner and reader extraordinaire at Downtown Books and Duck's Cottage, recommends finding companionship through books. And to keep the boredom at bay, her approach is "the quirkier, the better."
For a collection of people from all countries and creeds, readers of any age can take a wild, round-the-world ride alongside the mavericks in James Michener's The Drifters. Jamie suggests it because, "It's an international smorgasbord of music and food and people and issues of the day – draft dodging, acid tripping, you name it – taking you out of the moment and into an entirely different time and place, which I think might be a nice diversion if you're stuck on a lonesome island."   
But why settle for just one story when you could have nine? J.D. Salinger's Nine Stories presents a multitude of figures: a man in the final hours of his life, two women's drunken epiphany that they've learned nothing from all those "valuable" life lessons, a fellow recalling his childhood where he was picked up every afternoon by an enigmatic law student and told stories as freaky as this one itself sounds – the intriguing figures go on, and they continue demanding your attention well after you reach the final page.
Next, diversify your reading list by shaking it up with a poem or two. Gee Gee Rosell at Buxton Village Books recommends Mary Oliver's poetry. "The Summer Day" from the book What Do We Know is one that she always keeps handy. Its theme of mindfulness would be quite pertinent to days spent in solitude on that island. 
We covered novels, short stories and poetry. Now we need nonfiction. Gee Gee loves the reading environment you'd have on a deserted island – just a quiet beach free of distractions and interruptions. Settle down with a big boy: Upheaval by Jared Diamond, the final book in his trilogy of Guns, Germs and Steel and Collapse, explores how societies rebuild themselves in the wake of crises. Secluded on your island, time slips by while your mind wraps around this anthropological assessment of why nations succeed, fail, recover or stagnate.
A deserted island won't have cable, but you won't miss Criminal Minds with your hands on Casey Cep's Furious Hours: Murder, Fraud and the Last Trial of Harper Lee. For Meaghan Beasley at Island Bookstore, the best sorts of thrillers are those based on real life. And this true story brings together Harper Lee and Truman Capote as they delve into the twisted serial killing that inspired Lee to write (but never publish) her own murder mystery in the vein of Capote's In Cold Blood. 
Also thrilling and also true, Black Flags, Blue Water explores the "golden age" of pirate activity in America, and Leslie Lanier at Books To be Red on Ocracoke Island chooses it for its close ties to the Outer Banks. Author Eric Jay Dolin discusses, and at times dispels, tales about Blackbeard and other buccaneers, and a deserted island can get you in the mood to read about crime on the coast (perhaps while regularly glancing at the horizon for those black sails!).  
Speaking of the coast, a few reminders of home during that time on the island certainly can't hurt. Wendy Wax's newest book, My Ex-Best Friend's Wedding, is what Jamie would reach for to make her feel back at home. Appropriately enough, this "beach read" is set on the Outer Banks, and scenes take place at many familiar restaurants, inns attractions and, perhaps most telling, an independent bookstore modeled on Manteo's own Downtown Books.
Then again, maybe we're considering making a home for ourselves on that island. For inspiration, Meaghan suggests turning to The Pioneers: The Heroic Story of the Settlers Who Brought the American Ideal West by David McCullough. For Meghan this true story about the people and the hardships they faced is the encouragement we need to, in her words, "help us clear a patch of palm trees and cultivate some pineapples" on our own new frontier.
Of course, taking advantage of the Outer Banks' independent bookstores is awesome in every situation – no deserted island required. Dive into your next page-turner as you sip coffee in the morning, settle into bed at night or kick back on the beach. As everyone knows, with a good book the place where you read it isn't nearly as important as the place it takes you. 
Local Bookstores to visit:
Buxton Village Books
47918 Highway 12, Buxton | 
(252) 995-4240
Books to be Red
34 School Road, Ocracoke | 
(252) 928-3936
Ducks Cottage
1240 Duck Road, Duck | (252) 261-5510
Downtown Books
105 Sir Walter Raleigh Street, Manteo | (252) 473-1056
Island Bookstore
1177 Duck Road, Duck | (252) 261-8981
1130 Corolla Village Road, Corolla | (252) 453-2292
3712 N. Croatan Highway, Kitty Hawk | (252) 255-5590
islandbooksobx.com