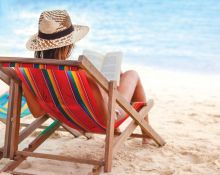 Why on earth I went to Fort Raleigh so late at night by myself, I think I'll never figure out. It seemed like a nice thing — to go walk in the quiet under the moonlight along a trail I had hiked many times under full sun. But, almost as soon as I got out of my car and started along the pine bark-covered path that led from the parking lot to the trail, I started feeling it. My spidie sense told me, but I ignored it. Something I almost never do. 
'This might not end well,' I mused to myself. And, damned if I wasn't right."
This is how I would start my novel set on the Outer Banks — one I've been writing in my head for some decades. But she who snoozes, looses. Because there are at least 50 others who have seen these shores as the perfect backdrop for a novel and have delivered the goods. And, wow, have they delivered.
There are many recent, and a few not as recent but still in print, novels that we'll get to in a minute, ones you're going to want to put on your summer reading list. (Remember those as a kid? There was this squishy anticipation of all those books you were supposed to read and the question of if you'd get around to them then the even bigger question —and where the squishy came in — of if you'd be tested on that one you didn't get to!) 
But I want to start with a few novels that were written back in the 1980s, Hatteras Blue by David Poyer and Early from the Dance by David Payne. Both these authors have gone on to have extensive publishing careers, but these books, both set on the Outer Banks, were cornerstones to their success. Poyer has written countless novels — The Med, The Gulf, The Circle, The Passage, a set of three Civil War at Sea books, three more books in the Tiller Galloway series that Hatteras Blue belongs to, and more. All told, he has close to 30 novels in print, and every single one of them is worth the read. Payne is perhaps best known for his very first best-selling novel, Confessions of a Taoist on Wall Street, but his others are just as good: Ruin Creek, Back to Wando Passo, Gravesend Light and his 2015 Barefoot to Avalon: A Brother's Story. Poyer's Hatteras Blue is an edge-of-your-seat story about the mysterious surfacing of three crewmen from a U-boat that was sunk off the coast of Hatteras Island more than 40 years before and the coming together of a potentially deadly mixture of discovered on-board treasure, drug dealings and men willing to kill to get what they want. Early from the Dance follows three people whose lives were already intertwined before a summer of secret romance on the Outer Banks then complicated, broken and forgiven after betrayal and a suicide.
The Outer Banks of more than 30 years ago, when these books were set, was more connected than it is now. Because there were fewer of us living here, you sort of knew, or knew of, most the year 'rounders. And, as that perfect early day luck would have it, I knew many of the characters these two books were crafted around. That, of course, made them much more interesting reads than they might have been to so-called strangers, both to the characters and to these shores. But reading them felt like home.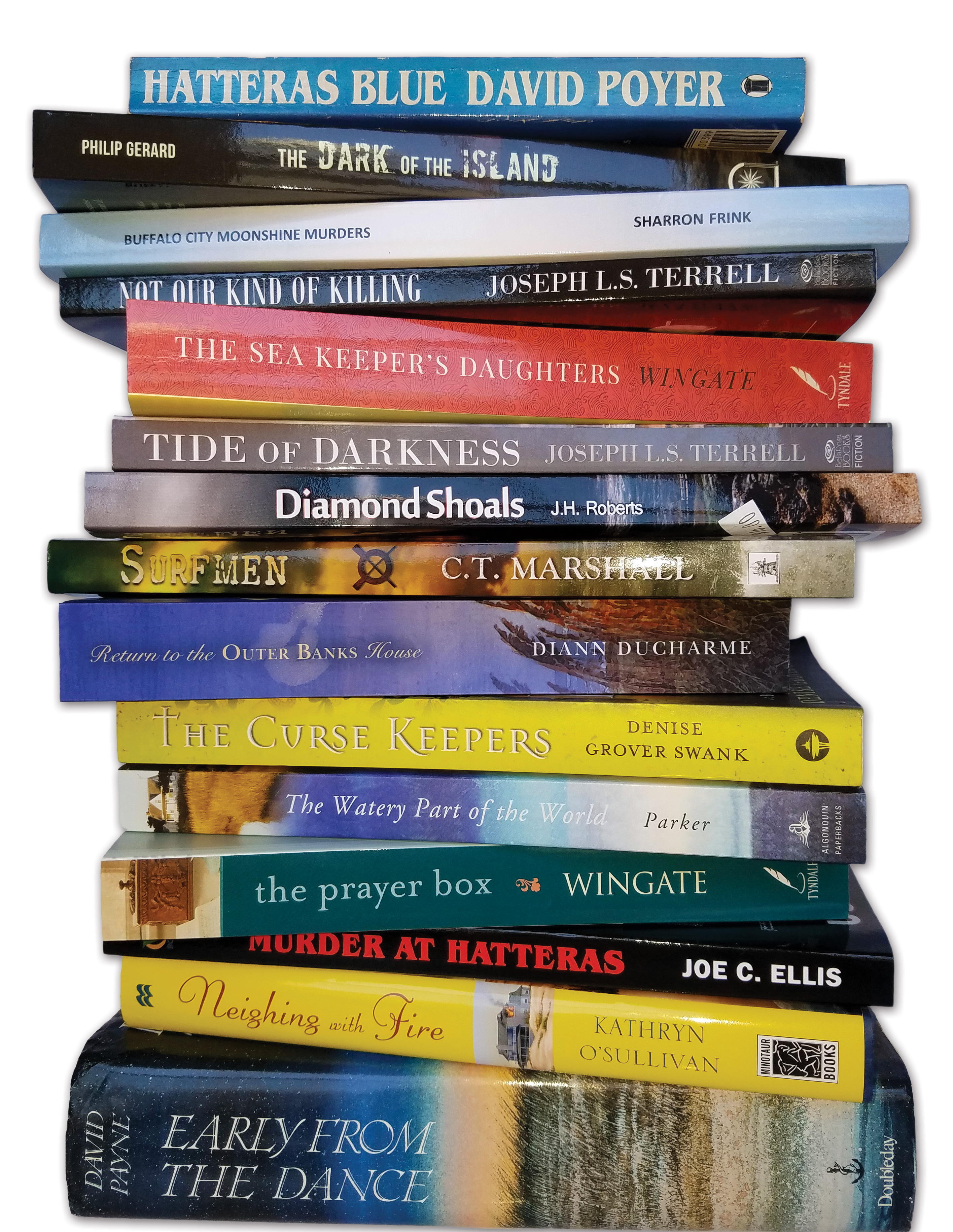 The novels set here seem, broadly speaking, to fall into two main genres: mystery/suspense and romance/inspirational, and those two genres also just as often mingle. Yes, there are many that represent the historic novel such as Surf Men by C.T. Marshall, Buffalo City Moonshine Murders by Sharron Frink, The Watery Part of the World by Michael Parker or Diamond Shoals by J.H. Rogers, all works of fiction that, nonetheless, leave you a better educated reader about WWII, the once-energetic town of Buffalo City, the genesis of the U.S. Life-Saving Service, deep sea diving, shipwrecks and more. And, by their titles you can also tell that these novels tend to merge into the mystery/suspense genre too.
I bet that before you saw the movie Nights in Rodanthe, many of you (women!) had read the book and pictured the house and the debris washed up from the storm and imagined the characters in your head. (I bet, too, that you were a bit irked with how Outer Bankers were portrayed … I was. That's why novels are always better. No extra interpretations from Hollywood.) That's probably the most well-known of the novels set here, and, man, did it ever create a stir when the stars came to film. These actors played their roles well, and anyone who saw the movie probably became a little more enamored with these mysterious, storm-sculpted shores.
But what is it about this place that has attracted so many writers to imagine love stories set here? I guess that every beach area has a romantic lure to it — moonlit strolls along the ocean's edge, that idea of a temporary summer love that's made sweeter and perhaps a bit edgier with the knowledge that the coming of fall will bring the parting of ways, the creating in a writer's mind of what love stories evolved among the isolated, independent Outer Bankers of centuries back, all the enticing possibilities that come from days spent on the beach and nights spent in play. It takes no more evidence than that these islands are so wildly popular for destination weddings to prove that Outer Banks equals Romance in many people's hearts.
What are some of the titles in this romance/inspiration category that you might want to read? Other than the aforementioned Sparks novel, Nights in Rodanthe, you could check out another of his set here, True Believer ... romance and steam in typical Sparks style. I enjoyed Anne Rivers Siddons' Outer Banks, which I read when it was first published in 1992, about four college sorority friends who come back to the Outer Banks to try to recapture something in their lives they're all missing. It's melodramatic, for sure, but it's an easy summer read. Then there are Diann Ducharme's books, The Outer Banks House and Return to the Outer Banks House. Both lead us back to the timeframe of the mid-1800s and into the lives of a wealthy young woman of standing who falls in love with a local fisherman, defying family norms with their marriage and straining their own love with hardships that come with a sometimes tough Outer Banks life. 
What about the mystery novels? Well, anyone who has spent any time here or who is familiar with even a little bit of Outer Banks history knows that unusual happenings are fairly synonymous with these islands. Maybe it started with all those colonists disappearing, but it's stayed fairly steady since then: shipwrecks that stranded or killed thousands through the ages, an entire town, Buffalo City, that seemed to simply melt into its surrounds, a thriving freedman's colony that once occupied a good part of the northern end of Roanoke Island that, too, faded back into the woods, Native Americans whose presence was altered, and ultimately wiped out locally, by invaders. All this energy of loss has to have left a lingering impact over these islands, and maybe the writers of these novels set here on the Outer Banks pick up on it. 
We've had our share of murders too, though nowhere near as many as you'd have in a city, which is, probably, exactly why the astonishment and shock of them have tended to linger. One was notorious. A young woman who was a make-up artist in The Lost Colony was strangled and thrown off the old Manns Harbor bridge on July 1, 1967. Her body was found five days later. There was never an official statement as to who committed the crime (though plenty of locals purported to know who did it). Joseph Terrell, one of the writers whose suspenseful novels are set here, came to the Outer Banks, via work with True Crime magazine, to research the murder and see if he could solve it. Though no arrests were ever made, that experience sparked a series of book plots in his writer's brain, and Not Our Kind of Killing, Tide of Darkness and Overwash of Evil were the result. These novels are page turners, perfect for long days of reading under summer shade.
Murder is the main theme, intermingled with romance and local intrigue, in the series of books by Kathryn O'Sullivan, all set in Corolla. Foal Play, Murder on the Hoof and Neighing with Fire all build on a story of a spunky local fire chief who, with help from the sheriff (both in an official capacity and as a lover) solve killings in this northern Outer Banks town. A similar theme of murder and who-done-it is the backdrop for the well-written mysteries by Joe C. Ellis, Murder at Hatteras, Murder on the Outer Banks and Murder at Whalehead.  You'll get lost in the stories of a youth serum and kidnapping or a murder of a young woman in Corolla and the vacationing families that find her or the bone chill of a story where you're wondering who's next to get it.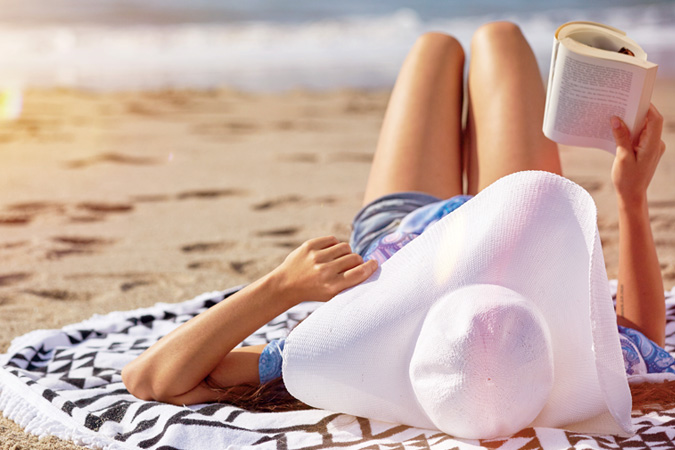 I have my own favorite mystery series, though: The Cursed series by Denise Grover Swank. These three books — The Curse Keepers, The Curse Breakers and The Curse Defiers — are set on Roanoke Island. Swank's own promotional material describes them well, "The wall between our world and that of vengeful spirits has protected humanity for more than 400 years. It's about to come crashing down." The lead lives in downtown Manteo in an apartment over a bookstore (the current Downtown Books), and works at a nearby restaurant (patterned after Full Moon Café). Her grandparents own a bed and breakfast (patterned after Cameron House Inn). Other characters work at identifiable places (to locals, at least, which makes the story work out just perfectly in your reader's imagination). And, you know how I started my novel at the beginning of this article? Well, let's just say that Fort Raleigh and the Elizabethan Gardens play a spooky role in this continuing story … as does a steamy relationship. Have you had the experience of losing yourself for hours in a book because it's so engrossing? That's what happens with these books. You could spend an entire Sunday on the beach under an umbrella and never realize anyone else was out there with you because you'll be so engrossed in the story.
These are some of my favorite novels set here, but I figured it would be good to check in with the real experts, the owners of our local bookstores, to see what their top picks would be for novels set on the Outer Banks. 
Gee Gee Rosell, who owns the charming Buxton Village Books, wrote, "My all-time favorite Outer Banks novel is Ben Dixon MacNeill's Hatterasman. I love it because it evokes the villages on Hatteras when the roads were still sand and travel between villages could be an hours-long affair. If you had a car it would likely get stuck if the weather had been dry and the sand loose. If not a car, you were walking and probably visiting friends and family along the way. I arrived here well after that, but the vestiges of those sand roads were still evident. None of the side roads were paved. There were no street signs. Paths and roads were named for who lived there or whose "ditch" (creek for mooring a boat) was at the end. Ben lived in one of the CCC cabins up on a high ridge in Buxton. I often get to hear local folks remark on their encounters with him. The book and the memories of Ben Dixon that folks share make Hatteras history come alive. And if you think about it, it wasn't all that long ago. 1950 ... the modern world came late to Hatteras.
My second fav would be any of David Payne's. His writing is so beautiful. And while we all now know (from his new Barefoot to Avalon: A Brother's Story that his family was as convoluted as any other Southern — or anywhere — family), he evokes a richness of time and place on the Outer Banks when the cottages were family summer homes and many generations would migrate each year from the Piedmont to the beach. I remember summers in the '70s when there would be all-day picnics strung across adjacent properties (you can't say 'yards' because there was no grass, just beach grass and  loose sand), maybe a pig pickin, with crowds of a hundred or more and most of the folks were related in some way. We were always back and forth to the beach from the tables or the porches, and there was always a Granny or two in a wicker chair wearing a straw hat tied on against the breeze. David does such a great job of honoring the tradition in all its tarnished glory."
Jamie Anderson, the owner of both Downtown Books in Manteo and of Duck's Cottage Coffee and Books in Duck weighs in, "My favorite Outer Banks novels have to be Lisa Wingate's The Prayer Box and her follow-up, The Sea Keeper's Daughters. Lisa is a masterful storyteller and had an idea for a story that needed to be set in an area prone to hurricanes, as a small town dealing with storm recovery was part of the book. This was just after Hurricane Irene devastated the Outer Banks and a friend mentioned Hatteras Island to her (Lisa is from Texas). So she set The Prayer Box there, and it has gone on to become our best-selling novel for three years straight. During her book tour for The Prayer Box, she made a stop at Downtown Books. It was First Friday in October, the first Bluegrass Festival was happening, fireworks were popping, our local kids were running in and out of the store, every neighborhood character popped in to say hello ... and Lisa was entranced. She couldn't believe such a place like Manteo existed and left convinced she was going to have to use our small town for a book backdrop one day. She did just that with the conclusion to The Prayer Box trilogy, The Sea Keeper's Daughters (2015). I'm pleased to say our little bookstore makes an appearance in the novel. I have a special fondness for authors who choose to incorporate Outer Banks fact with fiction. Joseph Terrell has given us a shout out in his book, Dead Right Returning, and our sister store Duck's Cottage (renamed as Bill's Coffee Shop) often pops up throughout Jim and Joyce Lavene's seven-book Missing Pieces series set in and revolving around the town of Duck. Writers love bookstores and more often than not find inspiration just by walking through our doors! Writers who give us good, solid Outer Banks fiction may not know it, but they provide our bread and butter every single day."
Bill Rickman owns the Island Bookstores that have locations in Kitty Hawk, Duck and Corolla. Here's what he added, "Whenever I have a customer who asks about stories set on the Outer Banks, I always try to steer them toward Charles Harry Whedbee's books. Whedbee was an elected judge in his native Greenville, NC, but called the Outer Banks his favorite place. Beginning in the 1960s, he began gathering stories and legends about the area that were published 1966 as Legends of the Outer Banks. It was an immediate success and was followed by several more collections, Flaming Ship of Ocracoke, Outer Banks Mysteries, Outer Banks Tales to Remember, Blackbeard's Cup. A final Best Of collection was also published in 2004, entitled Pirates, Ghosts, & Coastal Lore.  
 Although we keep Whedbee's books shelved in our Local History section, they are not strictly true — they are folklore. Whedbee himself was supposed to have said, "… some of these tales are true in every detail, others are more generally accurate, and several are entirely made up." Made up or not, all of Whedbee's collections can be enjoyed by the whole family and be revisited year after year.  
So many books, not enough summer days to read them, right? But, when you wake up on that morning when the weather is just right for a day spent under your umbrella, quietly and contentedly turning pages, maybe these will be the words you read, "When trouble blows in, my mind always reaches for a single, perfect day in Rodanthe. The memory falls over me like a blanket, a worn quilt of sand and sky, the fibers washed soft with time." Lisa Wingate, The Prayer Box.