Dolphin Scrappy Got Rough!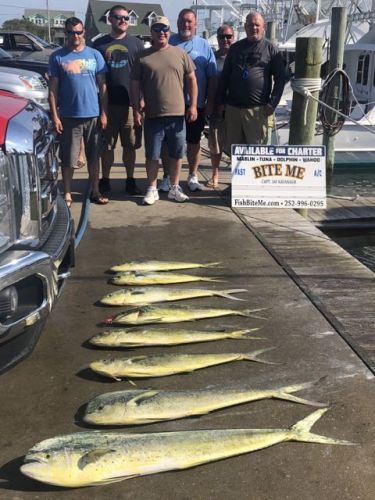 Offshore from Oregon Inlet
Inshore from Oregon Inlet
Corolla to Nags Head Piers
Corolla to Nags Head Surf
Corolla to Nags Head Sound
Offshore from Hatteras Inlet
Inshore from Hatteras Inlet
Hatteras Piers
Hatteras Surf
Hatteras Sound
Offshore from Ocracoke Inlet
Inshore from Ocracoke Inlet
Ocracoke Surf
Ocracoke Sound
well it started out pretty but got rougher all day
the fishing was scrappy and we caught a few nice gaffer sized dolphins
there were a few Blue Marlins around and a 507 and a 655 were weighed in a tournament that is going on right now.
We marked one a couple of times circling around but he never showed himself.
thanks fellas, good to have you on board