Great Fall Fishing Wahoos and Tunas!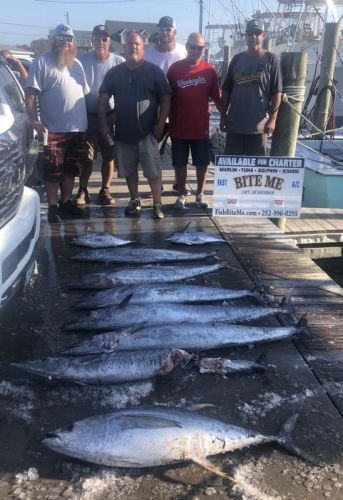 Saturday, September 28, 2019
Offshore from Oregon Inlet
Inshore from Oregon Inlet
Corolla to Nags Head Piers
Corolla to Nags Head Surf
Corolla to Nags Head Sound
Offshore from Hatteras Inlet
Inshore from Hatteras Inlet
Hatteras Piers
Hatteras Surf
Hatteras Sound
Offshore from Ocracoke Inlet
Inshore from Ocracoke Inlet
Ocracoke Surf
Ocracoke Sound
Last minute trip for these fellas, and it paid off!
Great fall fishing for these fun loving dudes, Wahoos, blackfins and a fat yellowfin.
One of the hoos got eaten by another monster wahoo.
Thanks guys
We have lots of dates available to take advantage of the freezer filling opportunities that should continue for the next couple of months!