Local Celebrity Day!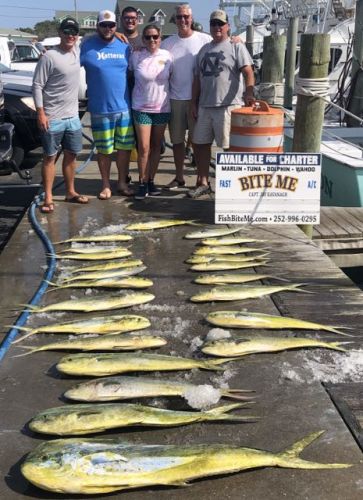 Offshore from Oregon Inlet
Inshore from Oregon Inlet
Corolla to Nags Head Piers
Corolla to Nags Head Surf
Corolla to Nags Head Sound
Offshore from Hatteras Inlet
Inshore from Hatteras Inlet
Hatteras Piers
Hatteras Surf
Hatteras Sound
Offshore from Ocracoke Inlet
Inshore from Ocracoke Inlet
Ocracoke Surf
Ocracoke Sound
Had the crew of locals on board today from King's Cleaning
We have been trying to get them out there since May, we finally pulled it off.
Big mess of dolphin some were caught from this traffic cone, which we brought home and no resides at Piney Ridge MX!
http://www.kingscleaningobx.com
Thanks guys for a slick calm great day of fishing!