Meat Slam!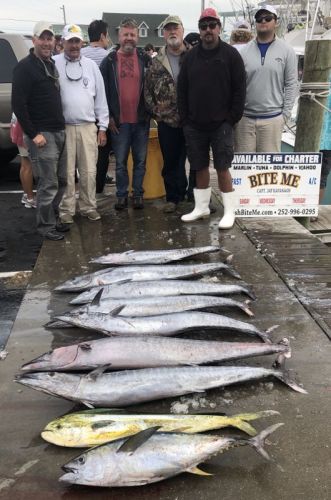 Saturday, October 19, 2019
Offshore from Oregon Inlet
Inshore from Oregon Inlet
Corolla to Nags Head Piers
Corolla to Nags Head Surf
Corolla to Nags Head Sound
Offshore from Hatteras Inlet
Inshore from Hatteras Inlet
Hatteras Piers
Hatteras Surf
Hatteras Sound
Offshore from Ocracoke Inlet
Inshore from Ocracoke Inlet
Ocracoke Surf
Ocracoke Sound
Pretty good fishing today for our boys from up around Greensboro.
Pretty day too.
Had action all day, mostly wahoos, but a gaffer dolphin and a yellowfin for the meat slam mixed grill.
Nice size wahoos, one made citation weight.
Thanks fellas, see you next time