Mixed Grill!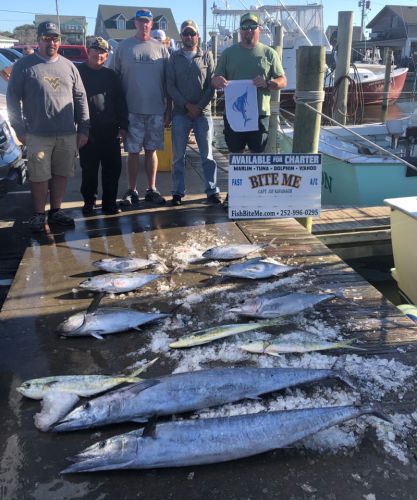 Wednesday, October 14, 2020
Offshore from Oregon Inlet
Inshore from Oregon Inlet
Corolla to Nags Head Piers
Corolla to Nags Head Surf
Corolla to Nags Head Sound
Offshore from Hatteras Inlet
Inshore from Hatteras Inlet
Hatteras Piers
Hatteras Surf
Hatteras Sound
Offshore from Ocracoke Inlet
Inshore from Ocracoke Inlet
Ocracoke Surf
Ocracoke Sound
Tuna Dolphin and Wahoo for out fellow Mountaineers from just outside the Mountain State in Oakland, Maryland, but we will claim them.
A little choppy in the morning, but got prettier all day.
the sails terrorized us again today, but G got revenge on them hooking one and Justin did a great job angling the sail for a catch and release on 30# test!
Greg also caught a 40 pound wahoo for another citation!
Thanks guys